"Exposure to scams is significant" – USPTO trademark commissioner expands on anti-fraud efforts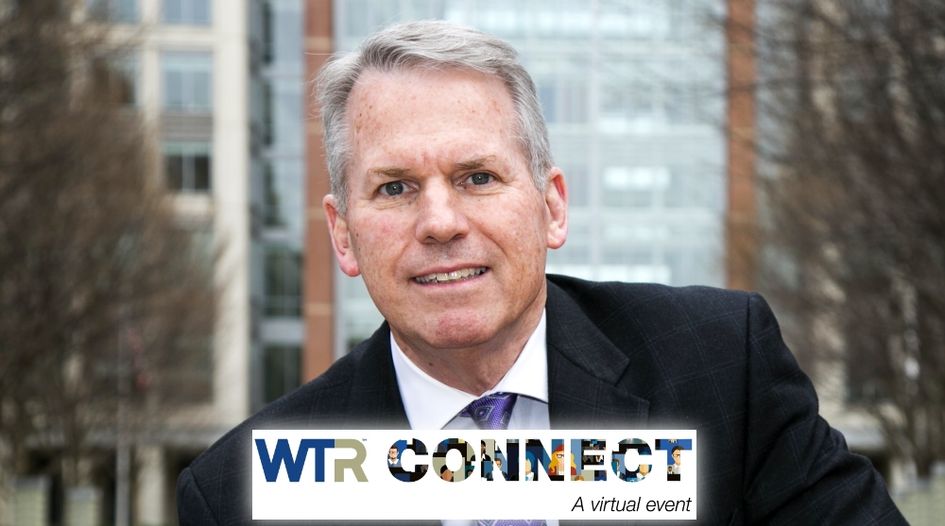 USPTO trademark commissioner kicks of WTR Connect series of events
Reveals cancellation levels as a result of post registration audit programme
Expands on AI effort to identify fraudulent specimens
Over the next couple of weeks, we are hosting the inaugural WTR Connect virtual conference, and the opening keynote was presented yesterday by USPTO trademark commissioner David Gooder. In a wide-ranging discussion, he provided an inside glimpse at how the office is tackling specimen fraud and trademark scams, as well as offering insight into efforts to ensure the integrity of the register.
Gooder was appointed to the role of USPTO commissioner for trademarks earlier this year, following the retirement of Mary Boney Denison, and officially took up the position in March. Among the many issues that he is grappling with in the role are efforts to combat scams and enhance the integrity of the register, both of which he addressed at length yesterday.
On the former he noted that "integrity, for me, comes down to how accurate and reliable the register is – it is something we all care about, and if we do our part when we prosecute and maintain, we all benefit". The context to the USPTO's efforts is the use requirement, with Gooder observing: "Registrations obtained or maintained without the requisite use can cause dead wood to accumulate and unfortunately can yield fraudulent registrations."
He expanded: "When an attorney signs a Section 8 and 71 declaration of use, the mark owner or their attorney are swearing that the mark is in use with the goods or services identified in the publication and that the specimens show the mark as it is currently used. The signer is subject to criminal penalties for knowingly and wilfully making false statements or representations." Despite this, more is needed and Gooder identified the post-registration audit programme as a key tool in efforts to check the register – the target being 5,000 audits per year.
To date, he revealed that more than 12,700 first office actions have been issued through the programme, noting that in 82% of cases the applicant was represented by an attorney, which is higher than average in terms of statistics relative to total filings. Of the total, just over 35% required a second office action, "which is an examiner saying 'I think we have a problem here'".
Gooder expanded: "In response, and this is what troubles me the most, 52% of these registrations then deleted at least some goods or services or were cancelled. Of the foreign filings it was 70%, which may be because people have been coming from countries that don't have that use requirement. But think about it; if half of filings contained some dead wood, we all as practitioners are contributing to our own problem. That is what we are trying to address with this programme."
In terms of failure to respond to cancellations arising from the proof of use audit programme, to date, 1,648 first action letters have been issued and 1,016 registrations have been cancelled for failure to respond. Of these, 80% were non-pro se applications. As to where they originated, 63% were from the United States, followed by China (9%), Germany (3%) and Taiwan (3%).
A related issue that the office has been grappling with in recent years is the use of fraudulent specimens (a problem that WTR has reported on extensively). On this, Gooder noted: "Most trademark owners comply, but we are unfortunately getting some people trying to get around the rules. We are trying to root out specimen fraud, and also trying to make it easier for people complying with the rules."
Reflecting on the phenomenon, he suggested: "This activity is largely being driven by those wanting to get onto Amazon's brand registry and other e-commerce platforms." But whatever the reason, action is needed and the office has formed a task force to root out the problem. For instance, Gooder revealed that there has been a focus on developing an AI-powered tool – soon to be rolled out – that serves as an automated specimen analysis tool. "It essentially allows people to put in serial numbers and it will then go into the register and will show the internal lawyer everything where those exact specimens are showing up, so they will know they have a problem to deal with. Right now it is really hard to find these things but this tool will really help."
Alongside this are revisions to existing procedures, but he also noted the role that the wider community has to play: "I appreciate and encourage you all to take the time, if you see something that doesn't seem right, to contact us directly. It is great to have issues highlighted on blogs but the more we hear directly, the better able we are to respond. We are issuing a revised specimen examination guide for those complying in October, so keep an eye out on that."
As to ways to report suspected specimen fraud, the USPTO has a dedicated email address ([email protected]) for just that purpose. As of 2 October, 228 reports have been  filed this way, with 70% denied and 30% granted – with evidence forwarded to the examining attorney for review. Another tool is letters of protest, for which Gooder offered a valuable tip: "You may file a brilliant argument letter alongside the evidence but, as an attorney, it is worth noting that only the evidence goes to the examining attorney. That is worth bearing in mind."
As part of the effort to tackle fraudulent specimens, in August 2019 came a rule change that required all foreign-domiciled trademark applicants to use an attorney who is licensed to practise law in the United States. Gooder reflected that "the amount of bogus specimens are significantly down, and brand owners have told us the necessity to report is down" since the change. However, he added that applicants are still trying to skirt around the rules – using a variety of tactics. "There is unauthorised use of attorney details, improper signatures, false applicants that don't exist, and we are now seeing unauthorised changes of correspondence information." On the latter, he stated: "If you find you are getting victimised by any of this, contact us immediately and we will work with you."
Another area of concern is trademark solicitation scams, which are becoming more sophisticated (as WTR has reported previously). Gooder noted: "When I was in-house we would get them all the time. When you consider that 70% of trademark owners are entities or individuals that open less than 10 trademark filings, the exposure to scams is significant."
However, he noted that, from a legal perspective, the USPTO has limited legal authority to prosecute, so cases are handled by other agencies such as the Department of Justice and the US Postal Service. Thus, the office focuses on education efforts, to warn the community to be alive to potential scams, as well as cooperating with the agencies that can take action.
On this, Gooder concluded: "That cooperation is helping. There is currently a case pending in South Carolina against a gentleman that was running an alleged scam. Part of the way he was discovered was that the bank went onto the USPTO's website as they didn't understand why he was cashing cheques the way he did. Hopefully this leads to more prosecutions."
Gooder's keynote was the first of many WTR Connect keynotes over the next couple of weeks. At present, over 650 people have signed up to attend WTR Connect, representing more than 475 different companies in 73 countries. Attendees and speakers are not following the usual webinar model, but rather joining a series of hubs designed to facilitate discussion, benchmarking and the sharing of best practice around key topic areas and challenges facing trademark and brand leaders. The sessions began yesterday (6 October) and will continue until 15 October. They are timed to suit attendees in Asia, Europe, Africa and the Americas. There is still time to view the programme and register.