Experts from Amazon, GSK, Hugo Boss, Sony, Target and Disney among first confirmed participants for WTR Connect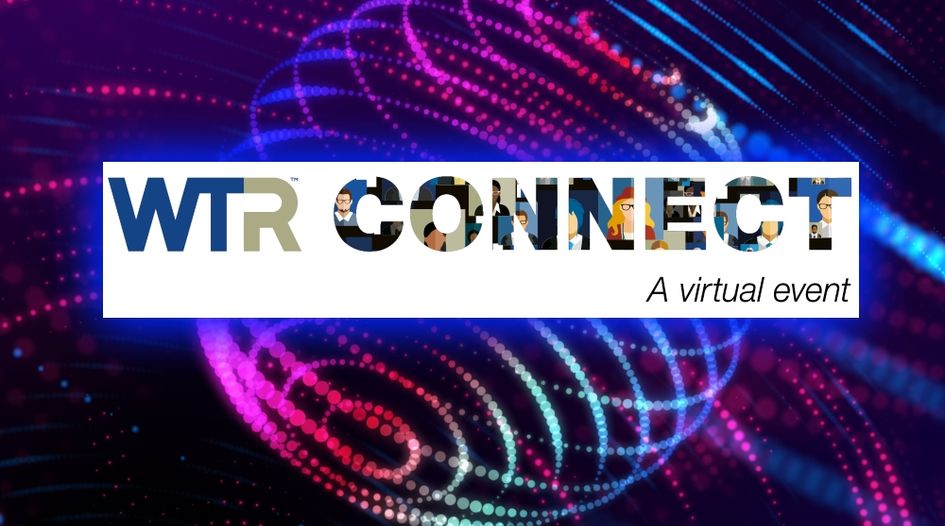 WTR recently unveiled WTR Connect, a series of high-level online events taking place across two weeks in October. We can now reveal the first confirmed participants, which include David Gooder, USPTO commissioner of trademarks, as well as experts from companies including Abercrombie & Fitch, Burberry, Novartis, Starbucks and Under Armour.
WTR Connect is a digital concept that offers a series of individual interactive digital sessions organised around major themes. Rather than following the usual webinar or online conference model, WTR Connect is comprised of a series of hubs, each designed to facilitate discussion, benchmarking and the sharing of best practice around key topic areas and challenges facing trademark and brand leaders. Rather than following traditional conference and webinar models, the hubs are built around content, connection and contribution. Each day will start with a keynote address from a major industry figure. This will be followed by live breakout discussions lasting for a maximum of 60 minutes. These will be in a variety of formats including masterclasses, open discussion forums, solution rooms and closed-door, invite-only boardrooms.
The current list of confirmed participants includes:
Christa Cole, head, brand development, enforcement and licensing at Nestle
Laura Alteri, deputy general counsel at Del Monte Foods
Hogarth Andall, director, IP at Sony
Livia Andermatt, senior counsel, IP at Lindt
Sharon Armstrong, senior counsel, global trademarks at Align Technology
Jose Bautista, associate legal counsel, IP at Abercrombie & Fitch
Mark Bearfoot, legal director, global brand protection at Tommy Hilfiger
Maral Behnam-Garcia, director, brand protection at Wish
Oscar Benito, assistant general counsel, corporate and vaccines, IP at GSK
Heike Bhonsle, director, brand protection at Crocs
Kevin Blum, senior counsel, brands and content, IP at NBCUniversal
Sine Bramming Platz, senior counsel, IP at PVH
Adraea Brown, director legal, trademarks and brand protection at Harley-Davidson Motor Company
John Carriero, senior director, brand protection at Under Armour
Mandar Chandrachud, associate vice president at Godrej Consumer Products Limited
Marina  Depietri, vice president, IP, The Americas at Red Bull
Claudia Gessler, legal counsel, IP at Hugo Boss
David Gooder, commissioner, trademarks at USPTO
Stephanie Hall, trademark and brand counsel at Lyft
Deborah Hampton, senior manager, trademark and copyright at The Chemours Company
Mikia Hawkins, senior counsel at ViacomCBS
Debra Hughes, assistant general counsel at Blue Cross Blue Shield
Shannon King, associate general counsel at Williams-Sonoma
Renee Kraft, director counsel, trademark and copyright at Target
David Lossignol, global head, pharma legal brand protection at Novartis
Aimee Mahan, senior manager at Amazon
Frank Meixner, head, corporate trademarks at Bayer Intellectual Property GmbH
Brett Millar, senior director, brand protection at FitBit
Anna Olsen, global director, IP at Treasury Wine Estates
Scott Piering, vice president and chief IP counsel at Spectrum Brands
Tina Pompey, principal counsel, IP at Walt Disney
Laurence Rickles, chief trademark counsel at Teva Pharmaceuticals
Michel Rorai, lead counsel, IP at Unilever
Frank Schöne-de la Nuez, lead counsel, trademarks at CSL Behring
Lynn Schrier, senior counsel, IP at Swarovski
Jitendra Sharma, unit manager, legal IPR at Metlife
Natasza Shilling, senior counsel, legal at Vodafone
Heather Stutz, corporate counsel, IP at Starbucks
Niall Trainor, senior director, brand protection, family and brands at Entertainment One
Catrin Turner, IP counsel at Dr Martens Airwair
Jeff Warren, director, brand protection at Burberry
The sessions, taking place from 6-15 October, are timed to suit attendees in Asia, Europe, Africa and the Americas. Participants can register for as many sessions as they like, building their own schedule. However, to ensure maximum interaction and discussion, capacity within each hub will be limited.
To find out more and to secure your place at WTR Connect, click here.