"Every little bit of help from brands is useful" – Ukrainian MP urges companies to take action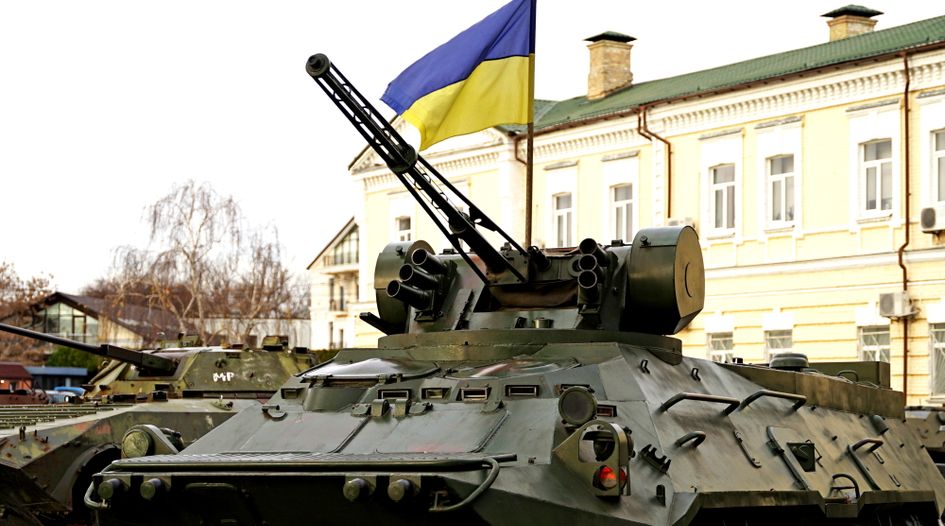 As Ukraine invasion by Russian forces continue, some brands take action
Ukrainian MP tells WTR that all companies must consider public position
Donations of items helpful as 'money doesn't do much good' in Kyiv now
In an exclusive interview with WTR, Ukrainian MP Sviatoslav Yurash has called on international organisations to speak up about the ongoing invasion of Ukraine by Russian forces. It comes as major brands such as Apple and Nike have begun limiting their services in Russia, while companies including PlayStation and Xbox are urged by the Ukrainian government to suspend operations in the Russian market.
Tensions between Russia and Ukraine have continued to grow since the annexation of Crimea in 2014. Over the past few months, 190,000 Russian troops amassed along Ukraine's borders, and in response NATO member states encouraged Russian president Vladimir Putin to deescalate the threat of war. Those calls for a backdown were unsuccessful, with the invasion of Ukraine commencing last week. Figures released earlier today show that more than 2,000 Ukrainian civilians have been killed to date, with hundreds of structures (including transport facilities, hospitals, kindergartens and homes) so far destroyed by Russian forces.
Since the start of the invasion, thousands of non-military Ukranians have vowed to defend their country. One of those is Sviatoslav Yurash, a Ukrainian MP and former advisor to the country's president Volodymyr Zelensky, who last week told the BBC he had "an AK-47 in front of [him]" ready to fight the Russian army. Talking today to WTR, he explained why major brands have a part to play – no matter how small. "It makes me think of my friends who have asked whether prayers are enough, and I tell them that yes, prayers are enough, prayers are still welcome – ultimately, prayers are a first step to action," he says. "In the same way, we feel it is very important for companies to start making moves in a positive direction, and we very much welcome any statement, any word, anything that shows support in that regard."
A first and most obvious way to help, he suggests, is through any tangible resources that corporations are able to provide to people on the ground. That does not necessarily mean financial support, he adds, but actually sourcing items that are so desperately needed in key areas of Ukraine. "Even though I took up arms and I am joining the fight, I am spending most of my time trying to be useful in terms of getting supplies, weapons, ammunition, food, medicine, warm things, all the types of supplies that we need to try to win – because, as the old saying goes, 'amateurs speak of tech and strategy, the professionals speak of logistics'," he explains. "The point is, in Kyiv right now, money doesn't do much good, bartering for things is the law of the land at the moment. So it is always welcome to see any humanitarian support, with supplies most welcome. The roads to Kyiv are free from the south and from the west of the city, and that's where all the supplies are coming in right now. The point, then, is that any company – big or small – can be extremely useful in terms of getting us the supplies we need."
Companies should also investigate relationships with Russian entities ("some don't even know they have any") and consider severing those ties, Yurash adds. While he acknowledges that far from every Russian citizen supports the actions being taken by its government and military, he says such actions are important. "Russia has violated every single preset of the international global world order [and it] needs to be punished by being cut off from the international market, international supply chains, and international relations in general," he remarks. "Sometimes it can be through symbolic actions, such as the governor of Ohio taking Russian vodka from the shelves of supermarkets. That has meaning because it is showing that, again, Russia's actions have consequences and it should be cut off from the global community. The decision to try and punish Russia on the individual level is very much welcomed as a clear sign of modality with our country in this struggle."
Such actions are already being undertaken by some of the world's biggest brands. For example, Apple has announced it has ceased all product sales in Russia until further notice, Nike has halted website sales to Russia, and Harley-Davidson has suspended all business and shipments of its bikes to Russia. In the world of sports, FIFA has banned Russia from participating in upcoming World Cup qualification matches, and Russian athletes have also been barred from international hockey, ice skating, skiing, basketball, track, and some tennis events. In the film industry, Sony Pictures, Warner Bros and Disney have all pulled films from release in Russia (including The Batman and Pixar film Turning Red).
As WTR has written before, many brands prefer not to enter the political fray, often wanting to avoid 'taking a side' or risk losing customers through a possible backlash. For Yurash, unlike most other political issues, the situation occurring in Ukraine is truly unprecedented in modern times – and he contends that all companies will need to assess the situation and take a public position. "This is the first full-scale invasion and attempt to destroy a nation unlike anything since the Second World War," he says. "It will be seen as a unique situation in the narrative of our century, where basically one nation tries to destroy another nation. So for that reason, it is clear that this is not something that can be ignored."
Indeed, one recent tactic being implemented by the Ukrainian government is through public statements that seek to pressure major companies to take a stand. Earlier today, Ukraine vice prime minister Mykhailo Fedorov published a statement to his Twitter account calling on Sony's PlayStation and Microsoft's Xbox to "temporarily block all Russian and Belarusian accounts". With Russia being the biggest video game market in Europe, such a ban could have quite an impact. At the time of publication, neither Microsoft nor Sony have responded to Fedorov's statement. It is expected, however, that more major brands could be thrust into the current affairs spotlight in a similar way.
The same strategy is being adopted in the world of intellectual property too. The National Association of Patent Attorneys of Ukraine has called on global IP organisations to suspend the memberships of Russian citizens, cancel planned IP events in Russia, and block the participation or registration of Russian citizens from existing or future planned events. "In Russia, there are many who disagree with the war, but they remain silent or pretend not to be silent – this is still equivalent to tolerating war in all its terrible manifestations," the statement reads. "Every citizen of Russia, even if he is a comrade, should experience the isolation [and] international consequences of such silence (or the previous silence for decades that led to it). Only personal discomfort can change tolerance for war."
While not specifically targeted in the statement, the International Trademark Association (INTA) is a prominent IP organisation with Russian members and event attendees (it held its first Russia-based event, targeted at young consumers, last year). In response to the post, INTA CEO Etienne Sanz de Acedo told WTR today: "We are not penalising our members in Russia for the actions of their government."
Ultimately, Yurush says, "all things help", including social media support and public awareness raising. The important thing, he concludes, is that all brands do something, adding: "Russia has crossed all the boundaries imaginable and unimaginable that exist in the international community and it is important to see the choice that Russia is making right now – they are making the choice to try and throw away the international community, they have ignored calls to end the violence, they have ignored the rules. For that reason, any kind of extraordinary action from companies is welcome. Crucially, action from individual companies can show the way for bigger corporations to take a stand. When the major corporations take a stand, it shows the way for entire countries to do something. Therefore, every little bit of help from brands is useful, welcome, and needed."
If WTR readers want to help the people of Ukraine, consider donating to The Ukrainian Red Cross, which is providing vital aid on the ground, or Doctors Without Borders, which is working with local volunteers and healthcare professionals.