Events focused on online brand protection and cost-effective portfolio management set for Chicago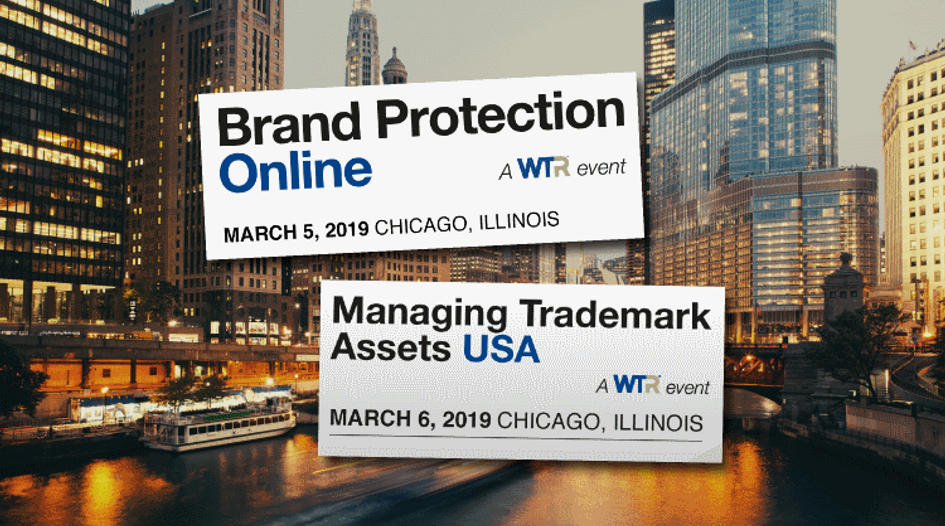 WTR is pleased to announce new events taking place in Chicago in March 2019. Hosted on consecutive days, our Brand Protection Online: Strategies for Ethical Enforcement and Managing Trademark Assets USA events will deliver high-level insight and practical takeaways for those tasked with managing, protecting and monetising brands.
On 5 March 2019, our inaugural Brand Protection Online event will take a deep dive into practical strategies for fighting infringement on ecommerce sites, navigating the changing domain landscape and managing reputation online. Crucially, with efforts to solve the WHOIS access challenge entering their endgame, it will provide a timely opportunity to gain the latest insight into how to adapt policing and enforcement strategies in a post-GDPR world.
Taking place at the same venue the next day, the fourth annual Managing Trademark Assets USA will again focus on the cost-effective management of international portfolios, and comes at a time when it is more important than ever for brand owners to ensure they are integrating innovative and disruptive strategies into their trademark operations. Amongst the topics to be tackled are new approaches to anti-counterfeiting, overcoming the marketing-legal divide, managing portfolio risk in the global business environment, and weighing up the right approach to cease and desist efforts. Crucially, the event will explore how to position the legal function as a profit, rather than cost, centre.
Delegate places for each event cost $795, but those wishing to register for both can do so for a combined ticket price of $1,195. For a limited time, WTR readers can use code TRADEMARK to save an additional $200 - bringing the single day cost to $595 and the combined ticket cost to just $995 (this code – which can be applied on payment page – can be used, subject to availability, until 18 January 2019 and is not valid for IP service providers).
To register for Brand Protection Online (or both events) click here.
To register for Managing Trademark Assets USA (or both events) click here.