EUIPO top filers, China litigation data, diversity in trademarks, and much more: WTR's summer edition now available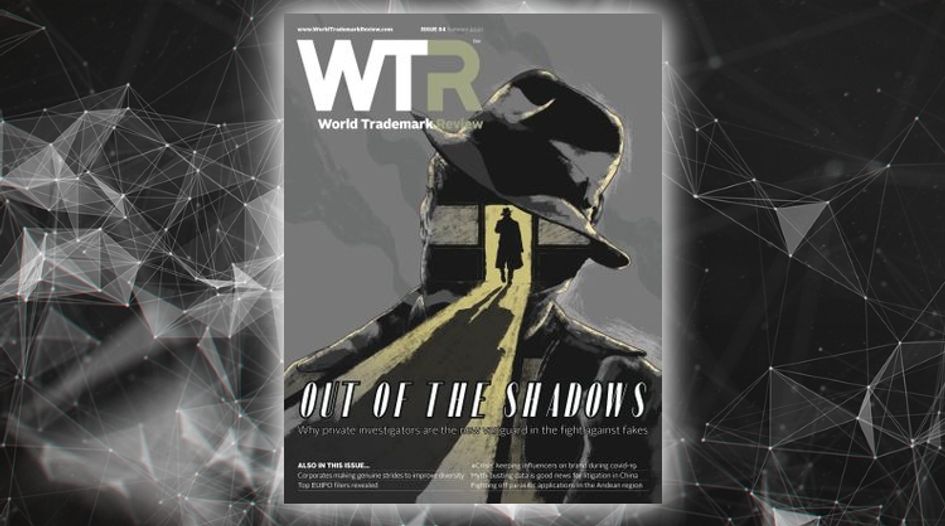 The summer issue of WTR is now available to subscribers in digital format. In a packed edition we present the top filers at the EUIPO, explore how private investigators (PIs) are being utilised by rights holders, track the effects of the covid-19 pandemic on filing levels, and more.
Preparing a quarterly publication with content that remains truly relevant for a sustained period, at a time when the effects of covid-19 change almost daily, is a challenge. However, it would be remiss not to reflect on the significant impact that the pandemic has had on trademark practice and operations. Thus, this issue examines global filing data for the first five months of 2020, to gauge the influence of the pandemic on the trademark industry.
One area that will require attention, as outlined in this edition, is contractual protections in influencer agreements – particularly as the need for brand authenticity has never been greater. In our annual EUIPO focus, we reveal the top law firm and corporate filers in the region and speak to the office's executive director to get the inside track on how the organisation has transitioned to home working and what the future of operations may look like.
Another profession that has been severely affected by the lockdowns implemented around the world is that of PIs. Our cover story explores how these experts are currently being utilised by rights holders and how that relationship can be enhanced. Staying in the world of enforcement, we also present exclusive analysis of more than 11,050 court judgments in China to help inform forum shopping strategies. Some of the authors' findings may surprise you!
Elsewhere, we shine a light on diversity and inclusion (D&I) in the trademark sector. In addition to a roundtable discussion on the creation, maintenance and monitoring of meaningful law firm D&I programmes, we invited corporate trademark professionals from a range of industries to share their stories and insights on this critical subject.
Further, this issue goes behind the scenes at the IP Office of Singapore as it launches a number of new dispute resolution tools, provides an overview of the key requirements for trademark licensing in Latin America and the Caribbean, offers a close comparison of the image rights regimes in the United States and United Kingdom, and much more.
Subscribers can access all the content here.