Entertainment One's enforcement approach; IP workloads worry; INTA's lobbying spend rises; and much more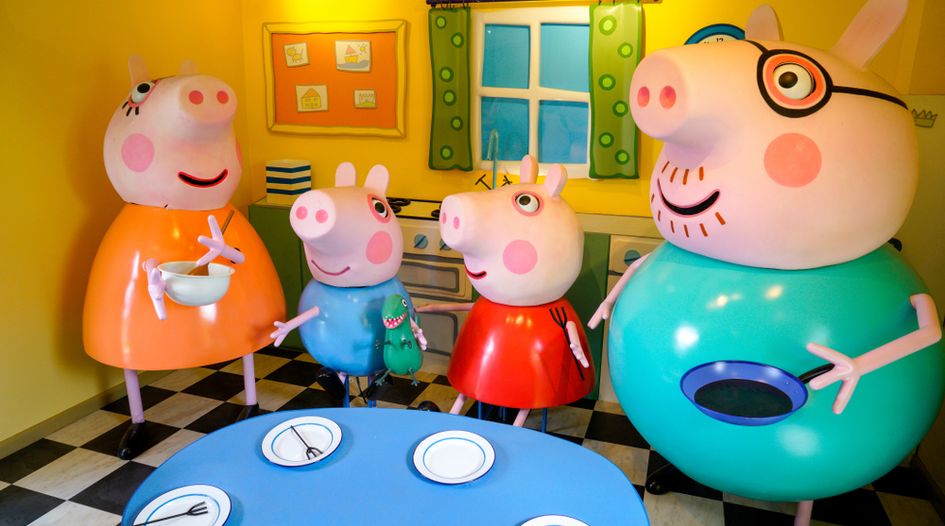 Everything we covered on WTR over the past seven days, and all you need to know from the world of trademarks to set yourself up for the start of another busy week.
Long Read
INTA chief representative officer for Asia-Pacific Walter Chia reflects on his first six months in office and his ambitions for the role going forward.
Monday 14 August
We examine the commercial thinking behind Entertainment One's enforcement approach, including its high-profile Peppa Pig litigation work.
WTR sits down with Haloo CEO Julie MacDonell to find out more about her AI-powered search and registration platform.
Plus:
Tuesday 15 August
Pakistan amends the Trademarks Act, UBS confirms that Credit Suisse branding will be phased out, a Google ads decision is upheld, and more.
We recall a year of acquisitions, partnerships and trademark disputes for award-winning Grupo Bimbo.
Plus:
Wednesday 16 August
INTA lobbying spend increases dramatically as US lawmakers debate IP-related bills.
Workloads rise unexpectedly alongside increasing concerns about IP regulatory developments, according to a new WTR report.
"Staying nimble" helps the Amazon.com trademark team to alter course.
Plus:  
Thursday 17 August
Brand consolidation, digitalisation and expansion – we reveal the projects keeping the Škoda IP team busy.
The IACC welcomes an anti-counterfeiting resolution and fault lines are drawn over a right to repair law in this month's legislation and policy watch.
Plus:
Friday 18 August
The "small but mighty" trademark team at Treasury Wine Estates tells the story behind its enforcement successes in China.
Tesla prevails in China, IP Australia releases guidance for classifying emerging technologies, WIPO launches a masters degree, and much more.
Plus:
Saturday 19 August
Work-life balance is improving, but team leaders cannot afford to become complacent, argues this week's opinion column.
Spotlight on Asia-Pacific 
WTR's latest Special Report offers a strategic guide to navigating the evolving brand protection landscape in the Asia-Pacific region, covering everything from filing trends and the biggest portfolio owners to enforcement mechanisms and best business practices.