Emma Raducanu, the brand: why trademark protection needs to be a priority for tennis superstar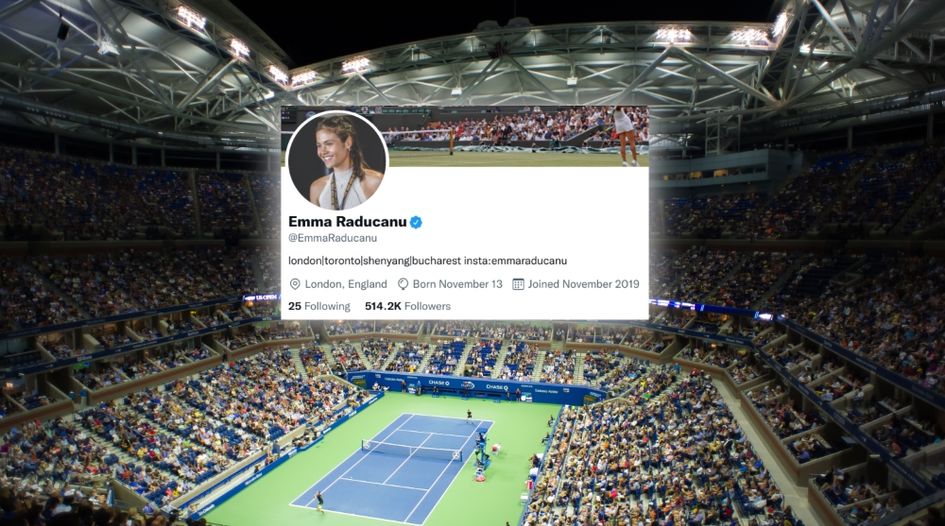 Tennis player Emma Raducanu overcame overwhelming odds to win US Open
Star tipped to become "billion-dollar sports star" following historic success
WTR identifies trademark applications seeking to capitalize on unexpected triumph
Following her historic US Open success over the weekend, 18-year-old tennis player Emma Raducanu is tipped to become a "billion-dollar sports star" through future licensing and sponsorship deals. Reaching that potential, however, will require an immediate focus on brand protection – with one expert claiming delay could result in lost rights or costly legal battles.
British tennis player Raducanu entered the US Open as a 400-1 outsider, and only became a professional sportsperson three months ago. On Saturday, she triumphed in the US Open final in straight-sets, sparking global praise from figures including Queen Elizabeth II and British prime minister Boris Johnson. The remarkable against-the-odds achievement was described as "meteoric" by tennis legend Martina Navratilova, who said she had "never seen it before" – but predicted it was the start of many more grand slam wins for the player.
Off the court, experts are suggesting that Raducanu – who has parents from Romania and China – has the potential to be a once-in-a-generation sports superstar in terms of corporate licensing and sponsorship. "She is a billion-dollar girl, no doubt about it," said PR guru Mark Borkowski to The Guardian. "She is the real deal. It's not just that she plays extraordinary tennis, it's also her background, her ethnicity, her freedom of spirit. People also love the fact that she is vulnerable, but laughs the pressures away."
As a comparison, fellow tennis star Naomi Osaka is the world's highest-paid female athlete, and earned an estimated $60 million over the past 12 months, with the vast majority coming from corporate partners including All Nippon Airways, Louis Vuitton, Nike, Nissan, Mastercard, and TAG Heuer. While there's obviously a long road to go until Raducanu reaches those figures, it demonstrates how tennis is an attractive sector for major commercial partners.
Achieving such financial success will require many elements outside of on-court victories – including effective brand protection. Talking to WTR, Lee Curtis, chartered trademark attorney and partner at HGF, says that "registered trademark registration will be key in leveraging the potential that brand 'Emma Raducanu' has become almost overnight", adding: "Trademark registrations for her name increases the ability to control who uses that name and increases the potential of securing lucrative licensing deals. She already appears to have secured her name on Instagram for example, with 1.4 million followers on that platform, which is again key for leveraging the 'brand equity' nowadays in her name."
On the flip-side, Raducanu's sudden rise to global superstar means there may be third-parties who wish to take advantage of her success. Risks include unauthorised merchandise (with examples already found on RedBubble), impersonation accounts on social media (again, examples have cropped up, including a copycat account on Twitter), and domain name hijacking ('emmaraducanu.com' was registered by an unknown entity and is now on sale for £72,000).
There is also the significant risk that third-parties will file trademark applications for 'Emma Raducanu' (or related terms) and legal action may be required to stop it reaching registration. To date, it appears only one trademark application for EMMA RADUCANU has been filed – it was lodged at the UKIPO over the weekend and, after being contacted by WTR, the applicant confirmed it has now been withdrawn. Another was filed a day before at the UKIPO for the term RADU CAN DO, which appears to be a play on the tennis star's name. However, with the US Open victory (and subsequent global praise) occurring on Saturday, more third-party applications may be filed in the days ahead.
According to Curtis, such applications are a depressing reality for individuals suddenly propelled into the mainstream spotlight. "Her victory at the US Open maybe came as a surprise and the resultant potential for a global brand centred around her name," he explains. "Although she had some success at Wimbledon this year, there is always a balancing act over when to file trademark applications for her name. In short, her tremendous sporting success and potential as a brand has leapt ahead of any trademark protection. For example, she may not end up owning the brand herself, but control it via a company and that company may need to be set up. However, her representatives will hopefully be advising her to protect her name as a priority."
While in some jurisdictions, such as the US, a trademark application will be rejected if it appears to be using the name of a public figure without their permission, in other jurisdictions such a rule is not in place. Therefore, in certain countries – such as China (a key market for Raducanu, who is half-Chinese and speaks Mandarin) – there are numerous examples of celebrities losing the trademark rights to their name. At that stage, a costly legal battle or expensive trademark negotiation could be the result.
For that reason, then, Curtis says that, at a bare minimum, the tennis star (and/or her representatives) should urgently file for a trademark in the UK. "Filing a trademark application should be a priority in an effort to start to improve protection for a potentially global brand and leverage income from that brand," he says. "Filing a trademark application now for her name in the UK would secure a priority date for future international trademark applications and give her and her representatives time to consider a global trademark filing strategy."
The speed in which Raducanu has risen from amateur talent to global superstar is arguably unprecedented. Going forward, it will require canny trademark protection efforts to ensure brand control and allow her to to prevent bad actors benefitting from her achievements.