Elon Musk brand confusion; Burger King rebrand; Subway to expand licensing footprint – news digest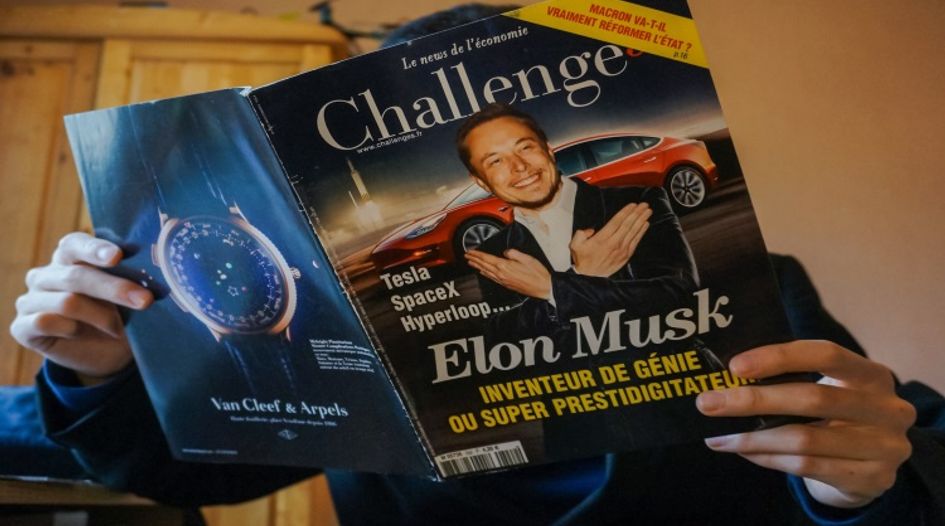 Every Tuesday and Friday, WTR presents a round-up of news, developments and insights from across the trademark sphere. In our latest round-up, we look at Unilever offloading the Bertolli business, thousands of counterfeit designer masks seized in Kentucky, South Korea adopting a Vegan certification mark, and much more. Coverage this time from Trevor Little (TL), Bridget Diakun (BD), Jonathan Walfisz (JW) and Tim Lince (TJL).
Market radar:
Unilever offloads Bertolli business – Unilever has sold the remainder of its Bertolli business to Enrico-Glasbest. The Dutch food group is now the owner of the rights to the pasta sauce and pesto products in Europe. It further will be in possession of the worldwide rights to mayonnaise products sold under the Bertolli brand. Unilever has been unloading its Bertolli business for over a decade. In 2008 it sold the Bertolli olive-oil business to Deoleo, and in 2014 Mizkan Group bought the US rights to the Bertolli Brand. In 2017 Upfield acquired Unilever's Bertolli margarine business through the purchase of the company's spreads arm. "As other parts of the Bertolli license were previously divested by Unilever, it was a natural next step for Unilever to sell the remaining part of the Bertolli brand. Enrico-Glasbest's portfolio of Mediterranean delicacies provides stronger synergies and potential to expand the footprint of the brand," a Unilever spokesperson said. (BD)
Subway partners with Broad Street Licensing Group – Subway has teamed up with Broad Street Licensing Group (BSLG) to help further expand the "Subway licensed footprint". According to Food & Beverage Magazine the partnership will "focus on the creation of Subway branded licensed products in food and lifestyle spaces". Mike Kappit, chief operating and insights officer at Subway said, "Our collaboration with BSLG enables us to connect fans to the Subway brand in new and unexpected ways. With BSLG, we will grow our presence beyond our natural borders into other retail environments and strengthen our positioning as a food and lifestyle brand." (BD)
Burger King redesigns brand for first time in two decades – Burger King has revamped its brand, including its logo, food packaging and restaurants, for the first time in over 20 years, reports Reuters. According to the fast food chain, the decision was taken in order to reflect improvements to the business such as eliminating preservatives. "We've been doing a lot in terms of food quality and experience," said Fernando Machado, global chief marketing officer of Restaurant Brands International (the owner of Burger King). "We felt that putting a wrap around all that with an upgrade of our visual identity would help signal to our consumers that this is a brand that's evolving." The company's mascot, The King, was not impacted by the rebrand. (BD)
Thousands of counterfeit designer masks seized in Kentucky – A shipment from Vietnam containing 5,789 counterfeit designer masks and on route to North Carolina was halted by US Customs and Border Protection (CBP) officers in Louisville, Kentucky. The counterfeit masks included the brand logos of fashion labels including Coach, Tory Burch and Chanel. The estimated value of the real equivalents would have been $1.4 million. Last Friday, CBP also seized 10,800 counterfeit surgical masks in Cincinnati. Although these were not fake designer goods, officials noted the confiscated masks would have been distributed to frontline medical personnel. (JW)
Legal radar:
Mercedes-Benz prevails in Japan – In an IPPlanet blog, Masaki Mikami from Marks IP Law Firm reported on Daimler AG winning a dispute in Japan. Specifically, Daimler AG filed a trademark at the Japan Patent Office (JPO) for a logo for its 'Mercedes-Benz StarParts' service (in class 12 for vehicle parts). The JPO initially refused to register the mark, claiming it was too similar to an earlier mark for STAR-PARTS (in class 35 for automobile retail services). However, in an appeal, Daimler prevailed, with the court ruling that the marks are not similar due to STARPARTS not being the dominant element of the trademark – with the leading element ruled to be "Mercedes Benz". However, according to Mikami, the win is tinged with risk. "Although this seems like a real success for Daimler AG now, what will be the result in the future taking into account that the earlier mark STAR-PARTS is registered for spare parts for vehicles among others," he said. "This is a scenario, for example, where the earlier mark is not so famous but can become such one as a result of the Daimler use of their own combined mark in the market." (TJL)
South Korea adopts Vegan certification mark – The BeVeg vegan trademark has been adopted in South Korea by the Institute of Global Sustainability Certificate (IGSC). As the first vegan certification mark in the country, IGSC auditors are being trained to issue the BeVeg logo and license according to BeVeg's vegan certification standards. These standards can be applied to products in food and beverages, pharmaceuticals, cosmetics, textiles, fashion, accessories, household goods, furniture, and more. BeVeg's is the world's first ISO 17065 accredited certification body for vegan certification and is managed by the Law Offices of Carissa Kranz. (JW)
Office radar:
(For more of the latest coronavirus-related updates from national IP offices, please read our dedicated article which is being continuously updated)
Domain Radar:
CentralNic Group acquires brand protection company – Internet platform CentralNic Group has acquired online brand protection software and corporate internet services provider SafeBrands. While SafeBrands' online brand protection products and expertise have, to date, been available to companies based in French-speaking markets, CentralNic plans to offer them through its global Brand Services offering, which currently serves clients worldwide through teams based in the US, the UK, Canada, Australia, Germany, New Zealand, and other countries. Ben Crawford, CentralNic Group CEO, commented: "The acquisition of SafeBrands is an important next step for CentralNic in our strategy to provide comprehensive end-to-end digital domain name and online brand protection services to enterprise clients, globally. We are delighted that SafeBrands, its talented team of domain and IP protection experts, cutting-edge software and service portfolio and established business relationships, are becoming part of our group. Intellectual Property is the lifeblood of any company, creating value and differentiation, and the successful future of any brand depends on protecting its IP with maximum efficiency. SafeBrands' brand protection products will help CentralNic further broaden our capabilities in this space." (TL)
Media Watch:
Musk tweet leads to share gain for wrong company – On 7 January 2021, the world's richest person, Elon Musk, tweeted out two words to his millions of followers: "Use Signal." The message appeared to be referring to the not-for-profit encrypted messaging service. However, according to Bloomberg, within hours, a Texas medical company called Signal Advance Inc saw its share price surge by 600%. Within three days, it had risen by more than 5,100% to a value of $390 million (from $7 million). Incredibly, with financial media reporting on the apparent confusion at the end of last week, shares continued to rise this Monday. This is despite the company apparently reporting zero revenue from 2014 to 2016. It is also a reminder, perhaps, of the risks (or maybe opportunity) of sharing a name with another company in a different market sector. While consumer confusion is usually a negative thing, in this case, it may have led to a windfall – albeit temporarily (presumably). (TJL)
On the move:
Quinn Emanuel opens Texas office – Quinn Emanuel Urquhart & Sullivan has opened an office in Austin, Texas. "We are very excited about expanding into Austin. Clearly, it is a boom town attracting the cream of the US tech sector as well as billions of dollars in new investment. As always, we go where the clients are. The Westenr District of Texas has become one of the most important litigation forums in the country particularly for patent cases," said firm founder John B Quinn. "Our Houston office is already thriving and our dominance in intellectual property work makes us an especially good fit for the Texas market." On the same day as the grand opening partners Scott L Cole and Asher B Griffin joined the firm, complementing two other partners who are based there. Patent litigator Cole joins from McKool Smith. Griffin joins from a commercial litigation boutique, Scott Douglass & McConnico. (BD)
Venner Shipley announces hires – Venner Shipley has today announced that Kirsty Simpson, a European and UK patent attorney,  has joined, as a partner in the firm's chemical and life sciences team. The firm has also  strengthened its Munich office with the addition of senior German and European Attorney-at-Law, Mechthild Liebelt. Mechthild is a European trademark and design attorney, admitted to practice before the German Patent and Trademark Office and the EUIPO. (TL)
Greenberg Traurig strengthens Atlanta's IP team – Greenberg Traurig has hired Nigamnarayan Acharya who joins the firm as shareholder. Acharya specialises in life sciences and pharmaceuticals and his practice includes domestic and foreign patent and trademark prosecution, as well as domestic and international portfolio development, management, enforcement and licensing. (BD)
Knobbe Martens announces partner promotions – Knobbes Martens has promoted 10 of its attorneys to partnership. The new partners are based in five of the firm's seven offices and include: Brian Flynn (San Diego), Cassie Gourash (Washington D.C.), Brian Graham (San Francisco), Mitch Hadley (New York), Jeremiah Helm (Washington D.C.), Robert Hilton (San Diego), Zach (Jun Hyuk) Hong (New York), Daniel Hughes (San Diego), Alex Martinez (Orange County) and Andrew Morrell (Washington D.C.). (BD)
And finally...
WTR Connect returns this spring with five days of strategic content – The second WTR Connect series of digital events will take place the week commencing 15 March 2021. The event will offer more than 20 interactive digital sessions, each designed to facilitate discussion, benchmarking and the sharing of best practice around key topic areas and challenges facing trademark and brand leaders. The theme for the event is 'exchanging cost-effective and resource-efficient best practices' and each day will start with a keynote address from a major industry figure, which is followed by live breakout discussions lasting for a maximum of 60 minutes. Registration is free for WTR subscribers and participants can register for as many sessions as they like across the week, building their own schedule. For event timings, and to sign up to attend, please click here.