EL CHAPO trademark, Apple loses Rospatent appeal, and Gleissner company defeated: news digest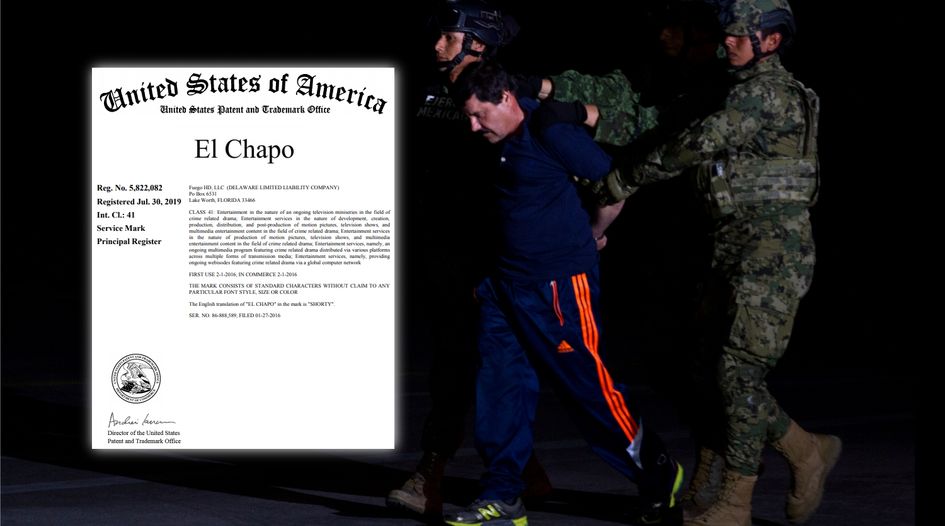 Every Tuesday and Friday, WTR presents a round-up of news, developments and insights from across the trademark sphere. In our latest edition, we look at Penn State seeking millions in a trademark spat, the IP Office of New Zealand launching a new search tool, the Oman government urging trademark to stop selling fakes, the USPTO holding a seminar in Uzbekistan, and much more. Coverage this time from Trevor Little (TL), Bridget Diakun (BD), Jonathan Walfisz (JW) and Tim Lince (TJL).
Market radar:
EL CHAPO trademark registered – A trademark application for the term EL CHAPO reached registration today (July 30) in class 41 related to TV shows. According to the application specimen, the mark is related to an unreleased TV show accessed at the website 'elchapo.tv', which is produced by the company Fuego HD (also the trademark applicant). The website states that the TV show is "coming soon". However, the registration of the mark has led to questions from some experts in the trademark community. Erik Pelton of Erik M Pelton & Associates, for example, wondered how the mark was able to reach registration: "How is that not descriptive of the subject matter? Identifies a living individual [without] their consent?" Other questions could also be raised over Netflix and Univision's popular TV series El Chapo and why there wasn't any opposition to the mark – although it is worth noting that the series was released on Netflix over a year after this trademark application was filed. Of course, it's hoped that the examining attorney considered those questions through the application process. (TJL)
Oman urges traders to stop selling fakes – Oman's Ministry of Commerce and Industry (MoCI) has spoken publicly to traders in the country's marketplaces, urging them to stop selling counterfeit goods. The message follows a rise in reports of fake goods. Head of the IP rights monitoring department at MoCI, Ali Bin Hamad Bin Saif Al Mamari, commented: "Recently, the ministry received a number of complaints about the counterfeiting of trademarks protected inside the Sultanate. This is done with the pretext given by some traders that they did not know about the rights of the trademark owners. In response to such complaints, the ministry carried out inspections and seized a number of counterfeit products. Due to the protection of the rights of the trademark owners, all traders and importers must stop trading and selling products which have trademarks protected in the Sultanate." Such public messages are relatively rare, suggesting the rise in fakes recently is notable enough to warrant such a response. (TJL)
$2.6m in counterfeit Cartier seized entering US – A shipment from Hong Kong containing over 180 pieces of counterfeit Cartier jewellery was seized in New Orleans. US Customs and Border Protection (CBP) estimated the suggested retail price of the authentic equivalents would total over £2.6 million. CBP officers found poor quality jewellery packaged in boxes with Cartier's branding. This is the largest jewellery seizure in New Orleans so far this year. (JW)
Legal course teaches IP law to 3D printing graduates – Graduates in the Additive Manufacturing and Design (AMD) program at Pennsylvania State University will have the opportunity to take a course teaching the important legal issues in the growing industry. AMD students will be taught about IP rights and how to avoid infringement in the course 'AMD 597 Legal Issues in Additive Manufacturing'. The ease with which 3D designs can be circulated is a cause for reasonable alarm by those interested in protecting IP, whether in the form of designs, copyrights, or branding. Taught by Daniel R Cahoy, a professor of business law at Penn State, the course will cover legal contracts, cyber-security, and protecting privacy rights in addition to the information on IP rights. (JW)
Legal radar:
Scottish shop prevails in legal battle with Gleissner-owned company – A clothing store in Scotland has won a three-year trademark dispute with New York-based Fashion One Television over a trademark for the term HIGHLAND FASHION WEEK. More specifically, Grace Hay, who runs a lingerie shop called Grace Lily, filed a trademark application that was opposed by Fashion One Television because it owns a trademark for the term FASHION WEEK, therefore claiming consumers would be confused. In its ruling, the UK Intellectual Property Office disagreed, stating: "The addition of this word adds a geographical context, that is, a week-long fashion event taking place in the Highlands. I am more than satisfied that a consumer will not mistake one trademark for the other. There is no likelihood of direct confusion." Talking to local newspaper the Daily Record, Lily said she "couldn't believe" that a company in New York would target her mark: "I am a small shop owner and I just want to put on a local event to showcase Highland and Scottish fashion. I couldn't see how a small community fashion week could have any impact on a television network in New York. It did seem very heavy-handed for them to come after us." But regular WTR readers won't be surprised by the heavy-handed approach of Fashion One Television – the entity is owned by Michael Gleissner, the millionaire businessman we've written about extensively due to his sprawling trademark portfolio (and regular appearances in UK trademark opposition decisions). This latest defeat isn't necessarily a surprise either; our previous research found that he had been unsuccessful in over 75% of oppositions against his marks. But it also reflects that Gleissner and his legal team continue to be active in trademark enforcement. (TJL)
Apple loses AR appeal in Russia – Over on Lexology, there has been a discussion over technology giant Apple losing an appeal to the Russian Federal Service for Intellectual Property (Rospatent). Apple had previously been refused an "AR" trademark for their augmented reality products on the grounds of previous marks being registered for "AR" in 2013 and 2016. The first of which didn't stand for augmented reality but "Airports of Regions". Apple appealed the decision arguing that (1) "AR" is a common term used by many and should not be protected by the law, and (2) that their trademark was to be used with different types of goods and services. Nonetheless, the judge didn't bite and Apple left the court disappointed. (JW)
Bonzo Dog Doo-Dah Band raises High Court costs to fight trademark dispute – Psychedelic pop/jazz/rock group Bonzo Dog Doo-Dah Band have raised £15,000 through a crowdfunding website in order to fight a trademark squatter. The band, founded in the 60s attempted to register their name in 2017, to be informed that Anglo Atlantic Media had already registered the mark in 2015. One of Anglo Atlantic Media's directors is the band's former promoter, Bob Carruthers, who stopped working with the band in 2016. With the money raised, the band will take the dispute to the High Court with extra money being put towards challenging the mark at the IPO. (JW)
Penn State seeks millions in trademark spat – Penn State has filed a complaint with the US Middle District Court alleging that a Florida man, operating as Sports Beer Brewing Co, has infringed its trademarks. The university is seeking an injunction as well as up to $2 million for each infringed mark. According to Penn State, when they contacted Paul L Parshall about the alleged infringement he asked the university to buy the trademarks from him. The trademarks in question include Penn State Nittany Brewing, Penn State Nittany Beer and Penn State Nittany Lion Cigars. Parshall was successful in registering Penn State Nittany Lion Cigars with the Illinois trademark system. This means that there was no process to initiate rejections for infringement or the likelihood of confusion. The state registration system has been criticised in the past, with some arguing it should be abolished to limit registrations to the federal office. The university says it was notified by the governor's Office of General Counsel in 2018 to the infringement. (BD)
Office radar:
USPTO holds trademark seminar in Uzbekistan – The US Patent and Trademark Office (USPTO) has held a seminar on the topic 'Examination of applications for trademark registration' for representatives of the IP office of Uzbekistan. Conducted across two days (July 25-26), USPTO officials Helen Livinski and Nancy Omelco spoke about topics including "trademark applications, geographical terms and locations, trademark protection, appeals, objections and cancellations". (TJL)
Tajpatent reveals 2019 H1 filing details – The IP office of Tajikistan (Tajpatent) has revealed data related to IP filing activity in the first half of 2019. According to the registry, it received 226 applications for the registration of trademarks in the first six months of this year – with 89 from national applications and 137 from foreign applicants. On top of that, the registry received 1,226 international applications via the Madrid System – of those, 659 have already been registered, 79 partially registered and 273 refused. On the design side, seven applications for industrial designs indicating Tajikistan were submitted via the Hague international registration system. (TJL)
Head of Moldovan IP office departs – The general director of the State Agency for Intellectual Property of the Republic of Moldova (AGEPI), Lilia Bolocan, has announced she is departing following the end of her 10-year mandate. In the letter to colleagues and partners, Bolocan said: "Allow me to use this opportunity to send you sincere words of appreciation and thanks for the collaboration we have had during this period, for your support and contribution to the realisation of multiple projects implemented together with the AGEPI team. I hope that you will continue to offer your support and friendship to the agency team in the prosperity of the intellectual property system to which I have contributed and which I am proud of." WTR has contacted the AGEPI to confirm who will be replacing Bolocan as general director. (TJL)
Cyprus IP office upgrades digital trademark services – The Cypriot Department of Registrar of Companies and Official Receiver (CYDRCOR) has upgraded its online trademark services. With the support of the EUIPO's European Cooperation Projects, the new e-filing solution provides "modern, state of the art tools and services". (TJL)
Pakistan IPO conducts Madrid Protocol meeting – The Intellectual Property Office of Pakistan is continuing to work hard to bring the Madrid System to Pakistan. Last week, the registry held an inter-ministerial meeting on the topic, held at the IPO's headquarters, to discuss viable next steps to accession. It was attended by representatives of the Pakistan government ministries of commerce, interior, foreign affairs, food security, science and technology, among others. According to the office, "they were of the view that the process of accession should be expedited in order to facilitate SMEs and the business community." The meeting following strong calls from the IP office last year that accession to the Madrid Protocol will be a positive for the country. (TJL)
Philippines IPO to close for three days – The Intellectual Property Office of the Philippines (IPOPHL) has announced it will be closing for three days this week, July 31 to August 2, to hold a workshop for staff. According to the registry, the workshop will include "a series of activities focused on strengthening the cohesion of an IPOPHL team dedicated to excellent public service". For practitioners with upcoming deadlines to the IPOPHL, the office added that all documents and transactions due on the dates when the office is closed may be submitted by next Monday (August 5). (TJL)
IPONZ releases new trademark search tool – The IP Office of New Zealand (IPONZ) has released a new trademark search tool, called 'Trademark Check', to more effectively allow users to search for words and logos on the New Zealand register. According to the registry, the new tool "has been developed for members of the general public who have a limited awareness of intellectual property". A key feature is the automatic searching of words "that look or sound the same" to other marks – an innovative feature rarely seen on IP office search tools. (TJL)
Media watch:
Beer branding opportunities for London football clubs – There's been a north London derby between football clubs Arsenal and Tottenham Hotspur – with the spoils being the claim to the most authentically locally-brewed pint the clubs are endorsing. Arsenal FC has signed a deal with Camden Town Brewery as the official beer partner of the 'Gunners' for the next three years. Over in Tottenham, rival 'Spurs' have partnered with Beavertown Brewery. Investments from Heineken and Ab InBev respectively has brought new commercial opportunities to the local enterprises. Both craft breweries hail from their respective clubs' local areas. The local breweries will make the most of this deal with Camden Town Brewery getting licensing opportunities to Arsenal's IP, including their Adidas kit. (JW)
On the move:
Burns & Levinson bolsters IP practice with partner hires – According to a press release, Burns & Levinson has welcomed two patent attorneys to the IP group, each joining as a partner. Paul A Pysher works in prosecution and joins from Choate, Hall & Stewart. Christopher S Schultz was previously at Finnegan and is a litigator. The double hire reflects Burns & Levinson's commitment to expanding the IP practice. (BD)
And finally…
Get the inside track on brand protection online – WTR is pleased to announce that, following a sold-out debut in Chicago, its Brand Protection Online event is heading to London on 14 October. A unique forum for brand professionals to discuss solutions to the challenges that arise when protecting trademarks online and share insight on how to prioritise enforcement efforts, the event programme will cover:
Developing a state-of-the-art online brand protection strategy
 Fighting infringement on e-commerce sites
Brand protection strategies for social networks and apps
Managing the changing domain name landscape
Data privacy and GDPR: working within the rules
Delegate places at the event cost £495 (excluding VAT) but – until 6 September – a saving of £100 is available when using the following code: BPO100. To register for Brand Protection Online Europe, click here.