Dr Dre trademark divorce battle; Louisville counterfeit seizure; WIPO's Gurry looks to the future – news digest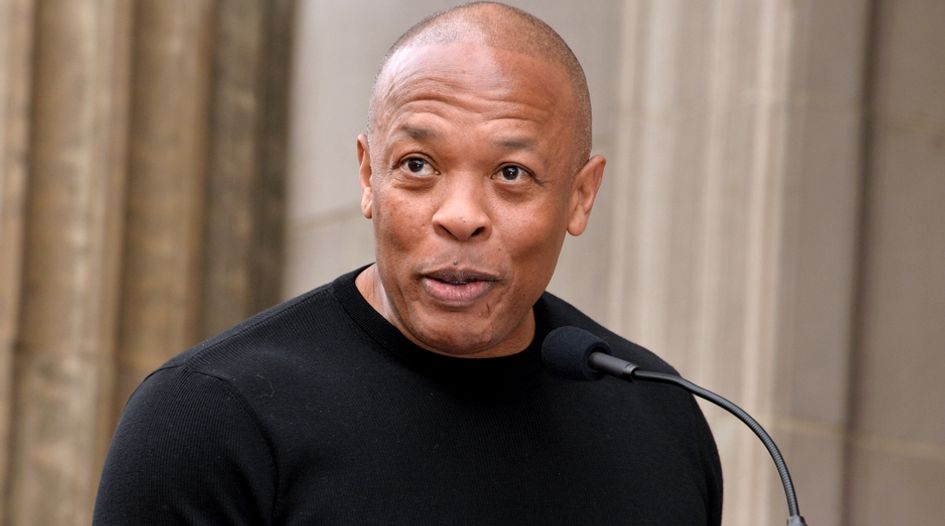 Every Tuesday and Friday, WTR presents a round-up of news, developments and insights from across the trademark sphere. In our latest round-up, we look at a UK drinks firm being sued by Sazerac Brands, an AI-based start-up launching a new online brand protection offering, how filings are holding steady during the pandemic, and much more. Coverage this time from Trevor Little (TL), Bridget Diakun (BD), Joyce Ng (JN), Jonathan Walfisz (JW) and Tim Lince (TJL).
Market radar:
CBP seizes fake luxury goods in Louisville – US Customs and Border Protection (CBP) officers in Louisville have seized a shipment containing two boxes of high-end designer items worth an estimated $193,000. The shipment, manifested as women's clothes, was found to contain counterfeit designer shoes, handbags, and clothes. The packages were coming from Vietnam and were heading to Westminster, California. "Our officers continue to be vigilant and committed in stopping shipments of illicit goods," said Thomas Mahn, port director at Louisville. "These shipments are distributed throughout the nation in an effort to con consumers into spending their money on cheap counterfeits, when they think they are buying the real thing." (TL)
Start-up unveils new online brand protection offering – MarqVision, an AI-based Harvard-incubated start-up, has launched a brand protection platform designed to help companies detect and remove counterfeits on online marketplaces. The company states that its system allows brands to automatically detect and remove infringing listings from global online marketplaces, including Amazon, eBay, and Taobao. A press release states: "MarqVision's deep-learning-based image recognition model scans through millions of product listings and finds listings with images containing products that look similar to the legitimate brand's products. Its machine learning model then detects infringements among those listings based on information such as price, product description and customer reviews. Finally, MarqVision's bot-powered reporting system automatically files take-down requests for those listings that the legitimate brand owner confirms as infringements." MarqVision CEO and co-founder Mark Lee stated: "The counterfeit market is currently a $1.7 trillion industry, which makes it the largest criminal industry in the world. We have pioneered a technology-driven way to solve this serious problem using artificial intelligence. Our beta clients have experienced a 30-fold efficiency increase in their anti-counterfeiting efforts." Looking ahead, the company now plans to build mapping technology that matches data points from different ecommerce platforms in order to connect sellers to the infringer behind them, reveal the infringer's identity, and allow brands to take targeted legal action. (TL)
Filings hold steady during the pandemic – Figures from the EUIPO have shown that there hasn't been a significant reduction in trademark filings across 2020 compared to last year. Research by Vox EU shows that despite the impact of the pandemic on so many aspects of the working world, trademark applications were at roughly the same level for all countries, with there even being an overall increase in June this year comparatively. China notably is the only country to dramatically increase its trademark applications compared with last year, with Italy and Germany as the two runners up and closest to zero change year-on-year. On the other end of the spectrum, there were decreases seen from Brazil and Canada. Interestingly, there was a noted decrease in applications in the service classes of the Nice classification system, a likely result of the decreased success of service businesses over the course of the pandemic's first lockdowns. On the other hand, the biggest class increase was seen in Classes 5 and 10 (pharmaceutical products and medical equipment). (JW)
Still D.R.E. (but perhaps co-owned) –  Media outlet PEOPLE has obtained court documents in which Nicole Young alleges that Dr Dre (born Andre Romelle Young) "secretly" transferred "valuable trademarks" they jointly owned — both the name Dr Dre as well as his hit album The Chronic – to a new holding company. Dre and Young are in the midst of divorce proceedings and Young alleges that shortly after being "forced to leave their family home," Dre made a move to transfer the rights, misrepresenting himself as the sole owner. The documents allege that the transfers were made before Dre threatened to file for divorce on 27 June (Young initiating proceedings two days later). Dre's attorney did not respond to PEOPLE's request for comment but the trademark twist in one that will likely generate ongoing media headlines. (TL)
Legal radar:
Cryptocurrency brand sued over 'PayID' brand by Australian financial services – New Payments Platform Australia (NPPA) has filed a trademark suit against US cryptocurrency firm Ripple over the brand 'PayID'. The suit, filed at Federal Court of Australia New South Wales Registry, claims that NPPA launched its version of the brand in February 2018. Ripple then launched a similar PayID branded service in multiple countries including Australia – which has lead to NPPA's accusations of trademark infringement. (JW)
UK drinks firm sued by Sazerac Brands – Halewood International, a UK-based spirits company, has been sued for trademark infringement by Sazerac brands, over its new bourbon 'American Eagle'. New Orleans-based Sazerac already sells an 'Eagle Rare' bourbon which has UK trademarks registered in 1981 and an EU trademark registered in 2002. Halewood's brand was launched in February 2019 with UK and EU trademarks registered in 2018 but a court has now ruled the American Eagle trademarks invalid. This isn't the first time Halewood has got into a trademark clash, with the judge of this case citing the company's previous attempts to sell a Vera Lynn Gin without the permission of the now late singer. (JW)
Office radar:
(For more of the latest coronavirus-related updates from national IP offices, please read our dedicated article which is being continuously updated)
WIPO head looks backwards and forwards – This week WIPO director general Francis Gurry opened the WIPO Assemblies in reflective mood, looking back on the organisation's progress during his 12 years as Director General. Gurry's tenure ends on 31 September and in his speech he highlighted the growth in WIPO's global IP systems that help stimulate and spread innovation across the globe, as well as adherence to WIPO-administered treaties - with over 400 new accessions to those treaties, the majority coming from developing and least developed countries. He also reported on the effects of the COVID-19 pandemic observing that the coronavirus had yet to adversely affect the financial position of the organisation) and warned that that the diminished state of multilateralism poses a major challenge to the world: "We are all aware that the appetite or the capacity for multilateral action is regrettably diminished at the moment. The reconstruction of this appetite or capacity, with the inevitable changes in architecture that it may entail, is one of the major challenges that confronts the world in the coming years and decades." Daren Tang takes up WIPO's director general role in October and looking ahead Gurry concluded: "I wish him every success in his tenure, which I am sure will be an outstanding one that leads the organisation forward in every way." (TL)
USPTO policy officer appointed to lead Copyright Office – The United States Patent and Trademark Office has announced that Shira Perlmutter, the USPTO's chief policy officer and director for international affairs, has been selected by the Librarian of Congress to serve as the 14th US Register of Copyrights. Perlmutter has more than 20 years of experience working on copyright and other intellectual property issues, in a variety of public and private sector positions. Before joining the USPTO in January 2012, she served as executive vice president for global legal policy at the International Federation of Phonographic Industry and before that as vice president and associate general counsel for IP policy at Time Warner. "The Library of Congress has made an outstanding choice," reflected Andrei Iancu, USPTO director. "I and the entire USPTO team congratulate Shira and wish her much success in her new and critically important role. As one of the nation's most preeminent copyright experts, Shira is extremely well qualified to lead the Copyright Office. I look forward to working with her and continuing the USPTO's longstanding and close collaboration with the Copyright Office. In the coming days we will appoint an acting director to lead our office of policy and international affairs, and we will share a timeline for our efforts to hire a permanent replacement." (TL)
Saudi Arabia and UK IPO tie-up – The UK Intellectual Property Office (UKIPO) has announced it has "strengthened cooperation" with Saudi Arabia's IP Authority (SAIP) as part of a new memorandum of understanding. In the post on Twitter, the UKIPO states: "The MOU signing represents a positive step between the UK and SAIP, designed to encourage business engagement and boost trade opportunities." (TJL)
On the move:
K&L Gates strengthens IP practice with Orange County team – K&L Gates has appointed Mincheol Kim to partner within the firm's IP procurement and portfolio management practice. Kim joins the firm in Orange County. He previously worked at Knobbe Martens, and is accompanied in his move by associate Nathan Lee and patent agent Hank Lee. Kim advises clients on the legal, technical, commercial, and dispute resolution matters involved with intellectual property, with an emphasis on patents and trademarks. (BD)
Trademarkia adds former USPTO trademark attorney to roster – LegalForce Trademarkia has announced the addition of Gina Hayes as attorney manager to the firm's Tempe Arizona office. Before LegalForce, Hayes worked as a trademark attorney at the USPTO for more than two-decades. Over that time, she examined "an estimated 42,000 trademark applications" and represented the USPTO in both oral and brief arguments before the TTAB. She has received customer service awards at the USPTO. (TJL)
James Baldwin joins McDonald Hopkins – James R Baldwin has joined McDonald Hopkins' Chicago office where he will be working within the intellectual property department. Baldwin focuses his practice on the drafting and prosecution of patent applications, as well as clearance and patentability analysis, and intellectual property due diligence. He formerly practiced at Shumaker & Sieffert. (BD)
And finally...
How WTR is connecting trademark leaders next month – WTR recently unveiled the first  participants for WTR Connect, a series of high-level online events taking place across two weeks in October. Experts from companies including Abercrombie & Fitch, Burberry, Novartis, Starbucks, Under Armour and Walmart joining the roster, with Christian Archambeau, executive director at the EUIPO, and David Gooder, trademark commissioner at the USPTO, confirmed to deliver keynotes. The ground-breaking digital concept offers a series of individual interactive digital sessions organised around major themes. Comprised of a series of hubs, each session is designed to facilitate discussion, benchmarking and the sharing of best practice around key topic areas and challenges facing trademark and brand leaders. To find out more and to secure your place at WTR Connect, click here.