Diversity in the legal workplace: exclusive interview with Finnegan's first managing partner of colour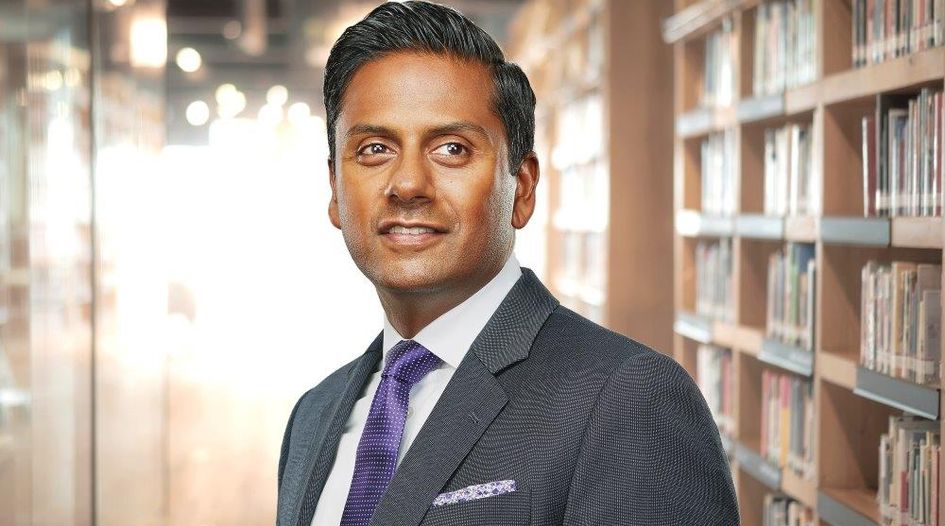 Measures pre-recruitment create a pipeline of diverse talent to enter the workforce 
Less homogeneity leads to more creative solutions and a better product for clients
New generation has an expectation of diverse initiatives regardless of background
Anand Sharma is the first person of colour to fill the role of managing partner at US IP firm Finnegan. When asked about difficulties in his career trajectory due to his East Indian descent he responds comfortably: "I'm 47 years old and elected as the managing partner of this top-notch IP firm and the first managing partner of colour. That sort of speaks to the [industry's] roadblocks and challenges as well as the type of firm we have on diversity and inclusion."
Sharma's comment is indicative of how long a shift towards diversity at the top of the legal sphere has taken. Although Sharma has personally faced few roadblocks, and while a noteworthy appointment, in a firm founded over 50 years ago, he's the first managing partner of colour.
The route Sharma has taken to managing partner is typical. He joined Finnegan as an associate directly after leaving law school. Rising up the ranks, he made partnership in 2006 and is now managing partner, as of July 2019.
A decade ago, Sharma set up the diversity and inclusion committee and served as its first chair (having spent five years in the role, it has since been filled by Sanya Sukduang, Rajeev Gupta, and now Mareesa Frederick). Reflecting on this experience, he observes that attracting a diverse set of applicants adds challenges to Finnegan as an IP speciality firm. "When you are singularly focused, you have to work harder to make your talent coming in diverse," Sharma says. "You're working with a smaller pool, whereas at a general practice firm, the pool is in a sense, unlimited."
Creating a diverse pipeline
An initial task was therefore to increase the pipeline of diverse attorneys applying to Finnegan, with a focus on particularly underrepresented groups in IP. The firm started a relationship in 2004 with Howard University, a historically black university in Washington DC. Finnegan teaches patent law at the university's engineering school. "We're exposing students to an opportunity and career they might not have known about." Anand says, noting that multiple engineering students that have taken their course now practice IP law across the country.
Finnegan also partners with Microsoft in their work with the Hispanic National Bar Association (HNBA). A summer institute one-week programme gives Hispanic law students the opportunity to come to Washington DC and meet private practitioners, in-house counsel, and judges. "We've found several attorneys at our firm who came through that one-week program."
The firm also partners with Lavender Law, a conference run by the National LGBT Bar Association to combat the dearth of LGBT+ people working in law. Other programmes include the Finnegan Diversity Scholarship which offers $15,000 per year for tuition, law school fees, and an offer to join the firm's summer associate programme for underrepresented applicants. Thanks to these initiatives, Finnegan has been recognised by Vault Guide's 2020 ranking of leading law firms for women and is recognised as a top 100 company by Working Mother.
A holistic approach to diversity is necessary to Sharma. Anticipating the need for more diverse law students pre-recruitment stage is the only way to enact long-lasting change. "It's not just about looking at resumes, it's trying to be creative and looking for solutions and opportunities, especially when you have underrepresented areas of diversity."
"The effort has to be in retention and matriculation"
When diverse lawyers do approach the firm, Sharma has ensured that there should be as few hurdles to their career path as possible. "It's not enough to have a diverse class that joins the firm, the effort has to be in retention and matriculation." He says, "It's important that attorneys that join us see a path at the firm to partnership and management positions."
Sharma took the role as managing partner aware that he would serve as a figurehead for a diverse applicant's potential. "There aren't that many managing partners at firms with the reputation we have." To guarantee the potential for other attorneys to follow in a similar path, diverse management across the board was necessary.
The committee that reviews when associates can transition to partners is diverse by over 60% with the management and compensation committees boasting 66% diversity. Both figures are over double the Mansfield 2.0 rule adopted by the firm, which pledges that women, minority, and LGBT+ employees make up at least 30% of candidates for leadership positions.
Diverse committees bring a greater range of potential commonalities between the new generation of lawyers and management. Sharma believes that many careers benefit from senior employees acting as mentors and championing newer employees. "Maybe it's human nature, but we generally invest in people who have shared commonalities. We try to help the diverse talent find their champions at the firm who they share commonalities with."
Efforts are then put in so that mentors provide the newer employees with a blueprint for success. "Once they come into the firm, we make sure they have opportunities, whether it's bar associations, industry events, or opportunities on cases to continue to grow and flourish." Sharma says this is the key to giving every attorney a fair chance, "until eventually they become chair, practice group lead, or managing partner".
An open workplace where commonalities are shared is generated by a recruitment process that balances not just the legal talent, but also the culture of the firm and the values of diversity. "You can be the number one in your class at the number one law school, but if we feel that maybe you're coming with an unhealthy sense of competitiveness, or a cut-throat nature, you might not be the right fit for our firm." 
Finnegan's prioritisation of diversity in the recruitment process has bolstered the firm's position as one of the top IP firms. "You get unique perspectives and different ideas to provide to the client. It's better value than a situation where everyone in the room hears the client's question the same way and thinks of a solution in the same way." Increasingly, clients are also demanding more diversity. "They're now asking that when we staff our matters, to staff with diverse teams, not just in the associate ranks, but also in the partnership ranks as well as the lead counsels."
Outward perspectives
Concurrent with Finnegan's recruitment and career advancement efforts are outward looking practices. The firm works on a range of projects, from a veteran's assistance programme to an asylum representation programme. Pro bono initiatives have special coordinators and attorneys. Every Finnegan office has pro bono programmes, something Sharma notes as being more of a priority for new attorneys.
The demands the new generation of attorneys asks of firms like Finnegan is representative of the shift in social standards. "I find the new generation are globally aware of diversity. It's not just the individuals you would consider under the umbrella of diversity but all the attorneys – white men included – are aware of diversity and see the value of it." Sharma says. New attorneys are asking directly about what initiatives and methods the firm has for pro bono work and diversity.
Sharma reports facing few difficulties in getting initiatives off the ground. He attributes that to the lack of hierarchy in the firm. The opinions of the associates are taken just as seriously as a partner's might be. It's for that reason Sharma doesn't believe there's been pushback to the steps he's taken with the diversity and inclusion committee. "Principles of diversity make sense, not just as a philosophy but also in the business and practice of law. I think the partners see that, and the attorneys see that, and the staff see that."