Demystifying IP valuation; influencer tips from Pepsico; fakes on Bugis Street – INTA 2023 day one report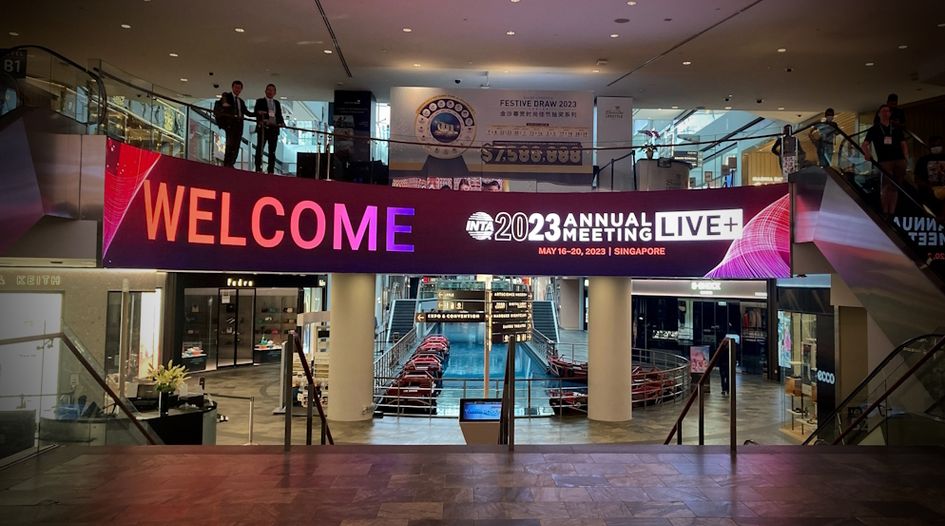 The great and the good of the trademark industry – some 8,000 of them – have descended on Singapore for INTA's 2023 Annual Meeting Live+. The WTR team is on the ground, and you can meet many of them at stand J25 in the exhibition hall. Meanwhile, our roving reporters – Trevor Little (TL), Victoria Arnold-Rees (VAR), Joyce Ng (JN) and Louise Newstead (LN) – are here to present a daily round-up of event highlights and observations. 
Here is what caught our attention on arrival and throughout Tuesday's first full day of proceedings.
Reception numbers drop but this is not without precedent – The exhibition is officially open (WTR, along with sister platforms Docket Navigator and IAM, can be found at stand J25) and looks a little different this year. First, while many of the usual suspects are present, this year there is a heavy presence of Chinese law firms, making the most of the opportunity to reconnect with the trademark community now that travel restrictions have been lifted (more on that below). Another difference between this year and the past few physical Annual Meetings can be seen in the evenings. There are a number of law firm receptions taking place this year, but not as many as in previous years. Equally notable is that a number of service providers, who have in the past hosted high-profile receptions, are absent from the line-up. The challenges of organising an event on another continent are obvious. But cost is another consideration when reflecting on ROI. One source told us that, when looking to run even a small, two-hour reception, the quotes coming back from venues were on a par with renting out an entire restaurant in New York for an evening. Thus, it seems that cost and logistics have been the main roadblock. And there is a distinct sense of deja vu for this author. When the INTA Annual Meeting came to Asia for the first time in 2014, a similar phenomenon was observed. A year later, in San Diego, the parties were back. Expect a similar bounceback next year. (TL)
Is that Mandarin I hear? – 'Ni hao' (hello) and 'xie xie' (thank you) are echoing around the convention centre. With over 350 delegates from China compared to just 51 last year in Washington DC, Mandarin is being spoken a lot more often at this year's Annual Meeting. Chinese IP exhibitors are also keen to share their latest product offerings to delegates. Chinese IP firms or agents account for 33 out of 151 exhibitors in the Innovation Marketplace this year. Last year, there were only two (AnJie & Board and Lung Tin Intellectual Property Agent Ltd) among 75. Their significant showing this year suggests that the Chinese IP community is eager to catch up with international counterparts and make up for three years of missed networking opportunities. "We haven't been able to leave China for the last three years due to lockdowns and restrictions. We have many overseas partners that we haven't met before and with so many people present here, it is a fantastic opportunity to finally say hi to them in person," says Bilibili's IP team, Yao Zhu and Lumin Chen. "It's also our first Annual Meeting and we want to experience being a part of the IP community. And Singapore is much closer to China – it's certainly more convenient than flying to the United States!" (JN)
Fakes spotted on Bugis Street – Whether on holiday, visiting friends and family, or in town for the world's biggest trademark event, any visitor to Singapore will want to check out the markets on Bugis Street. With more than 600 shops and a food centre to make your mouth water, it is the perfect place to pick up a snack and a few souvenirs to commemorate your trip. But brand owners beware. This reporter took a short stroll through the maze of well-stocked stalls and spotted a range of suspicious products, including fake Christian Dior, Gucci and Louis Vuitton handbags, unlicensed Disney apparel, and particularly memorable lookalikes sporting brand names such as "Christian Dorio" and "Gincevhy". With 8,000 registered INTA delegates and no doubt thousands more trademark experts in town for the week, the close proximity to easily available fake goods on Bugis Street only emphasises the ongoing challenges that brand owners face in the fight against counterfeiting, and the need for a stringent online and offline monitoring strategy. (VAR)
New offering seeks to demystify IP valuation – Clarivate used the Annual Meeting as a platform to announce the integration of IPwe's Smart Intangible Asset Management solution into its IPfolio offering. The integration will enable IPfolio users to access patent valuation metrics, including real-time financial benchmarks on a patent-by-patent and portfolio basis, alongside competitor and peer portfolio metrics. Speaking to WTR, Glen Nath, president of IPfolio, reflected that IP valuation is often seen as shrouded in mystery, and the offering allows users a way in. For the service providers, meanwhile, it is a natural complement to current offerings focused on tracking IP and related costs. "We can currently show patent and trademark collateral, and the costs and forecasts for if you want to renew it. But we didn't have a way to show you the value. That is really the third point of the triangle. Now you can see what you have, how much it is to keep it and what it is worth," Nath says. Crucially, it is tailorable and users can set the parameters for their valuations, meaning that there is no 'one-size-fits all' calculation. "Attorneys will always be sceptical about the numbers but you can fine tune it if certain areas are more important to you, and get a meaningful final number," Nath explains. The plan is for the valuation tool to focus initially on patents, but trademark valuations will follow in late 2023/early 2024. The service is being unveiled to clients for the first time today. "This is our coming out," states Keith Collier, senior vice president, intellectual property at Clarivate. "We haven't really talked about it to anybody. We have an innovation centre at the booth to demo it and are excited to see where it goes." (TL)
No press allowed – Sessions at the Annual Meeting welcome open dialogue, but this can cause tensions when a speaker may be quoted by the attentive press. A number of interesting sessions that our reporters added to their calendars have now closed their doors, especially those with Asian government officials on the panel. In a first for us, we have also had one international law firm tell us that members of the media are no longer permitted to attend its evening reception, despite receiving an invitation. Perhaps the reputation of journalists as heavy drinkers combined with alcohol costs in Singapore has them fretting. But we are friendly media, and don't bite. Honest! (JN)
PepsiCo's top tips for working with influencers – Tuesday's first full day of proceedings kicked off with a session on "Influencer marketing: balancing regulation, brand protection and endorser goals". Sharing her – presumably rewarding, sometimes frustrating – experience working with influencers was Jeanette Sanniola Zimmer, legal senior director, trademark counsel at PepsiCo Inc. Offering a handy guide to not only brand owners, but influencers too, Zimmer outlined a series of best practices to ensure that both sides of the partnership benefit from their relationship. First, she stressed the importance of brand owners identifying the right influencers for their brand, based on considerations such as reach, market, values and content type. She also impressed the importance of working with influencers with editing skills – or even, ideally, with a team of staff with editing (and legal) skills – to help streamline the process in case promotional content does not meet the required specifications and needs to be redone. For influencers, Zimmer stressed the need to include product packaging and labelling in any images or recordings, the seemingly obvious need to check spelling and pronunciation, and – crucially – the importance of including the appropriate disclosures (which can be as simple as #ad or #sponsorship). Among things to avoid, she highlighted the use of unlicensed music (particularly on TikTok), overly distinctive backgrounds and third-party or competitor brands as the most likely reasons for having to reshoot content. It is also important to consider brand values beyond the products themselves. For example, influencer posts that promote the over-consumption of food or drink products would promote the wrong message, Zimmer warned. "All these practices should be in the brief," she stressed. Meanwhile, contractual considerations should include the type of content, who has creative control and ownership of the intellectual property, how many times the influencer can post promotional content and how long the campaign will last, payment details, specific deliverables and deadlines, and morals, behaviour, non-disparagement and exclusivity clauses. (VAR)
Where next in Asia? – Previous venues for the Annual Meeting tended to be standalone convention centres, but this year it is connected to a luxury shopping mall filled with famous global brands, including Baobao, Chanel and Gentle Monster. "From a brand perspective, this is the very best Annual Meeting. INTA had found the perfect location in Singapore, as the conference centre is connected directly to a cathedral of brands in the Marina Bay Sands shopping mall," observes Robert Reading, director of government and content strategy at Clarivate. But where should the Annual Meeting head to next in Asia? After Hong Kong and Singapore, a city in Mainland China could attract more domestic brands. However, China is likely to pose a logistical nightmare for international travellers, especially with the need for visas. The Greater Bay area could be a compromise. One Chinese delegate told WTR that Macau would be a good choice despite its smaller size compared to Hong Kong. "There are more hotels and convention centres available. Chinese attendees could even stay in nearby Zhuhai and commute daily to cut down on cost," they suggested. Another delegate from Europe is keen to head to Tokyo, but admits that bosses may balk at the cost amid budget cuts. (JN)
Corsearch report charts drop in activity among world's biggest filers – Almost two-thirds of the world's most active trademark filers filed fewer trademarks last year, reveals Corsearch's new Industry Trademark Report. Released on Tuesday, the report examines trademark filing activity in 2022, with a rundown of the top 50 filers globally and additional breakdowns by industry, product class and jurisdiction. The report reveals that 32 of the top 50 trademark filers (64%) filed fewer trademarks in 2022 than the previous year. Tencent remains the most prolific filer globally. The company filed over 4,500 trademarks last year. However, this was a notable decrease on the more than 6,000 that it filed in 2021. There has also been a shuffle among the top five. Louis Vuitton Moet Hennessey and Amazon.com have moved past Huawei Technologies to take second and third place. Meanwhile, Johnson & Johnson US jumped from 16th in 2021 to fifth in 2022. "The drop in trademark filings amongst the top 50 is largely due to an overall drop in filings in China," says Stephen Stolfi, chair of customer and industry advisory, trademark solutions at Corsearch. "In 2021 six of 10 top filers were China-based companies, while in 2022, only three of [the top] 10 companies were China based." Despite these changes at the top, the top 50 filers remain largely remained the same. Almost a third (16) are Chinese companies, while over a quarter (13) are US companies. The remaining companies originate from Japan (five), South Korea and Switzerland (four each), Germany (three) and Singapore, the United Arab Emirates and the United Kingdom (one each). GlaxoSmithKline PLC was the only UK company on the list, at 23rd. The lack of change among the top 50 demonstrates the "reasonable stability of activity amongst the major filing countries", the report insists. Elsewhere, Class 35 (advertising and business) is the most popular class for filings – despite industry concerns over an increasingly crowded Class 9. And agricultural products and services (including food and beverage) is the most prolific industry. (VAR)
Tencent broadcasts IP achievements, but practitioners want more – Tencent, the Annual Meeting's only Platinum+ sponsor, is making its efforts in the IP space known. Ahead of this year's conference, it held the "Level Up with Weixin 2023" event to share its latest progress in trademark and IP protection. It also introduced its Brand Protection Platform and its mechanisms for dealing with infringement, presenting the positive results that it has achieved to help brand owners. At its hospitality suite, it is showcasing its suite of product offerings via text, images and videos, with staff on hand to provide further explanation. Their presence at this conference is unmissable. Still, some local IP practitioners that we spoke to have questioned whether Tencent is getting a handle on suspicious transactions (eg, those related to counterfeit products) on its WeChat platform and whether it will provide even more assistance to brand owners. (JN)
Positive and trusting environment key to innovation – In a late morning session, Heike Bhonsle, senior director of global intellectual property for Crocs, Joe Ewell, vice president of innovation at Flowers Foods, and Nina Ramesh, director and senior associate general counsel at Coupang, reflected on the need for brands to keep up with modern times through innovation – and how, crucially, IP teams can best support this development. "Consumers are getting more and more fickle," Ramesh remarked. In particular, they have greater expectations when it comes to brand quality and convenience. A company's commitment to implementing positive ESG policies also plays a growing role in consumer expectations, Bhonsle highlighted. In such a climate, brands must innovate – and innovate quickly. The panellists encouraged legal teams to be honest but not hyperbolic about the risks involved in creative endeavours and to suggest alternative solutions to problems rather than simply handing down a blanket 'no' to new ideas. It is important not to create an environment in which the wider business feels fearful and reluctant to approach their legal team, Ramesh stressed. Ewell concurred. (LN)
Senior director of Madrid registry lays out aspirations for future of WIPO  – The number of countries signed up to the Madrid Protocol has grown significantly since its inception. But when it comes to use of the registry, "the picture is more mixed", admitted David Muls, senior director of the Madrid registry at WIPO, at a dinner reception on Tuesday. Of the countries signed up to the protocol, applicants from Oceania and Europe make most use of the registry, African and Asian applicants the least. This disparity is at the top of the list of changes that WIPO hopes to make in future. "All countries should recognise themselves in the system," Muls said. The registry must also undergo further digital transformation and overcome any reputation it has for being slow or difficult to use, particularly when it comes to goods and services classification. In order to facilitate this transformation, more top managers at WIPO should be technology experts, rather than lawyers, Muls told the crowd at Fovea IP's 'Walking Dinner' reception.  (LN)