A deep dive into the Tiger King trademark lawsuits (long read)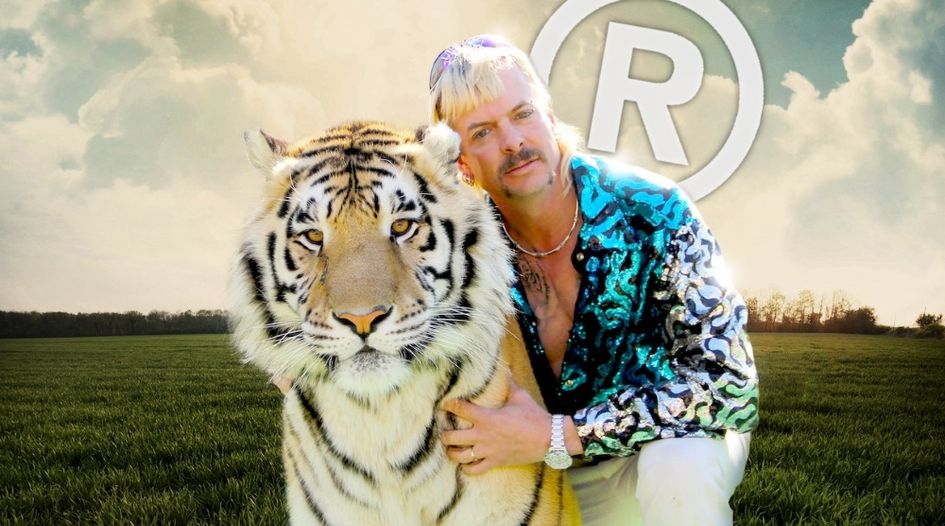 True crime documentary miniseries Tiger King: Murder, Mayhem and Madness has become a global phenomenon, watched by more than 34 million viewers in the first 10 days of its release on Netflix. Happily for IP professionals, one of the subplots revolved around a trademark and copyright conflict. In this guest piece, Haynes and Boone associate Joe Lawlor expands on the IP disputes and how they played out.
There are some plot spoilers in the article, so if you have not yet watched the series (and intend to), it is worth hitting pause on this piece and doing so before reading.
Guest analysis
Netflix's Tiger King: Murder, Mayhem, and Madness is a wild docuseries that explores the life and psyche of Joseph Allen Maldonado-Passage – also known as Joe Exotic, the owner of the GW Zoo, a big cat park (think lions, tigers and more) in Oklahoma. Over its seven episodes, Tiger King covers murder, polyamory, cults, country music videos, animal rights, FBI investigations, political campaigns, expired meat, drug use and a lot of crime. Also revenge. We learn that members of the big cat community are high on revenge.
Several federal IP lawsuits brought against Exotic by Carole Baskin, the owner of a rival big cat park, are at the heart of episode four of the series. These lawsuits fundamentally alter the path for Tiger King's protagonist, and it is worth delving a bit deeper into these disputes to understand how Exotic winds up in a world of hurt.
Joe Exotic and the GW Zoo
For those of you who have not watched Tiger King, you are missing a lot, and I cannot possibly express the sheer craziness of this story. The name Joe Exotic may be familiar from his 2016 presidential campaign, which was featured on Last Week Tonight with John Oliver. In brief (and avoiding spoilers), Tiger King is about Joe Exotic, a self-described "gay, gun-toting cowboy with a mullet" who runs the GW Zoo in Wynnewood, Oklahoma. Before opening the park, Exotic travelled to shopping malls throughout the south and midwestern United States with a menagerie of wild animals to provide petting experiences to shoppers.
GW Zoo quickly grew to house more than 200 big cats, as well as bears, alligators and other wild animals. It is legal to own big cats and rare animals in many US states and there are several parks across the country where these animals are displayed. The lure of parks like GW Zoo, as opposed to the Bronx Zoo or San Diego Zoo, we are told, is that these lesser-known parks allow up-close encounters with big cats, including petting time and social media-worthy photographs. Unfortunately, once a big cat reaches 12 weeks old or so, it actually starts to become physically big and the danger to customers becomes too great for up-close experiences. The demand for cubs in particular drives these parks to breed their big cats at a high rate, because petting time with a cub can earn them hundreds of dollars per session.
Hey, all you cool cats and kittens
As a result of both the large number of animals at GW Zoo and his colorful personality, Exotic became a focus of Baskin, a self-proclaimed animal rights activist and the owner of Big Cat Rescue in Tampa, Florida. Baskin is intent on shutting down parks and breeders like Exotic, who she claims are exploiting and hurting animals. Big Cat Rescue is itself an animal park that offers paying parkgoers the opportunity to view big cats. However, Baskin claims that her cats are "rescued" and that she does not breed cats to fill her park, which sets it apart from the GW Zoo.
Over time, Exotic and Baskin grew increasingly antagonistic toward each other. For example, in 1997 Baskin's millionaire husband disappeared under suspicious circumstances and Exotic has repeatedly and publicly claimed that Baskin killed him, put him in a meat grinder and fed his body to tigers. Baskin strenuously denies killing her husband, adding that her meat grinder was not powerful enough to grind up her husband and that if someone wanted to feed a human to tigers, "they would put sardine oil all over you… Something that the cat wants to eat".
For her part, Baskin runs several websites that say Exotic mistreats animals. She also championed federal legislation, the Big Cat Public Safety Act, which Exotic viewed as an existential threat to his park's existence. Baskin maintained a devoted army of unpaid volunteers as well as an enormous social media following that she addresses with her widely meme'd catchphrase "hey, all you cool cats and kittens". This following has funded Big Cat Rescue, her legislative efforts and aggressive litigation against her enemies.
In 2010 Exotic opened a new travelling big cat and magic show experience, which he named Big Cat Rescue Experience, with the intent to drive Google searches for 'Big Cat Rescue' to his entity rather than Baskin's. Exotic's Big Cat Rescue Experience eventually led to the trademark lawsuit discussed in Tiger King.
Exotic's plan was not without precedent. It turns out that this ploy was stolen from Baskin's own playbook. Two years earlier, Baskin registered the domain name 'docantle.com' to misdirect supporters of Mahamayavi Bhagavan "Doc" Antle, another big cat park owner, to her own website.
The 'docantle.com' domain name lawsuit
Doc Antle is the eccentric owner of a big cat park in Myrtle Beach, South Carolina, known as The Institute for Greatly Endangered and Rare Species (TIGERS), which, according to Tiger King, Antle runs with the help of his many girlfriends. Antle is also a bit of a celebrity in the big cat community and could even be seen handling a tiger in the background of Britney Spears' memorable 2001 Video Music Awards performance of "I'm a Slave 4 U".
In 2008 Baskin registered the 'docantle.com' domain and redirected all traffic from 'docantle.com' to her own website, '911animalabuse.com'. Baskin's 911 Animal Abuse website claims to "find out who the bad guys really are" and contains blog posts detailing alleged animal abuse by Tiger King characters like Exotic, Tim Stark and Antle.
In 2014 Antle filed a UDRP complaint with WIPO claiming that Baskin's registration of 'docantle.com' should be transferred to Antle (WIPO Case No D2014-1793).
A UDRP complainant must prove the following three elements in order to secure the transfer or cancellation of a domain:
The complainant owns a trademark that is identical to or confusingly similar to the domain name.
The domain name registrant has no rights or legitimate interest in the domain name.
The domain name is registered and used in bad faith.
Because Antle did not own a federal trademark registration, he was required to demonstrate common law ownership of the DOC ANTLE mark through continuous use and recognition by the public that DOC ANTLE is associated with his particular goods or services. The WIPO panel found that Antle did own common law trademark rights in the DOC ANTLE mark based on his notoriety as an animal trainer and big cat conservationist.
The panel also found that "[h]is published works under the name Bhagavan 'Doc' Antle, includ[ing] three books for children and a coffee-table book" supported this finding. Yes, Antle wrote three children's books.
The WIPO panel found that Baskin's use of 'docantle.com' was not legitimate because she did not use it in connection with the offering of any goods or services, but instead was simply used as a redirect to her animal abuse website. The panel found that Baskin's use of the domain was in bad faith because she was purposefully "misdirect[ing] customers or users with an interest in" Antle and tarnishing the value of his DOC ANTLE trademark by alleging that he was "beating his tigers", among other things.
Importantly, the panel found that "the right to express one's views is not the same as the right to use another's name and trademark in a confusing manner (in a domain name) to identify one's self as the source of those views, particularly where the domain name in dispute is identical to the trademark of the complainant". The panel observed that nothing in the ruling would prevent Baskin from continuing to express her views about Antle on '911animalabuse.com', but that her claims to free speech do "not justify the deception of Internet users".
The panel therefore ordered Baskin to transfer the 'docantle.com' domain to Antle. Just weeks after the UDRP decision was issued, Baskin filed a lawsuit in federal court in Florida pursuant to the Lanham Act and the Anti-cybersquatting Consumer Protection Act, effectively seeking to overturn the UDRP decision and halt the transfer of 'docantle.com' (8:15-cv-22 (MD Fla)). Shortly after this federal lawsuit was filed, Antle's lawyers withdrew from the case and Antle failed to respond to Baskin's complaint. Due to his default, the federal judge overturned the UDRP ruling and allowed Baskin to retain the 'docantle.com' domain.
Baskin files a trademark suit against Exotic
In early 2011 Baskin's Big Cat Rescue filed a complaint in federal court in Tampa, Florida alleging that Exotic's Big Cat Rescue Experience travelling big cat and magic show infringed her trademark rights (8:11-cv-209 (MD Fla)). Exotic marketed Big Cat Rescue Experience using the image below:
In order to prevail on her trademark infringement claim, Baskin was required to demonstrate two elements: that she owned a mark and that Exotic's use of BIG CAT RESCUE ENTERTAINMENT created a likelihood of consumer confusion with Baskin's mark.
Baskin's ownership claim hinged on her federal trademark registration for the design of a tiger leaping over stylised BIG CAT RESCUE text:
In 2005 Baskin was granted a federal trademark registration for the above design, but the USPTO required Baskin to disclaim exclusive use of the term 'Big Cat Rescue' before granting the registration. US trademark law does not allow registration of mark elements that merely describe the goods or services for which registration is sought (absent a showing of acquired distinctiveness).
The USPTO found that the term 'Big Cat Rescue' describes the services offered by Big Cat Rescue because the trademark application materials note that Big Cat Rescue provides "animal rescue services" and describes it as "the world's largest sanctuary for big cats".
This disclaimer means that Baskin's registration claims ownership of the mark only as a whole, including the leaping tiger design, and does not claim exclusive rights in the term 'Big Cat Rescue' standing alone. This operates as an acknowledgement of unprotectability that theoretically provides others the ability to use the term 'Big Cat Rescue', or similar terms, to the extent that they do not infringe on Baskin's overall mark.
The determination of whether BIG CAT RESCUE ENTERTAINMENT creates a likelihood of confusion with Baskin's mark requires the consideration of several factors, but the aim is to determine whether a consumer viewing the Big Cat Rescue Entertainment marketing materials is likely to believe that it is the same as, associated with or affiliated with Baskin's Big Cat Rescue.
The marks themselves are similar, with images of a tiger over the 'Big Cat Rescue' text. In fact, Baskin claims that the tiger image used by Exotic was taken from the Big Cat Rescue website. Baskin and Exotic offer similar services relating to paid opportunities to view big cats. Geographically, the parties also overlap, in part, because Exotic registered a Florida phone number to forward his calls to Oklahoma and added a Florida office to marketing materials.
Crucially important in this case is Exotic's intent to deceive, particularly because this lawsuit was set for a jury trial and juries are often highly interested in motive. The history of Baskin and Exotic, and his use of a non-existent Florida office all point to an intent to deceive consumers. Indeed, the manager of GW Zoo admits during Tiger King that Exotic's use of CAT RESCUE ENTERTAINMENT was intended to push Baskin down the Google search rankings and bring Exotic up. For his part, Exotic claims that the name is derived from the fact that he is "the biggest in the United States at rescuing big cats… and we entertain people".
Viewing these factors holistically, it is likely that a jury would have sided with Baskin and found a likelihood of confusion and returned a verdict of trademark infringement in her favour. The categories of trademark damages available to Baskin include damages to her own Big Cat Rescue brand and disgorgement of Exotic's profits. Because Exotic's Big Cat Rescue Entertainment was short lived, the value of both categories would tend to be small. Attorneys' fees are rarely awarded in trademark infringement lawsuits, but this case would be a candidate given the willful and brazen nature of Exotic's infringing conduct.
Baskin files copyright lawsuits against Exotic
With the trademark lawsuit pending, Exotic ramped up his attacks on Baskin on his Joe Exotic TV YouTube channel and registered the domain '911animalabuse.org', which he dedicated to suggesting that Baskin killed her former husband. Baskin then brought two copyright lawsuits against Exotic, relating to his use of six photographs on his YouTube channel and Facebook page (8:12-cv-2381 (MD Fla); 8:12-cv-2014 (MD Fla)).
Exotic's videos included photographs that showed Baskin's volunteers posing with dead bloody rabbits, feeding dead rabbits to large cats and engaging in other potentially offensive conduct, together with captions such as "Tame Bunnies Killed & Bled by Order of Carole Baskin to Make Bloodsicles For Her Cats".
Baskin, apparently hoping to scrub the Internet of evidence that her Big Cat Rescue fed rabbits to its tigers, issued takedown notices to YouTube alleging copyright violations in several videos on Joe Exotic TV and filed copyright registrations for several of the photographs. Exotic contested the takedown notices, telling YouTube: "Nothing on this video is copyrighted. Anyone who files a complaint is lying." Baskin's copyright lawsuits also had civil misrepresentation claims, based on Exotic's response to YouTube, because statements in connection with Digital Millennium Copyright Act takedowns are made under penalty of perjury.
One could argue that Baskin's copyright claims were misguided if her efforts were aimed at limiting public knowledge that Big Cat Rescue was feeding rabbits to its animals. Exotic was only making this claim to his hundreds of YouTube and Facebook viewers. Filing several federal lawsuits and appearing in a hit docuseries on Netflix has now spread that information to thousands (if not millions). If Baskin was motivated by monetary damages, the probability of a large monetary award was also limited. The Copyright Act provides statutory damages of $200 to $150,000, per work infringed. Given Exotic's conduct here, it is highly likely that any award would be to the lower end of that range for the six works allegedly infringed.
Exotic fires back
Exotic filed counterclaims against Baskin in the trademark lawsuit, alleging defamation and tortious interference arising from those defamatory statements. Exotic identified 27 allegedly libelous statements made by Baskin, including that his cubs will be "killed and the parts sold off as ingredients for the Asian medicinal trade" and that cubs will be sold to private zoos that keep their animals in "deplorable conditions".
Exotic also identified a number of allegedly slanderous statements made by one of Baskin's employees relating to his alleged poor treatment of tigers in phone calls to management of a mall. Baskin accused Exotic of animal abuse and pleaded with her followers to contact malls and oppose "this kind of abuse" on their properties.
During his deposition, Exotic expressed the financial desperation resulting from Baskin's efforts to destroy the entertainment side of his business: "A. I will sell anything now. Q. You will sell anything? A. I damn sure will. Q. Okay. A. They don't want me doing shows, so I got to pay my bills somehow. So now I'm going to start supplying tigers to the pet trade if I have to. So all they did was make the problem worse."
It appears that Exotic viewed these counterclaims as a way to offset his likely losses on Baskin's trademark claims. In fact, if Exotic were to prevail on these defamation claims, it is possible that his damages would exceed those available to Baskin. While the harm to Baskin's brand as a result of trademark infringement was likely minimal and fleeting, the reputational damage to Exotic could be crushing if the public began avoiding GW Zoo as a result of Baskin's claims that he sold off animal parts and treated his animals poorly.
Exotic and Baskin prepare for their day in court
The trial on Baskin's trademark claims and Exotic's defamation counterclaims was set for 11 February 2013. However, in the days leading up to the trial, the court repeatedly hit Exotic with crushing blows.
On 7 February, the judge granted several evidentiary motions filed by Baskin, including rejecting Exotic's request to call Antle as a witness and prohibiting Exotic from raising the suspicious death of Baskin's former husband during the trial. Then, on 8 February, the court issued its most critical decision: a ruling on Baskin's motion for summary judgment seeking dismissal of Exotic's defamation counterclaims.
Baskin argued that Exotic failed to establish damages and each allegedly defamatory statement made by Baskin and Big Cat Rescue was privileged. Under the doctrine of common interest privilege, defamatory statements are not actionable if made by one individual to another who shares a common interest in the subject matter being discussed. The common interest privilege only applies where the speaker has a good motive and is not seeking to harm the subject of the statement (ie, Joe Exotic).
Baskin had earlier brought a motion to dismiss Exotic's defamation claims on many of the same grounds, but that effort was rejected by court. This time, however, the court found that Big Cat Rescue and the people and entities it spoke with, animal rights activists and venues hosting animal exhibitions, had a common interest. The court determined that the purpose behind the statements was "education", rather than an effort to defame Exotic, and ruled that the common interest privilege protected all the allegedly defamatory statements. The court also found that Exotic had failed to offer proof of damages and dismissed each of his defamation claims.
The beginning of the end
On 8 February 2013, the same day that the court dismissed Exotic's defamation claims, Baskin and Exotic reached a settlement. Baskin, with her army of unpaid volunteers and online supporters donating thousands to her cause, was financially equipped to hire lawyers to fight a multi-front battle to the bitter end. Exotic lacked these significant resources.
With his leverage extinguished by the court's dismissal of his counterclaims, Exotic agreed to entry of a consent judgment that itself carried overwhelming financial consequences. In the trademark lawsuit, Exotic agreed to pay damages of $653,000 and attorneys' fees of $300,000. He also agreed to pay $75,000 for the copyright violations and never to use the BIG CAT RESCUE mark, or any confusingly similar mark, ever again. In March 2013 Exotic filed for bankruptcy.
Those who have watched Tiger King know that the story does not end here. The financial impact of this summary judgment decision and subsequent bankruptcy, however, lead to the downfall of Exotic in spectacular and distressing fashion. It is sadly poetic, then, that his ultimately downfall is so linked to his rival Baskin, who was able to escape liability after engaging in a similar ploy to misuse a competitor's trademark and deceive consumers.