Crocs cease-and-desist goes viral, debate over THE trademark, and CLA cannabis group launched: news digest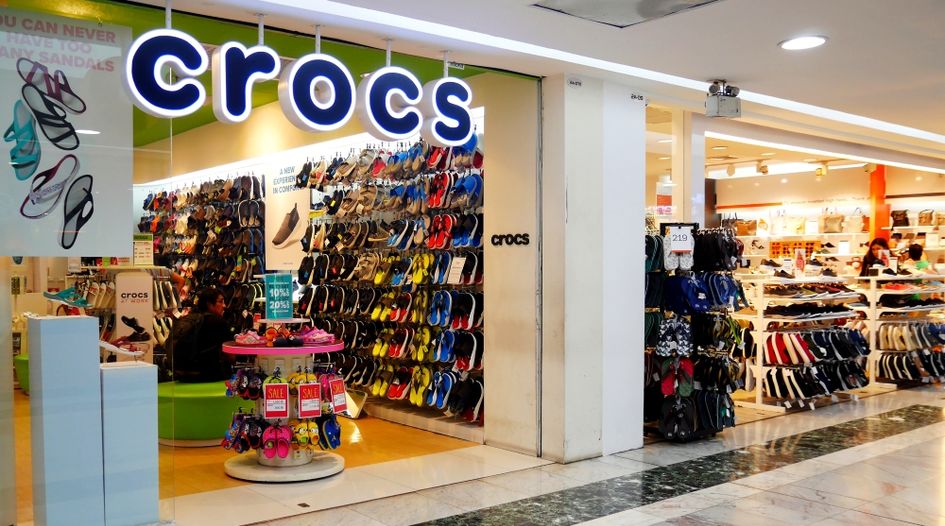 Every Tuesday and Friday, WTR presents a round-up of news, developments and insights from across the trademark sphere. In our latest edition, we look at a survey highlighting the brand risk of advertising alongside extreme content, the dangers of fake smartphones revealed, Amazon responding to a fake CDs investigation, counterfeit goods confiscated at LAX, and much more. Coverage this time from Trevor Little (TL), Bridget Diakun (BD), Jonathan Walfisz (JW)  and Tim Lince (TJL).
Market radar:
CLA sets up cannabis group – The California Lawyers Association's intellectual property law section has announced the formation of a new interest group that will focus on intellectual property issues in the cannabis industry. The Cannabis Intellectual Property Law Interest Group will provide education and networking opportunities to IP Section members in all intellectual property areas, including patents, trademarks, trade secrets, and copyrights, with a focus on the cannabis industry. The groups mission is "to encourage a timely exchange of legal information in this rapidly evolving area of law, and to provide a centralised forum and resource for all California lawyers, judges, law students, and paralegals interested in obtaining useful and up-to-date information about intellectual property legal issues in the cannabis industry". It will also provide those practicing, and those interested in practicing,in this area of the law with an opportunity to network with like-minded colleagues. (TL)
US customs confiscate 5,300 counterfeits at LAX – US customs have seized more than $3.4 million work of counterfeit products. A number of brands were infringed, including Gucci, Nike, Louis Vuitton and Fendi. The largest amount of counterfeits seized were fake Gucci belts (1,242), but the haul was not limited to apparel or accessories, with 500 fakes Samsung adaptors also recovered. The shipment was seized at LAX and had been flown in from Hong Kong according to customs officials. NBS Los Angeles is reporting that the goods would have had a retail value of more than $3.4 million if genuine. (BD)
The definite article: Ohio State University seeks THE mark – The Ohio State University has filed for a trademark application at the USPTO for the term THE. Unsurprisingly, the mainstream press has jumped on the news. The Washington Post ran a story featuring Twitter reactions to the application and Sports Illustrated covered rival University of Michigan's social media post implying intention to file for the term OF. Trademark attorney Josh Gerben, who analysed the application in a Twitter post, predicted that the application will get an initial refusal as the university has not provided specimens to show the THE trademark will be used on clothing tags or labels, instead electing to emblazon it on the chest as a creative design. Whatever the outcome, the university has created a lot of online chatter and there will be many more people now aware of its brand use of the term than was the case a week ago. (JW)
Amazon responds to fake CDs investigation – Earlier this week, the Recording Industry Association of America released results from an investigation which found that 25% of CDs sold and 'fulfilled by Amazon' were counterfeit. More startlingly, 100% of CD box-sets were found to be fake. In response, Amazon released a lengthy statement to Digital Music News in which it reiterated the work it is doing to combat fakes. It described some of its anti-counterfeiting programs, including Brand Registry and Project Zero, and noted the difficulty to combat such a pervasive problem. "Counterfeit is an age-old problem, but one that we will continue to fight and innovate on to protect customers, brands, and sellers," the statement ended. (TJL)
Oracle alleges CryptoOracle of trademark infringement – US software giant Oracle has filed a lawsuit against CryptoOracle, a New York based blockchain start-up. Oracle's complaint claims CryptoOracle are infringing on their trademark, intentionally choosing their name to trade off of Oracle's reputation and good will. CryptoOracle offers advice to blockchain-based businesses as well as a series of educational events called CryptroMondays. Oracle has its own cloud-based blockchain platform which hosts events such as the OpenWorld conference. Despite this, Oracle is only disputing the defendants' choice of name. A cease-and-desist letter was originally sent, only for CryptoOracle owner Louis Kerner to respond with a trademark application. (JW)
Fakes seized in Philadelphia – US Customs and Border Protection has seized nearly 4,500 counterfeit smartphones in Philadelphia. According to officials, the fakes shipped originally from China, and arrived in the United States via the Dominican Republic. The officials added that if the fakes were authentic, the shipment would be worth close to $1 million. (TJL)
Survey serves as warning over advertising placements – A survey of US consumers has highlighted the financial risk to brands that advertise alongside extreme or dangerous content. The research, from the Trustworthy Accountability Group (TAG) and Brand Safety Institute (BSI), polled 1,017 respondents via SurveyMonkey and found more than 80% of consumers said they would reduce or stop buying a product they regularly purchase if it advertised in a range of hypothetical situations involving extreme or dangerous content. The survey also discovered that consumers define brand safety broadly, including issues such as ad-related piracy and malware, as well as those involving ad placement around inappropriate content. We have previously written about the reputational damage that can be experienced when automated advertising software places brand advertising alongside questionable content. This latest survey serves as a reminder that consumers will vote with their feet in such circumstances. (TL)
Legal radar:
Guns N' Roses puts brewery trademark dispute to rest – The US rock band Guns N' Roses has settled a trademark infringement dispute with Canarchy Craft Brewery Collective. The brewery filed a trademark registration for a rose ale called "Guns N' Rosé" in 2018. The band opposed the trademark application in 2018. When the brewery refused to retract the application, the band sued. The two have reached an agreement as of 31 July and have dismissed the lawsuit. (JW)
Office radar:
Year-on-year increase for H1 trademark applications in Turkey – In total, 61,278 trademark applications were filed at the Turkish Patent and Trademark Office (TürkPatent) from January-June 2019. As reported by Daily Sabah, of the applications, 53,645 were domestically filed, constituting 87.5% of the total. The number of applications in total account for 1.4% increase on 2018's H1 figure. (JW)
Media watch:
Vice highlights dangers of fake phones – In an article earlier this week on Vice, reporter Karl Bode looked at recent Motherboard reviews of counterfeit iPhone and Samsung phones. The counterfeit iPhone X – which sells for $100 and runs on the Android operating system – is described as featuring "bugs, broken features, and empty promises". However, more worryingly, the fake smartphones were also found to be "loaded with backdoors and malicious apps, meaning that owning such a device likely resulted in any number of dubious middlemen gaining access to your personal information". However, the researcher that studied these fake phones said that the risks for users and technology companies is growing because counterfeits are getting more advanced over time. "Counterfeit smartphones will continue to evolve in sophistication, performance, and threat to users," the researcher warned. For brand protection practitioners at smartphone brands, it appears challenges will grow in the future. (TJL)
Crocs cease-and-desist goes viral – A cease-and-desist letter sent by American footwear company Crocs has gone viral this week. The enforcement letter was sent to YouTube creator Unnecessary Inventions following a recent video he posted called 'The Crocs Gloves', which featured a product he'd created that ostensibly uses the Crocs design on a handwear item. In the video's description, which was published on July 31, it was stated "the product in this video is not affiliated with Crocs Inc" and "is not for sale and was created for sake of parody". Two weeks later, though, he received a cease-and-desist from Crocs Inc – which he promptly posted to Reddit. "Can't say I'm surprised or really upset at all due to the fact of how much [the product] blew up over the past two weeks, I figured they were going to get in touch one way or another," he said in the post. To date, the Reddit post has nearly 180,000 upvoted and 4,800 comments – with most users surprisingly understanding of Crocs sending the letter. "The is the Crocs legal department going through the motions of protecting the company's trademark. They basically have to send this guy a C&D," said one user, with the YouTube creator responding that he agrees, saying "it's not something I'm mad or upset about getting". The use of the letter as a promotional tool (the YouTube channel has grown from 7,700 to 11,100 since the Reddit post) is a reminder to rights holders on possible repercussions of enforcement actions. (TJL)
Domain radar:
WIPO's domain arbitration centre launches dispute resolution for Chinese ccTLDs – The World Intellectual Property Office (WIPO) is the first non-Chinese entity to provide domain name dispute resolution services for China's country code Top-Level Domains (ccTLD). The ccTLDs '.CN' and its Chinese language equivalent, '.中国' now have WIPO as a designated service provider. This enables WIPO's Arbitration and Mediation Centre to provide the anti-cybersquatting services it already provides to over 75 ccTLDs. The '.CN' and '.中国' ccTLD have over 22 million registered domains combined. The resolution comes as part of a memorandum of understanding signed between WIPO and the Cyberspace Administration of China (CAC). (JW)
On the move:
Jones Day boosts LA IP practice – Nicole Smith has been appointed to partner in the IP practice of Jones Day, according to an announcement on the firm's website. Smith focuses on patent litigation, but also has experience litigating related IP rights such as trademarks. She will be working out of the firm's Los Angeles office. (BD)
DLA Piper makes IP hire – Richard Mar has joined DLA Piper's IP and technology group as an associate counsel. His focus covers a range of IP issues including acquisition, transfer and protection of IP rights. He will be working out of the Toronto office. (BD)
DOAR enters IP space – DOAR, a global consulting firm providing advice to lawyers on legal disputes, has launched an IP consulting practice. It will focus on emerging technologies within a range of fields such as wireless communications and semiconductors. Michael Connelly is the director of IP litigation at DOAR and will lead the consulting practice. He was formerly a patent litigator and co-founded The Medici Group. (BD)
And finally…
Get the inside track on brand protection online – WTR is pleased to announce that, following a sold-out debut in Chicago, its Brand Protection Online event is heading to London on 14 October. A unique forum for brand professionals to discuss solutions to the challenges that arise when protecting trademarks online and share insight on how to prioritise enforcement efforts, the event programme will cover:
Developing a state-of-the-art online brand protection strategy
 Fighting infringement on e-commerce sites
Brand protection strategies for social networks and apps
Managing the changing domain name landscape
Data privacy and GDPR: working within the rules
Delegate places at the event cost £495 (excluding VAT) but – until 6 September – a saving of £100 is available when using the following code: BPO100. To register for Brand Protection Online Europe, click here.