Crocs calls out Skechers; LegalZoom gears up for initial public offering; SurveyMonkey rebrands as Momentive – news digest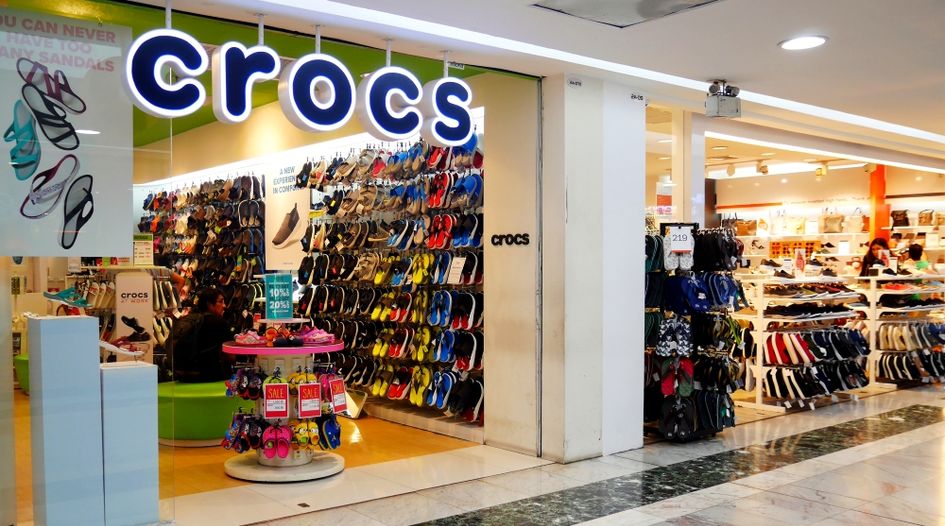 Every Tuesday and Friday, WTR presents a round-up of news, developments and insights from across the trademark sphere. In our latest round-up, we look at INTA updating its anti-counterfeiting best practices, the American Apparel & Footwear Association joining a campaign against illegal trade, Amazon and HanesBrands teaming up to file infringement lawsuits, and much more. Coverage this time from Victoria Arnold (VA), Bridget Diakun (BD), Trevor Little (TL) and Tim Lince (TJL).
Market radar:
INTA updates anti-counterfeiting best practices – INTA has released an updated version of its best practices document to help brand owners, online marketplaces and other relevant stakeholders combat counterfeiting online. The guide's proactive voluntary measures and best practices lay the foundation for INTA's discussions with policymakers, the IP community and others about anti-counterfeiting. Entitled "Addressing the Sale of Counterfeits on the Internet", the 2021 version includes several new provisions and updates on other best practices. Among the new proactive provisions, the guide states that social media sites should enact a filtering programme for the removal of postings that advertise the sale of counterfeit merchandise on publicly available pages or groups, that search engines should implement removals as informed by brand owner feedback and that online marketplaces should employ mechanisms to facilitate the takedown of counterfeit goods, including click-through notices, online help pages, email communications, online chats, filters and/or other communications. "Discussion continues about who is responsible for curbing the dangerous explosion in online counterfeiting. It's simple – we all are," said INTA CEO Etienne Sanz de Acedo. "All stakeholders – including online marketplaces – have a role in bolstering enforcement efforts, and as technology continues to advance and ease counterfeiters' schemes, all stakeholders must continue to adapt their tactics and be even more proactive. The updated guide is an invaluable resource that provides guidance with collaboration in mind." (TL)
LegalZoom gears up for initial public offering – Legal and compliance online solutions platform LegalZoom.com has filed for an initial public offering. The company filed a registration statement on Form S-1 with the US Securities and Exchange Commission last week, with the number of shares to be offered and the price range for the proposed offering yet to be determined. LegalZoom has applied to list its common stock on the Nasdaq Global Select Market under the symbol 'LZ'. (TL)
AAFA joins campaign against illegal trade – The American Apparel & Footwear Association has joined the United to Safeguard America from Illegal Trade (USA-IT) campaign, a new public education initiative designed to provide local officials, law enforcement and thought leaders with information and training programmes to help tackle illegal trade and raise public awareness of the depth of the problem. The initiative will also showcase the effects of black market profiteers on states and municipalities, and will run throughout 2021 across eight states: Arizona, California, Florida, Illinois, Louisiana, Michigan, Pennsylvania and Texas. "Black market trade of items like drugs and weapons has obvious and inherent dangers; however, the sale of counterfeit apparel and footwear also has its fair share of risks throughout the supply chain and for the consumer – ranging from poor working conditions and American job losses, to consumer safety and  brand reputation risks," says AAFA president and CEO Steve Lamar. "Black market trade sets consumers up for immeasurable risk and jeopardizes the sweeping benefits of trusted, authentic, fair trading relationships – including the 21 million jobs that US imports support." (TL)
Brand radar:
SurveyMonkey rebrands as Momentive – The corporate entity of popular survey platform SurveyMonkey has announced that it will rebrand as Momentive. In a press release earlier this week, the company claims that the new name "conjures up images of speed and agility, movement and motion" and "captures our unique ability to bring the best of humanity and technology together so you can shape what's next for you and your business". Crucially, though, the company contends that its key product will retain the "beloved SurveyMonkey name". (TJL)
Britain's top tonic brand looks to US expansion – Fevertree Drinks, the company that owns the United Kingdom's top tonic water brand, is hoping to replicate its success at home in the United States. Fever-Tree has worked hard to cultivate a strong brand and, in its early days, embraced similar values as many makers of craft liquor, focusing on quality and flavour, rather than typical mixer values of cost-engineering and manufacturing efficiency. Fever-Tree is now the mixer of choice in about 40% of gin and tonics served in the United Kingdom, according to research from Nielsen. The company's revenue surged to over £130 million in 2019, up from £1.7 million in 2009. Having established itself in the United Kingdom, Fever-Tree is now looking to up its sales in the United States, the world's largest spirits market. Despite a rocky start with its products considered slightly too pricey for the US market, it has already managed to become the second-largest brand of tonic water in the country. Fever-Tree is betting that the same strategy that it used to attract UK consumers will allow it to build its market share across the Atlantic. (BD)
Multi-brand consumers company raises $60 million to acquire DTC brands – Pattern, a multi-brand consumer goods company, has announced that it has raised $60 million in funding, whicht it will use to purchase direct-to-consumer (DTC) brands in the home goods space, reports Retail Dive. As a former branding agency named Gin Lane, Pattern has a strong background in the DTC space and experience growing brands, having helped companies such as Harry's and Stadium Goods. The company already has two brands under its umbrella – Open Spaces and Equal Parts – and is now looking to buy GIR: Get It Right, a home accessories brand launched in 2012. (BD)
Legal radar:
Amazon and HanesBrands team up to file 13 infringement suits – Amazon.com, HanesBrands Inc and HBI Branded Apparel Enterprises have jointly filed 13 lawsuits against 17 defendants for the sale of silicone protective earbud case covers that illegally bear HanesBrands' registered CHAMPION trademarks. A press release announcing the filings states that the defendants attempted to offer the infringing products in Amazon's store, violating Amazon's policies, infringing on HanesBrands' registered CHAMPION trademarks and breaking the law. The lawsuits, filed in the US District Court for the Western District of Washington, claim that the defendants used HanesBrands' registered CHAMPION trademarks without authorisation to deceive customers about the authenticity and origin of the products and to create a false affiliation with HanesBrands. Amazon has since closed the defendants' selling accounts. "The vast majority of Amazon customers shop with the confidence of knowing they will receive an authentic product," said Dharmesh Mehta, vice president of customer trust and partner support at Amazon. "In the rare instances when bad actors attempt to take advantage of customers and companies like HanesBrands, our team is relentless about tracking down and holding them accountable." Jon Ram, president of global activewear at HanesBrands, added: "We will aggressively defend our brands and our intellectual property around the world. We look forward to prevailing in these lawsuits." (TL)
UK family business fights back against Oatly infringement claims – Swedish dairy-alternatives food company Oatly is taking UK oat drinks manufacturer Glebe Farm Foods to court, claiming that its PureOaty brand infringes its OATLY and OAT-LY! trademarks. Oatly, which has recently highlighted the UK market as a key area for future growth (describing it as "the centre of gravity for the European market" when launching its $10 billion initial public offering last month), is seeking an injunction on the grounds of infringement and passing off, and demanding that Glebe Farm Foods recall and remove its PureOaty products from sale, cease its use of the PureOaty brand, alter its packaging and potentially pay damages. In response, Glebe Farm Foods joint managing director Philip Rayner has stated: "Although Oatly are much bigger than us, we do not believe we have done anything wrong. And aside from fighting their claim as it is, there are deeper principles at play here for us as a family farming business in wanting to challenge back." As Oatly is in the process of building its first UK factory just 20 miles from Glebe Farm Foods HQ, this is a spat between neighbours for the courts to settle. (VA)
Crocs calls out Skechers in ITC request to prevent infringing imports – International footwear retailer Crocs is calling on the US International Trade Commission (ITC) to prevent importers from unlawfully infringing on its product and design trademarks. Among those highlighted, Crocs is asking the ITC to block the import of goods sold by Skechers and various other companies that infringe its trademark rights to its popular foam clogs. The action follows a similar complaint which in 2011 saw the ITC issue a general exclusion order prohibiting the import of footwear products that infringe Crocs' utility and design patents, as well as a number of cease and desist orders blocking the import and sale of certain products in the United States. Arguing that it now faces a "flood of new knockoffs" from overseas, Crocs is seeking a similar form of relief in regard to its trademarks. Crocs CEO Andrew Rees said: "We pride ourselves in creating iconic products that are distinctly Crocs. This decisive action further demonstrates our commitment to protecting our brand, our trademarks and other intellectual property." (VA)
Peanut butter war finally ends with A$9 million payout – A long-running trade dress dispute between US food giant Kraft Heinz and Australian company Bega Cheese is finally over, with Kraft agreeing to pay A$9.25 million in a confidential settlement. The dispute began in 2017 when Bega bought the rights to Kraft's peanut butter recipe from Mondelēz and began to use similar packaging to Kraft's original yellow-lid tubs. Kraft claimed that it had not sold the rights to use its distinctive trade dress and that Bega's packaging was misleading to consumers. However, the case was dismissed several times and in October 2020 thrown out by the High Court of Australia. In an announcement to the Australian Stock Exchange last week, Bega revealed that the two companies have now agreed to a settlement, whereby "all outstanding issues between the parties regarding the right to use the peanut butter trade dress and the legal proceedings have been resolved". The company confirmed that it will discontinue all outstanding legal proceedings once it has received the A$9.25 million payment agreed on. The four-year dispute reminds brand owners engaged in the buying and selling of IP rights that unregistered trademarks can be assigned only through the assignment of goodwill, which does not attach to one particular asset, but the whole of a business, and that failure to properly address this in negotiations can be costly. (VA)
Office radar:
(For more of the latest coronavirus-related updates from national IP offices, please read our dedicated article, which is being continuously updated.)
WIPO for Creators welcomes first partners – WIPO for Creators – a public-private partnership launched by WIPO and the Sweden-based Music Rights Awareness Foundation to bring together creators, governments and other stakeholders in a bid to increase knowledge around creators' IP rights and related management practices – has welcomed its first partners. Coming on board are the International Confederation of Societies of Authors and Composers, the Digital Data Exchange, the International Authors Forum, the International Confederation of Music Publishers, the International Federation of the Phonographic Industry, the Independent Music Publishers International Forum, the International Publishers Association and the Societies' Council for the Collective Management of Performers' Rights. The programme is currently building its network while developing a Creators Platform. "I am pleased to welcome these pioneering partners to WIPO for Creators. Their participation will really boost our collective efforts to raise awareness and increase knowledge of how creators can use the copyright system to take their creations to the world," said WIPO Director Daren Tang. (TL)
EUIPO launches IP awareness campaign – The EUIPO has launched a new awareness campaign, entitled "Risks and damages posed by IPR infringement in Europe", in all EU countries. The campaign's launch was timed to coincide with this week's World Anti-counterfeiting Day and highlights how, on average, nearly one in 10 Europeans (9%) state that they have been misled into buying counterfeit goods, with a third wondering whether a product that they have bought was original. The 2021 pan-European campaign includes a video and infographics. EUIPO Executive Director Christian Archambeau said: "Intellectual property is one of Europe's most valuable assets, and a key element in our social and economic recovery, especially for small businesses. The covid-19 pandemic has put the problem of IP crime under a magnifying lens with the rise of counterfeit medicines and medical products that further threaten the health and safety of citizens. This is a long-standing issue, often interlinked with other types of illegal activities, which requires urgent robust, coordinated action and has recently been reinstated as one of the top ten EU priorities in the fight against organised crime." (TL)
On the move:
DLA Piper adds to patent litigation bench – DLA Piper has announced the hire of Jennifer Librach Nall and Helena Kiepura as partners within the Austin and Washington DC offices, respectively. The pair are members of the patent litigation sub-group, part of DLA Piper's IP and technology practice. "Jennifer's skillset and experience fit perfectly into our strategic plan to grow our Austin-based patent litigation team," said John Guaragna, chair of DLA Piper's Texas IP and technology practice. "Her addition will enable us to meet the increasing demand for experienced patent litigators in Austin, as patent case filings continue to increase rapidly in the Western District of Texas, and her status as a former Federal Circuit law clerk will make her a sought-after practitioner for sophisticated patent litigation matters throughout the country." Erin Gibson, chair of the firm's International Trade Commission (ITC) practice, commented on Kiepura's appointment: "As we aim to continue bolstering our position as a top firm for ITC patent litigation work, Helena's skillset will be an asset to clients that are facing the unique challenges of an ITC investigation. Her procedural experience with Section 337 actions, combined with her background in life sciences and deep understanding of complex technologies, will be a fantastic addition, and her presence in the Washington DC office will also be an ideal complement to our existing ITC team across the country." (BD)
Brian Anderson joins Polsinelli – Brian Anderson has been appointed to counsel within Polsinelli's IP practice, specifically joining the firm's Hatch-Waxman litigation and opinion team. He can be found in the Chicago office. (BD)
Quarles & Brady hires DC trademark attorney – Kelly Williams has joined Quarles & Brady as of counsel in the firm's Washington DC office. Williams advises clients on trademark clearance, prosecution, maintenance and enforcement, as well as brand and marketing strategy development and execution. (BD)
And finally...
Latest edition of the WTR 300 now available – WTR is pleased to announce the publication of the fifth edition of WTR 300: The World's Leading Corporate Trademark Professionals. The publication identifies the individuals deemed to be the leading lights of the corporate trademark world. The full methodology for the publication is available here but, in summary, we ran a three-month campaign to elicit nominations from the trademark community. Individuals who received multiple nominations from outside their own organisation were long-listed and the editorial team then engaged in additional research and outreach before deciding on the final list. As a result, many nominees did not receive the requisite number of nominations or make it through the rigorous vetting process. Of those that did, Amazon, Apple and Facebook each have seven team members included this year, with Netflix's bench of expertise represented by six IP professionals. Close behind are 3M, L'Oréal, Louis Vuitton, Mars, Nike, Philip Morris and Red Bull. The full list is now available to view here.