Crazy or canny? Tesco trademark 'misstep' may actually be a conscious commercial decision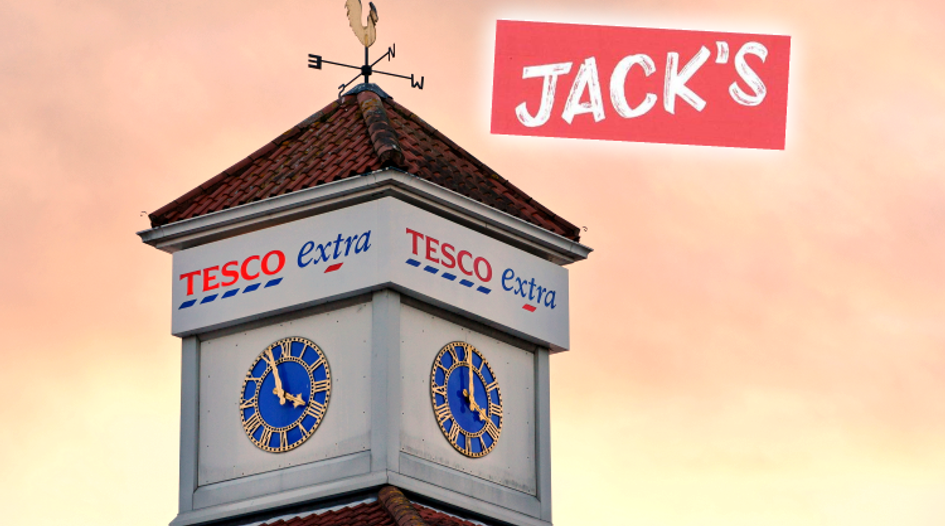 Coverage of retailer's new brand launch focuses on absence of trademark protection
Move has been branded by one anonymous commentator as "absolute madness"
However, legal experts tell WTR that market strategy is not as risky as portrayed
This week, British multinational retailer Tesco has been the focus of media coverage centred on the upcoming launch of its Jack's chain of discount retail stores – and specifically the lack of "watertight protection over its trademark". However, while the chain's approach has been described as "absolute madness", the reality is a little more nuanced and offers important insight into market entry by stealth.
Named after Tesco founder Jack Cohen, the Jack's discount chain is set to directly compete with German discounters Aldi and Lidl as the battle for UK high street supremacy intensifies further. The first store is set to open this week in Chatteris, Cambridgeshire, with aggressive expansion to follow. Over the past few days, however, the retailer has been the subject of a wave of media reports focused on its decision to defy a "legal minefield" by launching without having secured registered trademark protection. The story was first broken by The Mail on Sunday's Neil Craven, who noted that its current UK and EU trademark applications are still within opposition period, with the company having received 15 "complaints" against applications for the name and red logo. Craven writes: "It means the discount chain will be trading for four weeks during which the legal position over its trademark will be wide open to new complaints – which one trademark source described as 'absolute madness'."
In reality, however, there may be method in the madness.
First, reflecting the competitiveness of the industry, the retail giant took a leaf out of the book of tech companies and sought to first register its mark in Sri Lanka with a view to the claiming priority in the UK and EU while operating 'under the radar'. Such a tactic could become more common in future, with the key to success being careful selection of the right jurisdiction. Chris McLeod, partner and trademark attorney at Elkington + Fife, reflects: "Filing in a relatively obscure jurisdiction is a known strategy and quite a well-worn path. The primary issues are finding a location where it is not possible to search the register online or where it takes a long time for applications to become searchable, but where it is also possible to obtain certified copies reliably. If the registry in question cannot provide certified copies sufficiently promptly to meet deadlines in other territories, there is a risk that trademark registries which require a certified copy of the priority application will reject the claim. I have not specifically come across Sri Lanka being used before, but it seems to have worked for Tesco in this instance."
Media coverage has also speculated that "a delay in the EU application process appears to have led to a slip-up over dates", leading to the current issue with respect to launching sans trademark protection. However, market experts suggest that the risk of doing so is not as grave as suggested.
Matthew Dick, partner and solicitor at D Young & Co, observes that "you don't technically need a trademark application or registration to start trading," adding: "I wouldn't say it was madness. They are a responsible brand owner in their own right, as well as a reseller of leading brands, so they do a lot of filing. In that respect it may seem like madness to do this without getting a registered mark in place but I wouldn't be concerned" As to why not, there are two main reasons.
First, with respect to oppositions, Dick notes that these are to be expected, given that the register is already over-crowded and that 'Jack's' isn't "the most distinctive of marks". He adds: "They have filed in all classes and the more classes you file in, the more you will be opposed. If I was Tesco, I wouldn't be overly concerned with receiving oppositions as nine times out of 10 these can be resolved by agreeing to step away from certain areas on a commercial basis."
Second, he notes that the retailer has deep pockets – and indeed may have made a conscious decision that any risk is worth taking: "A big company like Tesco has likely either taken the view that the risks in the UK are manageable or that they will throw money at it. It is hard to get a trademark these days without some risk and they have either assessed it and think that the risk is low or feel that if it goes nuclear they have a war chest set aside. It's a good example of where the commercial rationale is perhaps the key driver."
McLeod concurs, adding: "There is a degree of risk in launching without first obtaining registration, but I do not see it as poor strategy. If another party intends to object to use, it would almost certainly apply to invalidate any registration which Tesco had obtained [anyway], in order to prevent a defence to a claim of infringement based on the existence of that registration."
He concludes: "Without inside knowledge, it is impossible to know to what extent Tesco carried out pre-filing clearance searches and therefore what level of commercial risk it decided to take in launching under this brand." However, it would be a surprise if those discussions were not had internally and it seems that, while for some the launch strategy is "madness", there is more to this story than initially meets the eye.