Concerns raised over USPTO proposal to mask attorney emails on trademark applications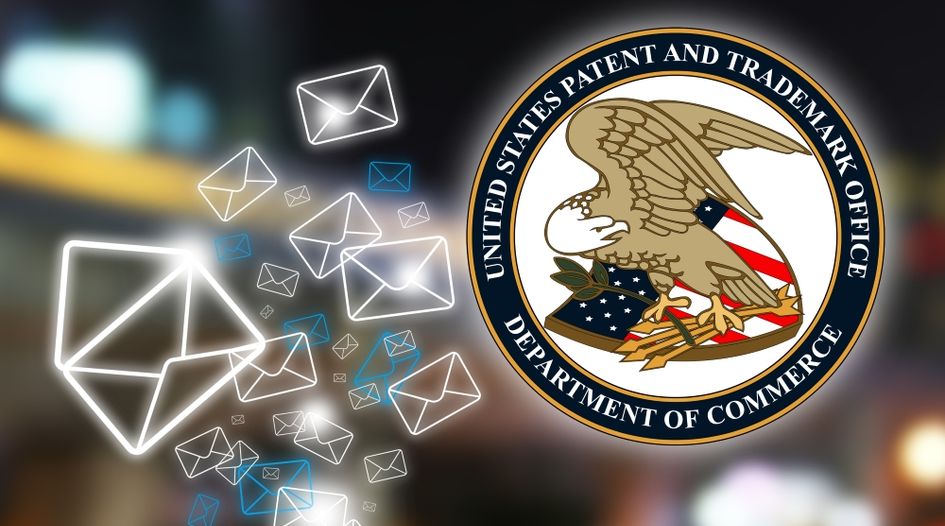 USPTO appears to be planning to mask attorney emails on trademark applications
Experts voice fear that communications between attorneys could be more difficult
Call for adequate feedback opportunity before USPTO makes final decision
The US Patent and Trademark Office (USPTO) is planning to mask the email addresses of attorneys on trademark applications, according to comments made by trademark commissioner David Gooder at last week's TPAC meeting. In response, legal experts voiced apprehension at the move and urge the agency to garner feedback from stakeholders before implementing such a plan.
Since the beginning of the year, there have been concerns about email addresses on publicly-viewable US trademark applications. As WTR reported in February, the USPTO faced a backlash from users following an announcement that all trademark applicants and registrants will need to provide an email address that will be publicly available – with privacy implications of such a move being raised, as well as fears that it could lead to a rise in scamming activity. In response, the USPTO issued a notification in April that, in view of those concerns, it would be masking the email addresses of trademark owners and that information would no longer be visible in documents filed electronically through the TEAS online platform.
It now appears a similar approach is in the works for the email information of attorney-of-records and correspondents. At last Friday's Trademark Public Advisory Committee (TPAC), it is understood that USPTO trademark commissioner David Gooder was asked whether such a proposal is in the works, and he confirmed that there are "plans to mask the email addresses of attorneys similar to how it masked the email addresses of unrepresented applicants", according to a meeting attendee. According to one source, such plans are at a relatively advanced stage, including the agency mapping out the technical processes to implement it.
Talking to WTR, Fross Zelnick partner Allison Strickland Ricketts – who posed the question to Gooder at the meeting – confirmed that the USPTO has "invited comment on the issue" (it is currently unclear how stakeholders can send in feedback; we have reached out to the USPTO for this information). At present, Ricketts says that she would "welcome an opportunity to learn more about what concerns have been raised" about publicly-viewable attorney email addresses, and hopes for a "meaningful" opportunity to provide a response. "To the best of my knowledge, there is no rule or statutory change that requires such a change, as was the case when rules were adopted requiring trademark owner email address and domicile address," she explains. "If the proposed change is at the office's discretion, then hopefully there is time to gather stakeholder feedback that would help the office anticipate unintended consequences that might flow from such a change. Such a process might also enable stakeholders to share with each other methods that they have used to successfully mitigate whatever the concerns raised may be."
One potential 'unintended consequence' of such a move, she notes, is that some third-parties require attorney email addresses accessed from US trademark applications. "The Amazon Brand Registry, for example, sends confirmation codes for requests to register with the Amazon Brand protection program to the attorney email addresses that appear in the USPTO database," she adds. "Would this capability be lost if the attorney email addresses are shielded?"
There are also broader concerns over the move. According to Nehal Madhani, founder and CEO of trademark docketing service Alt Legal, "potential opposers of another party's trademarks no longer have the ability to readily and immediately communicate with the attorney representing the other party to engage in constructive dialogue before filing an opposition". That could have two major implications, he adds: "If parties are unable to easily engage in constructive dialogue through consent agreements or otherwise before opposition deadlines, we are likely to see more litigation at the TTAB or elsewhere. In addition, because of the requirement for attorneys not to contact clients directly and that international applicants be represented by US counsel, it's important to make it easy for attorneys to be able to readily contact each other."
While Madhani acknowledges that attorney phone numbers and mailing addresses may still be available, "email is still the best and fastest way to communicate in our new work-from-home era". And while many attorney email addresses may be easily found through search engines, "that is not always the case", he notes, as some law firms use generic website forms or do not appear in online searches.
Of course, masking attorney addresses could combat one problem – the influx of unsolicited emails that is often a blight for many legal professionals. "That is certainly a problem that needs to be solved," Madhani concurs. "However, I'm not sure this move is the right solution for that. For example, one approach that has been adopted by many large filers with the USPTO is to use alias or dedicated common email addresses just for USPTO communications (eg, '[email protected]' or '[email protected]'). Also, you can easily delete or unsubscribe from an email, or report messages as spam. So although no communication method is perfect, email is the most unobtrusive method of communication we have."
For that reason, both Madhani and Ricketts are eager for a sufficient opportunity to provide feedback to the USPTO. WTR will update this article when the USPTO confirms the most effective route to send comments about this proposal. In the meantime, the user feedback email address ('[email protected]') appears to be the most logical avenue for stakeholder feedback.
Following the publication of this article, a USPTO spokesperson confirmed to WTR the question was asked during the TPAC meeting. In response to the proposal, the spokesperson confirmed the agency is"looking at that (in line with our efforts to reduce spam and scams)" and added: "If we did think it was a good idea, we would certainly seek/welcome comment from the trademark community."