Compulsory mediation suspended in Greece, USPTO seeks AI expert, and The Clash trademark clash: news digest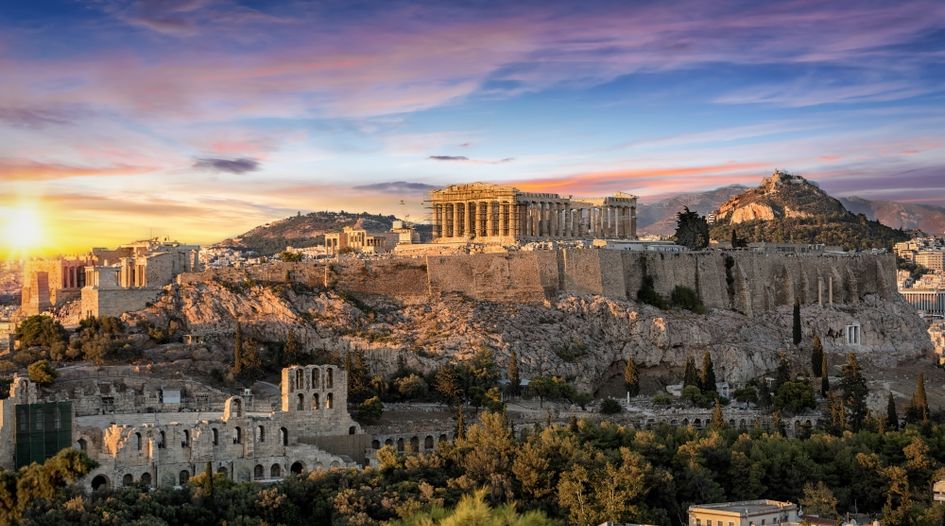 Every Tuesday and Friday, WTR presents a round-up of news, developments and insights from across the trademark sphere. In our latest edition, we look at Traeger Grill filing a lawsuit against a rival grill maker, Kuwait intercepting a counterfeits shipment, the European Commission reporting on seizures of fakes, how strong emotions are linked to brand perception, and much more. Coverage this time from Trevor Little (TL), Bridget Diakun (BD), Jonathan Walfisz (JW)  and Tim Lince (TJL).
Market radar:
USPTO seeks AI expert – The USPTO is seeking its first dedicated artificial intelligence (AI) hire. The primary role of the new full-time position, a senior level artificial intelligence expert, will be "to provide leadership and expertise in bridging the gap between areas of opportunity for AI and research scientists developing proof of concepts to software engineer(s) putting AI into production by possessing deep understanding of trends and strategies for identifying solutions to meet mission critical business areas of opportunity". The new recruit will also be required to demonstrate thought leadership to advise on AI and automation strategy, actively develop and maintain client relationships with senior leadership as an advisor on Artificial Intelligence, evaluate requirements for IT procurement solicitations related to AI and collaborate with trademark stakeholders to elicit, analyse, and define software features and functionality consistent with customer needs and expectations. Much has been written about the potential impact of AI on trademark practice and the USPTO is clearly intent on taking a leadership position in this effort. (TL)
Kuwait intercepts counterfeit shipment – Customs officers in Kuwait confiscated three shipments of counterfeit goods over the weekend. The shipments were held in air cargo and contained 280 parcels weighing about 6,000 kilograms. Samples of the products were checked with authorities to confirm inauthenticity. Among the fakes discovered were wristwatches, bags, and glasses. Having received permission from the Ministry of Commerce officials are now looking to dispose of these goods. The seizure shows the widespread practice of counterfeiting and need to have boots on the ground in various jurisdictions. (BD)
European Commission reports increased seizure of fakes in 2018 – The number of seized shipments in the European Union containing counterfeits increased to 69,354 in 2018 from 57,433 in 2017, according to figures released by the European Commission. The growth in interceptions is attributed to the higher amount of small parcels being sent through the post, which is caused by an increase in online shopping. Overall, nearly 27 million counterfeits were detained by EU customs with a street value of approximately €740 million. Cigarettes were the most popular fake, accounting for 15% of the overall amount of seized goods. It was followed by toys (14%), packaging material (9%), labels, tags and stickers (9%) and clothing (8%). China was, again, the main source of counterfeits. It is important the the Customs Union continues to collect and summarise this data as it provides valuable information of what the most common routes are for infringers. For example, North Macedonia was the biggest culprit for counterfeit alcoholic beverages, whereas Cambodia was the main source for illicit cigarettes. (BD)
Strong emotions linked to brand perception – A new study from AI-powered technology company Mirriad and applied neuroscience firm SPARK Neuro has found that there is a clear link between consumer emotion and brand value. Interestingly, emotions like sadness and disgust were linked to a significant rise in brand price valuation. For example, according to Campaign, Lysol disinfectant wipes were inserted into a so-called "disgusting scene" which resulted in a 22% price valuation lift. Furthermore, a snack brand was inserted into a "very sad scene" which led to a 27% price valuation lift. Commenting on the study, SPARK Neuro CEO and founder, Spencer Gerrol, said: "Connecting emotional scenes with brands in content elicits strong changes in value perception. It's not as simple as owning a single emotion, but rather being present in a range of emotions to leverage the 'emotional carryover' effect." (TJL)
Legal radar:
The Clash clashes over 'clash' mark – British punk rock band The Clash have sued Wilson Sporting Goods for trademark infringement. The sports equipment manufacturer brought out tennis rackets under the name "Clash", reports Digital Music News. Dorisimo Limited, the UK-based company that manages the band's marks claims that Wilson's range is likely to confuse consumers due to The Clash's previous associations with the tennis industry. The Clash's music has been licensed out to the Wimbledon Grand Slam, as well as their marks licensed out to Converse for a range of tennis shoes. Dorisimo is seeking damages of $3 million in the US from Wilson. (JW)
Off-White label tries to register "PRODUCT BAG" as a trademark – Virgil Abloh's fashion brand, Off-White, has filed a US trademark application for "PRODUCT BAG". The trademark includes the quotation marks. As reported by Complex, the brand has been trying to register protections for a host of marks including "OFF" which include quotation marks as part of the word mark. Specimens have been requested of the new mark from the USPTO where the phrase does not appear on a product bag. (JW)
Traeger Grills sues Traeger family members for using name – Traeger Grills has filed a lawsuit against rival grill maker Dansons, as well as Joe, Brian, and Mark Traeger. The three Traeger family members began working for Dansons after selling Traeger in 2006 for $12.4 million. Apparently, $9 million of that sum was to secure exclusive and perpetual rights to use the Traeger name and its marks. Those rights were transferred to Trilantic Partners in 2014. Since, Traeger claims the family members have been marketing Dansons' grills with the Traeger brand and relying on its established good will. According to Traeger, Joe and Brian's likenesses for marketing purposes outside of the Traeger brand is not allowed by the clauses of the sale. (JW)
"Hawaiian" snacks from Washington deemed not deceptive of origin – As discussed on Rebecca Tushnet's 43 (B)log, a US court found that snacks branded "Hawaiian", with Hawaiian imagery on the packet, did not mislead the public into thinking the snacks originate from Hawaii. Kennedy, the makers of the snacks, argued that the uses of the word and the imagery were puffery. The court found that other than the word "Hawaiian", there are no assertions, phrases, or claims to assess on the packaging at issue. They also found that there was no specific assertion or concrete statement about the product's origin. Apparently, merely referencing Hawaii and its culture was not enough to confuse a consumer as to the origin of the product which was not a product inherently associated with Hawaii. (JW)
Office radar:
USPTO announces date for new TEAS and TEASi log-in procedures – On 26 October 2019 the USPTO is to upgrade its filing systems, requiring a log in to a USPTO.gov account with a two-step authentication when seeking to access the Trademark Electronic Application System (TEAS) and TEASi (international). Additionally, TEAS or TEASi sessions will time out after 30 minutes of inactivity. The office adds: "Starting in spring 2020, we will be able to verify account holder information. This measure will further reduce misuse of our electronic forms and fraudulent filings." Users are recommended to get ready for this change by setting up a 'USPTO.gov' account now, as well as enabling a phone number or using an authenticator application as a secondary authentication method. We previously reported on concerns over the security of the USPTO's system, with the office noting that bad actors had been making unauthorised changes and pointing to a future log-in system. That system is now imminent. (TL)
Compulsory mediation debate suspended in Greece, again – In November of last year we reported on the suspension of mandatory mediation in IP disputes in Greece on account of a human rights injustice. The law had been introduced in January 2018 requiring mandatory mediation for IP cases prior to the filing of legal action. The grace period which ensued was filled with criticism, and the Administrative Plenary Session of the Greek Supreme Court deemed the new law unconstitutional. Due to the backlash the implementation of the new procedure was suspended until 16 September 2019. According to George Panagopoulos, an associate at Patrinos & Kilimiris, there has been no developments or updates since the suspension. This is likely because the country was preoccupied with a general election during the spring and summer. As the deadline approached the Plenary of Bar Associations met in Athens and decided that a new suspension was the best way forward. This has been granted until 30 November 2019. The legislator explained that this extra time would create the opportunity to dictate a legislative framework for mediation, and also take into account the ruling by the Administrative Plenary Session of the Greek Supreme Court. Of the upcoming 2.5 months Panagopoulos says: "In our view, the suspension was necessary, as there was no progress on the matter so far. We are now expecting a full scientific discussion to take place, re-assessing the model of mediation as a whole." (BD)
On the move:
Mintz expands IP and life sciences practices with new hire – IP attorney Karen Won has joined Mintz as a member, according to a press release on the firm's website. She is experienced handling all matters relating to trademarks, ranging from prosecution to transactions. Won works with both large and small companies, and has a special focus on the life sciences sector. She formerly was a special counsel and associate within Cooley's trademark, copyright and advertising practice. (BD)
Ashfords strengthens IP team – Ashfords has appointed Clare Jackman to partner within the firm's IP practice. Jackman is an experienced trademark attorney, having previously held the position of head of trademarks (UK) at Norton Rose Fulbright. She specialises in the financial, energy, transport, media, healthcare, retail, consumer brands and luxury goods sectors. This appointment reflects Ashfords push to build up its IP practice. Earlier in the year it hired Chris Sutoto-Haywood, a dual qualified solicitor and chartered trademark attorney. (BD)
Panagiota Dafniotis becomes the national lead of Dentons' IP team – Panagiota Dafniotis has joined as a partner in Dentons corporate group as well as becoming the national lead of the IP team, according to an announcement on the firm's website. Dafniotis can be found in the Montreal office and is available to help clients with the full range of IP issues. She is further a registered trademark agent. (BD)
Dykema welcomes IP attorney to Bloomfield Hills office – Dykema has appointed Thomas T Moga as senior counsel in its IP and IP litigation department as well as the automotive industry group. Moga has joined the firm's Bloomfield Hills office. He has over 30 years of experience building and enforcing IP portfolios, and has also acted as an expert witness in patent disputes. (BD)
And finally...
Tips from the trademark industry elite – WTR is pleased to announce the publication of the inaugural edition of WTR Global Leaders. This ground-breaking new supplement presents insights from the elite of the global trademark industry, offering guidance into career development, practice management and trademark industry trends. WTR Global Leaders is available online, and free to view, here.