Comedian legally changes name to Hugo Boss – important lessons for brands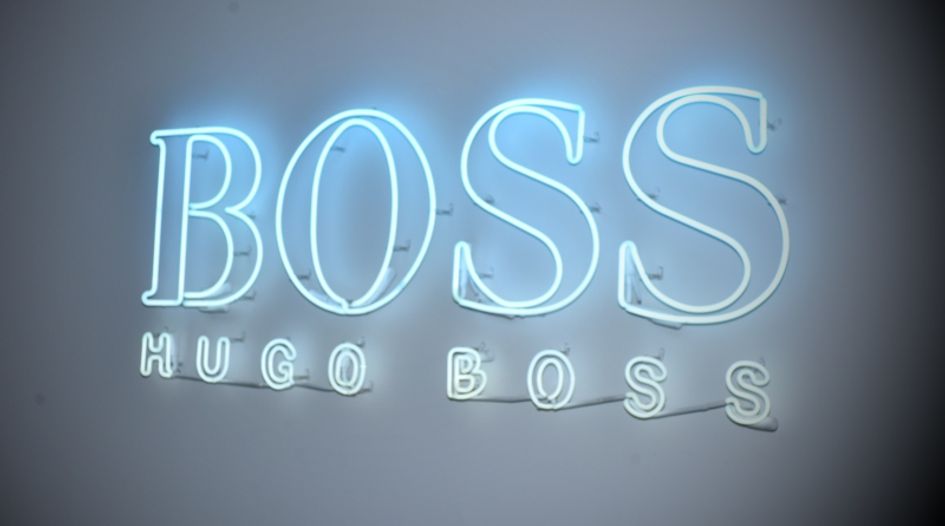 Comedian and TV show host Joe Lycett changes his name to Hugo Boss by deed poll
Stunt receives global media coverage, highlighting trademark enforcement efforts
Lessons for counsel include striking balance between legal merit and negative PR
UK comedian Joe Lycett has announced that he has legally changed his name to Hugo Boss in protest at the German fashion company's trademark enforcement work. While an extreme example of the backlash that can arise from aggressive legal action, it provides some lessons for all trademark professionals.
On Sunday 1 February, comedian Joe Lycett posted a letter from the UK Deed Poll Office confirming that he has legally changed his name to Hugo Boss. Commenting on the reason for the move, he tweeted: "So Hugo Boss (who turnover approx $2.7 billion a year) have sent cease & desist letters to a number of small businesses and charities who use the word 'BOSS' or similar, including a small brewery in Swansea costing them thousands in legal fees and rebranding. It's clear that Hugo Boss HATES people using their name. Unfortunately for them this week I legally changed my name by deed poll and I am now officially known as Hugo Boss. All future statements from me are not from Joe Lycett but from Hugo Boss."
On top of that, the comedian said that he will be "launching a brand new product as Hugo Boss", which will be revealed on the upcoming series of his TV show Joe Lycett's Got Your Back. Within minutes of the announcement, Lycett's Wikipedia page had been updated with his new name and the tweet had received thousands of retweets. The move has also been picked up by global media outlets, including coverage in Australia, Brazil and France, with the public response broadly positive and the topic trending on Twitter for multiple hours.
To date, Hugo Boss has not responded to the act. However, it follows recent legal battles that have proven controversial for the fashion brand. In August 2019, it was reported that Hugo Boss had sent a cease and desist letter to Welsh company Boss Brewing (the Swansea firm referenced by Lycett), which sparked a four-month trademark dispute. In the end, Boss Brewing agreed to change the name of two of its products – 'Boss Black' (to 'Boss Brewing Black') and 'Boss Boss' (to 'Boss Bossy') – and that it would no longer sell clothing merchandise. In comments at the time (now being re-used by media outlets), Boss Brewing owner Sarah John said: "I understand brand identity, you have to look after your brand. But I think it's a bit unnecessary that this massive clothing company has gone after a small brewery. This has been a horrible experience, and so stressful."
Of course, stories of small businesses facing trademark disputes with large conglomerates, and the resulting financial toll, are not uncommon. This particular response, however, is unique – and its comedic effect may remind some readers of Canadian comedian Nathan Fielder's infamous 'Dumb Starbucks' stunt in 2014, which explored the issue of fair use and corporate branding. For Hugo Boss, it is a significant PR headache – especially as Lycett has also been pointing out the fashion brand's historical ties with Nazi Germany.
Nonetheless, it also raises a number of important points for trademark practitioners. According to Paul Jordan, partner at Bristows, it highlights how trademark departments must have an effective relationship with PR colleagues. "It is incredibly important for consumer-facing brands to ensure that legal and PR functions work together on all enforcement matters," he tells WTR. "A balance often needs to be struck between the legal merits and potential resulting adverse publicity. Lawyers should write cease and desist letters on the assumption they will be made public; particularly given the accessibility and speed of social media channels. Accordingly, brands must choose their battles carefully and always ensure the business has the full backing of colleagues in their communications team."
Indeed, according to the latest WTR Global Trademark Benchmarking Survey (full results will be published in the next issue of WTR magazine), less than half of in-house practitioner said that the marketing/PR department is a key internal business partner. That figure should be higher, as we are in an age of increasing anti-IP sentiment, so resentment against trademark enforcement could be on the rise. In today's world, any action by a trademark practitioner that can be seen publicly – from trademark filings and litigation actions to cease and desist letters and social media takedowns – has the potential to go viral.
Of course, a close relationship with PR can be about more than just preparing for backlashes. As Bud Light, Jack Daniel's, Netflix and TGI Fridays have shown in recent years, creative and light-hearted cease and desist letters can lead to positive media coverage and help to educate the public about the need for trademark enforcement. There are risks to that approach, though, as WTR editor Trevor Little wrote in 2018: "This is not to say that the default option is to automatically send out dry, legal letters when faced with enforcement, particularly where it is unintentional or not a clear threat to the brand. True creativity should be celebrated and in the online environment, ethical enforcement approaches do need to be the norm. However, it is important that they not come across as cynical marketing efforts. If cease and desist letters are regarded as mere efforts to garner social media likes, they will ultimately lead to more headaches than plaudits."
Nevertheless, the Hugo Boss trademark department will need to work extremely closely with PR colleagues in the weeks ahead. Talking to WTR, Rachel Platts, chartered trademark attorney at HGF, says that the fashion brand must tread carefully: "With regard to Joe Lycett's activities (or should we say Mr Hugo Boss), unless he is trading under the name, then any use by him of the name would not be trademark infringement as it would not be use of a sign in the 'course of trade'. Mere 'comment' under a name is not trademark infringement. If he does start to trade (eg, selling t-shirts as part of his campaign), then it is unlikely he would have a so-called 'own name defence' as such use is unlikely to be deemedin accordance with honest practices in industrial and commercial matters, as he was aware of the rights to the HUGO BOSS trademark before he changed his name. However, Hugo Boss needs to think carefully about whether to take action against him, as it would simply continue to raise public awareness of the campaign and, again, Hugo Boss could be seen as heavy-handed."
For now, Hugo Boss will continue to sell clothes and the other Hugo Boss will continue to promote his TV programme. Time will tell whether the two will engage in a legal dispute or if, as expected, the comedian will change his name back after the new series airs.