Clubhouse spat as $1 billion social network labelled a "bully" over app takedowns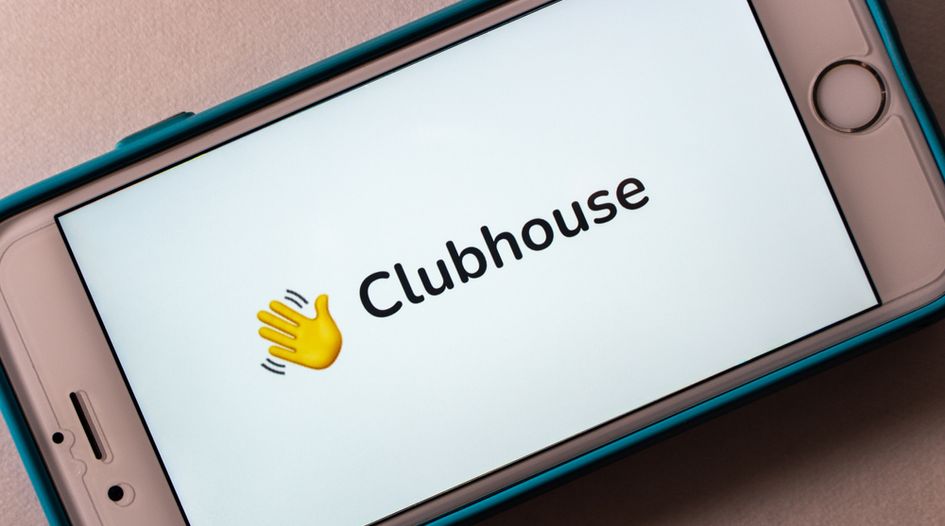 Audio social network Clubhouse attracts 2 million users and Elon Musk as a fan
Owner of CLUBHOUSE trademark claims company removed app from stores
Voices frustration at Apple and Google over takedowns and lack of response
A Swedish entrepreneur and owner of a registered trademark for the term CLUBHOUSE has accused the rapidly-growing social network app Clubhouse – which has garnered fans including Elon Musk and Mark Zuckerberg – of spuriously seeking the removal of his app from marketplaces. In exclusive comments to WTR, Clubhouse Ltd CEO Alexander Frederiksen also voiced frustration that his app has been taken down despite his registered IP rights, characterising Apple and Google as "gatekeepers above the law".
The invite-only audio app Clubhouse launched in May 2020 and has been described as "the latest craze" and the next Twitter. To date, it has a reported 2 million users and a valuation of over $1 billion. Last month, the Silicon Valley company behind it has secured $100 million in a new financing round and now boasts over 180 investors. In the same month, Tesla CEO Elon Musk promoted the app following an appearance on it, which spurred the app's rapid growth in recent weeks – including invitations being sold for upwards of $100. Currently the app is only available on Apple's iOS store, with a Google Play app in the works.
While its investors will be happy with its rapid audience growth and entry into the mainstream, one entrepreneur has voiced anger at the company's actions in regards to his similarly-named app.
Talking to WTR, serial entrepreneur Alexander Frederiksen – who has helped develop consumer apps including TanTan, a Chinese dating app – states that he launched his Clubhouse app on the Apple iOS store and Google Play store in mid-2020. The concept of the app is very similar to the Silicon Valley app, described as an 'audio-based social network' using 'drop-in voice chat'. However, that isn't necessarily a surprise, he contends, with audio often touted as the next frontier of social networks – with dozens of other apps launched in 2020 attempting to popularise a similar form of short-form audio platform (such as Audlist and Riffr).
In June 2020, Frederiksen filed a trademark application for CLUBHOUSE at the EUIPO in class 9 ('application software for social networking services via internet'). The mark reached registration in October 2020. Frederiksen has also used the Madrid system to make an international trademark application for the term CLUBHOUSE covering jurisdictions including Brazil, China, Indonesia, India, Japan, Korea, Philippines, United States and Vietnam. He also claims to have owned the 'clubhouse.co' domain since "around 2012" (although it was not active until last year; cached pages on Wayback Machine shows that it was up for sale as recently as 2019).
In December 2020, at a time when buzz for the Silicon Valley app was rising dramatically, Frederiksen received automated emails confirming that his apps had been removed from both the Apple and Google application stores. The emails, he says, claim that his Clubhouse app was infringing on existing trademark rights. "I have tried to respond and explain to them that I own the name Clubhouse as a trademark, but I have never heard anything back from both Google and Apple," he tells us. "I've tried to do everything by the book. If you own a trademark, it should mean something, and it seems very strange for Apple and Google to act this way."
After failing to get a response from Apple and Google, Frederiksen claims to have reached out to Clubhouse "numerous times" – to no avail. "I have had zero response from them," he says. "Right now, my options seem limited: I can give up or I can battle them, but they will fight back forever because they won't change their name even if I have the legal rights to the word. That's why this feels unfair; the whole purpose of a trademark should be the ability to enforce it and I feel like I cannot do that. Another option, perhaps, is either selling or licensing the trademark, which is probably the most reasonable thing to wait for."
It is unclear if the Silicon Valley company has secured any trademarks for the term CLUBHOUSE (searches on various trademark databases could not identify any; WTR has enquired for confirmation). For now, though, the app's removal from marketplaces "has pretty much just ended my business", Frederiksen says – particularly disappointing, he adds, as he claims it had garnered 250,000 users in the six months it was active (a figure repeated on his Clubhouse website; while WTR cannot verify that figure, the Android version did have at least 10,000 downloads before it was removed). "We launched our Google version of the app during the summer, so we were by far the first app of this type on the Google Play store using the name Clubhouse," he states. "It's great that this company is in Silicon Valley and can raise tens of millions of dollars, but just because you have the most cash, it shouldn't mean you can control other people's trademarks. That's why it feels like I'm being bullied, and the surprising thing is that the gatekeepers of Apple and Google are supporting them."
In terms of next steps, he confirms that he is weighing up his legal options. "While I'm currently in a position where I don't know what to do, that doesn't mean I will do nothing," he says. "If I was to do something actively on this, against Clubhouse in Silicon Valley, then I'd need the biggest legal 'gun' or 'muscle' I can find to take them on. They are positioning themselves as untouchable, and no matter how much I try to reach them, they just ignore me. Right now I am waiting, but l apparently live in a world where people don't reply to emails."
WTR has contacted Clubhouse, Apple and Google and we will update this article if they respond.