Cleveland Guardians settlement; Nike postpones Travis Scott collaboration; sugary plain packaging called for – news digest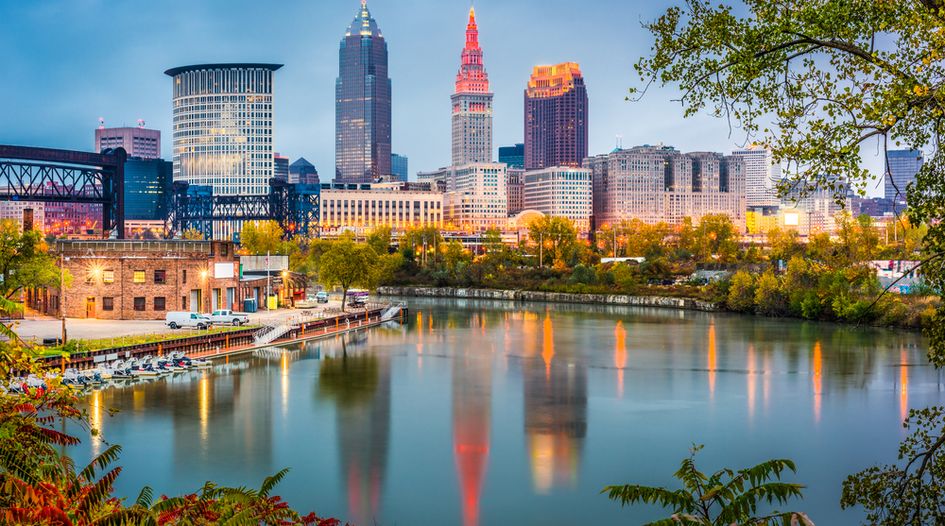 Every Tuesday and Friday, WTR presents a round-up of news, developments and insights from across the trademark sphere. In our latest round-up, we look at Vans suing Walmart over "poorly made" copycats, Banana Republic's chief brand officer leaving after less than a year, Justin Bieber teaming up with Tim Hortons, and much more. Coverage this time from Victoria Arnold (VA), Bridget Diakun (BD), Tim Lince (TJL) and Trevor Little (TL).
Market radar:
Call for plain packaging of sugary sweets – A senior figure at the Irish government's Health Service Executive (HSE) has called for sugary chocolate and sweets to be sold in plain packaging. The HSE's clinical lead, Donal O'Shea, claims that "over-consumption" of such products has become an issue in Ireland and calls for increased regulation, according to News Talk. "Out of sight is important: there's research to say it works, like there is with other initiatives like calorie posting on menu boards," O'Shea says, noting that research suggests plain packaged sweets "makes them less attractive" to younger children. "But again the industry is fantastic at lobbying to obstruct this, and the Public Health Alcohol Bill was a really good example of just how powerful the industry is in lobbying." As WTR noted last week, there has been "enormous momentum" for plain packaging of tobacco products in the past two years, and other products, including alcohol and sugary food, are expected to be the next target of such legislation. (TJL)
Banana Republic's chief brand officer leaves after less than a year – Ana Andjelic, chief brand officer at Banana Republic, has left the business after less than a year in the role. Andjelic joined in February and was tasked with leading the brand's creative and marketing teams. Banana Republic, and Gap for that matter, have been struggling for years. The former took an additional hit during the pandemic as consumers put buying work clothes on hold. In September the brand launched a campaign designed to revamp its identity, with a focus on "democratic, approachable and inclusive luxury". Andjelic's replacement will have a challenging job trying to remake a brand that has missed the mark with consumers for years. (BD)
Crayola builds licensing team with two new hires – Rob Spindley has joined Crayola as director, licensing Europe, the Middle East and Africa, and Tiffany Moore has been appointed to head of retail development at Crayola Licensing, reports License Global. Spindley, based in London, has worked on the licensor, licensee and agent side. He has experience in licensing, brand direction and retail development, having worked with licensors including Disney, Universal, Fox, BBC Studios and Technicolor. Moore joins the company from Universal Studios, where she developed retail programmes for Jurassic World and Trolls. Before that she held development roles with Disney and DreamWorks. "International expansion and retail development are key strategic priorities for the growth of our business," says Warren Schorr, vice president at Crayola business development and global licensing. "We are excited to have both Rob and Tiffany join our team. Their knowledge and experience will help transform Crayola's licensing business in their respective areas." (BD)
Brainbase and PMC team up – Licensing technology platform Brainbase has announced that Penske Media Corporation (PMC), owner of iconic brands including Billboard, Robb Report, Rolling Stone, SXSW, The Hollywood Reporter, Variety and WWD, will begin using its brand licensing platform. "As PMC continues to evolve with its brands' audiences, we're excited to expand our licensing program to new categories including cannabis, health and wellness, food and beverage, apparel and more," said Rachel Terrace, senior vice president of licensing and brand development at PMC. The company sees the Brainbase platform as an opportunity to optimise its processes "and in turn launch a diverse range of partnerships across our iconic brands". Nate Cavanaugh, co-founder and CEO of Brainbase, stated: "We're thrilled to combine Brainbase's leading licensing technology platform with PMC's innovation in the media and entertainment space to create an elevated consumer products program. Our team is committed to delivering industry-leading technology that will take PMC's growing licensing business to the next level and contribute to their organization's success for years to come." (TL)
Brand radar:
Nike postpones release of upcoming Travis Scott sneaker collaboration – Our most recent Saturday opinion considered the brand-related dimensions of the tragic events at the recent Astroworld concert in Houston. We noted that Dior has found itself in the media spotlight over its upcoming collaboration with Travis Scott, but argued that it will not be the last brand grappling with how to react when a celebrity relationship attracts news headlines for the wrong reasons. Another brand that has come under scrutiny is Nike, which has had an ongoing collaboration with the rapper and producer. This week, Sky News reported that the company has postponed the release date of a sneaker collaboration with Scott indefinitely. In a statement on its website, Nike explained: "Out of respect for everyone impacted by the tragic events at the Astroworld Festival, we are postponing the launch of the Air Max 1 x Cactus Jack." (TL)
General Mills looks to offload portfolio including Progresso and Hamburger Helper – General Mills is working with Goldman Sachs as it explores the sale of a portfolio of brands including Progresso soup and Hamburger Helper. Any divestiture will also include smaller brands, and the company is aiming to raise about $3 billion from the sale. General Mills is not the only large food company restructuring its portfolio to cater to younger, more health-conscious consumers. "The possible divestment reflects General Mills' dynamic repositioning of its portfolio and may be a catalyst for investing in the pet category or more health-minded products," said Bloomberg Intelligence analyst Conor Cuddy. Progresso and Helper have long been staples of the General Mills portfolio. Progresso was acquired through the company's $10.4 billion takeover of Pillsbury in 2001, while Helper was developed in-house in the early 1970s. General Mills is expecting private equity firms to be interested in a deal. (BD)
SMX and LVMH Métiers d'Art unveil traceability offering for raw materials – Brand protection and authentication service provider Security Matters has announced a new collaboration with LVMH Métiers d'Art on a series of research and development projects aimed at improving traceability for raw materials in the luxury fashion industry. SMX's technology allows for the complete tracing of products to verify environmental, social and governance ethical sources, enable the efficient sorting of materials for waste and provide full transparency of the value chain from source through manufacturing to retail and recycle/reuse. The company states that completion of the joint projects will enable complete traceability of origin and subsequently lay the foundations for a tangible and measurable transition to the sustainable circular economy and in-depth knowledge of the supply chain for LVMH Métiers d'Art. The project is expected to be completed in early 2022. (TL)
Justin Bieber teams up with Tim Hortons for Timbits line – Justin Bieber has collaborated with Canadian donut and coffee chain Tim Hortons to launch a new line of donut holes called Timbiebs Timbits. The limited-edition snacks will be available in the United States and Canada from 29 November and will be available in three flavours co-created by Bieber: birthday cake waffle, chocolate white fudge and sour cream chocolate chip. A line of Timbiebs merch will also be available at participating restaurants. (BD)
Legal radar:
Cleveland Guardians teams settle – Last month, WTR reported on the Cleveland Guardians roller derby team filing a lawsuit seeking to prohibit the Cleveland Major League Baseball team from using the same name. The dispute was played out under the public gaze and illustrated the pitfalls that can occur when embarking on a high-profile rebrand. This week, WTR has learned that the two teams have reached a settlement agreement. "The Cleveland Guardians Baseball Company, LLC and Guardians Roller Derby are pleased to announce an amicable resolution of the lawsuit filed by Guardians Roller Derby, whereby both organizations will continue to use the Guardians name," a representative stated. (TJL)
Vans sues Walmart over "poorly made" copycats – Vans is suing Walmart for selling "cheap, poorly made, and confusingly similar" copycat versions of more than 20 of its shoes, including its Old Skool, Sk8-Hi and Checkerboard Slip-On trainers. The shoemaker claims that Walmart is engaged in a "concerted, systematic, and escalating campaign" to sell copies of "virtually all" of its best-selling shoes. According to Vans, Walmart introduced an avalanche of infringing products months after it sent a letter notifying the retailer that it was misusing a Vans design. The complaint goes on to state that Walmart knows that the individuals that it pays to review and advertise its shoes online specifically promote them as dupes or knockoffs that can be bought for a third of the price of the Vans originals. This is not the first time that Vans has fought back against alleged infringement by a major retailer. The company sued Target for allegedly infringing its Old Skool skate-shoe trademarks in 2018. The parties agreed to dismiss the case last year. (VA)
Bacardi wins interim relief against non-alcoholic FREEZMIX in India – The Delhi High Court has awarded interim relief to Bacardi and Company, prohibiting non-alcoholic drinks producer Bahety Overseas from using the trademark FREEZMIX until a dispute over the likelihood of confusion with Bacardi's BREEZER mark has been resolved. The court held that Bacardi had made a prima facie case for granting interlocutory injunction on the basis of infringement of its registered BREEZER mark. It ruled that although the two marks are not visually similar, they are phonetically similar. In addition, it held that the suffix 'mix' in FREEZMIX is depicted in such small characters that it is barely noticeable at first glance. The court stated that Bahety consciously intended to establish a trademark that was so similar to Bacardi's that "it would lead an uninformed and unwary customer to justifiably presume an association between the two". The decision is a reminder that "phonetic similarity" is required to make a prima facie case for infringement, rather than "phonetic identity". (VA)
Office radar:
(For the latest coronavirus-related updates from national IP offices, please read our dedicated article, which is being continuously updated)
Domain Radar:
ICANN board chair shares recent event highlights – ICANN board chair Maarten Botterman has posted a blog outlining highlights from the recent ICANN72 event and accompanying board workshop.  During the workshop, the board received an update on the Operational Design Phase (ODP) for the System for Standardised Access/Disclosure. The process is being closely watched by the brand community, which has seen access to WHOIS data largely blocked, but the delivery date for the assessment has been extended to the end of February 2022. "The extension was necessary due to the complexity of the issue and the inability to collect the necessary input over the last months," Botterman expands. "The data the team has gathered as part of the ODP has raised new questions and requires further discussion with the Community over the coming months." During the regular meeting, the board resolved to keep the Strategic Plan for fiscal years 2021-2025 in force and unchanged at this time. (TL)
And finally...
WTR's latest Special Report explores how to manage the brand balance sheet – The ability to measure and record brand value is crucial for a host of business reasons: to gain a 360-degree insight into an enterprise's worth; to measure a company's health or product offerings; to calculate licensing royalties; to determine potential reputational hits and damages in dispute scenarios; to underpin M&A decision making. The list goes on. WTR's latest Special Report takes a deep dive into brand valuation, the reporting of intangibles and strategic best practice for brand leaders. As well as tracking recent developments in the industry and presenting a guide to the fundamentals of valuation practice, we focus in on key trends, the companies that own the most valuable brands and their financial performance. In addition, we present a rundown of the most valuable brand acquisitions since 2000. WTR subscribers can access "Managing the brand balance sheet" here.