China's alcoholic beverage industry innovation; Brexit guidance updated; first Russian GI reaches registration – news digest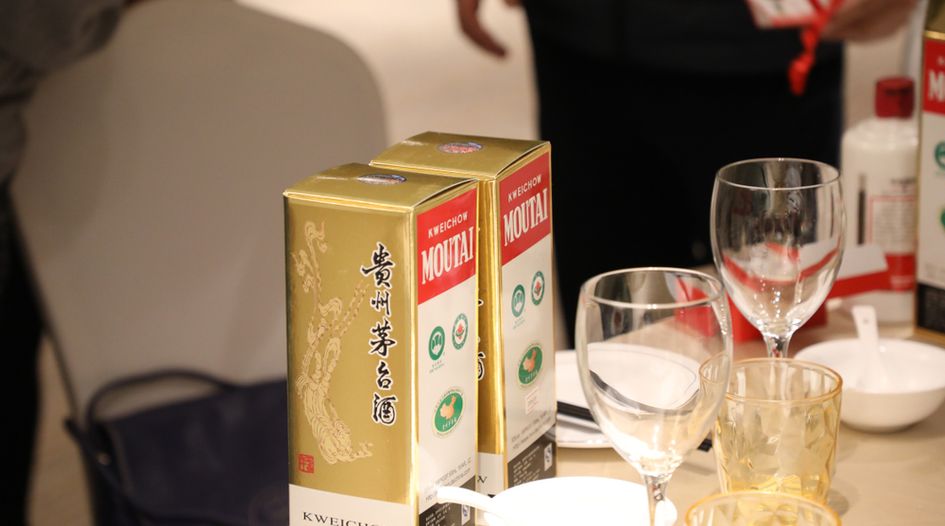 Every Tuesday and Friday, WTR presents a round-up of news, developments and insights from across the trademark sphere. In our latest round-up, we look at new data identifying China as a leading innovator in the alcoholic beverage industry, classic car brands making a comeback, WIPO PROOF obtaining 'trust service provider' certifications, and much more. Coverage this time from Bridget Diakun (BD), Trevor Little (TL), and Tim Lince (TJL).
Market radar:
Clarivate report identifies China as a leading innovator in the alcoholic beverage industry – A new report from Clarivate, 'Distilling the IP dynamics of the alcoholic beverage industry' has explored the drivers and state of innovation in the global alcoholic beverage industry. In terms of headline findings, it found that China is emerging as a prominent contributor, filing more trademark applications in alcoholic beverage categories than the rest of the world combined since 2017. Additionally, it boasts 30,645 inventions from 2000 to present, far ahead of all other nations. In other trends observed, trademark applications for gin have surged since 2016 and are expected to triple from 1,012 in 2016 to over 3,000 by the end of this year, growing at a faster rate than other major alcoholic beverages such as beer, wine, whisky and vodka. (TL)
TreeHouse Foods finalises acquisition of pasta brands – TreeHouse Foods has completed its purchase of a number of regional pasta brands from Riviana Foods (a business unit of Spanish based Ebro Foods) for $242.5 million. It acquired the following brands: Skinner, No Yolks, American Beauty, Creamette, San Giorgio, Prince and Light 'n Fluffy, Mrs. Weiss', New Mill, P & R Procino-Rossi, and Wacky Mac. Also included in the transaction is a manufacturing plant in St. Louis. Normalised revenue for the acquired pasta business is expected to be between $170 million and $180 million. (BD)
Insignia Capital Group completes $480 million sale of Truco – Insignia Capital Group has finalised the sale of Truco Enterprises (Truco) to Utz Brands in a transaction valued at approximately $480 million in cash. Insignia Capital Group invested in Truco, a leading maker of tortilla chips, salsa and queso under the On The Border (OTB) Brand, in 2014 to help the company expand its distribution footprint and launch new product innovation. David Lowe, CEO of Insignia Capital Group, said "We believe Utz will be an exceptional steward of the brand as Truco executes on its next phase of growth." (BD)
Luxury classic car brands are making a comeback (for the wealthy) – Companies are looking to capitalise on the "adoring" fan base among wealthy car collectors to bring back dormant, high-end, classic car brands. The old school names are being funded by small privately held companies, reports CNN. The plan is to sell the cars in small numbers and at high prices. Delage, for example, is a French brand with a championship racing heritage. A few years ago businessman Laurent Tapie was looking for a brand to attach to the small, high-performance car he envisioned, and ended up negotiating the rights to the name from Les Amis de Delage, an owner's club for the then-defunct Delage. Tapie is now planning to produce 30 cares under the brand, the Delage D12, with prices starting at $2.3 million each. (BD)
Adidas mulls sales of US fitness brand Reebok – Adidas purchased the Reebok brand 15 years ago and has spent years trying to revamp it. While the German retail group was able to improve the Reebok business, turning a profit in 2018, its sales have lagged behind the company as a whole. Now Adidas is saying a sale of the brand is one of the options it is considering as part of a five-year strategy plan it is due to present in March 2021, reports The Wall Street Journal. It may decide to keep the brand, but should it sell it could fetch several billion dollars. Further, the disposal would free up time for management to focus on its core brand. (BD)
Legal radar:
First Russian GI reaches registration – According to the Russian Patent Office (Rospatent), the first Russian geographical indication has been registered. The GI is for SHUISKOE SOAP for "cosmetic hygienic washing products: solid handmade toilet soap". The application was filed in March 2020 by Shuiskoe Soap LLC, which produces soap in the city of Shuya, Ivanovo region of Russia. (TJL)
SURBL data incorporated into OpSec Security's anti-phishing services – OpSec Security has announced a partnership with non-profit organisation SURBL, a broker of domain intelligence, to strengthen its anti-fraud and anti-phishing solution. The company states that SURBL's data sets – which includes Uniform Resource Identifier (URL) reputation data as well as real-time domain registration data – will provide it with greater visibility and better coverage to accelerate the take down of malicious domains and safeguard against phishing. Conducting exhaustive internal research and receiving additional inputs from third parties, SURBL currently has over 60,000 active phishing and malware listings. Stefanie Wood Ellis, anti-fraud product & marketing manager at OpSec Online, stated: "SURBL is a trusted member of the internet ecosystem, having built up significant relationships with registries over the last 16 years and demonstrated time and again the value of its data. Working with SURBL the past several years has allowed us to access comprehensive global data sets, to analyse this data and then take steps to mitigate risks. SURBL feeds are a lot faster than others we have encountered in the past and this makes a massive difference, allowing us to quickly take action to better protect our customers. This partnership helps us to provide a greater level of security to all our customers and stay at the forefront of online brand protection." (TL)
Protecting brands on Alibaba and Amazon – Rosenbaum Famularo has released a video in its Brand Protection on Amazon series highlighting the differences between Alibaba and Amazon when it comes to reporting brand infringement complaints. The firm also argues that Alibaba exercising a more robust approach to filing a complaint, contending that the contrast can have an effect on the IP rights of private label sellers and brands. "The major difference between using Alibaba's report infringement platform and Amazon's, which is usually brand registry, is that Alibaba verifies if the entity submitting the complaints owns the rights in question before they accept or consider taking action," said Rob Segall, partner at Rosenbaum Famularo. He adds that Alibaba requires a template power of attorney form when filing complaints, as well as business certificates, or identification cards, along with owner information and a trademark, patent or copyright registration certificate. "By Alibaba requiring proof and a power of attorney, the brand is protected because everything is done by professionals," adds CJ Rosenbaum, founding partner at the firm. "Amazon would be well-served to follow in their footsteps by also requiring proof of ownership and authority when undertaking brand protection efforts." (TL)
Office radar:
(For more of the latest coronavirus-related updates from national IP offices, please read our dedicated article which is being continuously updated)
WIPO gets proof of trust – WIPO has announced that its WIPO PROOF digital business service has received "trust service provider" certifications from two international organisations that set global technical standards for their domains. WIPO PROOF launched in May and is an online service that generates tamper-proof evidence proving that a digital file existed at a specific point in time, and that it has not been altered since that time. The service creates a WIPO PROOF token, a date and time-stamped digital fingerprint of the file or data, which can be used as evidence in a legal dispute. Following a voluntary audit, the offering was found to have met the relevant policy, security and technical standards established by both ETSI, one of the European Union's officially recognised standards-setting bodies, and the International Organisation for Standardisation. WIPO assistant director general Yo Takagi stated: ""WIPO PROOF is rapidly growing into an indispensable product for innovators and creators as they take their ideas from inspiration to marketplace. In receiving these certifications, WIPO demonstrates that its operations comply with industry best practices, while also showing support for the kind of practical multilateral activity that has been a bedrock of WIPO's inter-governmental activities for decades." (TL)
EUIPO deploys new tech – The EUIPO has deployed new digital technology in a bid to improve its data storage capacity and increase the performance of its online tools and services. An update from the office says the migration to the new technology is now completed, with the EUIPO's storage capacity doubling, and its network speed increasing by a factor of ten, as a result. It explains: "EUIPO users will now be able to benefit from faster digital applications and online services while completing tasks more effectively and rapidly as a result of the new implementation. Virtually every aspect of the EUIPO's operations now relies on advanced digital tools and services. The office continues to modernise its digital infrastructures and services through two digital transformation programmes in its Strategic Plan 2025: 'Robust Digital Backbone;' and 'Digital Evolution'." (TL)
The UKIPO updates Brexit guidance – The UK Intellectual Property Office has updated its information page for customers and users of IP about how the IP system and the office will operate after the end of the transition period. Among the notifications, it reminds that, from 1 January 2021, UK attorneys will be unable to represent clients on new applications or new proceedings at the EUIPO, and UK trademark owners will need to appoint an European Economic Area attorney to represent them on new applications and proceedings before the EUIPO. Importantly, from the end of the transition period, the IPO will no longer provide certification for legal representatives to be added to EUIPO's list of professional representatives, while the EUIPO will no longer introduce representatives to the list on the basis of a UK certification. Meanwhile, from 1 January 2021, subject to legislative implementation, only an address for service in the UK (which for these purposes includes the Isle of Man), Gibraltar or the Channel Islands will be accepted for new applications and new requests to start contentious proceedings before the IPO. (TL)
On the move: 
Baker Botts expands California IP practice – Ted Chandler, formerly of Sidley Austin, has joined Baker Botts as a partner within the firm's intellectual property department. "Ted's addition to the firm will bolster our world-class IP platform as we continue to meet the needs of our technology and life sciences clients and expand our deep bench of capabilities on the West Coast," said Baker Botts managing partner John Martin. "Ted's exceptional background and experience will help us stay ahead of key industries that are rapidly evolving." Chandler is an experienced litigator with over 20 years of patent counseling experience, including patent, copyright and trade secret litigation. West Coast expansion has been a priority for Baker Botts throughout 2020, and the appointment of Chandler brings the total later hires in the region to five this year. (BD)
And finally... 
WTR Connect returns this spring with five days of strategic content – We are pleased to announce that the second WTR Connect series of digital events will take place the week commencing 15 March 2021. The event will offer more than 20 interactive digital sessions, each designed to facilitate discussion, benchmarking and the sharing of best practice around key topic areas and challenges facing trademark and brand leaders. The theme for the event is 'exchanging cost-effective and resource-efficient best practices' and each day will start with a keynote address from a major industry figure, which is followed by live breakout discussions lasting for a maximum of 60 minutes. Registration is free for WTR subscribers and participants can register for as many sessions as they like across the week, building their own schedule. For event timings, and to sign up to attend, please click here.