China vows counterfeit crackdown; astronaut trademark lawsuit; Trump issues World IP Day proclamation – news digest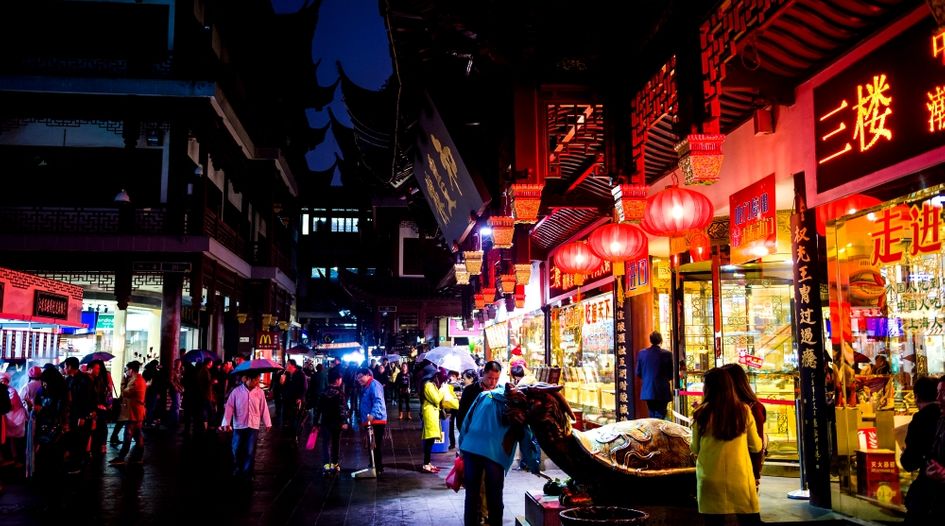 Every Tuesday and Friday, WTR presents a round-up of news, developments and insights from across the trademark sphere. In our latest edition, we look at a cruise line filing a trademark application for sanitary masks, INTA opening up nominations for Tomorrow's Leader Award, a covid-19 opportunist's "genius" plan unravelling, and much more. Coverage this time from Trevor Little (TL), Bridget Diakun (BD), Jonathan Walfisz (JW) and Tim Lince (TJL).
Market radar:
Cruise line files a trademark application for sanitary masks – Earlier this month Royal Caribbean filed a trademark application for 'Seaface' for "sanitary masks for virus isolation purposes". Cruise ships have been hotspots for coronavirus outbreaks, with the Miami Herald reporting 2,592 cases in total across 54 ships. Royal Caribbean Cruises has itself reported 486 cases with six deaths. The trademark application is likely in preparation of a time when travel restrictions are eased, and is an indication that even when the situation calms down there will likely be new preventative measures in place. (BD)
President Trump issues proclamation on World IP Day – On Sunday the 2020 World IP Day was recognized around the world, including at the White House where President Trump paid tribute to "our nation's long history of ingenuity and advancement" and recommitted "to protecting, promoting, and prioritizing a business and economic environment that supports those who carry on this legacy". He also highlighted the role that IP is playing  during the current covid-19 pandemic: "The importance of intellectual property has never been more apparent than it is now, as we continue the ongoing battle against the coronavirus.  To respond to this national and international emergency, the Federal, State, and local Governments have partnered with the private sector to develop new and powerful tools to combat the spread of the virus and provide care to those in need, focusing every available resource on the fight against the invisible enemy.  Relying on strong intellectual property protections, these industries are able to act boldly to invent new tests, begin developing experimental treatments and vaccines, and rapidly produce and reengineer medical equipment to help win this war.  These efforts are saving tens of thousands of lives and reflect the unrivaled power of American industry and innovation." (TL)
INTA opens applications for Tomorrow's Leader Award – INTA is now accepting applications for the Tomorrow's Leader Award. The award will recognise two young practitioners for their outstanding leadership in the IP industry. Applications are open until 3 August and applicants must have less than five years' experience practicing trademark law and be employed at an INTA member organisation. The prize includes complimentary registration to INTA's 2020 and 2021 annual meetings and a guaranteed spot on an INTA committee. The 2019 winners of the award were Sher Hann Chua from Tilleke & Gibbins, and Suzannah Wood from King & Wood Mallesons. (JW)
Dubai celebrates World Intellectual Property Day – Dubai Municipality has organised multiple remote workshops to celebrate World IP Day. Running with the 'Innovate for a green future' theme, the workshops stressed how to utilise intellectual property to support the green economy. Dawoud Al Hajri, director-general of the Dubai Municipality, said: "The Municipality organised the workshops in appreciation and respect for the position of the innovators, and encouraging a culture of research and creativity, which is the basis for consolidating creativity and its development, and promotion and development of innovation." (JW)
China vows to crackdown on fakes – Officials from China have vowed to "intensify" their fight against counterfeit goods in the months ahead. Gan Lin, vice-minister of the State Administration for Market Regulation, spoke at a news conference on World IP Day about plans to step up enforcement efforts against fakes. "We'll mete out harsher punishment to those who deliberately or repeatedly make or sell fake goods, as a way to uproot counterfeits and have infringers pay greater penalties for such behavior," Lin said, according to China Daily. (TJL)
Legal radar:
Covid-19 opportunist's 'genius' plan unravels – On WTR we recently covered the lawsuits filed by 3M alleging trademark infringement, among other unlawful actions, against distributors of its N95 respirator masks. The actions are an effort to combat price gouging and now US Immigration Customs and Enforcement (ICE) is taking action against those seeking to benefit from the covid-19 pandemic, its Homeland Security Investigations (HSI) running Operation Stolen Promise to protect against COVID-19-related fraud and criminal activity. Late last week, in collaboration with the United States Attorney's Office for the District of Columbia, agents obtained a warrant authorising the seizure of 'coronaprevention.org' after the owner of the site posted it for sale on a hackers forum and stating that the domain would be an effective way to sell "high mark-up in demand products". Damningly, the seller also told an undercover agent that it was "genius" to sell "fake testing kits" using the domain – something the seller wanted to do but was foiled in due to a lack of cash to make an initial bulk buy of product. William S Walker, acting HSI Philadelphia special agent in charge, stated: "Homeland Security Investigations and our partners will continue to aggressively pursue those who attempt to illegally capitalise on this crisis through illicit money-making schemes." That is a message that will be well-received by those who have had to file lawsuits in a bid to fight back against scammers and price gougers. (TL)
To infringement and beyond! Astronaut files trademark suit against doll company – Chicago astronaut, Lucianne Walkowicz has filed a lawsuit against American Girl and its parent company Mattel. She alleges that the doll manufacturers has stolen her likeness to sell its 'Luciana Vega' doll, "an aspiring astronaut ready to take the next giant lead to Mars." Walkowicz sites the doll's purple streak in her hair and holographic shoes as her own distinguishing features. American Girl says it will "defend the case vigorously." (JW)
Office radar:
(For more of the latest coronavirus-related updates from national IP offices, please read our dedicated article which is being continuously updated)
China's trademark office warns against scammers – The scourge of trademark solicitation scammers shows no signs of abating, with the EUIPO's anti-scam network due to discuss the issue this week. In the latest warning, China's trademark office has highlighted a new mailing scam designed to defraud recipients into paying for a 'trademark announcement'.  The office notes that, since May 2016, it has not sent paper trademark notices, warning users not be duped by hard copy communications. (TL)
USPTO responds to criticism and masks trademark owner's addresses – Earlier this year, WTR reported on the highly criticised new policy at the USPTO to include trademark owner's addresses and emails on their publicly viewable applications. Concerns of the rule change centred on the privacy issues of forcing users to disclose their addresses publicly. The USPTO originally responded with allowing the use of an email address instead of a home address. While an improvement, the requirement for an email address created specifically for the filing was still considered unnecessary. The USPTO announced on 24 April that now this email address will no longer be visible in any documents filed electronically through TEAS, but is still required for the application. (JW)
On the move:
Neal Gerber Eisenberg adds associate to IP team – Andrew C Wood has joined Neal Gerber Eisenberg as an associate within its IP group. He handles patent and trademark litigation, legal opinions, and patent portfolio management. (BD)
Dickinson Wright expands Phoenix office – Dickinson Wright has announced the appointment of Flavia Campbell to member within the firm's Phoenix office. Campbell's practice focuses on trademarks and copyrights. She advises clients on the selection, clearance and prosecution of trademarks both at home and abroad. Campbells is also involved in the negotiation and drafting of license agreements, and helps clients with matters of infringement and enforcement. (BD)
Snell & Wilmer adds three IP partners to DC office – Snell & Wilmer has welcomed three new partners to its Washington DC firm's intellectual property and technology group. John J Dabney comes from McDermott, Will & Emery where he was head of  firm's trademark litigation group. Richard Y Kim is a trademark expert across prosecution, counselling, licensing and litigation matters, and Mary Hallerman's practice ranges across trademarks, trade dress, false advertising and copyrights. (JW)
In memoriam:
Joan Clark – One of the most well-respected intellectual property attorneys in Canada's history, Joan Clark, passed away earlier this month. She was 90. Miss Clark joined Ogilvy Renault (now Norton Rose Fulbright) in 1954, and founded the firm's IP practice. As well as being described as "a pioneer for women in the legal profession", she also "helped lead non-profit animal welfare organisations" and was "responsible for getting rid of puppy mills in Quebec". She also "mastered the arcane intricacies of patent and trademark law", including leading high profile cases and arguing three times before the Supreme Court of Canada. The Globe and Mail has a detailed obituary on her life and legacy. (TJL)
And finally...
Have you say on coronavirus impact on trademark practice – WTR is inviting trademark professionals to share their perspective on how the ongoing covid-19 pandemic is impacting brand protection efforts. The aim of this new project is to understand the issues that have arisen in recent weeks, explore how industry is adapting and pass the findings along to help the wider trademark community. Any views that you supply will be used only to build up a general picture of the state of the market (your responses may therefore be used anonymously in editorial, but will not be attributed to you, and your information will not be used for any commercial purpose). Completion of the survey should take no more than 5 minutes. The results will be presented on the WTR platform in the next couple of weeks. The survey form is available here. (TJL)