Chia cryptocurrency trademark spat; BTS and McDonald's collaborate; Gap and Walmart team up – news digest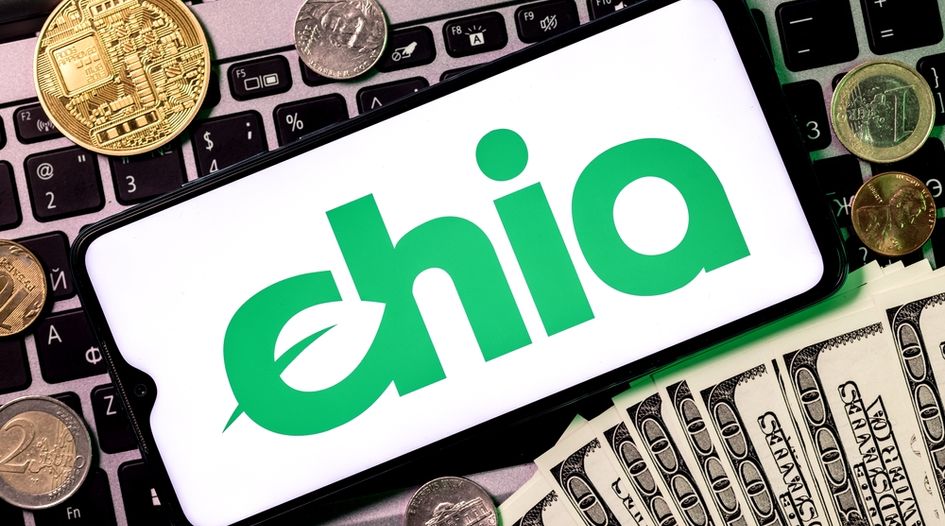 Every Tuesday and Friday, WTR presents a round-up of news, developments and insights from across the trademark sphere. In our latest round-up, we look at Red Points receiving €15 million from the European Investment Bank, a report revealing that most consumers have "little faith" in brands, the China National IP Administration finding that Chinese firms have submitted "irregular" IP applications, and much more. Coverage this time from Victoria Arnold (VA), Bridget Diakun (BD) and Tim Lince (TJL).
Market radar:
Growve secures $175 million credit facility to acquire more brands – Growve – a brand aggregator that looks to acquire and operate wellness and beauty brands – has secured a $175 million credit facility, reports Crunchbase, making it the latest aggregator to bring in a significant amount of capital. Based in Florida, Growve acquires and creates brands in six specific areas: dietary supplements; beauty; food; sports nutrition; pet and household wellness; and beauty products. It will use its new financing to build out its portfolio and infrastructure. The company currently has 20 brands, having acquired seven in the past year, and is due to add another four within the next two months. (BD)
Red Points receives €15 million from European Investment Bank – Barcelona-based online brand protection specialist Red Points has secured up to €15 million in debt financing from the European Investment Bank (EIB), according to Tech.eu. Software-as-a-service company Red Points provides brand protection and domain management solutions by leveraging AI to scan digital marketplaces for lookalike products and brand abuse. The EIB investment, which aims to finance further product R&D over the next five years, is the first venture debt activity in Spain as part of the European Guarantee Fund. "This new milestone in our financing strategy contributes to extending our double-digit growth, accelerating our innovation and protecting brands and consumers across the world," said Red Points CEO Laura Urquizu. "We are delighted that a European institution such as the EIB can assist us with our growth strategy." (VA)
Nanotech could be a game changer in fight against fakes – A new article on IEEE Spectrum has delved into the world of nanotech to determine how "unclonable, cheap, and invisible" mechanical ID tags could foil counterfeiters. Specifically, it looks at radio-frequency nanoelectromechanical systems (FR NEMS), which are a "tiny sandwich" consisting of "two 50-nanometer-thick conductive layers of indium tin oxide [and] a 100-nm-thick piezoelectric film composed of a scandium-doped aluminum nitride". The system uses radio waves and vibrations to find the unique markets of the FR NEMS tags. The article examines how the technology works, while research continues at the University of Florida into the viability of the tags. But, as the researchers conclude: "The applications of the tiny tags we've been working on will surely be of interest to many other types of companies as well. Even governments might one day adopt nanomechanical tags to authenticate paper money. Just how broadly useful these tags will be depends, of course, on how successful we are in engineering a handheld scanner – which might even be a simple add-on for a smartphone – and whether our surmise is correct that these tags can be customized after manufacture. But we are certainly excited to be exploring all these possibilities as we take our first tentative steps toward commercialization of a technology that might one day help to stymie the world's most widespread form of criminal activity." (TJL)
Brand radar:
Most consumers have "little faith" in brands – A new report from Havas, "Meaningful Brands 2021", has found that 71% of global consumers (395,000 people were surveyed) "have little faith that brands will deliver on promises", while 73% believe that "brands must act now for the good of society and the planet". In response, 64% of consumers have "entered their own age of action" in which they now "buy from companies with a reputation for purpose as well as profit". According to Marketing Interactive, the report also finds that 66% of consumers "want more meaningful experiences from brands" and 77% "expect brands to show support to people in times of crisis". Responding to the data, Havas' global chief strategy officer Mark Sinnock said: "This year's report shows us that consumers have entered an 'age of cynicism'. They are surrounded by what they perceive as empty or broken promises – at all levels of our society – and we are starting to see the impact of this mistrust on brands." (TJL)
Gap and Walmart team up – Gap is introducing a new home products line that will be sold exclusively on Walmart's website, reports Reuters. The new brand will feature more than 400 items, including bedding and bath products. The move comes at a time when the clothing retailer is looking to diversify its business. According to the companies, Gap is the first fashion retailer to sign a multi-year partnership with Walmart in the home space. (BD)
Kering offloads stake in Puma for $1 billion – Kering has sold a 5.9% stake in Puma, according to Bloomberg. The luxury brand has been reducing its holding in Puma since 2018, more than a decade after first investing in it. Instead, Kering has been focusing on cultivating a high-end portfolio after it took a controlling stake in Gucci. "This is an excellent move," said Luca Solca, an analyst at Sanford C. Bernstein. "It brings Kering closer to making more relevant luxury-focused M&A deals." (BD)
Collaboration between BTS and McDonald's hits the market – South Korean boyband BTS has teamed up with McDonald's to create a new meal and a range of cobranded merchandise, reports License Global. This is not the first time that the US fast food giant has gone into business with musicians, having previously collaborated with J Balvin and Travis Scott. (BD)
Mattel chooses Itochu to license Barbie in Japan – Mattel has entered into a multi-year agreement with Itochu Corporation whereby the Japanese trading company will build a licensing programme for Barbie in Japan, reports License Global. "Barbie's brand philosophy – about empowering the limitless potential in every girl – is highly relevant in Japan," Itochu said in a statement. "We look forward to partnering with Mattel to promote this brand purpose and develop a range of products and programs for Japanese consumers with high-fashion sensibilities, further increasing the reach of the Barbie brand in Japan." Itochu will leverage its existing brand portfolio, which includes over 100 fashion brands, to push the Barbie name in fashion-related products and collaborations. (BD)
Office radar:
(For more of the latest coronavirus-related updates from national IP offices, please read our dedicated article which is being continuously updated.)
CNIPA finds Chinese firms submitted "irregular" IP applications – The China National IP Administration (CNIPA) has revealed that a "high proportion" of irregular patent applications were filed by 1,400 Chinese IP firms at the end of 2020, accounting for approximately 43% of all Chinese firms. In a comment, the CNIPA says: "Irregular patent applications and their agency activities that are not aimed at protecting innovation, disrupt administrative order, harm public interests, hinder enterprise innovation, waste public resources, and undermine the patent system, and must be resolutely curbed." In response Aaron Wininger, director of the China IP law practice at Schwegman Lundberg & Woessner, says that the CNIPA's raising of the issue is positive as it demonstrates how "China is transitioning from quantity to quality". However, despite being focused on patents, the figures are concerning as many of the same firms also have trademark practices. (TJL)
Media Watch:
Chia cryptocurrency community debates trademark action – The developers of a blockchain and smart transaction platform created by the inventor of BitTorrent, the Chia Network, has sent a trademark enforcement letter to a community blog called 'The Chia Plot'. In a recent post, the blogger claims to have received "a threatening, albeit friendly, email" from the Chia Network's head of intellectual property requesting that the blog change its name. In the email, which is pasted in full on the blog, the Chia Network thanks the blogger for his "efforts in educating and expanding the Chia community through your blog and discussions". However, it also says that the blog's name is "unauthorised use of Chia Network's registered CHIA mark" and requests a response "so that we may resolve this matter amicably, and you are able to continue to strengthen the community we all care about". News of the enforcement letter has spurred debate on Reddit, where there have been nearly 400 comments about the merits (or lack thereof) of the cease and desist. Among the top-rated comments, users claim that the enforcement is simply part and parcel of what must occur when a company obtains registered trademark protection. "As people with a background in trademark law have pointed out elsewhere in the thread, trademark owners must protect their IP or risk losing it," said one user. "To other folks who may receive similar letters: take the invitation to talk with them instead of immediately [decrying] them publicly." The Reddit thread is a reminder of the increasingly nuanced way that consumers are understanding trademark law issues compared to previous years, and how typical cease and desist letters will not always spur a significant backlash. (TJL)
On the move:
Novagraaf adds trademark attorney in London office – UK chartered trademark attorney Luke Portnow has joined Novagraaf in the firm's London office. With more than 10 years' experience in the field, his practice covers the spectrum of trademark matters. (BD)
And finally...
Latest edition of the WTR 300 now available – WTR is pleased to announce the publication of the fifth edition of WTR 300: The World's Leading Corporate Trademark Professionals. The publication identifies the individuals deemed to be the leading lights of the corporate trademark world. The full methodology for the publication is available here but, in summary, we ran a three-month campaign to elicit nominations from the trademark community. Individuals who received multiple nominations from outside their own organisation were long-listed and the editorial team then engaged in additional research and outreach before deciding on the final list. As a result, many nominees did not receive the requisite number of nominations or make it through the rigorous vetting process. Of those that did, Amazon, Apple and Facebook each have seven team members included this year, with Netflix's bench of expertise represented by six IP professionals. Close behind are 3M, L'Oréal, Louis Vuitton, Mars, Nike, Philip Morris and Red Bull. The full list is now available to view here.