Charging Twitter users for a 'blue tick' will be a brand protection disaster, expert claims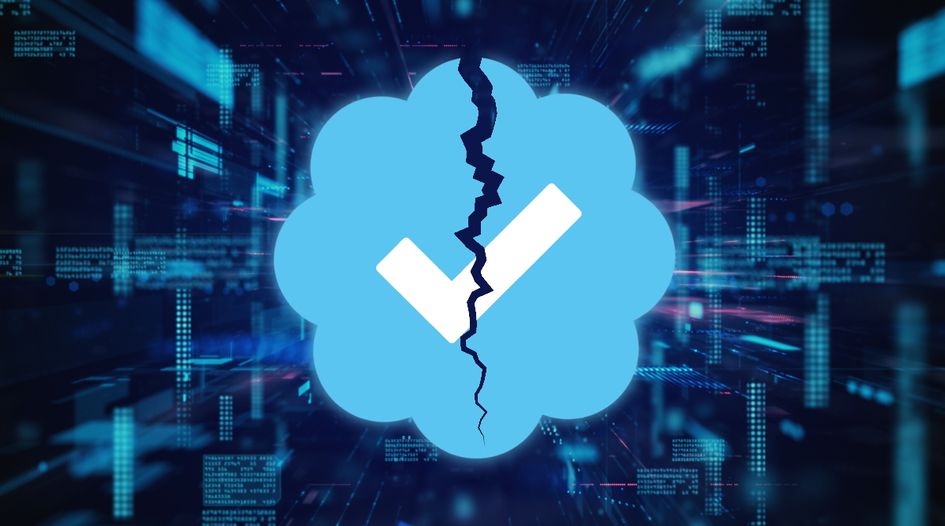 New Twitter owner Elon Musk proposes monthly cost for verification
Proposal has been criticised as removing critical authentication tool
Expert tells WTR move will "make it far easier for fake accounts" to pose as well-established brands
The new owner and chief executive of Twitter, Elon Musk, has spoken of plans to charge Twitter users a monthly fee to obtain (or continue to have) a 'blue tick' badge of verification. The move is one that trademark professionals should keep an eye on – with one expert claiming it could lead to a stark rise in impersonation accounts, scams, and phishing fraud.
For the past 13 years, Twitter has offered a 'blue tick' badge as a means of verification for public figures, businesses, government agencies and officials, journalists, and other organisations. The addition of a 'blue tick' next to a Twitter username confirms to users that Twitter has verified the account as authentic. It was launched after a high-profile lawsuit featuring American baseball coach Tony La Russa, who sued the fledgling social network in 2009 after claiming he suffered "significant emotional distress and damage to reputation" after a fake page was established under his name on the platform. In announcing the feature (and addressing the La Russa lawsuit), Twitter co-founder Biz Stone claimed the 'blue tick' would "clear up confusion beyond simply removing impersonation accounts once alerted".
Over the years, the verification feature has become a status symbol among celebrities and influencers. Today, there are approximately 400,000 verified users on Twitter. Beyond tackling impersonation (which is invaluable for any brand in itself), verification has other advantages, according to a MakeUseOf article from last year. They include giving the accounts "greater credibility", the ability to earn "more followers" and "potential increased engagement" with users". This  "sign of trust" can also help lead to verification on other platforms (eg, linking to a verified account on Twitter can increase the odds of getting verified on TikTok).
The process to apply for verification on Twitter is free and has always been conducted by in-house verification experts at the company. Crucially, Twitter states on its Help Center that it "does not sell the blue verification badge" (and anyone offering to do so "are subject to loss of verified status and permanent suspension from the platform").
That is set to change, if the plans of Twitter's new owner, billionaire Elon Musk, are to be implemented. His plans (according to his recent tweets) will include the ability to have a blue checkmark as part of the premium 'Twitter Blue' service, priced at $8 a month. It is also understood that anyone who currently has verification will lose their blue checkmark in 90 days if they don't subscribe to the service. "Twitter's current lords & peasants system for who has or doesn't have a blue checkmark is bullshit," Musk claims. "This will also give Twitter a revenue stream to reward content creators. There will be a secondary tag below the name for someone who is a public figure, which is already the case for politicians."
While Musk has said a 'secondary tag' will be created for 'public figures', it is unclear what will occur to the verification status of brand accounts if they do not pay for Twitter Blue. It also, in theory, creates a scenario where anyone can create a Twitter account with a username similar to a major brand (or any registered trademark) and then pay for a verified blue tick.
The plan has so far received broad backlash from users and commentators. "If you think the end of the blue check is a good thing, imagine what Twitter will be like when they're mostly gone," writes Lance Ulanoff at TechRadar. "We'll have tons of unverified impersonator accounts and an even less trustworthy platform. Twitter will devolve into true chaos and then eventually be done."
Agreeing with that sentiment is Sarah Kauter, managing director of marketing agency VerriBerri. In an interview with WTR, she says the opening up of verification to anyone willing to pay will "make it far easier for fake accounts posing as [well-established and small brands] to scam and trick innocent people", with the most impacted being older, more vulnerable people. "With nearly one in five Twitter users being over the age of 50, and with older age groups being particularly prone to all manner of fraud and scams, it will not be a surprise to see the number of verified fake accounts rise," she says. "Take a moment to consider the number of fraudulent individuals and phishing scams who would happily pay the monthly fee to pose as a 'credible' and verified bank employee, business, or even previously verified individual who lost their blue tick, for example."
Indeed, Kauter adds, there are already significant issues with fraud and scams on Twitter – and the removal of a vetted verification system will only make it worse. "Twitter is not doing enough to prevent these scams in the first place," she says. "Their new policies, for example, are specifically designed to crack down on financial scams, and yet [they] provide leniency for 'first offences' or 'isolated incidents', only temporarily locking the scammers account or deleting their tweets. Only severe violations will see accounts permanently suspended, but how much money or information has to be taken to constitute this? Going ahead, new accounts could be taken over by scammers, then verified, and the process just continues to carry on as before. Each count of scamming should be taken just as seriously as the next, and there must be more extreme resolutions in place for Twitter to counteract them, whether that's a device ban, or even legal action to root it out of the platform permanently."
Right now, the $8-a-month verification has not been implemented or confirmed – although Musk today hit out at "complainers" of the proposal, suggesting it will almost certainly go ahead. While that cost will seem relatively miniscule for many major brands, it could quickly rack up for companies with dozens of sub-brand and employee accounts verified. With budgets tightening, internal questions may be asked about the cost versus the brand protection risk.
Either way, if the proposal is adopted, all trademark professionals – especially those in sensitive industries – will need to step up their enforcement efforts on Twitter, especially around impersonation accounts and fraud campaigns.