Cartier counterfeits seized; Superdry and Asos face-off; EUIPO and SMEunited team up – news digest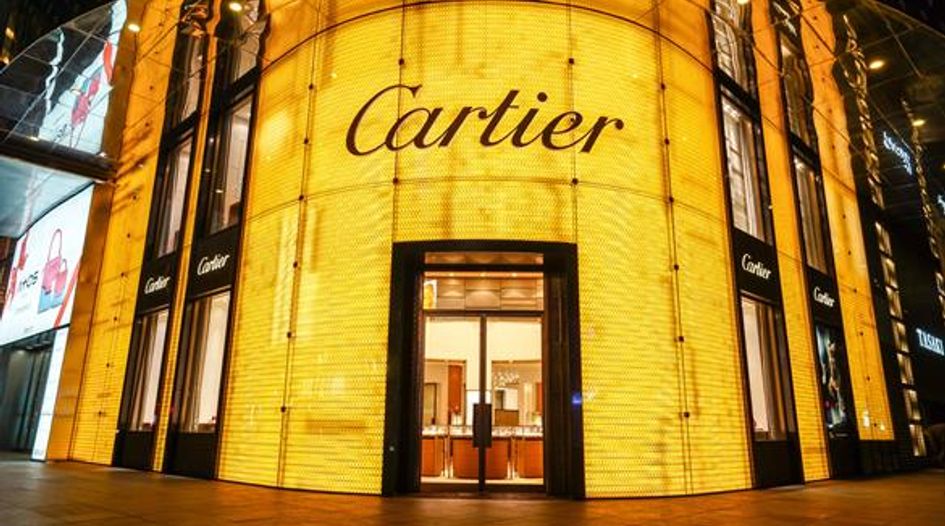 Every Tuesday and Friday, WTR presents a round-up of news, developments and insights from across the trademark sphere. In our latest round-up, we look at more than 5,500 rights holders signing up to the Mercado Libre Brand Protection Programme, McDonald's seeking a 'McDuck' Russian slang trademark registration, Fat Brands acquiring dining chain Twin Peaks, and much more. Coverage this time from Victoria Arnold (VA), Bridget Diakun (BD), Tim Lince (TJL) and Trevor Little (TL).
Market radar:
CBP seizes major counterfeit Cartier haul – US Customs and Border Protection (CBP) officers have seized two shipments containing a total of 500 pieces of counterfeit Cartier jewellery in Cincinnati. The haul – which came from China and Hong Kong – would have been worth $5.24 million had it been genuine. Fake Cartier bracelets and rings had been mixed in with other jewellery items that did not violate any IP rights and were heading to residences in Aventura, Florida and Brandon, Mississippi. All the Cartier bracelets and rings were determined to be counterfeit by CBP's Centers for Excellence and Expertise. "CBP protects honest trade and hardworking businesses," said LaFonda Sutton-Burke, director, field operations at the Chicago field office. "Counterfeit goods defraud consumers and businesses. Our officers are dedicated to the CBP mission and work diligently for American consumers by stopping the flow of illegitimate and pirated merchandise." (TL)
More than 5,500 rights holders sign up to Mercado Libre Brand Protection Programme – More than 5,500 rights holders have signed up to the Mercado Libre Brand Protection Programme (BPP), enrolling more than 110,000 IP rights, according to a recent update by the e-commerce company. The BPP enables IP owners and their proxies to monitor and report – through a single account – any Mercado Libre listings that may constitute trademark, copyright, patent, utility model or industrial design infringement in the 18 countries in which Mercado Libre operates. According to recent data, only 0.63% of products listed on Mercado Libre platforms are reported for alleged IP infringement, although the company's aim is to reduce this figure to zero. A new infographic published by the company also reveals that for every report filed, the platform has removed eight times as many listings, leading to over 6 million active removals and more than 20,700 seller accounts being permanently shut down. This summer, Mercado Libre published its first transparency report revealing that reports of IP infringement fell by almost two-thirds across its platforms in the second half of 2020. Speaking to WTR, head of brand protection Juan Cichero explained that the focus lies in notice and takedowns through the BPP reporting tool, the development of proactive tools through machine-learning technology, and collaboration agreements. The BPP is an essential tool for brand owners looking to protect their IP rights and safeguard their relationships with customers in Latin America. (VA)
McDonald's seeks 'McDuck' Russian slang trademark registration – In a seemingly unusual move, McDonald's Corporation has filed a trademark at the Russia Patent and Trademark Office (Rospatent) for the term 'Макдак' (meaning 'McDuck'), a slang term for the fast food brand. According to RBC, the application was filed on 19 August and was lodged "in accordance with the company's plans to protect the brand", the press service of McDonald's in Russia said in a statement. On Reddit, McDuck is described as a slang term with "a slight disrespectful feel", so the decision to file is an interesting one. However, it could have been spurred by copycat fast food restaurants using the term, as identified by Russia Beyond last year. (TJL)
Brand radar:
Solo Brands picks up Chubbies Shorts, Oru Kayak and ISLE – Outdoor products manufacturer Solo Stove has acquired Chubbies Shorts, Oru Kayak and ISLE, creating a new house of brands under the Solo Brands umbrella. The company is looking to expand on its adventurous lifestyle offering. John Merris, CEO of Solo Brands and Solo Stove, commented: "We created Solo Brands with a vision for a different approach to direct-to-consumer business – one that's not only better for the customer, but better for the community at-large. Each of these brands is amazing in its own individual way – but together we'll be able to collectively offer a better customer journey – while doing more for the communities that built us." (BD)
Fat Brands acquires dining chain Twin Peaks for $300 million – Parent company of Fatburger and Johnny Rockets, Fat Brands, has announced a deal to acquire Twin Peaks from Garnett Station Partners for $300 million. It is the company's second major purchase this summer, after buying Global Franchise Group for $442.5 million. "Following the recent acquisitions of Johnny Rockets and Global Franchise Group, this acquisition comes at a time when we're seeking to expand our market segments into sports and polished casual dining," Fat Brands CEO Andy Wiederhorn said in a press release. "As a strong, growth-oriented concept, Twin Peaks complements our existing brands." The Twin Peaks purchase could also be incorporated into the company's ghost kitchen expansion plans. Fat Brands reported earlier this year that it would expand Johnny Rockets through its ghost kitchens via its partnership with Epic Kitchens, as well as allowing those who operate other Fat Brands brands to use Johnny Rockets as a virtual brand. (BD)
Legal radar:
Boxing logo dispute ends in a tie – World Boxing News reports that Robert Diaz of Havoc Boxing Promotions and trainer Andre Rozier have agreed to settle various trademark-related disputes over the Havoc Boxing logo. Rozier created the logo in the 1990s and 20 years later joined forces with business investor Diaz, who became CEO of Havoc Boxing Promotions and registered the Havoc Boxing logo, leading to a dispute over its ownership. Under the settlement, and without any admission of wrongdoing, the parties have agreed to withdraw their claims against each other and end their partnership. Rozier will retain ownership of his original Havoc Boxing logo and Diaz, having been compensated for his efforts in growing the brand, will exit the Havoc Boxing company to pursue other endeavours. (TL)
Superdry and Asos face off – Superdry has initiated action against Asos in the UK High Court, claiming that the company copied its 'Osaka' branding on t-shirts and sweatshirts, which were then sold online. The action came after Asos failed to comply with requests to cease selling the items,  reports The Retail Bulletin, which quotes Superdry co-founder Julian Dunkerton as saying: "To safeguard consumers and protect our brand, we will always take robust action against those who produce copycat and counterfeit goods, which is particularly important as our plan to reset and re-energise the brand gathers pace. The Osaka brand is an important part of Superdry's heritage." (TL)
Office radar:
(For the latest coronavirus-related updates from national IP offices, please read our dedicated article, which is being continuously updated.)
EUIPO and SMEunited team up to support small businesses – The EUIPO and SMEunited have signed a collaboration agreement to develop and implement joint initiatives that support European SMEs in protecting their IP rights. SMEunited is the association of crafts and SMEs in Europe, and boasts 65 member organisations from more than 30 European countries. The first high-level meeting between the two organisations took place in July to exchange on future cooperation and the main objectives of the partnership. In support of SMEs, the collaboration will include providing training sessions, holding events, promoting IP initiatives and sharing content on their respective websites, the EUIPO explains. "We are pleased to welcome SMEunited to our Ideas Powered for Business network. Speaking on behalf of 22.5 million SMEs in Europe, SMEunited can give us a direct insight into the needs of SMEs. Furthermore, their role will have a widespread impact on the many positive benefits of IP. Our team is looking forward to finding new synergies that this collaborative agreement will undoubtedly bring," said Andrea Di Carlo, deputy executive director of the EUIPO. Véronique Willems, secretary general of SMEunited, stated: "The SME Programme is an opportunity for SMEs to grasp the benefits deriving from the use of intellectual property. Moreover, the expertise and support provided by the EUIPO will enhance the knowhow of SMEs and SME organisations on cultivating and protecting IP rights and enforcing when necessary." (TL)
Domain Radar:
ICANN announces inaugural Asia-Pacific DNS forum – ICANN has announced plans for the first Domain Name System (DNS) Forum in Asia-Pacific (APAC). Jointly organised by ICANN and MYNIC Berhad (the registry and registrar for '.my'), the inaugural forum is scheduled to take place from 30 March to 1 April 2022. To prepare participants, a monthly webinar series will begin in September 2021 and conclude in February 2022. The six webinars will cover a range of topics highlighting how the DNS may interest and affect different stakeholders in the internet ecosystem, including DNS industry participants, domain name owners, network operators, policy makers and end users. Regional industry experts and the wider community will then come together to discuss the latest developments, opportunities and challenges in the domain name marketplace at the APAC DNS Forum 2022. "The APAC DNS Forum 2022 will be an excellent platform for our regional DNS community to network, exchange ideas, and explore collaboration opportunities," said Jia-Rong Low, vice president, stakeholder engagement and managing director of ICANN Asia-Pacific. "This will in turn help to prepare our community for greater participation in the ICANN75 Public Meeting, currently scheduled to be held in Kuala Lumpur in September 2022." (TL)
Scamadviser unveils new domain blocking approach – Part of the E-commerce Foundation, Scamadviser.com is visited by more than 100,000 consumers every day to determine whether a website is legitimate or a scam. Removing these scam websites has historically been time consuming and labour intensive, but Scamadviser has now launched Domain Blocking to analyse on average 50,000 websites daily, with malicious domains passed along to anti-virus software, security and internet filtering companies, requesting that they warn consumers when accessing a malicious domain or, if possible, block access. "Law enforcement, brand protection organisations, consumer authorities and other trusted sources can now also report IP infringing sites and sites offering scams to Scamadviser with a request to block access or show a warning, comparable to what Google Safe Browsing already does for malware and phishing websites," the organisation states. "Trusted sources are first manually vetted and take legal responsibility for reporting a site to be blocked. Sites can be reported individually, in bulk or via API." (TL)
Law firm radar:
Amster Rothstein & Ebenstein poaches IP group from Cooper & Dunham – New York-based IP firm Amster Rothstein & Ebenstein has announced the addition of a group of lawyers from IP boutique Cooper & Dunham. The team includes Christopher C Dunham, John P White, Gary J Gershik and Darren Haber. (BD)
In-house vacancies radar:
Specsavers – Optician and eye health company Specsavers is seeking legal counsel, privacy and data protection. As part of the group legal data protection and privacy team, the purpose of the role is to deliver commercial legal advice in order to ensure that Specsavers effectively complies with principles of international data protection and privacy law. A senior role providing specialist support to privacy managers on points of law, as well as the main point of contact for all data protection commercial legal work (contracts), the ideal candidate will be a lawyer (solicitor, barrister or legal executive) and a data protection and privacy expert in their field. (TL)
And finally...
WTR events to take place in Europe and the United States – WTR is hosting a series of one-day events in London, San Francisco, Chicago and New York this December. WTR Live: The Future of Trademark Management and Brand Protection will facilitate discussion, benchmarking and the sharing of best practice around key topic areas and challenges facing brand leaders. Crucially, it will offer a glimpse into what industry leaders expect the future of trademark practice to look like. Registration is free to in-house brand professionals. Spaces are limited and should we be unable to host the event, registration fees will be fully refundable. While on site, we will be adopting the All Secure Standard to ensure that all attendees can continue to do business effectively and network with their peers safely. For full details, and to reserve a place, see the official event page.