Cannabis-related filings reveal Argentine industries poised to benefit from new legislation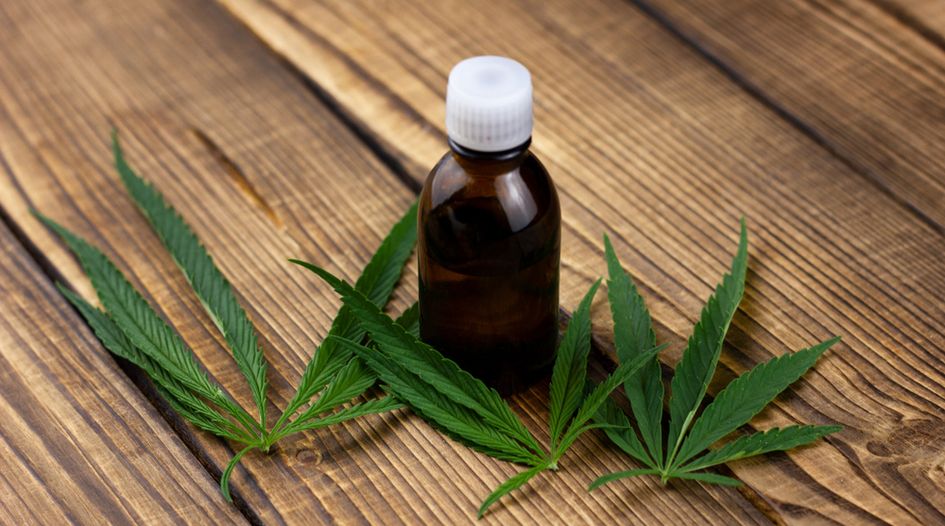 Following the enactment of Law 27,350 and the World Anti-doping Agency authorising the use of cannabis oil by professional athletes, pharmaceutical and sports brand owners are among those staking a claim in Argentina's emerging cannabis market. However, H&A's Guillermo Alcaraz admits that further research is essential and progress has so far been slow.
The cannabis plant has a number of components that, when applied therapeutically, can have varying results. However, at present, Argentina Law 27,350 establishing the regulatory framework for the medical and scientific research of cannabis and its derivatives applies to the use of cannabis in cases of refractory epilepsy only. As such, some state and quasi-state agencies are leading studies into other components of the plant, which may benefit different pathologies.
For example, cannabis oil can be used for medicinal purposes in sports. Indeed, the World Anti-doping Agency recently authorised the use of cannabis oil to soothe pains and injuries among professional athletes, provided that it does not contain the psychoactive component tetrahydrocannabinol.
This decision has created some interesting opportunities for the pharmaceutical industry.
When it comes to industrial property, there are no restrictions on registering cannabis-related trademarks, other than the general application of Trademark Law 22,362. The table below provides a sample of Argentinian trademark applications that include the word "cannabis" or that refer to the drug through the design of the cannabis plant leaf.
Cannabis-related trademark filings in Argentina
Class

Serial number

Trademark

Registration number

Registration date

Due date

Owner

Filing date

3

3270410

CANNABIS SHAMANICA

2899300

3 August 2017

3 August 2027

Juan Carlos Tauil

15 August 2013

3

3821740

OUTDOOR CANNABIS

0

--

--

GenCanna Global USA

Inc

23 July 2019

5

3766022

REM-CANNABIS

0

--

--

Edith Bernstein

14 December 2018

5

3813603

EXPO CANNABIS

0

--

--

Sebastian Basalo

26 June 2019

5

3821741

OUTDOOR CANNABIS

0

--

--

GenCanna Global USA Inc

23 July 2019

5

3725809

0

--

--

Spectrum Cannabis Canada Ltd

19 July 2018

16

3467693

2920978

6 February 2018

6 February 2028

Iberpapel SL

29 December 2015

34

3467694

Rejection draft in relation to Section 3(E)… opposite to morality and proper conduct.

--

--

Iberpapel SL

29 December 2015
Some of these applications have already been granted, while those filed more recently remain pending. Only one registration, in which only the word "cannabis" is applied for as a trademark with a design in Class 34 (including cigarettes), has been rejected by the Trademark Office on the grounds that it violates morality and proper conduct. The mark would have been submitted for analysis, had it not been appropriate to refuse the application on another prohibition established under the Trademark Law.
In addition, most of the trademarks in the table apply to products in Classes 3 (pharmaceuticals) and 5 (cosmetics) and services in Classes 41 (education) and 44 (medicine) – highlighting the main industries that will need to take advantage of the new legal and social circumstances in order to stay ahead.
While the enactment of Law 27,350 and the authorisation of the use of cannabis in the field of professional sports offer a range of opportunities for different industries, as well as the field of scientific research, the current economic and financial crisis in Argentina will create barriers for IP owners, as much of the authorities' attention will be focused elsewhere and hence, access to national research programmes will remain limited, with poor promotion and little training for the foreseeable future. This is not helped by the fact that organisations such as the National Administration of Medicines, Food and Medical Technology still have cumbersome and extensive procedures for rendering approvals.
The main task of the state is to create the tools and opportunities for further research, establishing medical education and training programmes for doctors and pharmacists who are not currently qualified in the subject. What is more, Argentina should be looking to establish international agreements with countries such as Canada, which has a considerable body of research on this subject, as well as commitment from the authorities, in order to improve patient access to medical cannabis.
We hope that medium and long-term projects will soon begin; the windows of opportunity are in place, we only have to open them and start pushing to create R&D policies for the use of cannabis in the fields of science and medicine, which in turn should have a positive impact on the field of intellectual property.
This is an edited extract from a longer article on cannabis brands in Latin America, which was published in the most recent issue of WTR magazine – available to subscribers here.