Burger King suffers tweet backlash; new IP police unit unveiled; AAFA renews board leadership – news digest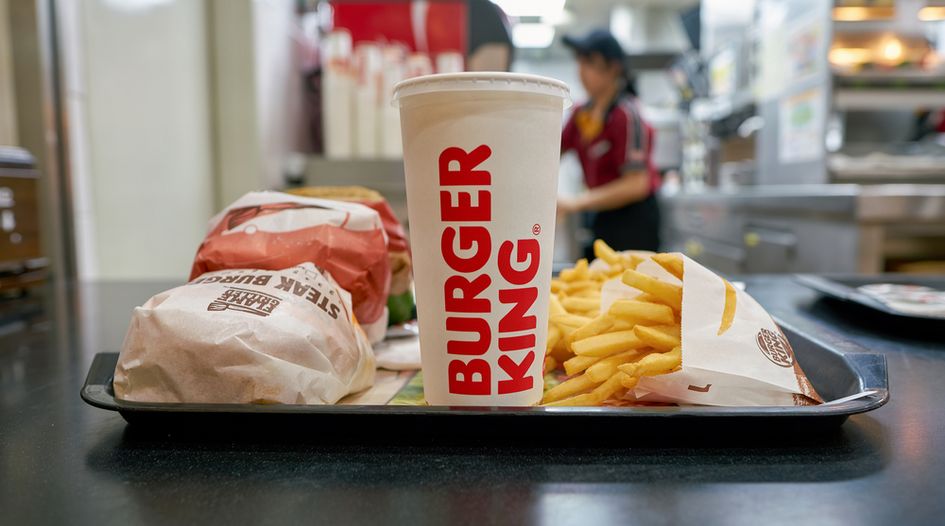 In our latest round-up, we look at calls for a new approach to tackling online piracy, new figures revealing the number of IP-related crimes solved by China's police authorities, the creation of a new IP crime unit in the UK, and much more. Coverage this time from Bridget Diakun (BD), Tim Lince (TJL), Trevor Little (TL) and Jonathan Walfisz (JW)
Market radar:
Call for new approach to tackling online piracy – A new report from the UK's Royal United Services Institute (RUSI) has revealed how online audio-visual (AV) piracy is increasingly perpetrated by transnational organised crime groups and calls for a public-private sector partnership to take the profit out of online piracy. The study charts how pirate content distribution models have become more sophisticated and professionalised over time, with piracy operations now perpetrated by a mixture of technically skilled and well-coordinated crime groups or individual offenders. These criminal groups have four key revenue streams: advertising; direct payment; fraud and malware; and cryptomining. Given the sophistication of these operations, it urges a 'follow the money' enforcement approach and calls for law enforcement, regulators, financial institutions, and the private sector to work together, underpinned by the introduction of 'know your business customer' (KYBC) rules that would require online service providers to record and verify, to the extent possible, the identity of their business customers. Authors Ardi Janjeva, Alexandria Reid and Anton Moiseienko write: "There is great promise in the UK's championing of a 'follow the money' response to IP crime, but current efforts have not greatly reduced opportunities to generate significant criminal profits from piracy. Changing this requires action on the demand side, by making consumers more aware of the risks – such as fraud, ID theft and malware – that they face as a consequence of purchasing pirated content, and a more concerted approach to the supply-side factors which enable consumers' access to that content and criminals' ability to receive payments for it." (TL)
Exor expands its high-end portfolio with a stake in Louboutin – The Agnelli family's investment holding company, Exor, is set to buy a 25% stake in Louboutin for $643 million, reports Reuters. A joint statement by the companies said the partnership would "accelerate the next phase of (Louboutin's) development". Further, the pair stated that Exor was a "perfect fit" for the luxury shoemaker "at a moment when the brand is poised to capture significant new opportunities". The deal is expected to close in Q2. Exor is a notable investor in the high-end luxury space. It has a stake in Ferrari and at the end of last year became the largest shareholder of Chinese luxury group Shang Xia, which was co-founded by Hermes. (BD)
New IP crime police unit unveiled – A new unit set up to tackle intellectual property fraud in the north west of England has seized £1.7m worth of fake goods. The City of London Police has partnered with the Intellectual Property Office and the North West Regional Organised Crime Unit to set up the North West Police Intellectual Property Crime Unit. The move represents an extension of its intellectual property capability, based in the City, which is focussed on intellectual property crime, ranging from copyright offences to fake goods. In one of its first actions, on 4 March 2021, officers executed five warrants for Internet Protocol Television (IPTV) offences, which resulted in two arrests, the seizure of electrical items, cash and counterfeit goods. Superintendent Pete Ratcliffe, City of London Police, stated: "The world of intellectual property crime is constantly evolving and the formation of the North West Police Intellectual Property Crime Unit clearly demonstrates that police, government and industry are committed to protecting the UK from both established and emerging threats, many of which are now operating from online platforms." Superintendent, Paul Denn of the North West Regional Organised Crime Unit added: "Partnerships such as these are vital when tackling counterfeit operations as they bring specialisms together from across the country to make a real difference. "Today's activities are just the start of a series of operations we will be undertaking to investigate the scale of the problem here in the North West." (TL)
AAFA renews board leadership – The American Apparel & Footwear Association has announced the renewal of its board of directors' leadership, and the addition of 13 new and re-elected board members. Colin Browne (chief operating officer, Under Armour), was confirmed as chair for the 2021-2022 term, with Sarah Clarke (executive vice president, supply North America, PVH Corp) confirmed as vice-chair, Ted Dagnese (chief supply chain officer, Lululemon Athletica) as secretary and Kurt Cavano (CEO, Nimbly) as treasurer.  Deborah Weinswig of Coresight Research and Amann Group's Sid Howard were newly elected to the board of directors. "A year ago, we were certainly not predicting the same challenges and opportunities across brand protection, trade, supply chain & manufacturing that we encountered over the first year of my term," stated Browne. "During my extended term as chair, I will continue to steer the Board and the association leadership through the impacts of the COVID-19 pandemic and our new realities as an industry that must design, source, and deliver products to the new consumer mindset and expectations." (TL)
E.L.F. Cosmetics teams up with Chipotle – E.L.F. Cosmetics and Chipotle are due to this week launch a limited-edition collection featuring a makeup line and special menu item, writes License Global. "There is nothing tastier or prettier than the combination of burritos and makeup!" says the chief marketing officer at E.L.F. Beauty. "We're always looking for opportunities to lead culture and make authentic connections with Gen-Z alongside brands that share similar values," says Tressie Lieberman, vice president, digital marketing and off-premise, Chipotle. "Following our first launch with E.L.F., which sold out in less than four minutes last spring, we've taken our collab to the next level with beauty products celebrating our real ingredients in totally unexpected ways." The collaboration between the two is an example of thinking outside of the box and proves that when it comes to getting brands in front of audiences it can pay to team up with non-traditional partners. (BD)
Chinese Police releases figures on IP crimes solved – The Ministry of Public Security in China has released figures on the number of IP-related crimes the country's police has solved. Across 2020, Chinese police departments solved more than 21,000 crimes related to IP rights infringement and the production of fake and shoddy products. The monetary value for the cases is estimated to be around 18 billion RMD ($2.78 billion) and more than 32,000 suspects have been apprehended. Through cooperating with other departments, over 50,000 law enforcement operations at brick-and-mortar markets have taken place to seize counterfeit products. (JW)
Legal radar:
Virgin sues US rail company over alleged licensing breach – In 2018 Virgin Enterprises signed a 20-year licensing deal with Brightline that allows the US rail company to rebrand as Virgin Trains USA. Virgin has now accused the company of going back on the agreement by "spuriously claiming the Virgin name has been damaged" and is suing for $251 million. In the lawsuit it is claimed that Brightline argued that Virgin is not "a brand of international high repute" following the pandemic.  Virgin characterises the allegation that its brand value has been damaged as "cynical and spurious". According to the BBC the train operator first made it known that it may abandon the deal in April when the Virgin Group's travel-focused business suffered because of the pandemic. The company has argued that Brightline cannot legally scrap the contract until 2023 at the earliest, and even in that situation it would be required to pay an exit fee. The $251 million that Virgin is seeking would cover the royalties it says it should have received to date, as well as the early termination fee. (BD) 
Baby wipes company files suit for trademark infringement – WaterWipes Unlimited has filed a suit with the Commercial Court in Ireland against Sethos Holdings and Waterful claiming infringement on its 'Waterful' brand. WaterWipes are seeking an injunction restraining the defendants from any use of the names or signs for 'Waterful', 'WaterfulWipes', and 'Waterful Wipes', which they claim to own the trademark rights for. (JW)
Office radar:
(For more of the latest coronavirus-related updates from national IP offices, please read our dedicated article which is being continuously updated)
Lithuania office upgrades back office system – The State Patent Bureau of the Republic of Lithuania (SPB) has upgraded its back office system to SP Back Office, the development possible thanks to close cooperation between the EUIPO and the SPB project teams and its partners. An EUIPO update reveals that, in addition to an improved search engine and a more user-friendly interface, the upgrade also brings technical improvements to the existing system that will enable new functionalities and easier system maintenance. The milestone is the result of work carried out by the EUIPO and the SPB within the framework of the European Cooperation Projects. (TL)
Media Watch: 
Burger King UK sparks outrage over 'kitchen' tweet – The UK affiliate of fast food brand Burger King has sparked anger over a tweet stating "women should stay in the kitchen". The message was posted on Monday, which was International Women's Day, and was ostensibly to promote Burger King UK's a new scholarship programme, with a follow-up tweet stating: "If they want to, of course. Yet only 20% of chefs are women. We're on a mission to change the gender ratio in the restaurant industry by empowering female employees with the opportunity to pursue a culinary career." Of course, Twitter is a website where most users will only see a single tweet and not the replies, and the initial 'kitchen' tweet sparked mass outrage. The main root of the anger was a claim that the tweet proved that Burger King was a sexist brand or was using sexism as a marketing strategy. "You're supposed to be appreciating women and you're using misogyny to clickbait people," said one user. Others pointed out the flaws in the tweet (such as most users seeing the sexist tweet and not the follow-ups), yet it probably went through multiple stages of corporate approval. "You just know this tweet was workshopped by hundreds of analysts running millions of calculations over several years," joked one user. The tweet led to Burger King trending on Twitter on Monday, with thousands of people pledging never to eat at Burger King restaurants again. The tweet was eventually deleted and replaced with an apology. Debate will no doubt continue in marketing circles, but it is a reminder how a single tweet from the affiliate account of a major company can significantly impact the entire global brand. (TJL)
On the move: 
Lustig joins Panitch Schwarze – Philadelphia IP law firm Panitch Schwarze Belisario & Nadel has announced that Steven D Lustig has joined the firm as of counsel. With nearly 20 years of experience, Lustig focuses his practice on United States and international trademark clearance and prosecution, trademark litigation, internet domain name registration and dispute resolution, e-business issues relating to intellectual property, customs enforcement, anti-counterfeiting measures, trade dress and unfair competition enforcement. He also counsels clients on all aspects of copyright protection and unfair competition, as it relates to trademark law and brand protection. "We look forward to Steven joining the team at Panitch Schwarze," said Martin Belisario, a partner at the firm. "His experience and skillset expand our trademark capabilities and will provide value to our clients." (TL)
Patent attorney joins Quarles & Brady – Quarles & Brady has announced the hire of patent attorney Kevin P Rizzuto who has joined the firm's intellectual property group in the Milwaukee office as partner. "Kevin's experience helping clients protect their IP assets, especially when it comes to new technological advances, makes him a valuable addition to our intellectual property team," said Lori Meddings, national chair of the firm's intellectual property practice group. "His deep experience assisting clients in diverse industries and his work at the USPTO will be beneficial to our national and international client base." (BD) 
McDonald Hopkins adds associate to Cleveland office – Jonathan M Fergus has joined McDonald Hopkins as an associate in the intellectual property department within the firm's Cleveland office. Fergus' practice focuses on trademark and copyright matters. (BD) 
And finally... 
WTR Connect returns next week with five days of strategic content – The second WTR Connect series of digital events will take place next week, kicking off on 15 March 2021. The event will offer more than 20 interactive digital sessions, each designed to facilitate discussion, benchmarking and the sharing of best practice around key topic areas and challenges facing trademark and brand leaders. The theme for the event is 'exchanging cost-effective and resource-efficient best practices' and each day will start with a keynote address from a major industry figure, which is followed by live breakout discussions lasting for a maximum of 60 minutes. Registration is free for WTR subscribers and participants can register for as many sessions as they like across the week, building their own schedule. For event timings, and to sign up to attend, please click here.