Burger King promotes McDonald's; UKIPO seeks AI opinions; PS5 faceplate dispute – news digest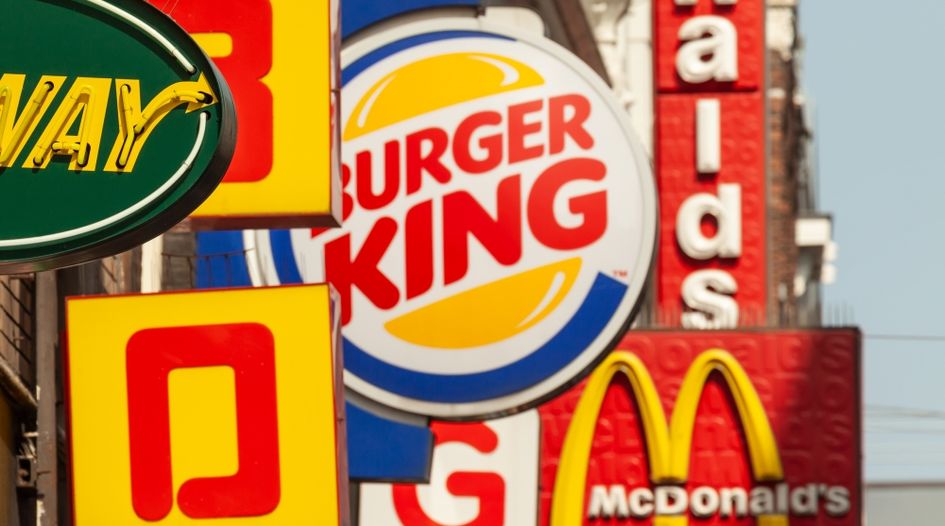 Every Tuesday and Friday, WTR presents a round-up of news, developments and insights from across the trademark sphere. In our latest round-up, we look at a musician submitting an opposition to a L'Oreal trademark application, takedown requests linked to the Isle of Man TT being revealed, the USPTO updating its examination guide, and much more. Coverage this time from Trevor Little (TL), Jonathan Walfisz (JW) and Tim Lince (TJL).
Market radar:
Anti-counterfeiting? It's a Bing thing! – Acamar Films has partnered with brand protection company Incopro to ensure the safety of its Bing character products & live events. Sparked by the launch of a new toy line by Bing's Master Toy partner Golden Bear – whose award-winning AW19 Bing range was its fastest-selling in years – along with a rapid international growth strategy, the number of Bing licensees and available products has hugely increased in the last couple of years. Currently there are some 5,500 Bing products available across 60,000+ points of sale. Reflecting this growth, Acamar is acting to support licensees' growth and sales of Bing products and associated activities. Therefore, Incopro will be tasked with tackling counterfeit product and activity across marketplaces and platforms globally, using effective takedown and enforcement measures. Sandra Vauthier-Cellier, chief commercial officer, Acamar Films, said: "At Acamar we are committed to protecting our brand and we take counterfeit and online threats very seriously. We want to support our licensees against copycats and infringers and ensure that our consumers can trust every online interaction with Bing. Teaming up with Incopro, with their vast global expertise and leading technology, enables us to give a much stronger guarantee of that." (TL)
Trademark troubles for PS5 faceplate designers – With just days to go until the global launch of Sony's latest games console, the PS5, Sony's first enforcement actions have come to light. 'PlateStation5.com', a company selling customisable faceplates for the console, has been required to rebrand, cancel pre-orders and remove its products after Sony made a complaint. The newly rebranded CustomizeMyPlates told VGC: "Before we launched, we did our due diligence and were of the opinion, that because Sony only had pending patents on the faceplates there would be no problem". They received requests from Sony to change the name of the brand due to trademark infringement, which the company quickly complied with. However, that wasn't the end of the matter. "But then Sony's lawyers told us it was their opinion, Sony's intellectual property extended to the faceplates, and that if we continued to sell and distribute them in any country, we would end up in court," the CustomizeMyPlates spokesperson explained. This led to the cancellation of all the pre-orders. (JW)
Burger King promotes McDonald's in lockdown ad campaign – On WTR we have written extensively about the ways that brands are reacting to the covid-19 pandemic in a bid to act in a socially responsible way. We have also reported on Burger King trolling McDonald's in various advertising campaigns. This week though the former has been making headlines for a campaign telling consumers to order from its big rivals. The 'Order from McDonald's' campaign, launched in France, is designed as a show of support by Burger King's towards the food service industry, which has been highly impacted by the national lockdown in the country.  Burger King's request that customers frequent McDonald's outlets appeared in a print ad in two of the biggest newspapers in France (L'Équipe and Le Journal du Dimanche), and was posted on the brand's social networks. The ad, which is a good example of both brand solidarity and positioning, concludes: "We never thought we'd be asking you to do this, but restaurants employing thousands of staff really need your support at the moment. So, if you want to help; keep treating yourself to tasty meals through home delivery, takeaway or drive through. Getting a Whopper is always best, but ordering a Big Mac is also not such a bad thing." (TL)
TT takedown requests revealed – A freedom-of-information request has revealed that the Isle of Man's Department of Enterprises has lodged 117 takedown requests related to the TT brand. The Isle of Man TT is an annual motorcycle sporting event, held since 1907, and is known as one of the most dangerous racing events in the world. Of the 117 takedown requests, 17 included further action or an agreement was subsequently reached due to trademark infringement claims. (TJL)
Legal radar:
Musician fights back against L'Oréal trademark – US electronic dance musician Marshmello has submitted an opposition to the US Trademark Trial and Appeal Board (TTAB) against L'Oréal's application for THE MARSH MELLOW. He claims that L'Oréal are using both the phonetic equivalent of his name as well as infringing on the artist's "natural zone of expansion" covered by his own trademark. The opposition hinges on the musician's claim that he "sells or intends to sell health and beauty products, including make-up" despite his trademark not currently covering make-up preparations specifically. However, he does have an application pending for THE MELLO BRAND which intends to cover a variety of Marshmello merchandise brands. (JW)
Office radar:
(For more of the latest coronavirus-related updates from national IP offices, please read our dedicated article which is being continuously updated)
USPTO issues specimens examination guide update – Speaking at WTR Connect last month, David Gooder, the USPTO Commissioner for Trademarks, revealed that, as part of its efforts to tackle specimens fraud, the office was to issue a revised examinations guide. The USPTO has now issued that update to the trademark examination guide, titled "Examination of Specimens for Use in Commerce: Digitally Created/Altered or Mockup Specimens." The updated guide addresses examination guidelines regarding digitally created or altered and mockup specimens. In particular, the updated guide revises the procedures for requests for information about the use in commerce of such specimens. The guide can be found on the Trademark examination guides page of the USPTO website. (TL)
UKIPO requests opinions on AI's influence on intellectual property – The UK Intellectual Property Office (UKIPO) has published a request for opinions on how artificial intelligence (AI) might affect IP policy. The UKIPO originally launched a call for views on 7 September that asked how AI and machine learning techniques will affect patents, copyrights, designs, trademarks and trade secrets. In the trademark section, the UKIPO is particularly interested in how trademarks will be affected if AI becomes a primary form with which products are purchased, removing consumer interaction and how this will affect issues such as likelihood of confusion. Another set of questions concern liability for infringement and whether an AI can be found at fault for infringement. The deadline for responses is 30 November 2020. (JW)
French IPO CEO elected EPO chairperson – The French IP Office (INPI) has announced that its CEO, Pascal Faure, was elected unanimously as chairperson of the European Patent Office's Budget and Finance Committee. According to the INPI: "This election is excellent news since it increases the influence of France in the International authorities." (TJL)
In memoriam:
Lester L Hewitt – Intellectual property expert Lester L Hewitt, a former co-head of the IP practice at Akin Gump, passed away last month. He was 78. He graduated from the University of Houston Law Center in 1968, specialising in intellectual property law, and began practising law at the Houston law firm Pravel Hewitt Kimball and Krieger. He subsequently joined Akin Gump, where he was also a member of its firmwide management committee. Furthermore, across his 50-year law career, he also served as treasurer and president of the American Intellectual Property Law Association, as well as a director of the 4th district of the State Bar of Texas. According to an online obituary, as well as IP law, he also "loved spending time at his beloved farm with loved ones hiking, mowing, taking care of trees, and admiring the beautiful Texas sunsets".
On the move:
Knobbe Martens partner named president of AIPLA – Knobbe Martens has announced that partner Joseph Re has become 2020-21 president of the American Intellectual Property Law Association (AIPLA). Re, a trial and appellate attorney, was inducted last week at the AIPLA's 2020 Virtual Annual Meeting. Re is the first Knobbe Martens lawyer to lead the AIPLA since founding partner Don Martens served as the organization's president in 1995-96. "Joe is not only a brilliant trial lawyer, he is also an exceptional leader and selfless colleague whose work ethic and ingenuity exemplify Knobbe's commitment to our clients and our way of practicing law," said Steven Nataupsky, managing partner of Knobbe Martens. "I speak for all of us when I congratulate him on this tremendous achievement." (TL)
Sidley Continues Expansion in Dallas – Sidley Austin has announced that Aimee Fagan and Phillip Aurentz have joined the firm as partners in the Dallas office. Fagan and Aurentz will be members of the global IP Litigation practice and join from from McKool Smith. "It's a real coup to have Aimee and Phillip join our Dallas team and the highly skilled group of IP litigators in Dallas and across the firm," said Yvette Ostolaza, managing partner of Sidley's Dallas office and a member of the firm's management committee. (TL)
Ojam Bullrich Flanzbaum opens doors – In mid-October the partners at Argentina's BERTON MORENO + announced they would begin to operate as two independent companies under the names Berton Moreno IP Law and Ojam Bullrich Flanzbaum. Now, Ojam Bullrich Flanzbaum (OjamBF) has officially launched as an intellectual property boutique offering.  The firm is made up of a same team that has worked together for more than 20 years, with more than 30 professionals (lawyers and IP agents) on its roster. The partners in the firm are Juan Carlos Ojam, Mercedes Bullrich, Raquel Flanzbaum, María Luisa Santa María, Mariel Chichisola, Diego Montangero. (TL)
And finally...
New research project to track industry trends and outlook launches – WTR is pleased to announce the launch of a new research project that will track trademark trends and outlooks on a quarterly basis, providing brand professionals with unique insight direct from a panel of industry leaders. Every three months we will survey a panel of more than 50 trademark industry leaders from both the law firm and corporate environments on trademark industry trends and forecasts, using the results to create a quarterly report that provides a regular update on the health of the sector and what the future is expected to look like. The full  inaugural report is available to subscribers in the WTR Reports Store. Non-subscribers can access the executive summary and some of the findings here.