Budget planning, diversity, ROI, social media criticism – trademark management and enforcement takeaways from industry experts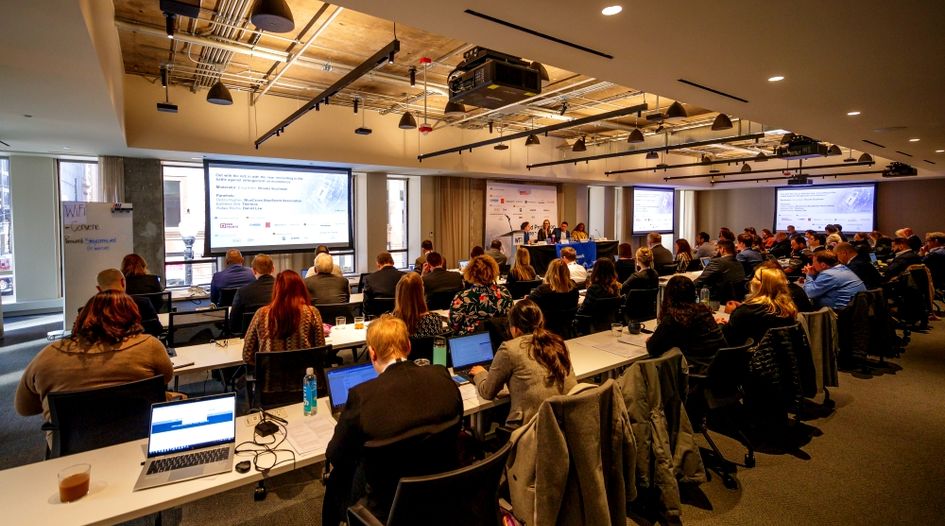 WTR hosts Managing Trademark Assets and Brand Protection Online in Chicago
Events presented cutting-edge in-house IP enforcement and protection strategies
Speakers included experts from Starbucks, McDonald's, Microsoft and Viacom
Last week in Chicago, WTR hosted events focused on the strategic management of trademarks and the protection of brands in the online environment. Below we present a selection of takeaways from the events, including tips on budget management, proving return on investment (ROI) on enforcement spend, responding to reputational crisis and facilitating diversity and inclusion in the trademark industry.
How a diverse team equals a stronger team – One of the central debates on diversity is the degree to which, when hiring, diversity considerations come into play. For the panel tackling this very issue, the answer was an easy one – it needs to be a conscious strategic consideration. José Bautista, associate legal counsel, intellectual property, Abercrombie & Fitch, stated that his company "actively seeks out diverse talent" in the legal space. To not do so would be to the detriment of the team. This results in a multi-faceted group, with Debra Hughes, assistant general counsel at BlueCross BlueShield Association, noting: "It has to be conscious action. A lot of people think 'diversity just happens'. It doesn't and it is important to have diversity – having a diverse team means you have different points of view and don't have group think." Adraea M Brown, director, legal – trademarks and brand protection at Harley-Davidson, concurred: "Trademarks are very subjective and analysis varies from case to case. I think it's important to have different viewpoints if building a well-rounded team. I have certainly focused on getting a diversity of perspectives in my team, in terms of age seniority, race, ethnicity, etc. It has made us a stronger team." This approach also means that talent will be nurtured and tomorrow's leaders able to embark on their career path – Hughes noting: "If a law firm hadn't initially taken a chance on me, I wouldn't have had the opportunity to work at a top tier law firm. If that law firm didn't take a chance on me, I wouldn't have had the opportunity to work in-house. There are a lot of Debbie's out there. I'm saying this because I am hoping that there are CVs on your desk from people looking for these opportunities." Brown concurred: "I'm another Debbie. That's my exact story. Someone took a chance on me and I had to work extremely hard to make sure that chance wasn't wasted." Bautista concluded: "I'm a Debbie too. If you are not seeking out diverse talent, it won't come to you."
The trademark industry's diversity problem – For teams to embrace diversity, leadership needs to do so too. This is both at senior management level (BlueCross BlueShield Association's Hughes noting: "It's most effective when driven by senior leadership – you need the C-suite to buy in, and that then has a trickle-down effect. It works when you have senior leadership who are truly bought in to what it means to support diversity, and don't just talk about it. After all, it's all about what actually happens when the lights are not on or you aren't at a diversity fair) and law firm and trademark department leadership – Christina Martini, partner at McDermott Will & Emery, adding: "Mentoring is all important. You have to have people who will stay by you and take a stand for you as you look at potential promotions and leadership opportunities." The need to facilitate more diversity in leadership positions also extends to the trademark industry. When asked if the trademark world has a diversity problem, Harley-Davidson's Brown replied: "Honestly, I think the entire legal world has a diversity problem." And this extends to associations. Hughes concurred, noting: "How many individuals from diverse groups are in leadership or acting as committee chairs? I would say that there are not that many diverse members in leadership positions at these associations." Ultimately, concerted action is needed to facilitate a more diverse trademark environment, at law firm, corporate and association level – Brown concluding: "It is great to have a diversity and inclusion policy but just because something is written on paper doesn't mean it is real. You need to set up and track actionable goals."
Evidencing ROI in online enforcement remains a (not insurmountable) challenge… – One key question is how to extrapolate the economic value of seizures. After all, it is rare that a seizure of 1,000 fake items will result in 1,000 legitimate sales. Daniel Shapiro, director at Red Points, reflected: "While we want to tie some number to it, the challenge is whether someone would really buy a $60 product over a $20 counterfeit. Plus, from my time at eBay, we would see around 20% of listed products actually transact. When thinking about ROI, you don't know how many will actually be sold." For Scott Piering, vice president, chief counsel, intellectual property at Spectrum Brands, a conservative approach is preferred: "We start with the assumption that every seller we identify will sell one unit. We can then show that the ROI is significant. If you then start thinking about more realistic numbers – say 10 units – it goes up dramatically. But I would rather go to leadership with one unit as then it is clear that we are adding value. You can't assume a seller will sell every unit at full cost." For some, then, ROI results from whether you recover more than you spend. Emily Cooper, IP counsel and director, global brand protection at PopSockets, states: "One way to look at ROI is whether the legal spend is justified for the amount you recover – if you can get enough to cover legal expenses and give the clients extra.  We have had instances where we have recovered enough to cover a team's legal budget for the year. But when you don't recover much, that would make me nervous."
.. .but don't fixate only on the numbers – When considering online takedowns, the numbers are often relied on  – but even these are nuanced. After all, a company may prioritise certain brands or platforms, which then make the figures somewhat subjective. Morris Wilder, senior account executive at Yellow Brand Protection, added: "You could fall in love with the numbers on the surface – saying 'I took down one listing that represented a million pieces'. But you don't necessarily want to go to your executives and say 'we took down a million listings' as they may then ask where the millions of dollars in returns are." Instead, it is important to tell an overall story, which encompasses not only takedown numbers, but also factors like the number of sellers removed and how many legal actions resulted from it. Kathleen Wilt, senior counsel at Thermos, added that the reporting also needs to have the audience in mind: "Managing the business teams' expectations is our biggest priority. If our sales team is looking at Amazon product rankings and finds infringing products competing, they will have the numbers staring at their faces. So targeting e-commerce enforcement at products they are worried about is important as it shows we are invested in what they are worried about." Ultimately, nuance and an understanding of the business priorities are all-important.
How to be canny in budget planning and deployment – This remains an art not a science. At The Kraft Heinz Company, Sabrina Hudson operates on a zero-based budgeting approach, which means starting each year from scratch and justifying potential spend. She notes: "This is easy with renewals but it is harder to predict other areas, like oppositions work. It is a lot of guesswork in a way – we do strategise (eg, looking at how many searches or oppositions we have done in the last three years and estimating based on the average). I also base the renewal budget on how many renewals I have next year – I don't base it on how many I may actually renew as people change their minds." Rotary International's Jomarie Fredericks takes a similar approach, noting, though, that you need a little "wriggle room". If you start to get towards your limit, one way to prioritise spend is to ensure that work truly is needed, Fredericks jokes: "There are times when people want more marks than we have budget to do – so we may have to say 'if you want more than X number you may have to pay for it'. It's incredible how many times, when you say that, the mark is no longer needed."
Technology can enhance efficiency but is not the magic bullet – In a number of sessions, discussion centred on how technology can be utilised to save both effort and money. In terms of portfolio management, however, while clearly a benefit, the human hand is crucial. Jomarie Fredericks, deputy general counsel at Rotary International, noted: "It's garbage in and garbage out. You need to have someone inputting good data." From a budgeting perspective, that means that there has to be consideration of related staff costs. Beth Seals, general counsel at Zippo Manufacturing Company, admitted: "As good as the tech is, it is only as good as the person managing it."
Go beyond the mark when enforcing online – In an age of increasing product complexity and infringer innovation, the panellists on the anti-counterfeiting masterclass session were keen to highlight the need to take a multi-right approach to online enforcement, with PopSockets' Emily Cooper noting: "A lot of our enforcement is centred on a hybrid of patents, trademarks and copyrights. We have found product configuration trademarks to have been very helpful – especially as we see a lot of infringement that is unbranded." While one participant noted that platforms – although open to product configurations – have been "allergic" to takedowns based on patents, Spectrum Brands' Scott Piering has found that this is changing, and that rights holders should demand action going forward: "A lot of platforms are starting to look at design patents, as they are realising that design patents are straightforward and that the analysis is similar to trademarks. So if you are getting pushback from them over design patents, push right back. Five years ago I'd have said 'design patents are nice but we don't build our portfolios around them'. Today we do."
Silence is not always the best option – In a session on enforcing rights across social networks and apps, one focus of the discussion was when to communicate more widely about scams using a company's brands. For the most part the panel would consider issuing press releases but tend to focus more on identifying and stamping them out before it becomes a wider problem. Sometimes, though, public communication can be necessary to protect a brand's reputation. One such instance is where adverts are placed alongside infringing content. On WTR we have written extensively on programmatic advertising and incidents where companies find themselves advertising on sites that contain infringing or objectionable content. Considering a fictional scenario, in which an agency has bought media inventory on piracy sites, creating headlines that the brand is 'bankrolling a video piracy site', Mikhia E Hawkins, senior counsel at Viacom, provided a response blueprint: "I'd have the agency immediately pull the ads and then consider issuing a press release – or writing a letter to the editor of the media outlet that reported it, requesting that it be published. You would want to explain how the ads were placed and may also want to go further and say the headline was misleading, creating the impression that the company was deliberately bankrolling the activity." In summary, silence is not always the best option.
Not every social media criticism needs a response... – When enforcing on social media, a key issue is when (or not) to act. For Spectrum Brand's Scott Piering, the main question to always ask is: what is the actual financial and reputation impact of the criticism? While internal stakeholders may want a tweet or post taken down, sometimes it is not worth the effort. He adds: "We go straight to marketing to ask what the impact may actually be. After all, the average tweet has an 18-minute lifespan. Sometimes, by reacting to it, you give it more gravitas and impact."
… But when it does, know who you are talking to – Across both days of discussion, approaches to cease and desist letters took centre stage. Often the first salvo in the battle against infringement, it is easy for them to backfire. In terms of strategy, Sanjana Sharma, associate general counsel, intellectual property at UL, noted: "We categorise cease and desist letters by audience. For counterfeiters we have a letter that is really mean. Then there are customers and those related to us, where we are a little more friendly. The third group are infringers with no relation to us and we decide on the risk factor before we respond. We don't want to be [criticised] on social media – so PR is a factor. Our main goal is just to get people to stop." In many instances, getting the business people to reach out is a good first step, with legal held back for when escalation is needed. Elsewhere, Tanya Miari, senior counsel at McDonald's, added: "If they are a competitor, we would try to contact our in-house counterpart to try to resolve before escalating further." Ultimately, it is all about knowing your target. Spectrum Brands' Scott Piering stated: "You have to engage in a conversation and know who you are sending it to. Our first cease and desist is usually very soft – unless to a direct competitor who is trying to rip us off. With competitors, I'd usually pick up the phone first – that is how I usually start. And the first, nicer letters come from the business, the second from a trademark lawyer." The phone is also the preferred tool of Debra Hughes, assistant general counsel at BlueCross BlueShield Association, who concluded: "What keeps me up at night is what to do when you get the finger. You send the nice letter, then you send the hard letter. But what then? What if you get the finger? The discussion is then whether to contact a law firm and escalate, or send a letter just saying 'we really are watching you'. Well I pick up the phone – not in every case, but it is more effective."
Be more Batman – One of the challenges of predicting tomorrow's online brand protection landscape today is that infringers are, well, unpredictable. As Andrew J Avsec, shareholder at Brinks Gilson & Lione, noted: "Asking what infringers will be doing in the future is a bit like asking Batman what the Joker will do next." Whether employing new platforms or new tactics (eg, using images in a bid to avoid products being flagged in word-based searches), infringers are keen to keep one step ahead.  In terms of the former, Russian social media and e-commerce platform 'VK.com' was identified as one to watch, as was Indonesian e-commerce offering Bukalapak. The key is to identify these new platforms and quickly ascertain what rights protection mechanisms are in place. In short, be nimble and adaptable. Or to put it another way, be more 'Batman'.