Brexit, China, surplus and SMEs: takeaways from Christian Archambeau's first press briefing as EUIPO head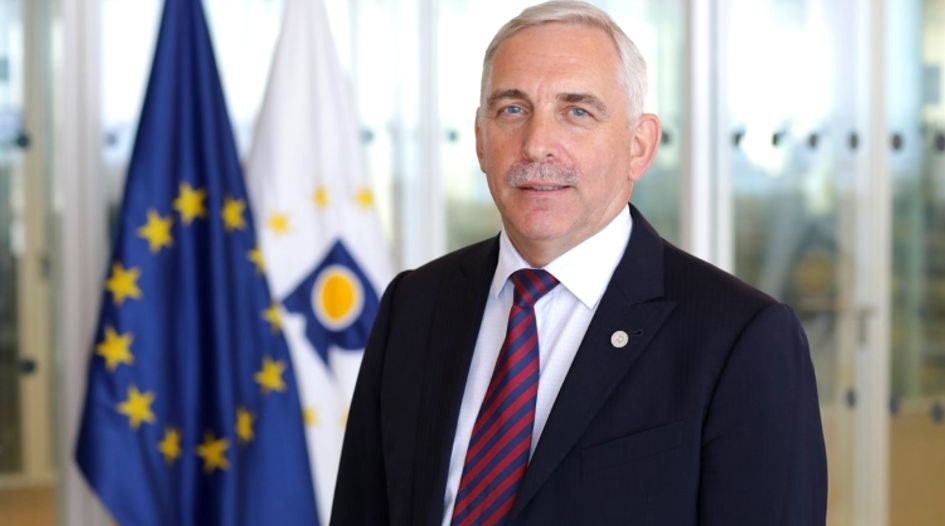 EUIPO head Archambeau gives his first media briefing at the INTA Annual Meeting
Provides update on filing trends and plans to ramp up IP outreach to SMEs
Responds to ECA criticism of treatment of office's half a billion euros surplus
Christian Archambeau sat down with journalists earlier today in what was his first press briefing since he became executive director of the EU Intellectual Property Office (EUIPO). In a wide-ranging discussion, he revealed plans to initiate a work programme aimed as SMEs, discussed the rise of Chinese trademark filings and hit back at criticism of how the registry uses its ample surplus.
The rise of Chinese filings: no cause for concern
As we have written previously on WTR, alongside a startling increase in trademark applications from China, the USPTO has been grappling with a rising number of suspicious specimens, in which obviously doctored images have been submitted by applicants. The EUIPO has also experienced an upswing in Chinese applicants – at present the country is the source of the third largest number of filings (after Germany and the US) and Archambeau predicts that "this year or next they will overtake the Americans." Asked whether there have been any concern over the nature of the applications, he responds: "Not really. I must say that the business model that the Chinese apply is quite interesting – they mostly file through a limited number of representatives, and they tend to file clean applications, using the fast track process with prequalified goods and services. And at the first sign of trouble, they tend to drop the application and not really fight, which is cheaper for them and less work for us. That doesn't mean that we don't have cases of impersonation but we have nowhere near the concern that the USPTO has."
Chinese data is coming to TMview…
Of late the EUIPO has been working more closely with the Chinese IP authorities and one goal being worked towards is the integration of Chinese data into TMview, with Archambeau observing: "We have been trying now for years to integrate its trademark information into TMview". While a significant undertaking, progress is positive and when asked whether this is likely to be the year in which users will be able to access Chinese trademark information on the platform, he answers in the affirmative – although he jokes: "Of course, that may be our year or the Chinese year". In either instance, one year from now, TMview will likely be an even more valuable tool than it currently is.
… and geographical indications may soon be following
As we reported on our Sunday INTA news round-up, one of the questions WTR put to Archambeau was whether, given the ever-increasing importance of geographical indications, the office would look to create an online database akin to TMView. His response? "We would love to". He expanded: "We want to improve the visibility of GIs and are looking at a GIView. We would like to create a database for GIs and are working with the DG Agriculture and Rural Development on that." The EUIPO is already examining GIs for the European Commission and a more active role on GIs appears to be a natural fit for the office – Archambeau concluding: "It would make sense. We would like to have the competency for GIs at some point."
Brexit and the law of unintended consequences
Inevitably, for the head of the European Union's trademark office, questions about Brexit come thick and fast. For now, Archambeau has few concrete answers, noting "the discussions are run by the commission and, in simple terms, we will have to do what we are told" – adding: "No one can predict exactly what will happen and when, but we are confident that the UK will remain a valuable partner and that British businesses will continue to use EUTMs and designs." However, while discussion often focuses on the treatment of rights post-Brexit, less discussed is the impact on EUIPO staff – in particular the office's 40 British employees and the potential upheaval they will face if unable to stay in the office's employ. Archambeau reflects: "The impact of losing native British speakers will not be that significant [in terms of the office's examination work]. It is more of an issue of dealing with human people – it is the law of unintended consequences." The hope is that upheaval will be minimal – some staff have applied for second nationality and Archambeau observes: "The attitude we want to take towards staff is the most flexible possible within the constraints of the regulations." In some instances this may involve employing individuals as 'third country national experts', Archambeau noting that, for example, the integration of Chinese data into TMview will mean the office taking on Chinese nationals "to help with the integration". Perhaps, then, UK national experts will be one way forward.
Responding to criticism
Last week an opinion issued by the European Court of Auditors (ECA) stated that the EUIPO's budget surplus should be put "to a productive use" and called for "a more adequate accountability framework". With the surplus amounting to almost half a billion euros in 2018, the opinion stated that the office should explore ways of using its surplus money to support research, innovation and growth in the EU – adding that the office should also be subject to the same budgetary and discharge procedure before the European Parliament as other EU bodies. Rimantas Šadžius, the Member of the European Court of Auditors responsible for the opinion, stated: "EUIPO's surpluses are currently not assigned to any productive use either at the level of the office or the EU. The office and the European Commission should explore the possibility of using its budget surpluses to invest in financial instruments supporting research and innovation activities by European enterprises". Asked for his reaction to the opinion, Archambeau stated: "You cannot make statements on the financial regulations or situation of office without taking into account the legal framework. We have legislation that dictates how we function, the fees that we charge, what we can and cannot do with the money... For me it is clear that the Court of Auditors does not have a political mandate to explain how mandates should be adjusted." He added that the surplus has also been put to use to benefit the IP ecosystem, concluding: "Any use of the surplus is not to pay for expensive cows in France!"
On the surplus
While the surplus figure mentioned above is significant, Archambeau noted: "It's true that we have roughly half a billion euros of cash but it is not all 'surplus'. We have a regulation that says we must have a parachute as we are financially independent. So €240m a year of expenditure has to be reserved for if things go wrong, and we are entering turbulent times." This would cover operations and cover all liabilities, but there are other dimensions to also consider. For instance: "We have accruals – we have had fees paid where the work is not yet done. That will account for around €30m."  This still leaves money in the bank but this is where the work plan comes into it. The co-operation fund programme has, to date, had significant impact on efforts towards harmonisation and the ongoing surplus provides new opportunism to further benefit the IP ecosystem. He observed: "The surplus will require projects."
Building bridges and understanding: a focus on SMEs
One area of focus for future projects relates to small and medium-sized businesses (SMEs). Prior to the press briefing, Archambeau outlined plans for a specific SME-focused work programme, which could even extend to the creation of a standalone website offering enhanced functionality for businesses. He later expanded: "An example of an idea that is around is to develop a SME programme. We will start relatively small – perhaps two or three countries and focused on two or three specific sectors in which we see potential. If successful it will multiply, so it is potentially a huge project. I see it as a roll-on pilot – if successful you expand it and for that you need money and resources. One of our ideas is to use the former cooperation fund model or trust fund to foster the growing use of IP."  Crucially, this effort will need to be collaborative, engaging with both IP and non-IP organisations: "For SMEs we don't just have in mind trademarks and designs. We also need to consider patents and we will have discussion about domain names. We will need to talk to national offices about company registers. SMEs will want a one-stop shop. Trademarks are not the first preoccupation for SMEs. They want to make money and set up domain presence." Therefore, a collaborative approach offering them the full array of tools will be crucial. Equally important will be making sure they know they need them. When talking about SMEs you have to fight for their attention and time. It needs to be a short and powerful message, delivered in conjunction with people they know and trust. So we have to work with small business associations and Chambers of Commerce. And a lot of this activity won't be undertaken centrally. There is an important role for national offices. We want to work with them and through them."
A new future, a new plan
In June 2020, the EUIPO enter a new stage of its development building, the overall objective of the future strategic plan 2025 (SP2025) being to ensure that the office delivers added value and growth by making IP protection more relevant, accessible and enforceable for legitimate businesses, especially SMEs. In order to achieve this, three drivers were identified:
An interconnected, effective and reliable IP System within the EU's internal market and in the global environment;
Customer centric IP Services in order to take full advantage of new technologies to further improve quality, consistency and predictability;
Dynamic organisational skillsets and effective support to operations enabling staff to 'work smarter'.
The office's role and remit evolved significantly during the tenure of previous head Antonio Campinos and it is clear that the pace of change will continue unabated under Archambeau's leadership. He concludes: "One of the discussions of SP2025 was about how to take it to the next level. We had many ideas put forward. The most important challenge for SP2025 is how we ensure we continue to deliver increased value to businesses and consumers."