Brands warned over legal issues on alleged "scam" gambling platform MysteryBrand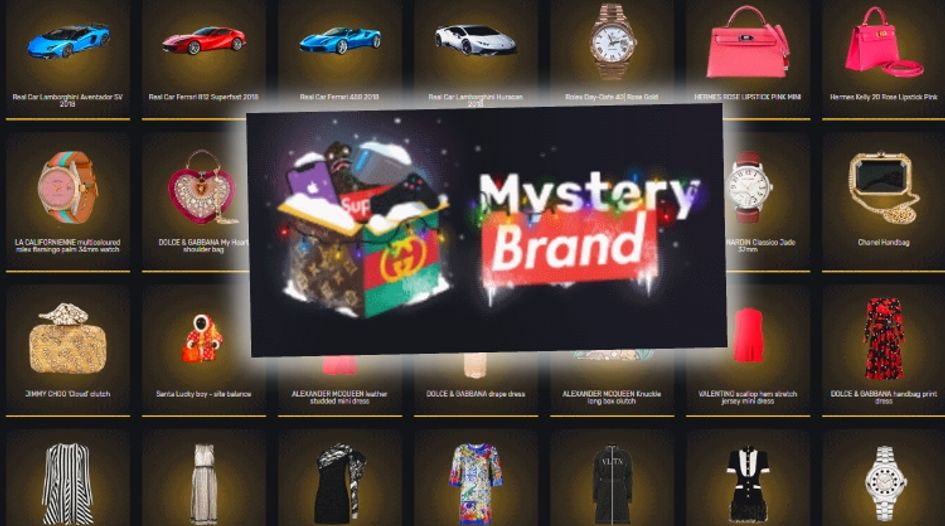 Gambling website MysteryBrand alleged to be "scam" and "sketchy" by commentators
The platform, promoted by major internet stars, allegedly sends counterfeit goods
Lawyers tells WTR that site could breach advertising codes and trademark laws
A recently launched gambling website, MysteryBrand, has caused controversy this week by undertaking paid promotions on major YouTube channels with significant underage audiences. The platform, which uses branded products to promote randomised 'mystery boxes', could also be in breach of several laws and should be on the radar of trademark counsel, according to legal experts.
Earlier this week, YouTube stars Jake Paul (who has 17 million subscribers) and RiceGum (with 10 million subscribers) posted videos promoting a website which sells virtual randomised gift boxes, located at MysteryBrand.net. The two were criticised by influential channels including H3H3 Productions and PewDiePie for encouraging their young viewership to gamble, with content creator Keemstar calling the platform a "scam". Another creator, Tanner Fox, further claimed that he had been offered $100,000 to also promote MysteryBrand on YouTube, a move he rejected and described as "sketchy". Nonetheless, Jake Paul (who was criticised last year for aggressive marketing towards his young audience) seemed unperturbed by claims he was "selling a gambling scam to underage kids" in a tweet yesterday, claiming he is 'loving it'. On the flip-side, RiceGum posted a video admitting that the sponsorship was probably ill-advised due to the backlash.
While debate over the actions of the YouTubers will continue, it is the content of the MysteryBrand platform itself that should be of concern to rights holders. The website's primary selling point is that users can win products from major brands in randomised virtual loot boxes – in essence, a form of gambling. Each virtual 'mystery box' has a page claiming to show the products that a user could win, and for a relatively low amount of money they can pay to 'open' a box and win one of the products on the page. For example, the 'Women's Christmas Box' ($12.99 to 'open') has over 100 prizes on offer, including Lamborghini and Ferrari cars, iPhones,  Rolex watches, Chanel and Tom Ford handbags – even a $250 million house in Los Angeles (a prize that was deleted less than an hour after an enquiry about its availability from WTR, but can be viewed in this screenshot). Lower down on the page are inexpensive unbranded items that purchasers could also 'win'.
It is the prevalent use of branded products which makes MysteryBrand a website that trademark professionals should monitor. The platform has dozens of 'mystery boxes' on its homepage, many using the allure of major brands in the box name (screenshot), including 'Apple', 'Bape', 'Bethesda', 'Chanel', 'Marvel Box', 'Ralph Lauren', 'Samsung', 'Star Wars', 'Supreme', 'Valve' and 'Versace'.
On top of that, MysteryBrand's own logo includes brand elements from Apple, Gucci, Louis Vuitton, and Supreme (pictured). Outside of the website itself, MysteryBrand's social media pages (Facebook, Instagram and Twitter) mostly post images of major brand products to attract new users.
For those reasons, Harbottle senior associate Kostyantyn Lobov suggests the platform should be on the radar of rights holders. "Things like use of third-party trademarks in the logo of the website, and on the sides of the 'boxes' themselves – which could give the impression that the box is sponsored – are things that could be of concern to brand owners," Lobov explains to WTR. "Owners of trademarks which have an established reputation could also argue that associating those marks with gambling – a sensitive area which has received a lot of regulatory and press attention recently – could tarnish their reputation, particularly if it is inappropriately targeted and does not comply with other applicable laws. Furthermore, brand logos, artwork, patterns and photographs of products may be protected by copyright or design rights."
That point was reiterated by Jas Purewal, digital entertainment lawyer at Purewal & Partners, who told WTR that "if brands are being used without authorisation by MysteryBrand or other products, then there may well be trademark infringement, passing off and/or unfair competition type issues arising from it, which could in principle give those brands a cause of action against the MysteryBrand owner and potentially against the influencers".
As well as an association with a controversial gambling platform, brand owners may also be concerned that their marks are on a platform that many users are characterising as a "scam". Indeed, an archive of reviews from MysteryBrand's G2A page (which previously recorded the transactions of MysteryBrand's owners but was subsequently deleted) includes over 120 uses of the word "scam", with users claiming prizes were not sent to them or money was charged multiple times for a single transaction. On Reddit, a majority of users recorded issues with receiving items, with some claiming they'd paid in hundreds of dollars and received nothing in return. There are also claims of users receiving counterfeit goods, with one user claiming they "got a fake Bape shirt". Indeed, on ScamAdvisor, MysteryBrand is recorded as potentially 'fraudulent', with one report that it "gives fake/unbranded/used (coming from Chinese distribution) items".
For its part, MysteryBrand responded to the "scam" accusation last month on Instagram, telling one user: "We are not a scam. You can kindly check our third-party reviews with thousands of satisfied customers. You can also see our top users on our page who have won great items with us." However, a vast majority of comments on its social media pages remain negative, and, according to Lobov at Harbottle, if a platform claims to offer prizes with zero chance of winning, or misleads in other ways, then it could face serious action. "If a website is fundamentally misleading it could be in breach of advertising codes and consumer protection laws," he explains. "This can lead to criminal penalties."
We've reached out to MysteryBrand for comment and will update this article if they respond. In the meantime, major brands featured on the site should be mindful – and all rights holders should be aware that, if MysteryBrand proves lucrative, other similar 'virtual mystery item box' platforms could crop up in the future. While brand misuse is one issue that practitioners must contend with on a daily basis, the potential damage becomes significantly more worrisome if the brand is being used to attract young people to gambling platforms which are alleged to be conducting fraudulent activities.