Brands warned of 'Greta effect', fake kilt accessories, and caution over copycat retail sites: news digest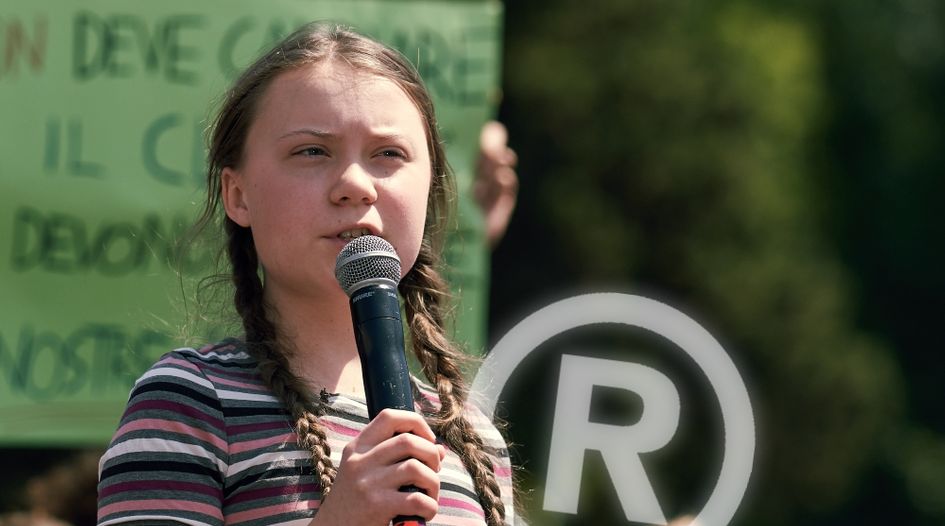 Every Tuesday and Friday, WTR presents a round-up of news, developments and insights from across the trademark sphere. In our latest edition, we look at a mass counterfeit haul in North Carolina, Mayfair Platinum defending its trademark use, a law firm appointing its first CEO, and much more. Coverage this time from Trevor Little (TL), Bridget Diakun (BD), Jonathan Walfisz (JW) and Tim Lince (TJL).
Market radar:
TrademarkNow among winners of OnCon Icon Awards – The 2020 OnCon Icon Award winners have been announced, recognising the top global professionals and vendors in marketing, HR and legal. The legal awards are split into three categories: the top 100 and the top 50 corporate counsel, and the top 25 legal vendors. Of the legal vendors category, winners included firms Bird & Bird, Dentons, Fieldfisher and Reed Smith. In terms of trademark related software, TrademarkNow was celebrated alongside more general vendors such as LexisNexis and SimpleLegal. (JW)
Warning over ecommerce mimicry – This week, Business Insider India warned readers about scammers mimicking ecommerce sites to mislead consumers. Fraudsters are using the logos and website design of sites such as Flipkart to dupe users into making advance payments for goods through ecommerce payment system Paytm. The scheme succeeds in part because, according to tech expert Kartic Rakhra, Paytm only issues warnings not to make any advance payments in English, meaning that many users will not understand it. Thus, when ads pop up offering daily deals requiring advance payment, they are more likely to be duped. Flipkart is taking action against fraudsters, but it serves as a reminder that – in addition to scammers selling copycat products on ecommerce sites, sometimes the sites themselves are imitated in a bid to make a fast buck. (TL)
Mass counterfeit haul at North Carolina flea market – Stage agents from the anti-counterfeiting task force have led an operation at a North Carolina flea market that resulted in the discovery of counterfeits with an estimated retail price of almost half a million dollars. The products seized included fake Rolex watches, Gucci bags, Air Jordans and UGG boots. Two individuals were charged with one count of felony criminal use of a counterfeit trademark, and three others were charged with misdemeanor trademark violations. (BD)
Issue of fake kilt accessories raised – An article in The Scotsman this week has raised the issue of counterfeit versions of Scottish kilt accessories being sold on Chinese marketplaces. One instance in the article is fake sporrans, the pouch that many kilt-wearers use for storage on pocketless kilts. These sporrans are often sold at high prices – one example is a Kinloch Anderson brand sporran, made from Red Fox fur, which sells for £330. However, an identical-looking sporran has been found on Alibaba for £7. It is a reminder that brands in virtually every product sector – even those producing traditional Scottish Highland garments – are at risk of counterfeiting from China. (TJL)
Brands warned of 'Greta effect' – Earlier today, climate activist Greta Thunberg spoke to leaders at the World Economic Forum in Davos about the increasing threat of climate change, and urged the media and politicians to treat the issue more seriously. "It feels like the climate and environment is a hot topic now, but from another perspective virtually nothing has been done," she said. "Without treating this as a real crisis we cannot solve it." The goal of the speech was to pressure political leaders to reduce their country's emissions before it's too late. That pressure is also being felt by brands, according to a survey by WARC. With the environment now firmly in the public consciousness thanks – in part, at least – to activists like Thunberg, 84% of marketers now say that "conscious consumerism and sustainability would have significant or some impact on marketing strategies in the year ahead", with the 'Geta effect' clearly pressuring brands to play a positive part in sustainability efforts. On top of that, three-quarters of marketers say that "brands need to take a stand on social issues". One element being looked at is around packing, and especially in reducing the use of single-use plastic, with other respondents saying they are also looking to reduce carbon emissions in their supply chains. As WTR has written about extensively before, there is significant opportunity for brands to take a stance on social issues – and risks too, including potential reputational considerations if brands make big claims but fail to follow through. (TJL)
Kylie Jenner trademark activity hints at new business strategy – Media personality Kylie Jenner has applied for three new trademarks at the USPTO: KYLIE CON, KYLIE KON, AND KYLIE MUSEUM, reports Forbes. The 'self-made' billionaire has applied for the marks with the intention to use them to sell clothing, beauty consultation, handbags and live events including exhibitions and interactive experiences. Last year, Jenner hit the headlines for her application for RISE AND SHINE. This puts her total trademark portfolio at nearly 130, a significant chunk of the 700+ trademark portfolio owed across the entire Kardashian clan. (JW)
Legal radar:
Mayfair Platinum defends trademark use – Mayfair 101 Group, whose subsidiary is Mayfair Platinum, has filed a cross claim against Platinum Asset Management after they filed a trademark for the word 'platinum'. Mayfair want to revoke the word platinum from the trademark register claiming it is commonly used in the financial industry, citing Visa Platinum as another example. Mayfair has appointed senior counsel Matthew Darke for representation. (JW)
"Psilocybin" mark registered for chocolates, not magic mushrooms – A Californian-based chocolate company has registered the mark PSILOCYBIN at the USPTO for chocolates that don't contain psilocybin, the psychoactive ingredient in magic mushrooms, reports Marijuana Moment. The company's mission statement explains that: "Each chocolate bar has been designed for a very deep and cosmic awakening, the packaging begins to shift your vibration and our three bars will each create a different effect on your body, mind and soul." To reiterate, despite the name, these chocolate bars do not contain any psychoactive ingredients. While, the copywriting is quite amusing, the registration also raises questions as to the status quo around registering names of illegal substances. The article comments that psilocybin is likely to be next on the drug legalisation step ladder. Therefore, marks may eventually be registrable that are directly related to the substance. This registration might then come to blows with others in the confectionary space – especially given that the owner, Scarlet Ravin, has claimed she intends to feature psilocybin as an ingredient once legalised. Responding to criticism for her trademark's potentially unfair control of the term in the marketplace, Ravin responded: "We're not going to ever sue anyone who also uses the word". (JW)
On the move:
Harness, Dickey & Pierce announces first CEO – Bill Coughlin has been named as the first CEO of Harness, Dickey & Pierce. Coughlin, a former automotive legal executive, started in the role earlier this month. He will be responsible for overseeing the firm's strategic planning, as well as business development and firm operations. He previously served as president and CEO of Ford Global Technologies, the automaker's IP subsidiary, until December 2018. (BD)
Former INTA president joins Bird & Bird – Frederick Mostert has been appointed to of counsel within Bird & Bird's London IP practice. Mostert was previously the president of INTA and is currently the president of the Luxury Law Alliance. Additionally, he served as chief IP counsel and chief legal counsel at Richemont. Mostert will shift his part time consultancy practice to Bird & Bird and will continue his academic career alongside this role. (BD)
Latham & Watkins bolsters litigation bench – Latham & Watkins has announced the hire of Adam Perlman as partner within the firm's litigation and trial department and IP litigation practice. Perlman is an experienced life sciences patent litigator who focuses on Hatch-Waxman trials and federal circuit appeals for major pharmaceutical companies. He also regularly handles inter partes review proceedings before the USPTO. Perlman will be working out of the Washington, D.C. office, and is joining the firm from Williams & Connolly. (BD)
In memoriam:
Dan Winfield passes away – WTR is sad to hear the news that Duncan Cotterill partner Dan Winfield passed away on Friday 17 January following a short illness. Winfield co-led the firm's IP practice with Scott Moran and had featured in the WTR 1000 for the past three editions. Our thoughts go out to his family, friends and colleagues. (JW)
And finally...
Managing Trademark Assets is next week – Following the success of this year's event, WTR's  Managing Trademark Assets Europe is back in London on 28 January 2020. The event provides an opportunity for attendees to hear best practice and insight from leading in-house counsel from the world's biggest brands as they discuss their approaches to critical areas, as well as share their own insights with peers and colleagues. For the upcoming event we are also increasing the interactive nature of the programme, introducing informal, small-group discussions on dispute resolution scenarios - allowing participants to workshop possible responses with their peers and colleagues. Among the other areas to be explored are budget management, dispute negotiation tactics, best practices around diversity and team building, and how to fight counterfeits on a finite budget. To sign up to attend Managing Trademark Assets Europe, click here. (TL)