Brands attracting attention of WallStreetBets; Beyond Meat and PepsiCo tie-up; CNIPA trademark growth – news digest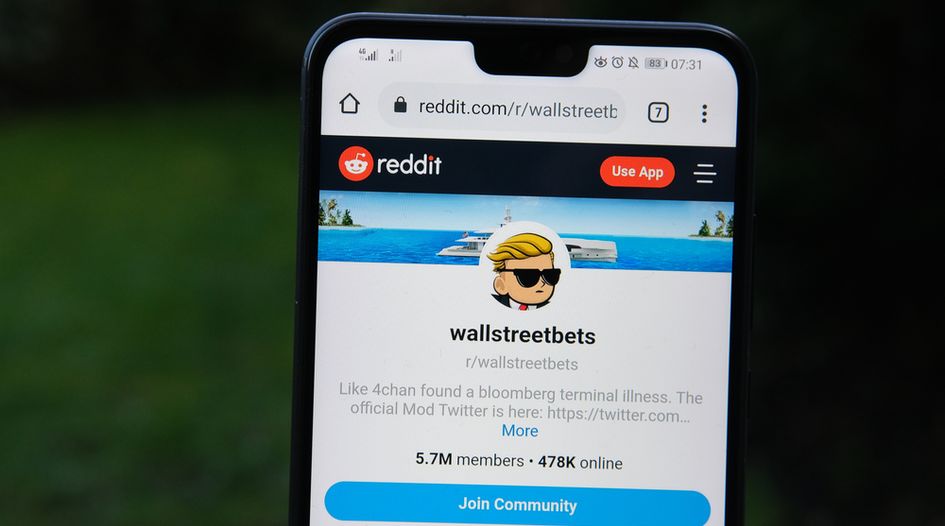 Every Tuesday and Friday, WTR presents a round-up of news, developments and insights from across the trademark sphere. In our latest round-up, we look at Hain Celestial considering the sale of its organic baby food brand, Huawei in early-stage talks to sell its premium smartphone brands, the IP Office of the Philippines (IPOPHL) experiencing its first ever drop in IP demand, and much more. Coverage this time from Trevor Little (TL), Bridget Diakun (BD), Jonathan Walfisz (JW) and Tim Lince (TJL).
Market radar:
CNIPA reveals 2020 trademark activity growth – The China National Intellectual Property Administration (CNIPA) has issued its annual IP statistics, stating that all of its major KPIs were met. As reported by China IP News, 5.761 million trademarks were registered in China in 2021, with the country also contributing 7,553 international trademark filings under the Madrid System.  Drilling down, it revealed that 149,000 trademark dispute cases were handled (an increase of 64.7% year on year) and 358,000 review and adjudication cases (up 7.8%) were concluded. Turning to GIs, the authorities received China received ten GI applications and approved six. In parallel, 1,052 businesses were certified to use a GI symbol and 765 GI trademarks were registered. CNIPA also provided an update on patent and trademark pledge financing, with a combined 12,039 such instances, with trademark pledge financing cases up 43.9%. (TL)
Hain Celestial considers sale of organic baby food brand – Hain Celestial is weighing the sale of its "Earth's Best" organic baby food brand, reports Bloomberg. The deal could be worth at least $200 million and the company is working with an adviser to find a buyer. Hain Celestial originally acquired the baby food brand in 2000. The US company is in the process of revamping its brand portfolio, having just disposed of its UK fruit business, including the Orchard House Foods business and associated brands, to a PE firm for an undisclosed sum. Hain Celestial is currently looking to seek a buyer for "Earth's Best". (BD)
Appdetex benefits from $12.2 million financing boost – Baird Capital has led a $12.2 million Series C financing effort in a bid to boost brand protection service provider Appdetex's growth, team and market opportunities. With the additional investment, Appdetex states that it will will enhance its patented technologies and grow its sales and service teams. "Malicious actors hawking fake sites, apps, ads, or with insidious purposes prey on internet users and try to insert themselves in between customers and the brands they trust," said Appdetex CEO, Faisal Shah. "For the valuable brands we protect, Appdetex mitigates digital channel risks on the internet, across advertising, social media, mobile app and eCommerce marketplaces as well as within other emerging digital channels. With this additional financing, we look forward to continuing to invest in our advanced technology and analytics platform to deliver innovative, multi-channel brand protection solutions for our customers." (TL)
Beyond Meat draws attention for high-profile partnership – Beyond Meat has announced the creation of a joint venture with PepsiCo which will see the pair focus on creating, producing and marketing new plant-based snacks and drinks. According to Bloomberg, the venture has been dubbed The PLANeT Partnership. Beyond Meat's shares surged on the news. This is not the first time that the LA-based plant-based meat producer has teamed up with big name brands, having partnered with chains such as Pizza Hut and Dunkin' and even having collaborated with McDonald's. Beyond Meat benefits from its relationship with recognisable brands as it helps to boost its own name and reputation. Importantly, PepsiCo "will bring its marketing, brand-building and distribution weight to the partnership". A collaboration of this kind will certainly help in Beyond Meat's efforts to raise its profile and penetrate new markets. (BD)
Huawei in early-stage talks to sell premium smartphone brands – Huawei is in talks to sell P and Mate which would see it eventually exit the high-end smartphone-making business, reports Reuters. Sources have not disclosed the valuation placed on the brands by the telecoms giant, but shipments of Mate and P Series phones were worth $39.7 billion between Q3 2019 and Q3 2020. The sanctions placed on Huawei by the United States have caused significant supply chain issues, which contributed to its decision to offload its budget phone brand Honor in November. It may be in a similar situation now where it hopes to keep the brands going by divesting them to a consortium. The company has publicly denied that it is considering the sale of the brands. (BD)
Discussion sparks after Pakistani Basmati GI registered – Earlier this week, Pakistan commerce adviser Abdul Razak Dawood confirmed that Pakistan had registered 'Basmati Rice' as a geographical indication (GI). It is understood that the GI has been mapped to region in Pakistan where Basmati is grown. However, the move has caused debate, with media reports claiming that the development in Pakistan would weaken India's case in the EU. According to Down To Earth, "India has applied for an exclusive GI tag to Indian-origin basmati rice with the EU's Council on Quality Schemes for Agricultural and Foodstuffs" – although it is understood the the Rice Exporters Association of Pakistan (REAP) has filed a notice of opposition against it. According to one expert, though, the two GIs – Indian and Pakistan-grown Basmati – can co-exist: "Pakistan has an equally strong claim over Basmati. It has been exporting Basmati, though much less compared to India, but one that is widely accepted, especially in Europe." (TJL)
Office radar:
(For more of the latest coronavirus-related updates from national IP offices, please read our dedicated article which is being continuously updated)
IPOHL experiences drop in IP demand for first time in its history – While many jurisdictions had a record trademark filing year in 2020, some experienced drops in demand. One of the latter group is the IP Office of the Philippines (IPOPHL). For the first time since its establishment 1998, filings at the office were down across all types of IP. In 2020, trademark applications contracted by 10% year-on-year to a total of 35,274. Patents, by 9% (to 3,648) and industrial designs by 23% (to 1,259). 2020 also marked as the steepest drop for trademark and utility model applications. Resident trademark filers, which accounted for the bulk of applications, declined 10% to 21,034. Trademark filings from non-residents dropped 14% to 6,827 while those made under the international Madrid Protocol slid 8% to 7,413.  "The sluggish flow of IP applications last year, which signify lower commitments to new intangible assets, was expected given the economic uncertainties subduing investment appetite," IPOPHL director general Rowel S Barba reflected. "But with the gradual opening up of the economy and the anticipated vaccine rollout, we hope to see more fresh investments in IP assets this year." (TL)
First EUIPO SME voucher scheme window set to close – The EUIPO has issued a reminder that the first application window for its new SME fund grant offerings closes on 31 January. The window opened on 11 January and is the first of five opportunities, the next window opening in March. Available to EU enterprises that meet the official definition of a SME, the Ideas Powered for Business SME fund offers financial support in the form of reimbursements for trademark and design applications and for IP pre-diagnostic services (IP Scan), up to a maximum amount of €1 500 per business. Hundreds of SMEs from all EU Member States have already applied to benefit from the scheme. The requirements, timing and other information relevant to the scheme can be found here. (TL)
Media Watch:
'Forgotten' brands re-enter the spotlight in stock market battle – Throughout the week, financial news has been dominated by a massive group of Reddit users taking on hedge funds that bet on the price of falling stock. It began with users on the 'WallStreetBets' subreddit "deciding to pour their money" into shares in video game retailer GameStop. It followed reports that hedge funds had bet on the retail brand's stock falling, meaning they would make a significant profit. With Redditors buying up the stock, the GameStop share price skyrocketed from around $18 to over $250 – meaning hedge funds have, at present, lost the bet and been forced to sell their stock at a massive loss. However, it is understood users on WallStreetBets don't intend to stop with GameSpot, and the share price of other oft-forgotten brands (or in some cases, bankrupted brands) have seen a spike in their share price this week, including Express Inc (+245%), AMC Theatres (+230%), Blockbuster Video (+181%), Nike (+50%), Build-A-Bear (+45%), BlackBerry (+24%), and Bed Bath & Beyond (+23%). Other brands that could be in Redditor's sights could be 'mom brands' such as J.Jill and Chico's, claims Refinery29. With Redditors pledging to band together and take on hedge funds that generate significant revenue from short-selling, forgotten or zombie brands could suddenly be back in the media spotlight – even if the business behind the share price isn't resurrected. (TJL)
On the move:
BakerHostetler expands IP group – Timothy A Worrall has joined BakerHostetler as a partner in the firm's Denver and San Francisco offices. Worrall is a patent prosecutor who has previous experience working as a patent examiner at the USPTO. (BD)
And finally...
WTR Connect returns this spring with five days of strategic content – The second WTR Connect series of digital events will take place the week commencing 15 March 2021. The event will offer more than 20 interactive digital sessions, each designed to facilitate discussion, benchmarking and the sharing of best practice around key topic areas and challenges facing trademark and brand leaders. The theme for the event is 'exchanging cost-effective and resource-efficient best practices' and each day will start with a keynote address from a major industry figure, which is followed by live breakout discussions lasting for a maximum of 60 minutes. Registration is free for WTR subscribers and participants can register for as many sessions as they like across the week, building their own schedule. For event timings, and to sign up to attend, please click here.