Brand Protection Online: leading industry experts to gather in London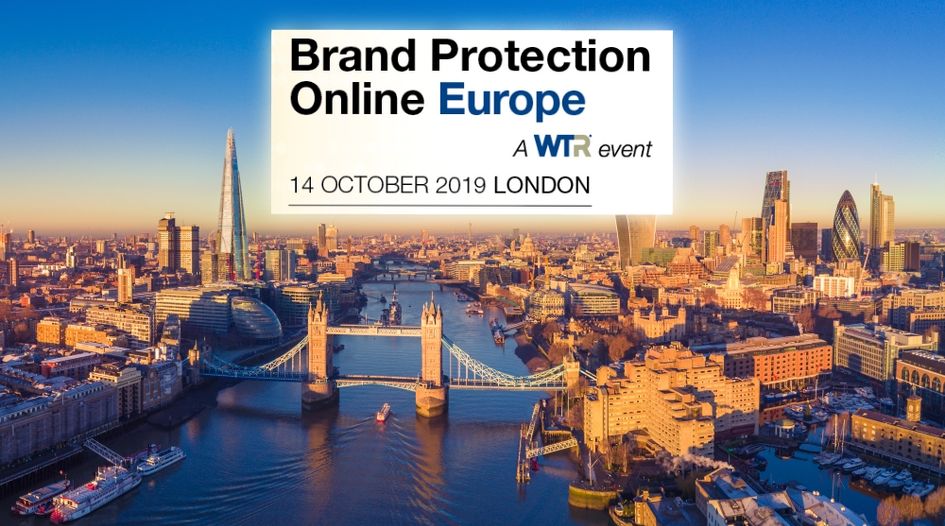 WTR is pleased to announce that, following a sold-out debut in Chicago, its Brand Protection Online event is heading to London in October. As such, the full programme, which spans fighting infringement in the e-commerce and social media environments, navigating data privacy laws and future-proofing enforcement strategies, can now be revealed.
On 5 March 2019, the inaugural Brand Protection Online event took place in Chicago, providing a unique forum for brand professionals to discuss solutions to the challenges that arise when protecting trademarks online, share insight on how to prioritise enforcement efforts and get the inside track on new strategies to overcome the difficulties posed by ever-changing privacy laws. Some of the takeaways from the day are presented here. Following the sell-out success of that event, WTR is now bringing the forum to London on 14 October 2019.
In the coming weeks we will announce the first confirmed expert speakers. In the meantime, we can now reveal that the event programme will cover:
Developing a state-of-the-art online brand protection strategy
As online and technological environments continue to develop, so do the opportunities for brands. But at the same time, so do the openings for counterfeiters and infringers ready to capitalise.
Future risks and opportunities: identification and reaction
Managing resources and the need for external support
The value to the business
Fighting infringement on e-commerce sites
Established and new marketplaces mean the internet is an open playing ground for counterfeiters and infringers. How can brands effectively prioritise, determine where to focus efforts, and understand the enforcement options available?
Policing and tolerance
Assessing enforcement options
The rise of new e-commerce marketplaces
Brand protection strategies for social networks and apps
Social media is now an integral part of business strategy, enabling organisations to maximise online revenue channels. However, while opportunities arise so do threats and risks but all in the watchful eye of the consumer.
Ethical enforcement in the online world
Brand reputation: the do's and don'ts
What does the future look like?
Managing the changing domain name landscape
With the ever-expanding domain name environment, new risks are emerging and rights protection mechanisms are under scrutiny. Being prepared and ready to deal with the implications is crucial for brand owners.
What's in store for brand protection with new gTLDs
The RPMs review: a new enforcement landscape?
Determining unavoidable action and when it is a risk
Data privacy and GDPR: working within the rules
The recently enforced GDPR and other changes to data privacy laws raise potential impacts for rights holders. Set out to do many positive things, GDPR has significant potential impacts on WHOIS.
Data privacy impacts on enforcement efforts
What happens next with WHOIS access?
Remaining effective without increasing costs
Delegate places at the event cost £495 (excluding VAT) but – until 6 September – a saving of £100 is available when using the following code: BPO100.
To register for Brand Protection Online Europe, click here.