Brand Protection Online Europe: Coty, Maus Freres and Superdry professionals among first speakers revealed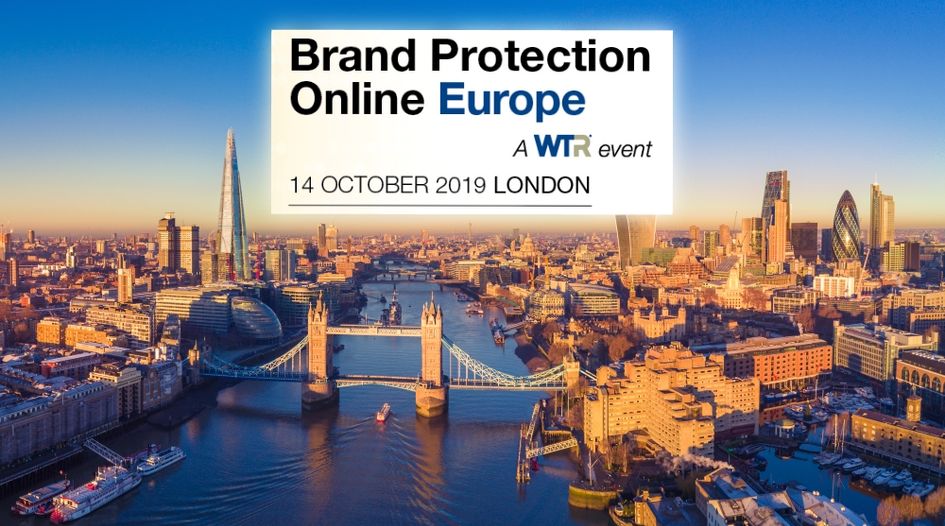 WTR is pleased to announce the first speakers for Brand Protection Online Europe, taking place in London on October 14 2019. Amongst the first names revealed are trademark experts from AccuWeather, Alibaba, BP, ACT, Johnson Controls, Maus Freres and Tonino Lamborghini.
On 5 March 2019, the inaugural Brand Protection Online event took place in Chicago, providing a unique forum for brand professionals to discuss solutions to the challenges that arise when protecting trademarks online, share insight on how to prioritise enforcement efforts and get the inside track on new strategies to overcome the difficulties posed by ever-changing privacy laws. Following the sell-out success of that event, WTR is now bringing the forum to London
The first speakers confirmed to the stellar speaking faculty so far are:
Matthew Bassiur. VP, head of global IP enforcement, at Alibaba Group
James Beeton, brand protection officer at Superdry
Jennifer Chung, general counsel at AccuWeather
Eva Constantini, attorney at law, IP specialist at Tonino Lamborghini
James Graham, vice president, chief intellectual property counsel, at Johnson Controls
Michelle Levin, assistant general counsel, digital & privacy, at Coty
Peter Ratcliffe, detective superintendent, national fraud lead, at The City of London Police
Brian Scarpelli, senior global policy counsel, at ACT
Daniel Shapiro, head of global and strategic partnerships at Red Points
Zeeger Vink, IP director, at Maus Freres
Giovanni Visintini, counsel, brands at BP
This panel of experts, which will be expanded in the coming weeks, will participate in deep-dive sessions covering:
Developing a state-of-the-art online brand protection strategy
Fighting infringement on e-commerce sites
Brand protection strategies for social networks and apps
Managing the changing domain name landscape
Data privacy and GDPR: working within the rules
Delegate places at the event cost £495 (excluding VAT) but – until 6 September – a saving of £100 is available when using the following code: BPO100.
To register for Brand Protection Online Europe, click here.