Blockchain debate; tips for Singapore 2023; New York fashion accountability law warning – INTA 2022 day two report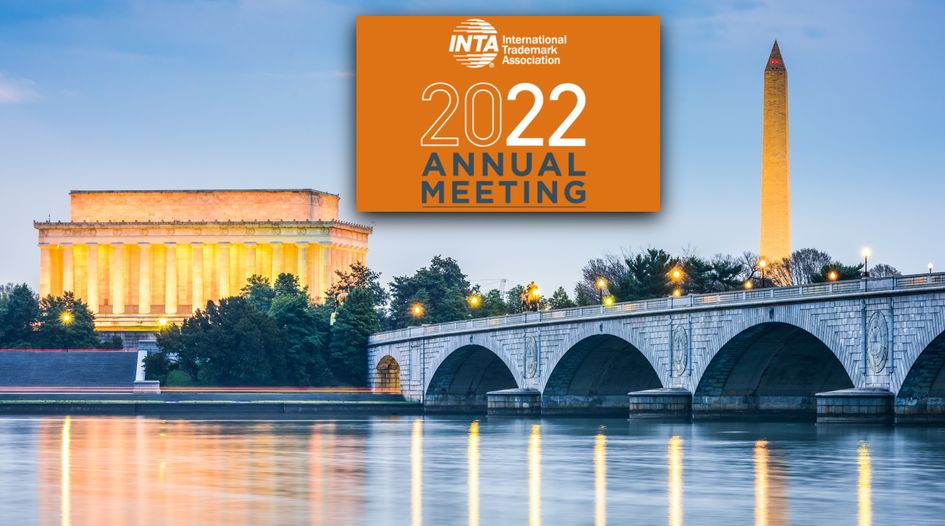 The Monday of the INTA Annual Meeting marks the halfway point of the event and is often the busiest day for attendees. Trying to keep up with the pace of activities, the WTR editorial team of Trevor Little (TL), Tim Lince (TJL), Victoria Arnold-Rees (VAR) and William New (WN) present some of their highlights from the second jam-packed day.
In case you missed it, you can read our highlights from Sunday's activities and sessions here, and don't forget you can meet the WTR team at stand 206 in the exhibition hall.
Heading to Singapore in 2023? You may want to start looking at hotel options – Two moments from the Annual Meeting opening ceremonies were on the lips of delegates through Sunday evening. The first was the group hug that Andy Stalman, CEO of Totem Branding, called for during his keynote. Opinion remains split on whether this was a much-needed release after two years of covid or a bold move given that the pandemic persists. The second was the announcement that the 2023 global gathering of brand professionals would take place in Singapore. The reaction among delegates has been positive. In some respects, the announcement was no surprise. Singapore was due to host the Annual Meeting in 2020, but that was postponed due to the pandemic. INTA will have invested in that event and engaged in significant planning, so reactivating those plans makes logistical and commercial sense. There are also strategic reasons why a return to Asia is appropriate – and was likely to happen before 2024, as this author wrote late last year. Now that we know the plan, attendees that I spoke to last night were looking forward to what will be only the second Annual Meeting to take place in Asia (after 2014's Hong Kong jaunt). One Singapore-based corporate counsel had an important message for those planning to head to the Lion City: "Start looking at hotels now!" The island city-state has impressive facilities for hosting a large-scale gathering, but he expects the competition for hotel rooms to be fierce. Time to start planning that trip. (TL)
INTA 2023 pre-registration opens as delegates given inside track on Singapore – Hot on the heels of the announcement that the 2023 Annual Meeting will be held in Singapore, a stand appeared in the convention centre, introducing delegates to the location, as INTA opened pre-registration for the gathering. This year's Annual Meeting Live+ member registrants, including virtual-only registrants, can sign up for the Singapore meeting and receive a 10% early bird discount. As to what they can look forward to, WTR spoke with a representative on the stand this afternoon, who revealed that the weather ("unlike Hong Kong, we don't have typhoons!"), hotel recommendations and the situation surrounding covid were the three most popular question topics among delegates. The feedback so far has been "really positive", they added. And compared to this year's venue, the convention center in Singapore is "really compact", they noted – think more vertical, so attendees can "arrange chats on the escalators". Delegates can visit the stand for details of those all-important hotels to start considering now. (TL)
NFTs and the metaverse: big problem or fear mongering? – It seems that every INTA Annual Meeting has a hot topic that everyone wants to discuss. In recent years, Brexit, AI and 3D printing have had numerous sessions dedicated to them and been a focus point of discussion during meetings. This year, the metaverse, blockchain and NFTs have been the buzzing topics, with dedicated sessions and mentions in dozens more (including yesterday's right of publicity session). The ballroom was packed to the rafters for today's 'Blockchain, Cryptocurrency, and NFT Breakdown – What You Need to Know' session, with every seat filled and standing room relatively limited. In all, speakers explained the world of crypto to attendees clearly eager to get their head around such a technical topic. There are, of course, significant IP implications and risks – especially with NFTs, which WTR has written about numerous times, and the experts on the panel did a noble job in explaining them. However, some attendees appear to have concerns that aspects of the session (eg, the warnings over blockchain domain names) may have been overblown. "The fear has been monged," tweeted Leason Ellis partner Marty Schwimmer, with an anonymous attendee describing some of the claims as "irresponsible". Some data suggests that interest in NFTs is "falling fast", so it will be interesting to see whether NFTs remain a hot topic at next year's meeting in Singapore – or whether it becomes an enforcement risk that fades over time. (TJL) 
Tang encourages IP professionals to support "force for good" initiatives – Spread the word, intellectual property is a "positive force for good", WIPO director general Daren Tang told attendees of the INTA opening ceremony. Before yesterday's speech, Tang had been in Washington DC for nearly a week, appearing on stage for the USPTO's World IP Day celebrations, speaking at his alma mater, Georgetown University, meeting with new USPTO director Kathi Vidal and connecting with US Copyright Office director Shira Perlmutter and members of Congress including Senator Thom Tillis and Representative Hank Johnson, the US Chamber of Commerce and other stakeholders. During his speech, Tang encouraged INTA participants to join WIPO in its initiatives worldwide and said that the UN agency would be reaching out to them more in the coming years. "My invitation to you is to join us in this journey," he said. Be bilingual, be inclusive and be global, he urged IP professionals. By bilingual, they should continue to speak in technical terms about intellectual property, but should also be able to explain to friends, family and others in understandable terms. WIPO is increasing its training programmes not just for professionals but also for creators and others who need a basic understanding of the IP system. Together, we can shape the future of the global IP system and "really make it a system where a great idea from anywhere in the world can be used to change the lives of everyone", he concluded. (WN)
Shaping the next generation of IP offices – In a late Monday session entitled 'IP Office of the Future: How to Build an Action Plan for a 21st Century IP Office', a superstar panel of IP agency heads discussed their strategies to improve IP operations for the years ahead. A key trend was on the different approaches being taken depending on the needs of a jurisdiction. For example, USPTO trademark commissioner David Gooder spoke on the questions that need to be asked when the registry considers implementing new tools or services. "Firstly, we have to ask, 'what is the customer benefit to do this?', and then we ask, 'can we realistically do this?', and then it becomes 'what can we do to include this initiative as part of what we do already?'" he said. Another key consideration for the USPTO is the staffing that will be required to introduce new services. For example, if examining attorneys get pulled away from their primary job to help with an innovation initiative, it could have an impact on the ongoing application backlog. Elsewhere, UKIPO CEO and comptroller general Tim Moss explained how one efficiency project involves rolling separate services under one umbrella. "At one point, we had 16 different ways to change your address," Moss said. "We are now going through a transformation process where we have one way of doing things; having a customer account where all these processes can be performed with a single action." In Spain, OEPM director general Jose Antonio Gil Celedonio went in-depth about the financial considerations that must be considered when looking at innovative services – even describing the agency's financial stability as "both a sword and a shield" (a shield as it can be used as "a tool to deal with other parts of the national administration", and a sword "because it allows us to face the challenges of the future"). If money is not necessarily an issue, then, Celedonio says that it naturally leads to one question: "Should we focus on strength in our current service or on offering new services that are also needed for our users and our public and private systems? I think the answer is, of course, both." (TJL)
Fovea IP takes next step to streamlining opposition instructions – Fovea IP is using the opportunity of the INTA Annual Meeting to get early stage feedback on new development ideas. On Monday, the worldwide search and watching service provider organised an open forum to present a new project, 'Simplification and streamlining of cross border trademark opposition instructions'. "The usefulness of this forum is that it confirms the interest of our clients and the industry to go this extra step", said Patrice Vekemans, Fovea IP chief commercial officer. Each year, millions of new trademarks are filed and more marks are being watched, which leads to more watch notices sent to trademark professionals. Fovea IP aims to assist clients by reducing the time spent managing watching. The company achieves that in three ways: reducing the amount of notifications by increasing their relevance; helping clients decide to oppose or not by providing them with the relevant information (eg, comparison of the watched trademark with the found trademark, information on the owner of the found mark and detailed information on prior rights); and helping clients to send out their advice to end-clients efficiently. The testimony in the room showed the project to be well received, with support for the centralisation of information. It revealed how different oppositions are in jurisdictions such as Europe, the UK, the US, Africa, Australia, South America and China. The company is now proposing to help its clients by simplifying and streamlining the opposition instruction process by providing them with various potential deliverables, such as  access to the detailed rights of the parties, an overview of the concerned jurisdiction specifics, a possibility to choose a local agent from a list of available agents, keeping them informed on related issues and suggesting a list of relevant questions to ask the local agent, and generating a power of attorney or other formalities. "The forum showed that Fovea IP is on the right track to meet market needs and complete the tool with additional suggestions and put the focus on the most promising parts," Vekemans said. (WN)
Locals welcome badge-wearing delegates – It is worth remembering that, unlike previous years, this year's INTA Annual Meeting is being held at a time when nearly all large-scale gatherings across the world have been postponed or cancelled. This, of course, includes events held at the current venue, the Walter E Washington Convention Center. With nearly 7,000 in-person attendees, and possibly thousands more coming to the city for meetings and networking, the impact is clearly being felt. One DC resident asked why everyone was wearing a badge around the area, and spoke how it was refreshing to see large events returning to the city. "I live around here and it's been like a ghost town for a couple of years," they said. "So it's nice to see so many people about – it's good for the community and good for the local businesses." (TJL)
Custom ribbons make a return – It wouldn't be the INTA Annual Meeting without delegates hanging numerous ribbons from the bottom of their badge. This year, INTA has provided a large selection, most of which are designed to indicate professional positions and committee memberships. There are also two diversity ribbons – 'Breaking the barrier' and 'Become change' – to reflect the organisation's continued commitment to diversity and inclusion. Elsewhere, Brandshield is providing a line-up of more offbeat ribbons, such as 'Been there, done that', 'Gamer', 'Bored member' and 'Party animal'. The most popular have been 'Where is the alcohol?', 'Show me the money', 'Official something', 'Politically incorrect' and 'Superwoman', a Brandshield representative told WTR. Naturally, the ribbons can't please everyone. There have been calls for a 'vegan' ribbon, the representative told us. But they are a fun way for delegates to express themselves. Our hope for next year: fully customised ribbons, printed at the exhibit stand, where delegates can add their social media handles. (TJL)
Global fashion brands should prepare for New York fashion accountability law – The pending New York Fashion Sustainability and Social Accountability Act aims to hold major fashion companies from around the world accountable for the adverse impact that they have on the environment and society. If passed, the act would require fashion retailers and suppliers that do business in New York state and have annual revenue that exceeds $100 million to report their contributions to greenhouse emissions, provide supply chain due diligence, disclose the materials that they use, publicly report on labour data and set targets to reduce their adverse impact on both the environment and society. "If this passes, you're going to have to hire someone capable – it is a lot of work," said Barbara Kolsun, director of the FAME programme, fashion law at Benjamin N Cardozo School of Law, urged major fashion brands at Monday's session on the Interplay Between Brand Value and ESG Initiatives. But the benefits would outweigh any compliance issues, she insisted. The US fashion industry is relatively unregulated, yet apparel and footwear is responsible for between 4% and 8.6% of the world's global greenhouse gas emissions – more than France, Germany and the United Kingdom combined – and substantial labour exploitation. "Self-regulating is not a fair thing to ask of an industry. We need to be helped," said Kolsun, quoting Stella McCartney. The new act would provide this help by outlining mandatory reporting requirements – ultimately setting a positive precedent for brand owners. A broad coalition of groups have embraced the proposals, Kolsun said. But coalitions such as the American Apparel and Footwear Association and the the Council of Fashion Designers of America have so far taken a 'wait and see' approach to the bill's passing. "There's been a lot of positive response to this bill, but there's a lot of work on the language that still has to happen," Kolsun said. If the bill is not passed within the next five weeks, it can be reintroduced in January 2023. Either way, it is a legislative development that fashion brands around the world should be monitoring closely. (VAR)
Stay tuned – Don't forget you can keep up to date with the latest INTA Annual Meeting news and insights on our Twitter feed.