Black Lives Matter brand battle; French IP office exclusive; trademark services survey results; and much more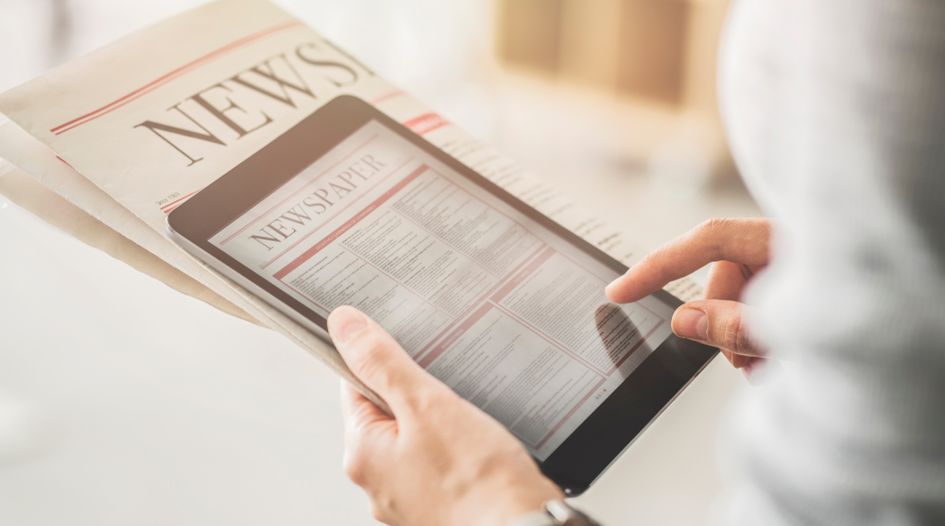 Everything we covered on WTR over the past seven days – and all you need to know from the world of trademarks to set yourself up for the start of another busy week.
WTR is now seeking nominations for the WTR Industry Awards 2021 and next edition of WTR 300: The World's Leading Corporate Trademark Professionals. Click here to access our short survey form and ensure that your peers and colleagues receive the recognition that they deserve.

Monday 7 September
A WTR poll of trademark service users revealed that not only is innovation key to attracting new clients, when it comes to portfolio management and monitoring, pricing and billing options take a backseat to the performance and reliability of the systems on offer. Read more
Trademark practitioners around the world discussed the long-lasting impact that the covid-19 pandemic and latest technological trends are likely to have on IP practices, client demands and the wider brand protection landscape. Read more
WTR's Global Leaders explained why knowledge sharing, digital flexibility, corporate social responsibility and online marketing will be the cornerstones of any future brand protection strategy. Read more
In the latest of our new innovation series, the CEO of the French National Institute of Industrial Property discussed the tools and services that the office has launched over the past 12 months. Read more
Tuesday 8 September
In our Tuesday round-up, we reported on outrage over a WWE order regarding names and likenesses, Bumble announcing plans to go public, why counterfeiting remains a problem on Taobao, and much more. Read more
A WTR investigation found more than 50 attempts to register Black Lives Matter brands in 2020 so far, with one activist telling us that legal protection is necessary "so that people can't profit from it who haven't shed blood for this movement". Read more
We examined India's new extensive guidelines designed to regulate advertising and clamp down on misleading claims and practices, including due diligence expectations for brand ambassadors. Read more
Wednesday 9 September
In-house and private practice gurus offered words of wisdom for the next generation of IP professionals. Read more
A WTR survey revealed that customers of non-legal trademark service tools are regularly reviewing their processes and taking their business elsewhere – suggesting that there is an opportunity for suppliers to attract new clients if they can tap into unfulfilled needs. Read more
With national IP offices continuing to respond to covid-19, the South African Companies and Intellectual Property Commission published a public letter outlining the effects that load-shedding has had on office work and the German Patent and Trademark Office confirmed its closure to the public. Read more
Thursday 10 September
Experts on the ground argued that rising enforcement efforts by US Customs and Border Protection, the Jamaica Constabulary Force and INTERPOL show an increasing concern for IP rights in the Caribbean. Read more
Finnegan's Robert G Kramer provided a number of best practices for reducing legal risks when marking trademark registrations on websites with global reach. Read more
We asked what Facebook's political ad policy change tells us about brand-led action and whether it can be resisted by companies with significant market power. Read more
Friday 11 September
In our Friday news digest, we looked at why livestream counterfeiting is a growing problem in Vietnam, the AIPLA naming its new executive director, the Uzbekistan IPO signing an anti-counterfeiting memorandum, and much more. Read more
Russia has exhibited strong filings growth on the back of changes to its intellectual property system, with a noticeable uptick in local brands pushing for the protection of their rights. We delved into the latest data. Read more
This week Professor Joseph Nye, originator of the phrase 'soft power', expanded on the relationship between nation and corporate brands – and also shared his thoughts on how the United States' soft power has been affected by its leadership throughout the years. Read more
In an extract from an upcoming WTR feature on online brand enforcement, we highlighted five key ways in which brand owners can leverage technology to combat tech-savvy pirates and counterfeiters. Read more
Saturday 12 September
We presented a selection of articles exploring the growing trend of third parties seeking to capitalise on tragedies, movements and high-profile events. Read more
Book your place at WTR Connect today.