BLACK LIVES MATTER and I CAN'T BREATHE trademarks filed: Manchester businessman plans charitable foundation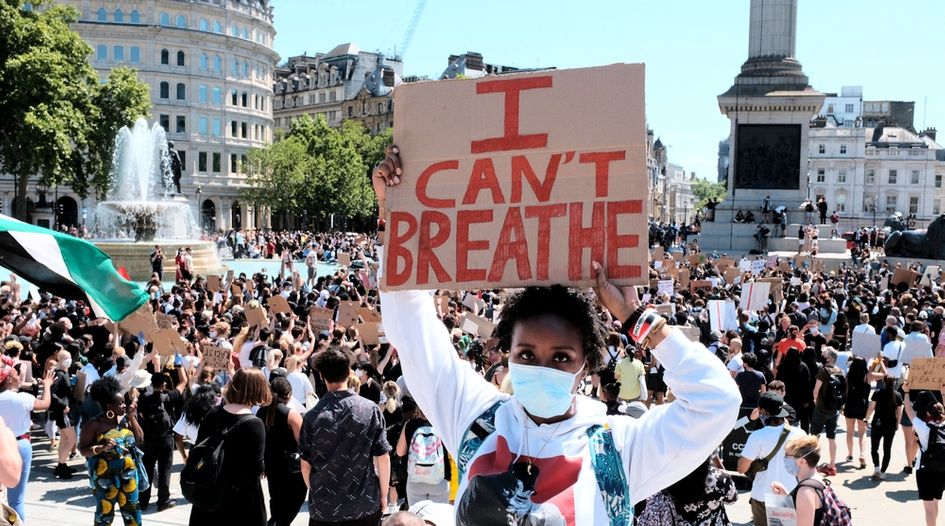 Trademark applications for I CAN'T BREATHE and BLACK LIVES MATTERS filed in UK
Businessman behind applications tells WTR he plans non-profit entity using the terms
Explains that, if trademark is granted, he would seek royalty fees for third-party use
Two trademark applications have been filed at the UK Intellectual Property Office (UKIPO) for the terms BLACK LIVES MATTER and I CAN'T BREATHE, terms associated with the ongoing worldwide protests following the death of US citizen George Floyd. The applicant behind the trademarks, Manchester-based businessman Georgios Demetriou, tells WTR that he plans to launch a non-profit organisation to help disadvantaged children – and, if the marks are granted, will seek a royalty fee from any other entities that uses the terms in the UK.
As WTR reported yesterday, a number of trademark applications have recently been filed in the European Union, United Kingdom, and United States for the terms GEORGE FLOYD and I CAN'T BREATHE. It follows Black Lives Matter protests against racial injustice and police violence sparked by the killing of George Floyd in Minnesota police custody, with a video showing Floyd pinned down for more than eight minutes and repeating the phrase 'I can't breathe' as an officer knelt on his neck.
Following our reporting, WTR identified two more trademark applications in the UK that are directly related to the protests. The applications are for the terms I CAN'T BREATHE and BLACK LIVES MATTER, and were both filed on 6 June 2020 by the applicant Georgios Demetriou of Licence to Thrill Ltd. The BLACK LIVES MATTER application is being sought for various clothing goods. On the other hand, the I CAN'T BREATHE application is for a wider range of goods and classes (including fundraising for charity, charity wristbands, and articles of clothing) and contains a disclaimer on the application which states: "This trademark is to be used for charitable work and not for personal gain on the back of recent unfortunate events."
These trademark applications have sparked some anger with attorneys that WTR has communicated with. For example, Urquhart-Dykes & Lord partner Mark Green asked whether the filings "are exploiting one of the most politically charged events in the last 50 years", adding: "I may be wrong, but Licence to Thrill seems to be jumping on the bandwagon. If they are, I trust they will be assigning any rights they may obtain to the official Black Lives Matter movement in the USA."
However, the applicant behind the filings firmly denies any wrongdoing. Georgios Demetriou is the founder of License to Thrill, which has operated the online bicycle store Ridelow in Manchester, England since May 2000. In conversation with WTR, Demetriou reveals that he intends for the two trademarks to be used for "a charity to help the inner-city kids in Manchester", explaining: "My goal is to raise a lot of money and hopefully send kids from poor inner-city and ethnic backgrounds into private education. It's not just parents that are privileged who want to send their kids to private schools, it's many inner-city children who have got talent as well and, perhaps because they're mixing with peers, they won't get that chance. It's only when these people get well educated and get into better jobs, and perhaps into politics, that we will have a fair, true representation in this country."
The plan, Demetriou says, will be to launch two organisations – the 'Black Lives Matter' entity will be focused on education, while the 'I Can't Breathe' entity will be "a voice for the young people". While clearly in the early stages, he adds that he plans to work with local community centers and youth workers to help set it up. Current ideas to fundraise include selling products and hosting events, with the hope of getting government funding to aid efforts too. "Those words, 'I can't breathe' and 'Black Lives Matter', will appeal to a lot of people and they will pay heed, and we will use that to generate money which will go to people that deserve it," he tells us. "Ultimately, I've got my own business, my own money, and enough to live on – I just want to give something back to Manchester, and perhaps nationally in the future."
Of course, should the trademarks reach registration, Demetriou will need to enforce the rights, and that includes protecting against unauthorised use by third parties. To that end, he says he will hire a legal team to specialise in protecting the marks. "I will let other organisations use the terms as long as they pay a royalty to the charity," he adds. "Once I've got the trademarks, the charity will be run effectively like a business, and we will see who is saying the right things – we don't want people just arranging protests for the sake of it. We want to engineer processes that will generate the right publicity, such as signed petitions and turning up at 10 Downing Street. I want to see things that get direct results rather than a lot of middle class white students going on a protest. I don't want these terms to be a fashionable thing, I want them to be life-changing."
There is also the question of George Floyd's family, and whether they will approve of use of the term 'I can't breathe' by an organisation not directly associated with them. Demetriou says that, while he hasn't sought permission, he will be open to working with any foundation that the family may set up in the future. "If I can encompass the Floyd family, such as helping his daughter, brilliant – but I don't think I'll have the power to do that as I don't think the family will be interested in me," he says. "I hope they are, but my aim is to touch the people that are closer to begin with and work in association with the family. If the family says they don't want me to use the name, I will state my case on why I want to use it. Ultimately, I'm not going to use it; it's going to be used for thousands of other people. If other think they can use [the trademark] better than me, and use it in Manchester, then I'll give it to them tomorrow."
It appears, then, that Demetriou has good intentions. However, registration is far from guaranteed. Talking to WTR, Lee Curtis, chartered trademark attorney at HGF, explains that both applications face distinct obstacles. When it comes to the BLACK LIVES MATTER application, he suspects the UKIPO will view it as "a non-distinctive term which describes a social movement which should be free for all to use", adding: "I have severe doubts anyone will be able to monopolise the use of such a term as a registered trademark. After all, a trademark is defined as distinguishing one undertaking from other undertakings. Black Lives Matter, in my opinion, is not a term which does that and was never envisaged to do that. It does not define a single commercial undertaking it describes a social and campaigning movement and simply would not be viewed by the public as a 'brand'."
Turning to the I CAN'T BREATHE application, Curtis says that Demetriou is probably aware of the challenge to registration due to the disclaimer on the application that it is "not for personal gain". However, Curtis is still doubtful that the application will be successful. "I think it likely that the UKIPO will find that I CAN'T BREATHE cannot act as a trademark and is a term which should not be monopolised, particularly by any party which may well be not connected to the family of George Floyd or his estate. Further, it is still possible that such an application will encounter an objection based on being contrary to public morality and in bad faith."
That point was reiterated by Sanjay Kapur, partner at Potter Clarkson , who claims that "it is highly questionable what commercial justification may exist for such applications", concluding: "Firstly, it is not clear on what grounds the applicant feels it is entitled to a monopoly for these words covering clothing, jewellery and charitable services. Secondly, the intended use of the resulting registrations is also hugely questionable, since enforcement and commercialisation would be extremely insensitive and likely to cause considerable public alarm and offence."
While the swathe of trademark applications for terms so powerfully linked to the ongoing protests have been the focus of ire, Demetriou has stressed that his intention is not to profit from the terms. He may find, though, that that is not enough for the IP offices handling applications for these protest-related terms.
Update (17/06/2020): Demetriou withdrew the trademark applications on 17 June 2020 following the negative response to the filings and reported threats to his business (read more here).