Beto on trademarks, USPTO warned over cyber risk, and 3M puts brakes on opposition: news digest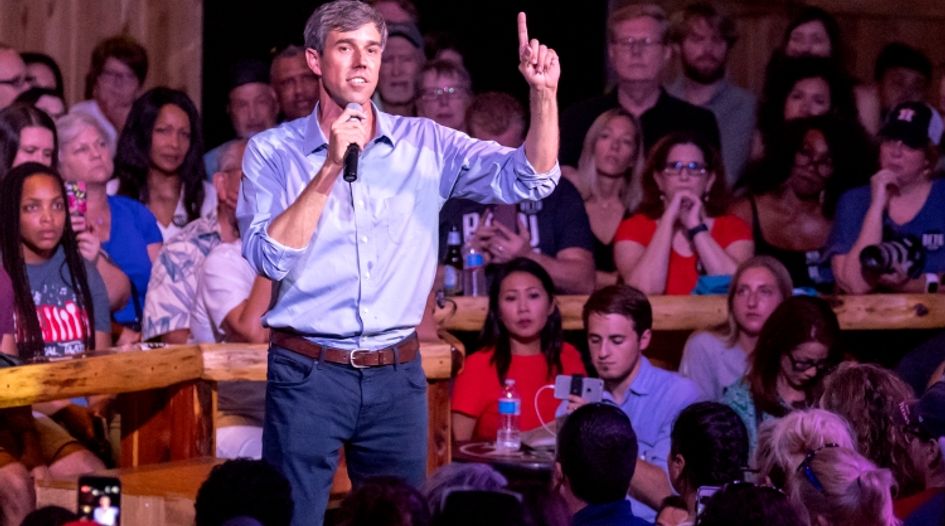 Every Tuesday and Friday, WTR presents a round-up of news, developments and insights from across the trademark sphere. In our latest edition, we look at Vietnamese IP laws being updated, esports teams seeking out sponsors in Cannes, beauty brands fighting over a make-up mark, an engineer vents over counterfeits, and much more. Coverage this time from Trevor Little (TL), Bridget Diakun (BD), Jonathan Walfisz (JW)  and Tim Lince (TJL).
Market radar:
Beto on trademarks – As the 2020 US presidential election kicks off, citizens in the United States (and beyond) are going to be bombarded with political messages for the next 18 months. As a means to get in early, WTR emailed all 24 current Democratic candidates for the presidency to ask for their background, philosophy and policy proposals related to intellectual property. Only one candidate responded with their insights. A spokesperson for Beto O'Rourke offered WTR his thoughts on IP and the current administration. The statement in full: "Some of the greatest global challenges we face will require productive engagement with the largest economies in the world. The Trump Administration has failed to protect our businesses and ensure fair economic practices to the detriment of the long-term health of the US economy – all while endangering our relationships with our trading partners around the world. As a small business owner of a high-tech company in El Paso, Beto O'Rourke understands how critical trademarks can be when trying to protect American ingenuity in a global market. He believes that in order to protect the brands of American suppliers, producers, and workers – who are fundamental to the success of the US economy – we must work strategically with our partners to ensure they respect our intellectual property." Does the low response rate to our enquiry suggest that the other Democratic candidates don't care about intellectual property? Realistically, of course, the answer is no – the pace (and email inbox) of a primary campaign must be frantic, and we expected to get few responses. Nonetheless, it's positive to see at least one candidate publicly comment on the importance of trademarks for the US economy. We'll continue reaching out to the candidates as the months roll on. (TJL)
USPTO warned over cyber risk – This week the Fed Scoop website reported on a new audit conducted by the Department of Commerce Office of Inspector General, which warned that the USPTO has "inadequately managed" its active directory and "poorly protected" critical IT assets hosting it. As such, it is putting its mission at "significant" cyber risk. The audit pointed to an "inadequate" configuration of USPTO's active directory, stating: "We remain concerned with USPTO's commitment to prioritizing improvement of its security posture." (TL)
Esports team seeks out sponsors in Cannes – Activision Blizzard has had a busy week at the Cannes Lions International Festival of Creativity, an event for marketing communications. The esports team has set up shop to help bring further attention to the sport, which we recently covered in depth. Daniel Cherry III, the chief marketing officer at Activision Blizzard Esports, was set on a mission to further publicise the competitions, particularly his company's Overwatch League. Ideally, Cherry is trying to find sponsors which can help elevate their platform. It is worth noting that the OverWatch League is already sponsored by Coca-Cola, Toyota, T-Mobile, HP and Intel, confirming that some major brands already see the commercial potential in this fledging industry. (BD)
Hong Kong raid yields HK$1 counterfeit repairs on international smart phones – As reported in the South China Morning Post, a Hong Kong smart phone repair shop was raided with authorities seizing HK$940,000 (US$120,000) of fake goods. The operation, running from a 5,000 sq ft unit with three workers, was having smart phones sent from the US, the UK and Australia. Around 100 phones were found on site and suspected to have been sent from overseas. In total, 3,900 counterfeit phones and parts with Apple iPhone and Samsung branding were confiscated. The director and manager of the local company were arrested alongside the raid. (JW) 
Vietnamese IP laws updated – Over on Lexology, Tilleke & Gibbins discuss the updates to Vietnam's IP law. Now complying with the terms of the Comprehensive and Progressive Agreement for Trans-Pacific Partnership (CPTPP), the new laws were ratified on 14 June. Updates were made to the methods to determine whether a term is a common name and therefore not a Geographical Identification (GI). GIs were also updated to be the same to previously registered or pending trademarks that are likely to cause confusion with the origin of the prior trademark. GI rights can now be established under international agreements which Vietnam is contracted to. On the trademark side, there is now an electronic filing system, as well as an update to licensing practice. Now a licensee's use of a trademark constitutes use of a mark by the trademark holder. Updates have also been made to grounds for claiming compensation, restitution of lawyer fees as well as the patent law being amended. These changes come at a vital time in Vietnam's IP landscape, as the country is set to become one of Asia's main manufacturing hub. (JW)
Risk of return fraud increasing – Return fraud is still a rampant issue, reports The Fashion Law. The problem became apparent in the mid-2000s when department stores were flooded with counterfeit jeans. Rather than buying the counterfeits, consumers were actually buying authentic jeans and then returning the knock-offs. The issue seems to have become worse over the years. In 2018 there was $369 billion worth of products returned in the US. According to Appriss Retail, between $18 and $24 billion of these returns were linked to fraudulent activity. This is partly due to the fact that the "quality" of counterfeits is improving, making them nearly identical to the real product. The practice of return fraud highlights the risks faced by luxury producers and need for a more advanced solution which keeps pace with the counterfeiters. (BD)
Legal radar:
3M puts the brakes on trademark spat – When Liberty Media gained ownership of motorsports series Formula 1 in late 2017, they unveiled a new logo for the sport. The logo was met with a tepid reception from the sport's community. However, Liberty Media were far more concerned with the reaction from 3M. They argued that 3M's Futuro logo, registered with the EUIPO in June 2017, was likely to be confused with the new F1 logo, which was filed in November 2017. The two entered into legal proceeding with the EUIPO in 2018. F1 conceded that they would exclude therapeutic clothing – the Futuro brand is used for orthopaedic and therapeutic products – from the scope of its trademark filing. In April, F1's trademarks were updated and 3M was given until 20 July to respond. The F1 lawyers can breathe a sigh of relief as 3M has withdrawn their opposition of the trademark. (JW)
Face-off: Beauty brands fight over makeup mark – Cosmetics brand Tarte has filed a complaint to the New York federal court alegging that Natasha Denona Make Up is infringing on its trademarks, reports The Fashion Law. Tarte's BLUSH & GLOW and BRONZE & GLOW trademarks have been used in connection with the brand since 2012 and 2013 respectively. This year, Natasha Denona Make Up began marketing their own range with allegedly similarly named marks. A cease-and-desist letter was sent on 26 April and Tarte claims Denona has "refused to comply". (JW)
Media watch:
Engineer voices fakes frustration –  A column in engineering trade outlet Control Global offers a unique perspective on the fight against fakes. Written by the outlet's chief editor Paul Studebaker, who has a master's degree in metallurgical engineering and gathered 12 years experience in manufacturing, it looks into the scourge of counterfeit engineered components, including nuts and bolts – items so small that they are rarely considered by those concerned with fake goods. But he points out that such fakes have been using in literally Earth-shattering ways: "I first encountered counterfeits as nuts and bolts in the 1990s, when Chinese look-alikes invaded the market for high-spec fasteners, including those for nuclear reactors. It's one thing when crap looks like crap; it's cheap and good enough. But I was offended by people who would mark and market crap as good stuff, and casually threaten the world with nuclear disaster." However, he says the risks increase every year due to their increasing propensity in the market – and, as such, they should be treated more seriously. "Along with going to significant lengths to violate the human social contract and subject unknown numbers of people to uncalculated tragedy, counterfeiters can now also be inspired by the same motivations that drive hackers and cyberterrorists." The column ends with a piece of advice for all businesses – in an age when fakes are "nearly indistinguishable" from authentic goods (although are also "severely inferior in quality and performance" and often "pose a serious safety risk"), it should be a priority to know every part of a product's supply chain. He concludes: "To avoid [fakes], you have to know who you're buying from and have confidence they know the sources of their wares, right down to the chips. In other words, you have to get to know, deal with and trust people. Rats." (TJL)
On the move:
df-mp hires trademark veteran – df-mp (Dörries Frank-Molnia & Pohlman) has announced the bolstering of its trademark practice with the appointment of Ortrun Günzel, who has joined the firm as a partner. Ortrun is an experienced trademarks lawyer who advises German and international clients on the protection, enforcement and exploitation of trademarks and designs. Previously a partner at Taylor Wessing, and before that with Hoffmann Eitle, Günzel boasts a 20-year career as an IP professional. (TL)
IP partner joins Holding Redlich – Blair Beven has been appointed to partner within Holding Redlich's technology, media and communications practice. Beven is based in Sydney. (BD)
Warner Norcross + Judd bolsters IP team with new hire – According to an announcement on the firm's website, Mary Bonnema has joined Warner's Grand Rapids office. Bonnema specialises in trademarks, trade dress, infringement and litigation, and has over 25 years of experience in the field. She was previously the president and shareholder of a boutique IP law firm McGarry Bair which she helped launch. (BD)
Friday catch-up:
Every Friday in our news round-up we will provide a quick rundown of the latest news, analysis and intelligence posted on WTR. Over the past week we:
 And finally…
Get the inside track on brand protection online –  WTR is pleased to announce that, following a sold-out debut in Chicago, its Brand Protection Online event is heading to London on 14 October. A unique forum for brand professionals to discuss solutions to the challenges that arise when protecting trademarks online and share insight on how to prioritise enforcement efforts, the event programme will cover:
Developing a state-of-the-art online brand protection strategy
 Fighting infringement on e-commerce sites
Brand protection strategies for social networks and apps
Managing the changing domain name landscape
Data privacy and GDPR: working within the rules
Delegate places at the event cost £495 (excluding VAT) but – until 6 September – a saving of £100 is available when using the following code: BPO100. To register for Brand Protection Online Europe, click here.