Beckham brand boost; USPTO leadership changes; Pearl Jam versus Pearl Jamm – news digest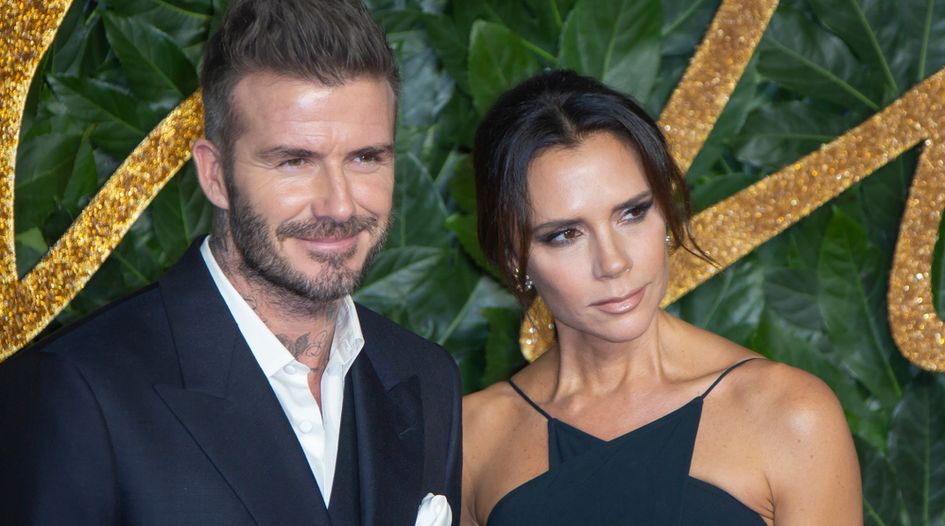 Every Tuesday and Friday, WTR presents a round-up of news, developments and insights from across the trademark sphere. In our latest round-up, we look at the USPTO announcing an acting director after Andrei Iancu's exit; the EU General Court decision in a dispute over HALLOUMI and BBQLOUMI; CBP seizing $8 million in fake Cartier bracelets; and much more. Coverage this time from Bridget Diakun (BD), Jonathan Walfisz (JW) and Trevor Little (TL).
Market radar:
Frasers Group ups investment in Hugo Boss – Mike Ashley's Frasers Group has raised its stake in Hugo Boss, reports Bloomberg. The UK retailer now controls a 15.2% "strategic position" in the Germany luxury fashion company. It is the latest investment that Ashley has made in retailers both in Europe and the United States – the group already having its hand in Mulberry Group, Studio Retail Group and French Connection Group, among others. Frasers Group's investment in competitors is a strategic move that aims to "elevate" its own brands. "Holding significant positions in glossy fashion houses, such as Hugo Boss or Mulberry, can help cement their supplier relationships with Frasers' brands – particularly its Flannels and House of Fraser luxury department stores," says a Bloomberg analyst. (BD)
CBP seizes $8 million in fake Cartier bracelets – US Customs and Border Protection (CBP) has halted shipments arriving in Cincinnati and Louisville from Hong Kong, containing more than 800 counterfeit designer bracelets. CBP officers in Cincinnati detained two parcels heading to a residence in Florida; the first containined 267 Cartier bracelets, while the other box contained another 137. On the same night, officers in Louisville inspected a shipment from the same location in Hong Kong which was found to contain 401 Cartier rings and bracelets. The items were determined by an expert to be counterfeit and, if real, the total manufacturer's suggested retail price for the Cincinnati seizure would have been over $4.17 million, while the Louisville seizure would have been worth more than $4.55 million – a total of $8.72 million. "This is a significant seizure for CBP, but unfortunately, CBP officers see counterfeit shipments like this every day," said Richard Gillespie, port director, Cincinnati. Thomas Mahn, port director, Louisville, added: "Driven by the rise in e-commerce, the market for counterfeit goods in the United States has shifted in recent years from one in which consumers often knowingly purchased counterfeits to one in which counterfeiters try to deceive consumers into buying goods they believe are authentic. Consumers are unaware that they're buying a dangerous product as the counterfeit is just that good." (TL)
Beckham gets an image rights raise – In a story that emphasises how lucrative image rights can be, The Guardian's wealth correspondent, Rupert Neate, reports that David and Victoria Beckham have paid themselves £14.5 million – equivalent to £40,000 a day – following the sale of the former footballer's image rights. Analysing public records, Neate notes that David Beckham Ventures Limited (DBVL), which manages his brand and partnerships with other companies (eg, adidas and the Sands hotel group), reported a £600,000 increase in annual revenue to £16.2 million in 2019. (TL)
Brand-Ward selected to represent pre-school series Pikwik Pack – UK-based licensing agency Brand-Ward has been hired to represent Guru Studio's latest pre-school series, Pikwik Pack, across the United Kingdom and Ireland, reports ToyNews. Brand-Ward already represents Guru Studio's True and the Rainbow Kingdom, but its new focus will be to build a licensing portfolio for the Pikwik brand across consumer products such as toys and games. The new series is being represented by Licensing Street in the United States, and relationships with Playmates Toys (master toy) and Scholastic (US publishing) have already been established. (BD)
Brand Machine Group acquires outdoor brand Penfield – Brand Machine Group, an international specialist in fashion licensing, has acquired US heritage outdoor brand Penfield. It is yet another name to be added to the company's portfolio of fashion and sports brands, which includes Juicy Couture and Jack Wills. (BD)
Legal radar:
James Mellor QC appointed High Court judge – James Mellor QC has been appointed as a judge in the High Court of England and Wales, and will take up appointment on 8 February 2021. He was called to the Bar in 1986 and took Silk in 2006, being appointed an appointed person, trademark tribunals, in 2015 and an appointed person, design tribunals, in 2015. Reacting to the news, John Linneker, co-head of intellectual property at Fieldfisher, said: "Justice Mellor is an excellent appointment to the bench. He is one of the foremost IP silks at the bar, and will use his considerable experience, excellent judgement and knowledge of IP law to great effect as he embarks on his judicial career." (TL)
Pearl Jam tribute band changes name – Seattle grunge band Pearl Jam may not have been able to play live this past year, but that has not stopped them from sending out cease and desists to tribute bands skating too close to their name. UK-based Pearl Jamm recently received a letter from the group's legal team. Although the letter attracted attention from fans, the tribute band made a statement to quieten any outrage. "We appear to have set the internet on fire this week and it's time to extinguish the flames." The statement continues: "A name doesn't define us. We do what we do out of love and respect for Pearl Jam." The band has since announced a new name – Legal Jam – which they believe "would be fitting and under which we will continue to perform the music of Pearl Jam in the most heartfelt and authentic way". (JW)
EU General Court issues cheesy decision – The EU General Court has confirmed that there is no likelihood of confusion between the EU collective mark HALLOUMI, reserved for members of a Cypriot association, and the sign BBQLOUMI, which designates the products of a Bulgarian company. The Cypriot foundation originally brought opposition proceedings against the registration of the figurative sign comprising the word element BBQLOUMI in relation to cheese, meat extracts, cheese-flavoured food products and catering services. The EUIPO dismissed the opposition on the grounds that there was no likelihood of confusion for consumers between the signs. The matter then came before the General Court, which agreed that there was no likelihood of confusion. The Court of Justice of the European Union subsequently ruled in favour of the Cypriot halloumi producers, stating that the weak distinctiveness of an earlier mark does not preclude the existence of a likelihood of confusion, and referred the case back to the General Court to examine whether there was a likelihood of confusion for consumers regarding the origin of the goods covered by the sign BBQLOUMI. This week, the General Court held that the EUIPO was correct in finding that there was no likelihood of confusion between the signs. Concerning similarity, the General Court stated that the signs share the element 'loumi', which has weak inherent distinctiveness for a large part of the relevant public who will understand it as a possible reference to halloumi cheese. Given that the attention of the relevant public will be drawn more to the initial part of the word element – namely, 'bbq', rather than 'loumi' – the latter part contributes very little to the distinctiveness of the applied-for mark. Thus, the low degree of similarity between the signs in question is unlikely to contribute to a likelihood of confusion. The court also held that there is no likelihood of confusion for the relevant public regarding the commercial origin of the goods bearing the applied-for mark. (TL)
Office radar:
(For more of the latest coronavirus-related updates from national IP offices, please read our dedicated article, which is being continuously updated.)
USPTO unveils leadership moves after Iancu exits – This week, we reported that USPTO Director Andrei Iancu was leaving the agency. Soon after the news of his departure broke, the office announced that Drew Hirshfeld – whose permanent role at the office is commissioner for patents – was performing the functions and duties of the undersecretary of commerce for intellectual property and director of the organisation. Meanwhile, Coke Stewart – whose permanent role is senior counsel to the director – will perform the functions and duties of the deputy undersecretary of commerce for intellectual property and deputy director of the USPTO. As part of the reshuffling, Andrew I Faile, deputy commissioner for patents, has stepped into the acting commissioner for patents role. (TL)
Bulgarian office releases new front office system for trademark and design applicants – The Patent Office of the Republic of Bulgaria (BPO), with the support of the EUIPO's European Cooperation Service, has launched a new version of its front office system supporting trademark and design applications and related e-services. The platform, available via the BPO website, enables users to take advantage of a set of new features, including fast-track applications for trademarks and designs, an improved user interface for goods and services, and the ability to check the details of registered marks and designs in TMview and DesignView. The EUIPO notes that the release is the result of work carried out by the EUIPO within the framework of the European cooperation projects. Meanwhile, the EUIPO has also announced that the Norwegian Industrial Property Office (NIPO) has enhanced its participation in TMclass. NIPO will now use and accept the terms from the harmonised database of goods and services (HDB) in TMclass in Norwegian. The move to adopt the HDB means that there are now 13 IP offices outside the European Union which use and accept terms from this database. (TL)
On the move: 
Michael Best adds new office managing partner in Raleigh – Ed Roney has joined Michael Best as partner within the IP group. Roney will also serve as the office managing partner at Raleigh. (BD) 
OpSec introduces chief product officer – Anti-counterfeiting and brand protection solutions provider OpSec Security has announced the appointment of Lisa Arrowsmith, chief product officer, as the newest member of its executive team. Responsible for delivering products and services across the company's online and on-product solutions offerings, she joins OpSec Security following senior leadership and product management positions with global technology and B2B data companies such as Omdia and IHS Markit. Reflecting on her new role, she states: "I'm excited for the opportunity to work with OpSec Security's industry-leading product and service offerings – and to harness OpSec's existing and new capabilities to deliver integrated product solutions. As a member of the executive team, I'm looking forward to contributing to the company's growth strategy and to build upon our ability to lead innovation in the brand protection and product authentication industry." (TL)
Steve Sidman leaves Carlton Fields for FisherBroyles – FisherBroyles has announced the appointment of entertainment and IP attorney Steve Sidman as partner in the firm's Atlanta office. Sidman previously practised at Carlton Fields. (BD)
William Kelly joins Spencer Fane's IP team – William Kelly has joined Spencer Fane's IP practice as an associate at the firm's Phoenix office. Kelly has experience handling matters across the spectrum of IP law. His practice has a specific emphasis on preparing and prosecuting foreign and domestic patent applications for software and IT. (BD)
And finally... 
WTR Connect returns this spring with five days of strategic content – The second WTR Connect series of digital events will take place the week commencing 15 March 2021. The event will offer more than 20 interactive digital sessions, each designed to facilitate discussion, benchmarking and the sharing of best practice around key topic areas and challenges facing trademark and brand leaders. The theme for the event is 'exchanging cost-effective and resource-efficient best practices' and each day will start with a keynote address from a major industry figure, followed by live breakout discussions lasting for a maximum of 60 minutes. Registration is free for WTR subscribers and participants can register for as many sessions as they like across the week, building their own schedule. For event timings, and to sign up to attend, please click here.