BBC's pragmatic domain approach; brand purpose; counterfeiters using live-streams  – takeaways from WTR Connect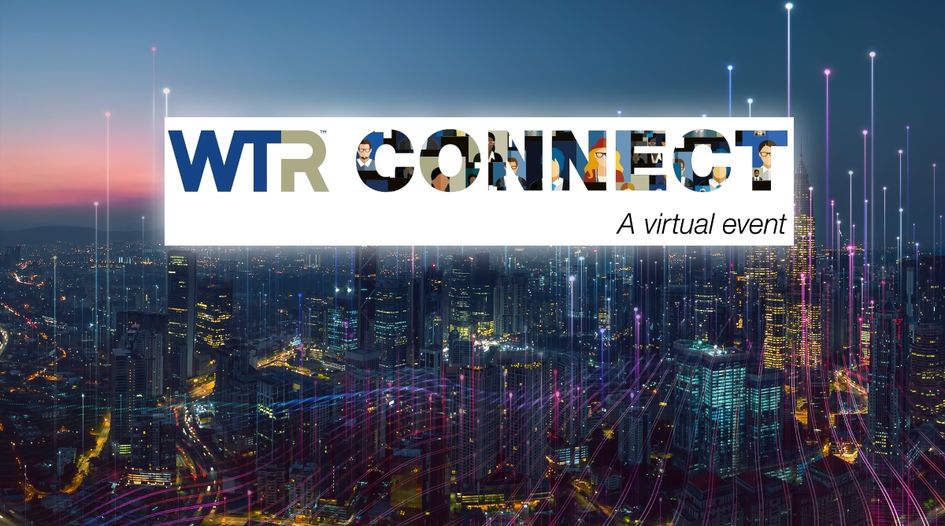 Insights from the final three days of WTR Connect, including insights from brand professionals at Vodafone, Unilever, Coty, Dyson, Reckitt Benckiser, and the International Anticounterfeiting Coalition.
Last week, the second WTR Connect virtual series of events took place, bringing together the trademark community for a range of interactive open discussion forums, masterclass explorations and solution rooms. The event kicked off with a fireside chat with Daren Tang, director general of WIPO (coverage here), and also had a keynote speech from US Homeland Security's National Intellectual Property Rights Coordination Center director Steve Francis outlining the department's IP enforcement efforts (coverage here). Coverage of the first two days of the event can be accessed here.
Below are some of the highlights and learnings from the final three days, including some of the considerations of brands supporting the Black Lives Matter movement, the UKIPO chief executive on overcoming Brexit challenges, the importance of keeping paper trails, and much more.
If you have your brand purpose right, the rest of it is a cakewalk – Opening the second day of WTR Connect's content timed for Asia-Pacific-based attendees, Vijayalakshmy Malkani, senior counsel, intellectual property at Unilever, explored the role of purposeful brands, noting: "If you have your purpose right, the rest of it is a cakewalk." She continues: "Purpose-led brands have the potential to create more robust and resilient customer relationships, have a major impact on how a brand is viewed in the market and ultimately can be the driving force behind success." But what does 'purpose-led' mean? For Malkani, it is about creating value for every stakeholder that touches the brand – whether they are customers, management, employees or the planet that we share. "It is a human-centric, socially engaged concept" in which the company exists for something larger than itself: the greater good. It is about the 'why' behind the brand's existence. Crucially, this goes beyond marketing campaigns – it is about action. It is also good business sense, as well as the right thing to do: "Consumers are expecting brands to have a social purpose." At Unilever this manifests itself in a number of ways, including a focus on sustainability and development goals in the company's products. A good example is Ben and Jerry's, which is "well known for its commitment to social progress. It is a certified benefit corporation that balances profit with purpose and meets a high standard of social and environmental impact." Causes that it has championed include conservation, LBGTQ equality and climate justice. Crucially, it has to be authentic but having a purpose is truly 'win win'. (TL)
How to get everyone on the trademark bandwagon – In Wednesday's session on demonstrating trademark value within the business, panellists discussed relationship building within different teams and how to educate others – in a fun way – on intellectual property. It is important, says Natasza Shilling, lead counsel at Vodafone, that practitioners view themselves as brand ambassadors rather than just a source of legal services. She says that it took a long time to break down traditional barriers between the marketing and legal team, but through positive feedback and 'storytelling', she was able to establish a better working relationship. Now, the marketing team gets in touch early on, which creates the opportunity for attorneys to influence the decision-making process. Frank Schöne-de la Nuez, lead counsel, trademarks at CSL Behring, echoes the use of stories and narrative to build a better understanding of trademarks throughout the business. In his experience, it was far easier to educate other departments when he moved away from technical talks to hosting workshops. Through these, he would tell general, interesting stories about trademarks and copyright, and then link these to practical examples from the business. In this way, he managed to turn failure – in this case, trademark issues – into a learning opportunity. (BD)
UKIPO chief on meeting the Brexit challenge – One of the big buzzwords of the past few years has been 'Brexit', including at IP conferences. At WTR Connect, UKIPO chief executive Tim Moss provided an update on how the registry has responded to Brexit. As a reminder, the Brexit transition period ended at the beginning of the year. During that time, over 2 million existing EUIPO trademark and design rights were duplicated onto the UK register. "These rights are now fully UK IP rights and we were pleased to grant these free of charge with minimal administrative burdens to the rights holders," Moss confirms. Elsewhere, many other challenges have arisen from the end of the transition period, but Moss notes that it has been broadly successful. "I was personally extremely proud to see many areas of the office working so well together to prepare us for the end of the transition period," he says. "It was a huge and real collaborative effort, and likely one of the most complex pieces of work that the office has ever undertaken and shows what could be achieved when we worked together as one IPO." For example, he reveals that the UKIPO business operations division "received two years' worth of work in the space of just two weeks". With new tools and processes now in place, Moss urges all rights holders to take time to check their UK IP records and ensure that they are accurate. "I would also encourage those with large trademark portfolios to use our bulk address tool should they wish to transfer their portfolio to a different representative." (TJL)
To renew or not to renew? The BBC's pragmatic approach to domains has seen it cut its portfolio in half – Over the years, brand owners have invested huge sums in defensive domain name strategies. While holding on to all those registrations simply to keep others from getting their hands on them may seem like the best option, eventually the costs add up. This is especially true for companies such as the BBC, which has both its own brand and those of its numerous popular TV shows to protect. On realising that roughly 90% of the BBC's 20,000-plus domain names were for inactive sites, Diane Hamer, head, business and legal affairs, brand protection, decided that it was time for a more pragmatic approach. "I just thought actually this is not an efficient way to spend money because no matter how much we do we can never litigate against every misuse of our brands," she says. As such, her team has decided to strip back the portfolio by about 50%. "It's been a backbreaking process," she admits. And how do rights holders decide what to cut and what to keep? Traditional TLDs and the company's origin country ccTLD are likely vital. Anything else (eg, domains that use hyphens or misspellings) may be worth slashing. You need to build "internal metrics and a scoring system to rate how much of a threat the domain name may be to the company", says Alexander Karlsson, senior brand protection analyst at Daniel Wellington. The task cannot be undertaken in a silo, either. For Leslie Nettleford, associate general counsel at AARP, establishing a cross-departmental team has been "the absolute best thing we've ever done for our brand protection efforts". Their monthly meetings help with accountability and minimise the risk of cancelling a domain name that another area of the business relies on. Streamlining the portfolio could even uncover hidden gems, says Marc H Trachtenberg, shareholder at Greenberg Traurig. Brand owners that were quick off the mark could be sitting on four-word domains or generic terms, which can then be monetised. Although you do not want the wider company to see brand protection as a substantial revenue generator and subsequently slash budgets, being able to prove value in this way is a bonus. But the hard reality is that this is a painstaking task – evident from the fact that most brand owners with extensive portfolios would rather just renew their registrations than have to comb through them. "My advice to anyone starting out on this process would be to just get one really good domain name, build brand awareness around that domain name and don't try to protect all the rest," says Hamer. You may have to file more UDRPs, but "at least you're not responsible for that extra load" says Trachtenberg. Bad actors will always find new ways to target brands – at some point you have to put your faith in consumers being technically aware. (VA)
Making a difference through comment periods – On Thursday, in a keynote interview, Christina Mitropoulos, director of brand protection and manufacturing initiatives at the American Apparel & Footwear Association (AAFA) shared some of her key focuses in the year ahead. The major priorities will be e-commerce legislation and public policy around upcoming policy, she reveals. "We expect the ShopSafe Act and the Inform Consumers Act to be re-introduced this congress, so hopefully we will see movement on both of those bills," she adds. "We are also focusing on fraudulent trademark applications and bad faith filings. and looking at the implementation of the Trademark Modernisation Act to see how it will (or will not) address this significant problem for our members. From their perspective, this is only a growing problem that is set to get worse." What is also set to worsen is the issue of counterfeits on online marketplaces – spurred by the increased use of digital retail during the ongoing pandemic. A key weapon in that fight, says Mitropoulos, are reports identifying problematic marketplaces released by the US Trade Representative (Notorious Markets List) and the European Commission (Counterfeit and Piracy Watch List). "Ultimately, any list – whether from the USTR or the EU – is a great opportunity for the brand protection community and industry groups to flag the issues they are having on platforms in a public way," she concluded. "It is a way to highlight challenges that the industry is facing, exert pressure, and call out changes that we hope will happen." (TJL)
When brand extension opportunity knocks, take a thoughtful approach – In a session on monetisation and commercialisation, much of the discussion focused on digital sales channels. That is not surprising given the impact of the pandemic on consumer shopping habits, but one observation was that the products in demand may be different to what would normally be expected. Joseph Conklin, senior vice president, global deputy general counsel at Coty, reflects: "In terms of new opportunities, we – like many – have seen numbers go up on sales through digital. But while we used to see the 'lipstick effect', whereby lipstick sales went up during times of recession, that's not so much the case when you are wearing masks. One thing we did see during the pandemic was skincare sales going up." This can throw up new opportunities, but Conklin notes that it is important to take a thoughtful approach to licensing and product extensions, and avoid the temptation to rush into new areas that do not sit well with the brand's identity. The golden rule is to first "protect the base business, and then consider what the adjacencies are and expand from there". (TL)
Being cost-effective in all aspects of the trademark role – One of the major challenges over the past 12 months, for most law firm and corporate departments at least, has been making the most of budgets – for some at a time of stagnant or reduced finances. In all instances it has required trademark professionals to seek cost-effective solutions for themselves and their partners. In a resource-focused session on Thursday, delegates outlined numerous strategies that they have adopted in this area. Ultimately, explains Dyson UK's head of IP enforcement, George Sevier, all in-house practitioners must acknowledge that they "can't tackle everything". Instead, departments "need a strategy, such as a tier system of importance, so you don't waste time questioning whether something is worth tackling". When it comes to prosecution matters, especially around challenging problematic filings, Reckitt Benckiser head of trademarks Charlie Everitt says "gone are the days of filing an opposition and seeing how it plays out". In its place, he adds, are departments "taking more time up front to work through what the actual issues are, what the chances of success are, what the cost is, what the timelines are, and what the tangible business outcomes are". Only then, he says, are oppositions lodged. Meanwhile, Adraea Brown, assistant general counsel at Harley-Davidson, spoke about the company's strategy when it comes to cease and desist letters: "In-house letters tend to have a different feel than an outside counsel letter. If I send a letter, that's less serious if I get counsel to send it. We try to do as much in-house as we can in an effort to save costs." However, a key message throughout the session is not to underestimate the challenges in China – where the costs can quickly mount up. At the end of the discussion, moderator Howard Michael, shareholder and co-chair of the trademark practice group at Brinks Gilson & Lione, described how finding a good law firm in China "is worth its weight in gold". He adds: "That is especially when it comes to assessing whether a prior trademark could conflict. Therefore, my suggestion is that if you haven't found a good firm in China, keep looking as they are definitely out there." (TJL)
Being careful with brand BLM use – On Friday, a panel of speakers looked at how brands can manage and effectively align with social and political movements. In opening the session, speakers shared some of the cutting edge ways that their own companies are doing just that. For example, Unilever lead IP counsel Michel Rorai detailed the Dove 'real beauty' campaign, Ben & Jerry's ongoing mission to support communities, and Hellmann's campaign to help eliminate food waste. With so many brands seeking to improve their social impact, Rorai notes that his department prefers to hire private counsel that are aware of such initiatives. "In terms of legal services, we want to have the attorneys understand the projects we run," he said. "Especially the social responsibility ones we enact." On top of that, session moderator Anna Naydonov from Finnegan says that legal partners should also be aware of the broader social and political movements, and how those could potentially impact every company's goals. "For instance, having a diverse law firm workforce will help to identify issues that require different mindsets on being offensive or not being aligned with a company's view." Of course, one of the most significant social symbols of the past few years is the Black Lives Matter movement. While many brands have publicly voiced their support for BLM, others have been more wary. While in some instances that may be due to not supporting BLM, in others it could be due to fears over using the BLM name or logo. "We are very careful about adopting social or political symbols or logos," Rorai explained. "Generally, we will check if a single organisation is leading them and seek consent. For example, with Black Lives Matter, we don't think one organisation is leading it." That view was shared by David Modzeleski, senior vice president, IP and Litigation at Discovery, who says that brands using BLM as a hashtag or just referring to the movement "is very defensible", but adds: "I would steer clear of stylised versions, as referring to a movement absent of investigation into the potential ownership of them or who is associated with those logos can be risky."
Watch out for livestreams and other tactics increasingly used by counterfeiters –  On WTR we have previously written about the increasing use of livestreams to sell counterfeit goods in China. The trend has now gone global, as Chloe Long, director, global brand protection at Capri Holdings, observes: "One thing we have seen is the rising use of livestream to advertise counterfeit goods. Obviously TikTok has blown up massively over the last year and has provided an ideal opportunity for counterfeiters to advertise products. We are seeing them do this in a variety of different ways. One is unboxing, where they open and review a counterfeit product and provide links to listings. We are also seeing these concerning livestream videos which are virtual tours of a shop or warehouse which is full of different types of counterfeit goods. This is incredibly hard to locate – you have to be following the user or it has to have been reported to you, and you have to spend a lot of time and energy on it." This is not the only new trend she has observed. "We have seen counterfeiters showing incredible resiliency in finding new ways to sell counterfeits," she states. "We still see the traditional ways to sell counterfeits online but we have seen some new trends. Social media is definitely key – we have seen a huge increase in issues on social media. With the rise of social commerce we will see this more and more. One of the tactics used is sponsored ads. These are not a new phenomenon but we have seen a shift in how counterfeiters are using them. In the past they would post a sponsored ad that links to a typical counterfeit website. What we are seeing now is that they are posting sponsored ads for a limited period of time and linking to random, unrelated domains such as 'abcde.com' and selling counterfeit products on those domains. But the content is only live for a limited time while the ad is live." That makes policing a real challenge. As always, the key is to find a way to stay one step ahead. Part of that effort is keeping a close eye on new tactics used by bad actors. (TL)
When up against bad actors, keep a paper trail – Online abuse of brands and related intellectual property is an issue for companies both large and small. But what is the best way to tackle it? When it comes to takedowns, everyone can agree that it is not a one-size-fits-all approach, but Lara Miller, senior counsel and vice president, corporate strategy at the IACC, argues that these actions are an important first step against infringers of all shapes and sizes. Since bad actors are keen to take the path of least resistance, takedowns are a good deterrent, as they are an immediate block that makes infringers' lives harder. Further, they are a way to track patterns between bad actors and an initial step that is valuable to the more complex activities of collecting evidence to enable an understanding of the relationships and networks in which infringers operate. When fighting infringers – particularly online – rights holders must keep a paper trail and work behind the scenes to link bad actors and connect the dots between them. One way to do so, explains Miller, is by tracking activity between merchant accounts and identifying website clustering around these entities. This reveals the full picture of their online activity. Ultimately, tackling online issues is a big job, and our panellists recommend leveraging resources and coordinating with other teams in order to understand the scope of the problem and establish an appropriate response. (BD)
Read our previous article, covering the first two days of WTR Connect, here.
Do you have a few minutes to share insights about your trademark practice? WTR would really appreciate your help to build a picture of the trademark sector.