BBC prevails in China, Disney moves to protect Baby Yoda, and new USPTO CFO: news digest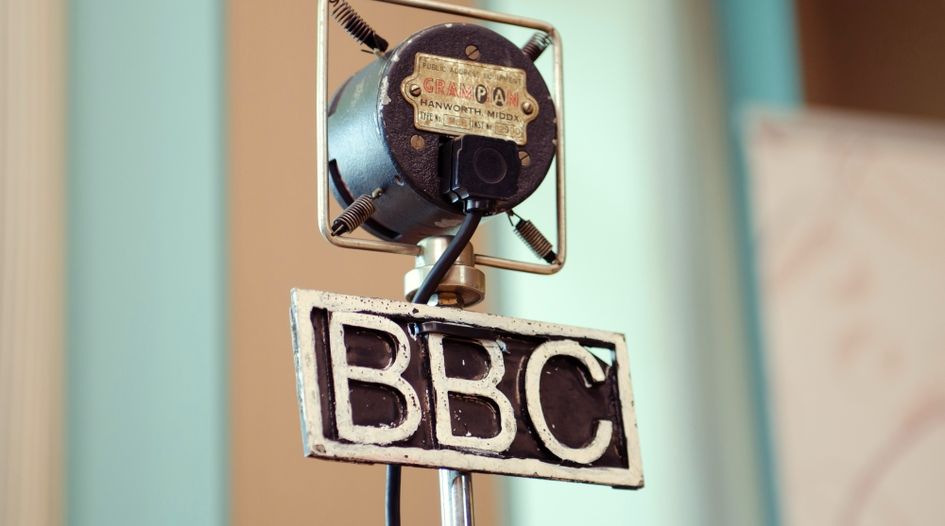 Every Tuesday and Friday, WTR presents a round-up of news, developments and insights from across the trademark sphere. In our latest edition, we look at Facebook moving to combat deepfakes,  Clarivate Analytics finalising an agreement with OpSec Security, Yum Brands expanding its portfolio, Volvo scoring a US court win against Chinese counterfeiters, and much more. Coverage this time from Trevor Little (TL), Bridget Diakun (BD), Jonathan Walfisz (JW) and Tim Lince (TJL).
Market radar:
Facebook moves to combat deepfake threat – Facebook has announced a policy banning AI-manipulated 'deepfake' videos that are likely to mislead viewers into thinking someone "said words that they did not actually say", reports The Guardian. The policy was announced with one eye on the 2020 US elections, with posts to be banned if they have been createdin a way that would mislead viewers and if the product or AI or machine learning that merges/superimposes content in a way that makes the video appear authentic. The removal policy is part of an effort to fight misinformation, but could be to the benefit of brands. As WTR has previously reported, deepfake videos could be used in infringing and misleading ways, arguing the need to monitor this new form of video manipulation. (TL)
Disney moves to protect Baby Yoda in wake of fan excitement – WTR previously reported on the black market in Baby Yoda products that emerged in the wake of Disney's new Star Wars series 'The Mandalorian'. It has been estimated that Disney lost out on potentially more than $3 million in merchandise sales. However, the company has now registered 28 trademark applications for merchandise associated with "The Child" and "The Mandalorian The Child" (nicknames for the character). Disney CEO Bob Iger has explained the reason for not previously seeking registration as a tactic to keep the character concealed from audiences for as long as possible: "We didn't tell anybody about that character's presence in the series, or even in the first episode… if we had given the design out, it would have gone out to hundreds and hundreds of people, probably all over the world, and we didn't want to do that." Given that the character has spawned a huge internet following upon the series' release, the potential gains for the series by Baby Yoda's secrecy may have made up for any losses in merchandise sales. (JW)
Clarivate Analytics finalises agreement with OpSec Security – Clarivate has concluded its agreement with OpSec Security to sell the MarkMonitor brand protection, antipiracy and anti-fraud business. The domain management segment will continue to be a part of Clarivate's IP offerings. (BD)
Yum Brands expands portfolio with Habit Burger Grill purchase – Yum Brands, which owns Taco Bell, Pizza Hut and KFC, has bought Habit Burger Grill for $375 million, according to the LA Times. The US restaurant market is becoming increasingly competitive, and Habit Burgers will help its new owner expand into the 'fast-casual' segment. Yum Brands has been diversifying its operations for a number of years, having purchased a stake in Grubhubas well asacquiringQuickOrder in 2018. (BD)
Legal radar:
ACID calls for action to avoid designs calamity – In a New Year message to UK Prime Minister Boris Johnson, Anti Copying in Design (ACID) CEO Dids Macdonald has urged urgent attention to a "potentially calamitous situation" should the UK leave the EU without an agreement on the protection of UK unregistered design rights in EU27 at the end of this month. She writes: "Despite representations and evidence submitted to your Government over the last 3.5 years, the current advice is to seek individual legal guidance. This is not good enough as IP lawyers are unable to give advice, or offer certainty, because this requires negotiation at Government level. The UK design sector deserves positive action and guidance... It is vital that this issue is a priority in discussions about trade agreements." IP is often towards the back of the queue in terms of government priorities (in the letter, Macdonald identifies the need for the appointment of a government minister who has IP as his/her sole portfolio, rather than IP being one of numerous responsibilities), so efforts to keep the pressure on for clarity amidst the Brexit turmoil are to be applauded. (TL)
The BBC notches a win in China – The Haidian District People's Court has found in favor of the British Broadcasting Corporation (BBC) in a trademark infringement dispute over a Beijing firm's unauthorised use of its logo, reports Xinhua.net. The Beijing tech company iYuba had used the BBC logo on its two company websites, an account on WeChat and in five mobile phone applications. The British company claimed that iYuba's use of the logo would result in the public mistakenly believing that the company's services were associated with the media giant.  The court agreed, ordering iYuba to cease infringement and compensate the BBC. (TL)
Not a laughing MATTA in Malaysia's courts – The Malaysian Association of Tour and Travel Agents is taking legal action to protect its acronym 'Matta' in Malaysia, reports the Malay Mail. Matta claims recently registered 'Malaysia Association Tour Agency' is infringing on its trademark and benefiting from the organisation's goodwill with the homophonous acronym 'Mata'. Matta are also seeking an explanation from the Registrar of Society on why Mata was accepted for registration. (JW)
Volvo scores US court win in battle against Chinese counterfeiters – Volvo Cars was victorious in a trademark infringement case against dozens of Chinese counterfeiters, reports The Post and Courier's David Wren.  The action, lodged in a federal court in Virginia, targeted individuals responsible for the sale of  fake and inferior car parts over the internet, Volvo stating that the sellers' websites attract tens of millions of visitors a year and accrue billions of dollars annually on fake parts for Volvos and other car brands, most of them made in China. Last week, reports Wren, the car company obtained a $2 million default judgment against 148 sellers, the judge also ordering Paypal to transfer any money in the sellers' accounts to Volvo. (TL)
On the move:
Boehmert & Boehmert lawyers leave to form new firm – A group of attorneys from German IP law firm Boehmert & Boehmert have left to create a new firm, Nordemann Czychowski & Partners. Those who moved across from Boehmert include partners Axel Nordemann, Dr Jan Nordemann, Christian Czychowski and Anke Nordemann-Schiffel. Other partners at the new firm include Thomas Boddien, Julian Waiblinger and Stanislaus Jaworski. According to local media, the firm was createddue to "different ideas about long-term strategic development". Furthermore, unlike Boehmert, Nordemann does not operate as a mixed law firm consisting of patent and trademark lawyers, but as a firm purely focused on copyright, trademark and competition law (as well as IT law, including open source). (TJL)
USPTO brings in Jay Hoffman as new CFO – The USPTO has appointed Jay Hoffman as its new chief financial officer (CFO). Replacing Sean Mildrew, Hoffman will oversee the office's $3 billion budget and will report directly to the USPTO's director and senior leadership team. Office director, Andrei Iancu said: "Jay brings extensive strategic financial management skills coupled with decades of leadership in government to this critically important role." Hoffman has over 22 years of federal financial management experience, including 15 years as a member of the Senior Executive Service. He has spent the past eight years as CFO for the US Consumer Product Safety Commission (CPSC). (JW)
Hogan Lovells announces firm-wide elevations – Hogan Lovells has announced that 29 practitioners have been promoted to partner effective 1 January across a network of more than 45 offices spanning Africa, Asia, Australia, Europe, the Middle East, and the Americas. Among the elevations are three new IP-focused partners and six IP counsel. The former includes Aaron Oakley (in Denver), who advises across all areas of IP, and Tomoe Takahashi (Tokyo), who focuses on multi-jurisdictional trademark enforcement and portfolio management work for global brands. The third new IP partner is Ernest Yakob (New York), who handles patent disputes for major life sciences companies in district courts, as well as inter partes review and post-grant review proceedings before the USPTO. (TL)
Gerben Law promotes Perrott to partner – US IP firm Gerben Law has announced that, effective 1 January, Eric Perrott has been elevated to partner. According to the firm's founder Josh Gerben: "If you have worked with us over the last five years, you have very likely worked with Eric. He has an amazing legal mind and is an extraordinarily kind and compassionate person. If you ever need an example of how hiring great people can help grow an organisation look no further than what Eric has accomplished in growing our trademark practice here at Gerben Law." (TJL)
Polsinelli strengthens its Houston IP practice – LaTasha (Tasha) Snipes has joined Polsinelli's Houston office as of counsel within the IP and technology litigation group. Snipes is a seasoned litigator handling the spectrum of IP matters, including patent, trademark, trade secret and copyright cases. (BD)
Haynes and Boone announces 2020 partner promotions – Three members of Haynes and Boone's IP practice have been elevatedto partner as of 1 January 2020. Dallas-based Rob LeBlanc is part of the trademark practice group, and handles both prosecution and enforcement, and works with clients to implement strategies for global brand management. Stephanie Sivinski is a member of the IP litigation practice group in Dallas and handles a variety of matters including patent infringement. Gregory Huh, now a partner within the Richardson office, is a trial lawyer that handles patent matters involving complex technologies. (BD)
Rouse appoints new country manager for Russia – IP firm Rouse has announced the appointment of Yana Tsygankova as new country manager for Russia, commencing January 2020. Tsygankova has been a core member of Rouse's Moscow team since the office opening in 2013. A partner-equivalent principal at the firm since 2017, she takes over from Stuart Adams and will spearhead the next phase of growth for the company's Russian operations. She assumes the role from Stuart Adams in a long-planned transition. Adams is a 25-year veteran of Rouse who previously led the firm's operations in Dubai, as well as serving as deputy chief executive of the firm for 14 years. He returns to the firm's London office where he will focus on business development and client servicing. (TL)
Sabin Tigu receives partnership at Ploum – Ploum has rung in the new year with the appointment of Sabin Tigu to partner within its IP group. This promotion continues on efforts by Ploum to expand its IP team. Last year the firm hired Yvonne Hamerling as a senior trademark attorney and Sophie Schneiders as a trademark attorney. Tigu focuses his practice on trademarks, design rights and copyright and commercial law. He also has experience in running anti-counterfeiting programs and in handling domain name disputes. (BD)
And finally...
Managing Trademark Assets is just three weeks away – Following the success of this year's event, WTR's  Managing Trademark Assets Europe is back in London on 28 January 2020. The event provides an opportunity for attendees to hear best practice and insight from leading in-house counsel from the world's biggest brands as they discuss their approaches to critical areas, as well as share their own insights with peers and colleagues. For the upcoming event we are also increasing the interactive nature of the programme, introducing informal, small-group discussions on dispute resolution scenarios - allowing participants to workshop possible responses with their peers and colleagues. Among the other areas to be explored are budget management, dispute negotiation tactics, best practices around diversity and team building, and how to fight counterfeits on a finite budget. To sign up to attend Managing Trademark Assets Europe, click here. (TL)