'Banksy of trademarks' retires: after numerous high-profile disputes, vows no more filings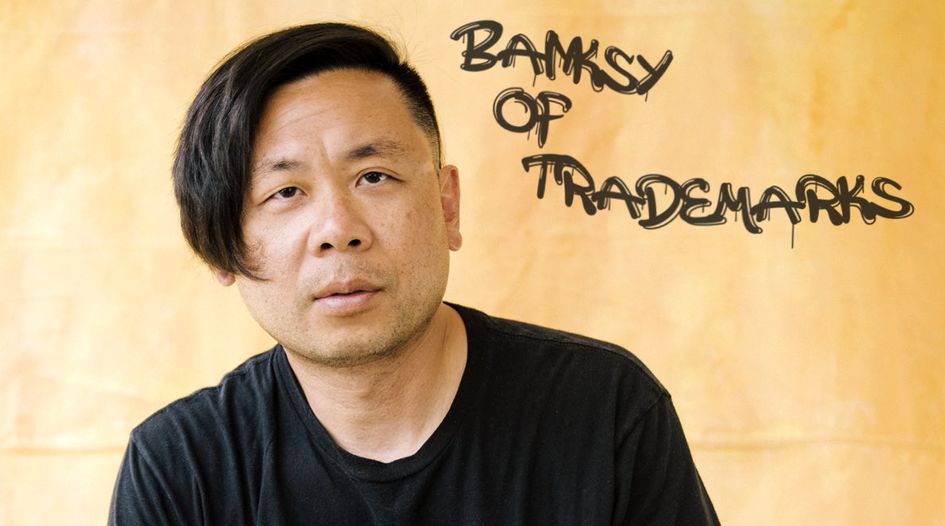 Millionaire Mike Lin became notorious in 2016 for a string of trademark filings
Oppositions at the USPTO included from Beyoncé, Disney and Kobe Bryant
Says he has retired from trademarks, plans to raise awareness of mental health
In an exclusive interview with WTR, the 'Banksy of trademarks', millionaire entrepreneur Mike Lin, reveals his legal settlements with major companies and public figures in recent years and why his focus now is his T-shirt business and spreading awareness of mental health.
Back in 2016, WTR reported on the legal exploits of US-born Lin, who had filed for a slew of politically charged trademark applications that had gained mass media attention. The filings attracted oppositions from major brands and celebrities, and even featured in TMZ after Lin lodged an application for NASTY WOMAN shortly after Donald Trump uttered the phrase to rival Hillary Clinton at the final televised debate of the 2016 US presidential election.
At the time, Lin – who had garnered a multi-million-dollar net worth as an early employee at LinkedIn – had spent more than $30,000 on trademark filings, as well as additional costs for associated legal fees. Many of the trademarks were used on products sold by his clothing company, T-Shirts Matter, including the phrases MAKE AMERIKKKA GREAT AGAIN, COPS SHOOT FIRST, STOP DMCA and FEAR THE HIJAB. Others appeared to be Disney-related (eg, MORTIMER MOUSE, HOUSE OF MOUSE, LET IT GO and TO INFINITY AND BEYOND) or Pokémon-related (eg, TEAM MYSTIC, TEAM INSTINCT and TEAM VALOUR). However, he told WTR in 2016: "I disavow any knowledge of popular culture, especially around Pokémon or Disney."
Fast forward to today, and Lin tells WTR that most of the trademarks he filed were rejected by the USPTO. In all, 20 have been registered, including:
ANIMAL CRUELTY IS A BITCH THAT NEEDS TO BE SLAPPED;
CEREAL ENTREPRENEUR;
COMIC SUTRA;
I KISS YOU!;
NOTHING COMPARES 2 U;
RIOT GRRRL;
SOCIAL MEDIA ROCKSTAR;
STOP DMCA; and
X.COM.
Some of these registered trademarks have had an interesting journey so far. For instance, SOCIAL MEDIA ROCKSTAR was opposed by video game company and Grand Theft Auto developer Rockstar Games. "We came to a settlement where I could use the word 'Rockstar' but 'Social Media' had to be of equal size," Lin explains. The X.COM trademark relates to a company founded by Elon Musk, and the Tesla billionaire still owns the 'x.com' domain. "I used their own logos to submit specimens," Lin remarks. "I just thought X.COM was funny – ain't no-one going to buy that T-shirt but I'll try my damndest to get his attention."
Lin has also had memorable encounters with trademarks that did not reach registration. As well as oppositions from Disney and Beyoncé, one notable legal dispute was against basketball legend Kobe Bryant in 2018. The dispute was eventually settled out of court, Lin reveals. "I filed a trademark for THE BLACK MAMBA three weeks before Kobe Bryant. His attorney was very cool to deal with, and it came down to whether either one of us could win, so why not just settle. As I was representing pro se, it was a great outcome."
However, Lin says that his eventful trademark filing spree – which initially amounted to 72 trademarks "because I was born in 1972" – was spurred on by mental health issues. "I really don't know why I thought filing so many trademarks was a good idea," he says. "Beyoncé, Disney and Kobe Bryant probably thought I was trolling – but I wasn't. I was manic [and] signs of mania can include notions of grandeur, lots of spending and creativity. In all, I dropped around $750,000 at that time – thankfully I didn't spend everything. We'll see if any of the T-shirt designs work out. Otherwise, I should have just invested that money into crypto. I'm probably the only person who had their first manic episode and dropped $37,000 on trademarks."
Lin confirms that he has now "retired" from filing new trademark applications, although he admits that he may pursue legal matters (eg, cancellation actions for non-use) at certain points if necessary. This does not mean an end to disputes involving major brands, though. Just this week, one of Lin's T-shirts was removed from the Teespring platform due to the use of keyword 'Monster' in the description, the presumed reason being a report (or automated removal) linked to Monster Energy. The T-shirt was reinstated on Teespring after Lin disputed the removal, with no confirmation as to whether the energy drinks giant was involved.
Going forward, Lin says that T-Shirts Matter is his focus now, as well as ensuring that his wellbeing recovery continues. "I've spent close to six years on T-Shirts Matter – now is the time to get things done," he says. "I spent a year-and-a-half depressed, not shaving or showering. If I wasn't doing T-Shirts Matter now, I'd be watching Netflix and Disney+ all day, which I was doing up until just over a week ago. I have so many designs; I like having fun, just like Banksy has fun being subversive. Plus, I'd like to teach people about mania and living with bipolar. Therefore, I will write posts on the T-Shirts Matter LinkedIn page and my own where I'll be very honest about manic spending and how terribly debilitating depression can be. In my view, not enough is written about mental health and I think I have a unique and funny story."
The IP community has plenty of unique characters, including the 'Banksy of trademarks'. Lin's filing days are behind him, but there is much to look forward to in his upcoming stories about his legal exploits and how he recovered from his mental health issues.