Baby Yoda IP protection, wilful counterfeit purchasing, and Fashion Week legal battle intensifies: news digest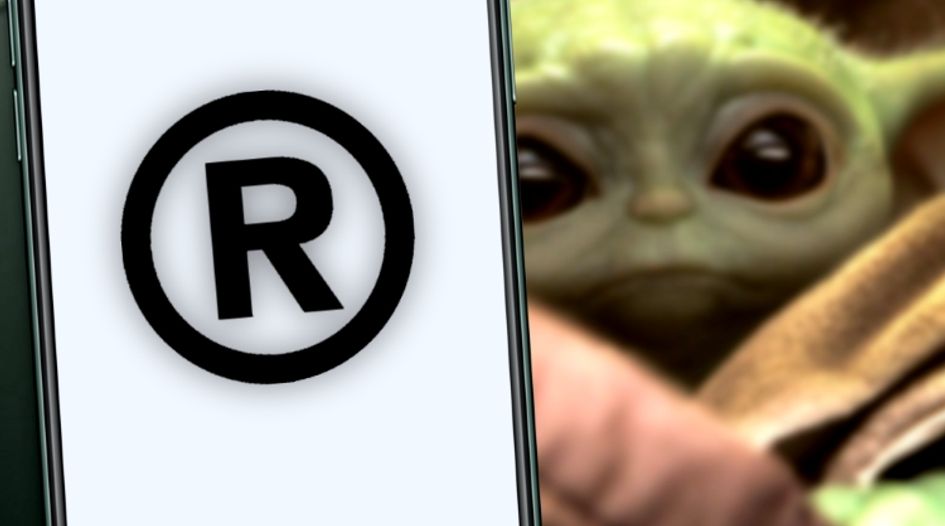 Every Tuesday and Friday, WTR presents a round-up of news, developments and insights from across the trademark sphere. In our latest edition, we look at a law firm launching a new trademark monitoring tool, the brand protection trends to expect in 2020, how Chinese trademark applications are on the rise in Canada, why coverage about Amazon counterfeits is not surprising, and much more. Coverage this time from Trevor Little (TL), Bridget Diakun (BD), Jonathan Walfisz (JW) and Tim Lince (TJL).
Market radar:
UK and US Incopro reports show breadth of willful counterfeit purchasing – In a new report predicating the Christmas season, Incopro has highlighted the breadth of UK consumers' disinterest in authentic brand purchases. Nearly a fifth (19%) of Brits surveyed had purchased counterfeit goods in the past year, with over a quarter (28%) admitting they would consider buying fake watches, footwear, clothing, handbags/purses and jewellery from online retailers. Of those that had made illegal purchases, over a third (36%) had done so more than four  times in the past year. These figures are likely to be heightened during the Christmas season, with UK consumers wanting to buy gifts for multiple people at an affordable price. Intriguingly, these figures contrast with 28% of Brits saying they're concerned about the counterfeit market's links to organised crime. Incopro released the US and UK reports on the same day, providing a direct comparison of the two countries' similar reactions. 22% of UK consumers were fooled into a counterfeit purchase, compared to 26% of Americans. Brand trust was lost by 49% of Britons after an unintentional counterfeit purchase, compared to 52% of US consumers. (JW)
INTERPOL and EIPA hold 8th MENA IP Crime Conference – Dubai hosted a regional IP Crime Conference for the Middle East and North Africa (MENA) this week. Delegate experts convened to discuss best practice against transnational organised IP crime. Organised by INTERPOL and the European Institute of Public Administration (EIPA), the conference kicked off with a keynote speech from Dubai Customs director general H.E. Ahmed Mahboob Musabih. Dubai Customs recorded 272 IP seizures in 2018 with a market value of over $14 million, as well as resolving 234 IP disputes with a market value of over $10 million in the first three quarters of 2019. HE Lt General Dhahi Khalfan Tamim, deputy chief, and HE Maj General Abdullah Hkalifa Al Marri, commander-in-chief, of Dubai Police, said: "Intellectual property is considered as a human right. It shouldn't be infringed upon." (JW)
Firm launches trademark monitoring tool – US firm Carlton Fields has announced the launch of TMap, a digital tool that provides portfolio clients with a map of their pending and active trademark applications and registrations worldwide. The system allows clients to view their trademark portfolio worldwide, allowing them to identify where they do and do not have coverage for each of their brands or offerings. Detailed information on individual filings is accessible by clicking filing pins in each country. TMap Tracker was developed as part of Carlton Fields' annual Innovation Challenge, which invites all lawyers and employees to submit concepts for technological solutions to improve the firm's operational efficiency and service delivery. One user of the tool is Brooks Cowan, senior vice president, legal, of the IRONMAN Group, who stated: "The tool allows us to quickly and easily check the status and scope of our trademark applications and registrations globally across our many brands, and in any country. The map overlay is intuitive, and the tool provides all sorts of useful filtering and functionality that any trademark portfolio manager would want."  (TL)
IP important is, says Disney about Baby Yoda – A black market has formed for Baby Yoda toys on e-commerce sites in the wake of Disney announcing that official merchandise wouldn't arrive until 2020 (with one media outlet even putting together a 'Baby Yoda black market gift guide'). The character, a juvenile member of the Yoda species from Star Wars, made its debut on Disney+ show The Mandalorian. After the company announced the delay on Baby Yoda toy production, Christmas ornaments and socks featuring the character started popping up on sites such as Etsy. Although Disney would be well within their rights to police these occurrences, it has opted to take encouragement from the fan interest and has advanced its plans to release Baby Yoda merchandise in time for this year's Christmas season. Wary of copyright infringement, video-sharing site Giphy pulled GIFs of the critter in case. It has since reversed the decision. When it comes to trademark protection, there are currently zero applications filed for BABY YODA by Disney or any third-parties – perhaps surprising as most viral hits lead to a slew of unauthorised applications. Nonetheless, we're sure the Disney legal team are keeping a close-eye on trademark registers around the world. (JW)
Legal radar:
(IP) crime doesn't pay – In September, during a hearing this morning before US magistrate judge Barbara L Major, Las Vegas business owner Saad Ahmed pleaded guilty to conspiracy to traffic in counterfeit goods. Ahmed, owner of PhonePartsUSA, acknowledged conspiring with a variety of individuals in China to bring counterfeit cell phone parts and accessories from China to the United States. In total, the company trafficked $1,499,999 worth of counterfeit goods from 2012, the merchandise brandishing trademarks from Samsung, Apple and the electronic quality certification company UL. At that time he agreed to pay restitution to the three trademark holders in an amount totalling $269,681, with sentencing scheduled for this week. That sentence, reports The Sacramento Bee, was duly handed down yesterday with prosecutors saying he was sentenced to six months in federal prison and ordered to surrender almost 4,500 electronics and accessories seized by federal Homeland Security investigators during a June 2018. (TL)
'Fashion Week' battle intensifies with new lawsuit – IMG Worldwide, organiser of the New York Fashion Week shows, filed a new lawsuit against Fashion Week Inc (FWI) last week in New York federal court. This is just the latest development in a five-year battle waged by IMG and the Council of Fashion Designers of America (CFDA) against FWI over the rights to 'New York Fashion Week', reports The Fashion Law. FWI is a New York-based business that hosts and sells tickets for various fashion related events, and, according to IMG, it has been using the New York Fashion Week trademarks "aggressively" since 2013 (in that year FWI filed an application for NEW YORK FASHION WEEK with the USPTO, and at this time IMG and CFDA had not yet filed any NYFW-related applications – the lawsuit alleging, though, that FWI filed the application to profit on the pre-existing New York Fashion Week). IMG claims that it has been using the NEW YORK FASHION WEEK and NYFW marks consistently since 2001, giving it a right to the marks under the first-use nature of US law. Conversely, FWI has been successful in registering a number of NYFW related trademarks namely under class 41. Things came to a head in August 2015 when FWI began selling tickets to 'NYFW events', IMG sending a cease and desist letter. Soon after, IMG itself received cease and desist letters from FWI for using its trademarks, the company raising the stakes by filing a $10 million-plus trademark infringement suit against IMG and CFDA, alleging that it was the rightful owner of 'New York Fashion Week' and 'NYFW'  because it was the first to file these applications. The US District of Court for the Southern District of New York refused to grant a temporary restraining order or a preliminary injunction, and FWI dropped the case. Most recently, FWI launched its own fashion shows that are hosted in February and September, which is when the bi-annual fashion events are held. All of this back-and-forth has culminated in IMG's last week case filing. The company is seeking monetary damages and to "immediately and permanently bar FWI from using any of the disputed NYFW marks in connection with the manufacturing, importing, advertising, marketing, promoting, supplying, distributing, offering for sale or selling any products or services worldwide". (BD)
Pointer names brand protection trends for 2020 – Legal service provider Point BP has named some of the IP and brand protection trends it expects to see in 2020. According to Jan-Maarten Laurijssen, the company's co-founder and chief operating officer, some trends that all brand owners should be aware of include the impact of Millennial and Gen-Z consumption habits, eco-consciousness and its impact on counterfeits, and the expansion of the social media landscape (including the rise of WeChat and TikTok). Another major trend is around tech developments. "[This] may well be the year when many businesses move from a period of experimenting with new tech into broader implementation," Laurijssen says. "The scope of AI and machine learning looks set to increase in 2020, a development which will affect the interactions brands have with consumers and counterfeiters." (TJL)
Office radar:
Chinese trademark applications increase at the CIPO – The Canadian Intellectual Property Office (CIPO) released its annual report recently, the document tracking trademark filing trends over the past year. One of the most notable shifts came from Canadians filing Chinese trademarks and vice versa. Canadian filings of Chinese origin accounted for 5% of applications. While behind US and domestic filings, the figure represents a 33% increase on last year's level, the biggest growth identified in the report. In the other direction, there was a 265% increase in Canadian trademark filings in China, to 3,401. Despite still lagging behind the number of filings to the US, it represents a marked increase in Canadian confidence in China's IP systems, as well as cross-pollination of the two countries' companies due to Chinese investment – according to Norton Rose Fulbright's David Ng, as quoted by Burnaby Now. (JW)
Media watch:
Media reports on Amazon and the USTR notorious markets contain no surprises – This week, media outlets around the world reported the news that the Trump Administration is considering adding some of Amazon's non-US marketplaces onto the upcoming notorious markets list. The Wall Street Journal was first to report that people 'familiar with the matter' had confirmed that the Trump administration is considering the move. Reuters than posted a follow-up, which was picked up by a number of media outlets. As the article noted, no decisions have yet been made and similar requests for the inclusion of Amazon sites last year were eventually discarded. So is this really 'news'? For my money it would be a bigger news story if the administration was not considering placing the sites on the list – for no other reason than, having asked for submissions and received some with such a request, the Trump administration has to consider doing so. To not do so would be to negate the point of asking for public submissions. Having asked for recommendations, the administration is therefore duty bound to at least consider adding any proposed sites to the list - whether Amazon or any other. Of course, after deliberation it could – like last year - opt not to add them. Thus, the reports likely won't be a cause for alarm over in Seattle. Of course, should the USTR opt to list any Amazon sites, that will be a different matter. For now, though, we are no closer to knowing whether that is going to happen. (TL)
On the move:
MPAA appoints copyright expert — Karyn A Temple has been named senior executive vice president and global general Counsel at the Motion Picture Association. Temple will join the association in January after serving more than eight years in the US Copyright Office, most recently as the Register of Copyrights, where she fulfilled her statutory authority to administer US copyright law and advise members of the US Congress, federal courts, and executive branch agencies on issues of copyright law and policy. Thus Temple brings to the MPAA – a regular voice on copyright and anti-piracy issues - expertise in overseeing an office that serves the public including both the creators of content and users. MPAA chairman and CEO Charles Rivkin stated: "I can think of no better person than Karyn Temple, one of the world's leading experts on copyright, to help us advocate for our members' global film, television and streaming businesses at this pivotal time of transformation in the industry.." (TL)
Dentons Lopez Velarde bolsters its IP and venture tech capabilities – Dentons Lopez Velarde has hired Sergio Legorreta to head up Mexico's venture technology practice and co-chair Dentons' venture technology practice in Latin America and the Caribbean. Legorreta has a wide range of expertise, with experience in areas like intellectual property, technology, telecommunications, meda, and communications. He previously led an international firm's technology, IP and life sciences in Mexico for 15 years, as well as in Latin America for the duration of four years. (BD)
And finally...
Managing Trademark Assets returns to London – Following the success of this year's event, WTR's  Managing Trademark Assets Europe is returning to London on 28 January 2020. The event provides an opportunity for attendees to hear best practice and insight from leading in-house counsel from the world's biggest brands as they discuss their approaches to critical areas, as well as share their own insights with peers and colleagues. For the upcoming event we are also increasing the interactive nature of the programme, introducing informal, small-group discussions on dispute resolution scenarios - allowing participants to workshop possible responses with their peers and colleagues. Among the other areas to be explored are budget management, dispute negotiation tactics, best practices around diversity and team building, and how to fight counterfeits on a finite budget. To sign up to attend Managing Trademark Assets Europe, click here. (TL)