Asos buys Topshop and Miss Selfridge brands; Covishield injunction rejected; ICANN new breach notice – news digest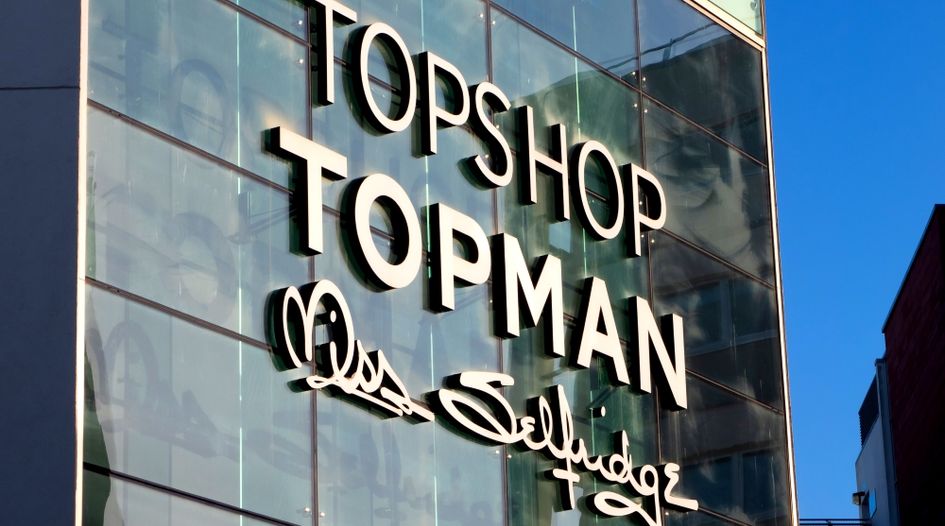 Every Tuesday and Friday, WTR presents a round-up of news, developments and insights from across the trademark sphere. In our latest round-up, we look at Philip Morris International and the US Department of Homeland Security collaborating, Playboy in talks to acquire Lovers, the battle for Birkenstock heating up, and much more. Coverage this time from Trevor Little (TL), Bridget Diakun (BD), Jonathan Walfisz (JW) and Tim Lince (TJL).
Market radar:
PMI and US Department of Homeland Security collaborate to combat illicit trade – Philip Morris International has signed a memorandum of understanding (MOU) with the National Intellectual Property Rights Coordination Center (IPR Center) at the US Department of Homeland Security (DHS) to assist and support Homeland Security Investigations' (HSI) in illicit tobacco trade operations and other intellectual property rights investigations. The MOU is focused on comprehensive strategies and coordinating efforts to disrupt and combat all forms of illicit tobacco trade, as well as to address areas of intellectual property, brand protection, and anti-counterfeiting strategies. The agreement will also facilitate knowledge transfer between the center and PMI to share mutually beneficial information and research to combat the illicit tobacco trade and assist in other intellectual property rights investigations. PMI's head of illicit trade prevention for the US, Hernan Albamonte, stated: "This partnership will provide both parties necessary information to thwart terrorist and criminal organisations that profit from the trade of illicit tobacco and jeopardize our national security." (TL)
Asos splashes out $405 million for Arcadia's brands – Asos has agreed to buy the Topshop, Topman, Miss Selfridge and HIIT brands from the insolvent Arcadia Group for $405 million, reports Bloomberg. Asos's CEO Nick Beighton said the website has been selling Topshop and Topman products for the past two years and the brands were strong performers. "This is a strategy that is already working extremely well," he said in a phone interview. "The brands are great but they were sitting in a business with distress." Asos is reportedly planning to strengthen Topshop's partnership with Nordstrom and will look to sell the products through other third-party retailers. Ultimately Asos outbid Authentic Brands group, SheIn Group and Next to acquire these brands. Boohoo is in talks to buy the remainder of Arcadia's brands, including Wallis, Dorothy Perkins and Burton. (BD)
Novagraaf and VIM Group team up – IP consultancy Novagraaf and rebranding and brand organisation specialist VIM Group have announced a new partnership. By uniting their IP and brand implementation expertise, the companies state they will be better positioned to provide targeted advice and analysis to brand owners that ensures both IP and marketing considerations are addressed in the early stages of a rebrand or branding project. Marc Cloosterman, CEO of VIM Group, states: "Whilst the magic (the creative) is mostly dealt with by agencies, most companies struggle in sorting out the logic (the business side of branding) around their most valuable IP, their brands. With this joint offering, we're able to fulfil the needs of the chief communication & marketing officers, the chief financial officers, and the chief legal officers." Lutgarde Liezenberg, CEO of Novagraaf, adds: "Brand owners that operate globally must deal with a patchwork of different IP legal systems and procedures, which adds further complexity to their business operations. In addition, they must navigate the threat to their businesses on- and offline, whether from counterfeiting, brand theft or damage to brand equity and reputation. By delivering innovative IP solutions alongside tailored legal, administrative and commercial advice and services, we are able to provide brand owners with the insight into their IP portfolios that they need to be able to make informed and strategic decisions." (TL)
Playboy in talks to acquire Lovers – Playboy is nearing a deal to acquire the parent company of sexual wellness chain Lovers, reports Reuters. The acquisition would help the company to grow its lifestyle brand and expand into the consumer products market. WTR previously reported on Playboy's shift from editorial to its licensing business, with the company promoting itself as a brand-management company. Should the deal go through it would value Lovers-parent company TLA Acquisition Corp at around $25 million. (BD)
BBC Studios and Brainbase partner up to power Bluey licensing – Brainbase, provider of software for end-to-end IP management, and BBC Studios have announced a partnership whereby BBC Studios will begin using IP licensing platform Brainbase Assist to streamline and manage its global licensing business for break-out hit Bluey. "We are ecstatic to welcome BBC Studios to the Brainbase family," said Brainbase co-founder and CEO Nate Cavanaugh. "Our team is excited to see Bluey's consumer products come to life on our platform, and to provide best-in-class technology to support their globally-recognised IP and rapidly growing consumer products business." Suzy Raia, VP consumer products and business development, BBC Studios, added: "As we continue to grow the wildly successful Bluey brand, we noticed an increasing need to create an intuitive and collaborative centralized system. We are beginning our relationship with Brainbase to improve partner management and help us make strategic franchise decisions based on insights." (TL)
Battle for Birkenstock heats up as L Catterton enters the fray – According to Bloomberg, L Catterton, a buyout firm with links to LVMH, has thrown its hat in the ring to buy Birkenstock. It is competing with PE group CVC Capital Partners. In any sale Birkenstock could be valued at around $5 billion. (BD)
Shinsegae filings hint to new baseball team name – South Korean retail enterprise Shinsegae Group has announced its application for a trademark for its new professional baseball club. Korean Baseball Organisation team SK Wyverns was recently purchased by Shinsegae Group last week. The team will be named 'Electros' after the group's Electro Mart chain. The Korean Herald reports that: "Shinsegae said it felt needed to get Electros trademarked during its discussion for a new team name. One Shinsegae official said talks are ongoing and the group is open to all possibilities, including maintaining the current name." (JW)
Legal radar:
India rejects injunction against 'Covishield' mark – A civil court in Pune, India has rejected Cutis-Biotech's request for an injunction against Serum Institute of India (SII) using the trademark COVISHIELD. Pharmaceutical manufacturer Cutis-Biotech filed the suit to stop SII from using the trademark for its covid-19 vaccine, claiming to have prior use of the name. SII responded saying that both companies operate in different product categories and there is no scope for confusion. Covishield was developed together with the Oxford-AstraZeneca team in the UK for SII to manufacture in India. In the court's rejection of the injunction against SII, the court observed that Cutis-Biotech had not approached the court with clean hands and suppressed material facts. (JW)
Office radar:
(For more of the latest coronavirus-related updates from national IP offices, please read our dedicated article which is being continuously updated)
Domain Radar:
ICANN issues new breach notice to Net 4 India – The Internet Corporation for Assigned Names and Numbers (ICANN) has issued a third breach notice against Net 4 India Limited (Net 4 India) for its repeated and ongoing failures to comply with the Registrar Accreditation Agreement (RAA). This notice, as with the first two issued by ICANN against Net 4 India over the past two months, addresses numerous RAA violations detected through the processing of complaints submitted to ICANN contractual compliance. Over the last several months, states ICANN, Net 4 India has failed to cure numerous breaches of the RAA, and has failed to respond in a timely manner to registrant requests to transfer, renew, and/or update domain name registrations. "We are committed to using all available means to protect the rights and interests of domain name registrants, including terminating agreements with parties that fail to cure breaches and fail to deliver on their contractual commitments," said Jamie Hedlund, senior vice president, ICANN contractual compliance. "ICANN org will continue to monitor issues related to Net 4 India and will continue to respond by email and telephone to registrants seeking guidance and information." (TL)
In memoriam:
David Posteraro – Kohrman Jackson & Krantz partner David Posteraro passed away on 30 December 2020. According to the firm, Posteraro practiced at the firm for 18 years and was practice chair of its IP Group and co-chair of its brand enforcement group. "Without question, David was kind, calm, dedicated and the epitome of a professional and a partner," commented KJK Managing Partner Jon Pinney. "He was everyone's counselor and always available to listen, advise and help. The firm would not be where it is today without him."
Gregory Buhyoff – Long-time intellectual property attorney Gregory Buhyoff passed away on 27 December 2020. According to the Lockport Journal, his legal career spanned decades, and included stints at Baker & McKenzie, Weide & Miller and Hogan Lovells,as well as operating his own law practice which operated as the Law Office of Gregory F. Buhyoff. He was a "frequent participant at the annual meetings of the International Trademark Association around the world" and "was distinguished for his knowledge of and experience with the intellectual property systems of other countries, particularly East and Southeast Asia".
On the move:
Steptoe adds patent litigator in New York – Steve Yang has joined Steptoe & Johnson's intellectual property group as a partner within the New York office. Steptoe Chair Phil West said, "Steve is a bright and highly motivated rising star of the IP bar who has built significant litigation experience and shown exceptional talent in developing business at the early stage of his career. His native Chinese language and cultural affinity, combined with his chemistry background and US legal training have made Steve a sought-after IP lawyer for Chinese and Taiwanese companies seeking to enter and expand in the US market. Steve will augment our IP group's core strengths in pharmaceutical and other patent litigation, including at the Patent Office, ITC and in China, where we have a growing roster of patent litigation clients." (BD)
Bird & Bird grows its IP practice in the Netherlands – Bird & Bird has announced the appointment of patent and trade secrets specialist Tjibbe Douma as a partner in Amsterdam. Joining from Dentons, Douma advises and litigates for companies active in the life sciences and healthcare, technology & communications, energy & utilities and the retail and consumer sectors. Joining with Tjibbe from Dentons are associates Lucas Wolthuis Scheeres and Alexandra Michel. Morag Macdonald and Christian Harmsen, co-heads of the international Intellectual Property practice at Bird & Bird add: "We are delighted that Tjibbe has joined our international IP team. His experience in international patent litigation as well as his extensive knowledge in trade secrets will be invaluable for our IP practice going forward." (TL)
Brenna Legaard leaves Schwabe for K&L Gates – K&L Gates has snagged Brenna K Legaard from Schwabe, Williamson & Wyatt PC. Legaard joins the firm as a partner within the intellectual property practice. Her practice focuses on transactional and litigation matters. She also has extensive experience counseling clients on portfolio management, including patent and trademark prosecution. "Portland was one of the few venues in the US where we did not have a full service IP team; we just couldn't find the right person to lead such a group," said Bob Barrett, co-leader of K&L Gates' global intellectual property practice area. "That was until we convinced Brenna to join our team. Brenna not only brings an incredible IP skillset, but she has the leadership skills to help us develop an IP team in Portland that can compete with any regional IP group." (BD)
Burris Law welcomes three patent attorneys – Lou Houston, David Spears and Julie Zamler have joined Burris Law. Kelly K Burris, owner and founder of Burris Law, commented on the appointments saying, "They are young, talented attorneys that bring diverse legal and technical experience that will deepen our bench and help us to provide new dimensions of service to our client teams across the spectrum of their patent needs." (BD)
And finally...
WTR Connect returns next month with five days of strategic content – The second WTR Connect series of digital events will take place the week commencing 15 March 2021. The event will offer more than 20 interactive digital sessions, each designed to facilitate discussion, benchmarking and the sharing of best practice around key topic areas and challenges facing trademark and brand leaders. The theme for the event is 'exchanging cost-effective and resource-efficient best practices' and each day will start with a keynote address from a major industry figure, which is followed by live breakout discussions lasting for a maximum of 60 minutes. Registration is free for WTR subscribers and participants can register for as many sessions as they like across the week, building their own schedule. For event timings, and to sign up to attend, please click here.