Apple seizure controversy; USPTO launches innovation council; McDonald's versus Hungry Jack's – news digest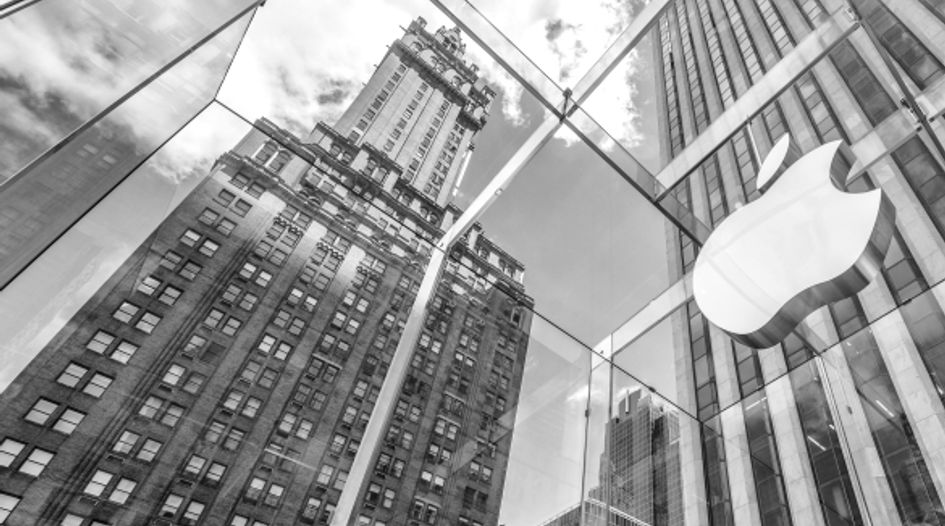 Every Tuesday and Friday, WTR presents a round-up of news, developments and insights from across the trademark sphere. In our latest round-up, we look at a counterfeit crackdown in Guangzhou, Oracle seemingly prevailing in bid for TikTok, branded produced labels being used to spread awareness of social causes, and much more. Coverage this time from Trevor Little (TL), Bridget Diakun (BD), Joyce Ng (JN), Jonathan Walfisz (JW) and Tim Lince (TJL).
Market radar:
Counterfeit crackdown in Guangzhou blows up into a case of fraud and evidence forgery – In a recent counterfeit crackdown case, Guangzhou police found that suspect testimony did not match with the evidence collected, revealing instances of fraud and evidence forgery. Upon arresting suspect Li for selling counterfeit goods on an e-commerce platform, the seized goods amounted to a market value of Rmb200,000 and the suspect confessed to selling 500 counterfeit bags for Rmb100,000 since October last year. However, further investigation revealed that the actual number of bags sold was less than 200, which did not match with Li's testimony. It turns out that his girlfriend had tampered with evidence after the arrest by logging into Li's e-commerce account to decrease the number of real transactions, thus lowering the case amount. All of this was orchestrated by Liu, whom Li's parents had paid Rmb80,000 to find a "guanxi" (relationship) to exonerate their son but Liu did not do so; he immediately used the money to repay his debts. (JN)
Oracle seemingly triumphs in bid for TikTok's US operations – According to Bloomberg, TikTok has abandoned buyout talks with Microsoft and is instead seeking a partnership or a restructuring deal with Oracle. The terms of the deal are still being discussed, but one option is that "Oracle could take a stake of a newly formed US business while serving as TikTok's US technology partner and housing the video app's data in Oracle's cloud servers". Early offers for TikTok, prior to the Chinese government's new rule on technology exports, valued the US business at about $25 billion. Oracle stands to enhance its cloud-computing and consumer-data businesses. The deal will still have to be approved by the Chinese government as well as the Trump administration, but it is worth noting that the president has already publicly endorsed the Oracle bid. Earlier this month WTR reported on the brand value of TikTok, as well as the risks that go along with the company. (BD)
Beyoncé's trademark forces Indian song title to change ­– A controversial song in India has had to change its title to avoid a trademark infringement row with Beyoncé. The song 'Beyonce Sharma Jayegi' by Ananya Panday and Ishaan Khatter has been altered to read 'Beyonse Sharma Jayegi' instead after it came to light that the successful US star had already registered a trademark for her name in India. The song was initially released on YouTube on 6 September and was quickly picked up by the press for lyrics which commentators highlighted as racist (the chorus translates to "After looking at you fair woman, Beyonce will feel shy"). Whether the hastily made letter change to the title will be enough for the song producers to put the criticism to bed remains to be seen, however, many Twitter users have pointed out the little work the producers have seemingly put into finding a solution. (JW)
Thai government livestreams annual IP rights infringing goods destruction ceremony – On 9 September, the Thai government destroyed THB 350 million (more than $11.2 million) worth of infringing goods seized by local enforcement agencies and livestreamed the annual ceremony through Zoom and Facebook live, writes Satyapon & Partners. Spanning consumer goods, luxury fashion and auto parts, the items destroyed numbered over 785,000, which was lower than equivalent events before the covid-19 pandemic ( not including a recent seizure in August of over 300,000 items, valued at THB 100 million). This destruction ceremony is the final step in Thailand's enforcement process to prevent infringing goods from re-entering the global market. (JN)
Controversy over US customs seizure of genuine goods – US Customs and Border Protection (CBP) has seized 2,000 pairs of genuine wireless earphones from technology brand OnePlus, with a claim that the product is "counterfeit Apple AirPods". It was initially assumed to be mistake by CBP, but a statement was released last night confirmed that the genuine OnePlus earbuds were examined and it was determined that they "appeared to violate Apple's configuration trademark", adding: "CBP's seizure of the earbuds in question is unrelated to the images or language on the box. A company does not have to put an 'Apple' wordmark or design on their products to violate these trademarks." OnePlus has not commented on the seizure, but the CBP has confirmed that the company "will have many opportunities through the adjudication process to provide evidence that their product does not violate the relevant recorded trademarks". As The Verge pointed out, Apple has not taken any legal action against OnePlus over its earphones, and the product continues to be on sale across the United States. (TJL)
Legal radar:
Hungry Jack's bites back against McDonald's suit – It's not just in the EU that McDonald's is facing headaches over its Big Mac brand. In Australia, after filing a trademark infringement suit against restaurant chain Hungry Jack's over its 'Big Jack' burger, the Golden Arches have been burned by a spicy new TV ad from Hungry Jack's. The advert claims Australian consumers won't have any issues discerning between the two products due to Hungry Jack's burger superior ingredients and bigger size. A spokesperson for Hungry Jack's said they were "bemused by the trademark lawsuit" and that "Big Jack is a registered trademark of Hungry Jack's and it is clearly evident that customers are not confused or misled that the Big Jack and Mega Jack burgers are only available at Hungry Jack's". The bun fight continues. (JW)
'Gods and Monsters' video game bit too close for energy drink brand – Video games developer Ubisoft has renamed its upcoming 'Gods and Monsters' to 'Immortals: Fenyx Rising' according to new documents submitted to the USPTO. The move appears to stem from an opposition by energy drink company Monster, claiming the mark would infringe upon its own. Monster notes that it has used its marks to sponsor professional gamers as well as to promote websites for gaming enthusiasts. Although Ubisoft has denied the allegations, it seems there has been two attempts to settle the dispute and the title has been changed. (JW)
Office radar:
(For more of the latest coronavirus-related updates from national IP offices, please read our dedicated article which is being continuously updated)
USPTO seeks to strengthen culture of innovation – The USPTO has launched a new initiative aimed at expanding invention, innovation, and entrepreneurship in the United States. The newly formed National Council for Expanding American Innovation (NCEAI) is comprised of representatives from industry, academia, and government, and will help guide the office to develop a national strategy to build a more diverse and inclusive innovation ecosystem by encouraging participation demographically, geographically, and economically. "It is critical that industry, academia, and government work together to strengthen our culture of innovation by encouraging the participation of young people from diverse backgrounds," stated US Secretary of Commerce Wilbur Ross. "Through the National Council for Expanding American Innovation, we plan to develop a national strategy for promoting and increasing the participation of underrepresented groups as inventor-patentees, entrepreneurs, and innovation leaders." The NCEAI was born out of a recommendation in the USPTO's 2018 SUCCESS Act study and congressional report transmitted to Congress in December 2019. (TL)
Media Watch:
Using brand labels to protest – A San Antonio resident has created copycat product labels that contain messaging about US policing issues and has been applying them to products in various grocery stores. The graphic designer has also created templates to encourage people to print them out and apply them in their local stores. Some of the labels include those from cans of Campbell's Chicken Soup, Ocean Spray Cranberry Sauce, Hellmann's Mayonnaise, Morton Salt, HEB peanut butter, and Del Monte Lima Beans. Photos of the products have been posted to Twitter. In a note alongside the labels, the design says: "I am buying these things from the grocery store. Wrapping them at home, then taking them back to the grocery store and placing them back on the shelves." Interestingly, the note warns people not to "place these on H-E-B shelves" because of a letter "warning me to stop or legal action would be taken". The move is a reminder of the power of brands, and how the recognisable branding of retail product labels is being used for social causes – although, with no permission from the brands in question, such guerilla protesting may not be seen as a positive for corporate legal departments. (TJL)
On the move:
Rosenbaum Famularo announces the hire of Neil Flynn – Neil Flynn, has joined Rosenbaum Famularo as the new managing partner of its litigation department. Flynn will guide a team of litigators that serve the sellers and stakeholders in all aspects of ecommerce. CJ Rosenbaum, the firm's founding partner, commented on the appointment saying, "With Neil joining the firm, our ability to assert the full spectrum of legal expertise needed to address any situation is significantly stronger. Whether it is a copyright or trademark infringement, or any other intellectual property issue, we can advise and protect the rights of sellers and ecommerce merchants on all platforms." (BD)
VLP Law Group adds partner to IP team – Michel Bohn has joined VLP Law Group's intellectual property practice group from Patent Law Works. Bohn, a registered patent attorney, has been appointed to partner and will reside in Salt Lake City. He advises companies on strategic planning, patent portfolio development and management, data privacy, due diligence assessments, legal opinions, vendor agreements, enforcement, and mitigation and licensing. (BD)
Kirkland & Ellis boosts Washington DC office – Todd Baker has left Oblon, McClelland, Maier & Neustadt, where he was chair of the firm's post-grant patent practice group and a member of the firm's management committee, to join Kirkland & Ellis in Washington DC. Baker focuses on PTAB proceedings at the USPTO and handles all varieties of patent office post-grant proceedings, as well as reissues, reexaminations and appeals. He also helps clients with patent portfolio management and licensing strategies. (BD)
White & Case strengthens litigation bench – White & Case has appointed Jonathan Lamberson to partner within its Silicon Valley office. Lamberson is an experienced trial lawyer with a particular emphasis on high-tech patent litigaiton. He is also an expert on fair, reasonable and non-discriminatory damages, and is familiar with the practices of standards bodies including the Institute of Electrical and Electronics Engineers and the European Telecommunications Standards Institute. He formerly practiced at Fish & Richardson. (BD)
And finally...
How WTR is connecting trademark leaders next month – WTR recently unveiled the first  participants for WTR Connect, a series of high-level online events taking place across two weeks in October. Experts from companies including Abercrombie & Fitch, Burberry, Novartis, Starbucks, Under Armour and Walmart joining the roster, with Christian Archambeau, executive director at the EUIPO, and David Gooder, trademark commissioner at the USPTO, confirmed to deliver keynotes. The ground-breaking digital concept offers a series of individual interactive digital sessions organised around major themes. Comprised of a series of hubs, each session is designed to facilitate discussion, benchmarking and the sharing of best practice around key topic areas and challenges facing trademark and brand leaders. Each day will start with a keynote address from a major industry figure. This will be followed by live breakout discussions lasting for a maximum of 60 minutes. These will be in a variety of formats including masterclasses, open discussion forums, solution rooms and closed-door, invite-only boardrooms. To find out more and to secure your place at WTR Connect, click here.