Apple-OnePlus Customs controversy; Banksy marks "at risk"; Beirut recovery efforts; and much more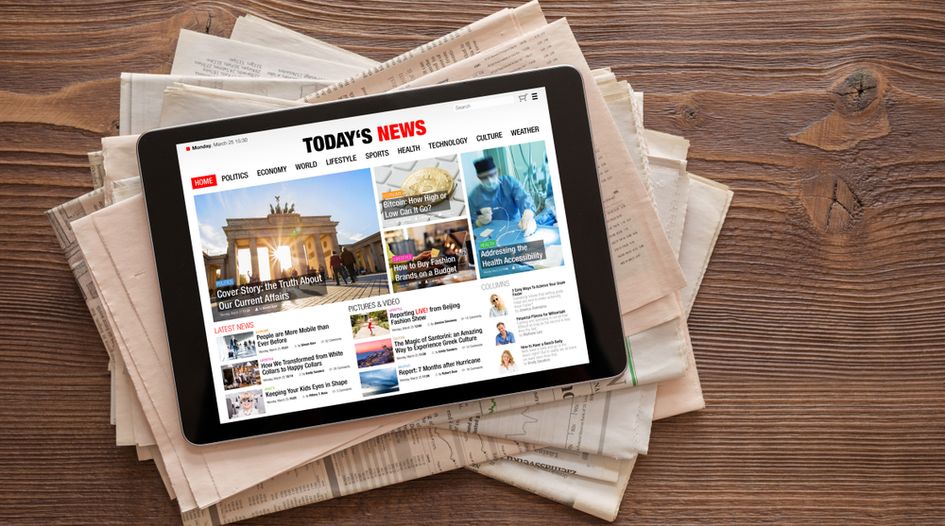 Everything we covered on WTR over the past seven days – and all you need to know from the world of trademarks to set yourself up for the start of another busy week.
WTR is now seeking nominations for the WTR Industry Awards 2021 and next edition of WTR 300: The World's Leading Corporate Trademark Professionals. Click here to access our short survey form and ensure that your peers and colleagues receive the recognition that they deserve.
Monday 14 September
With the average wait time from application to final examiner decision almost doubling in the space of five years, the Japan Patent Office outlined the new measures that it has implemented to improve examination pendency in the country. Read more
We explained why a public consultation over the Digital Services Act has left the European Commission with a choice between evolution or revolution when it comes to intermediary liability. Read more
After a trademark for one of Banksy's well-known artworks was cancelled on the grounds of bad faith, we spoke to an attorney involved in the case, who warned that all of the street artist's trademarks could now be at risk. Read more
Tuesday 15 September
Our Tuesday news round-up saw controversy over a US Customs seizure of alleged counterfeit Apple AirPods, Hungry Jack's biting back with a spicy new ad against McDonald's, Oracle seemingly prevailing in a bid for TikTok's US operations, and much more. Read more
In an exclusive guest post, representatives from Alyafi IP Group spoke with the head of the IP Unit at Lebanon's Ministry of Economy about recovery efforts at the agency following the recent devastating explosion in Beirut. Read more
Wednesday 16 September
Filing data in Indonesia provided invaluable insight into the impact that the Madrid Protocol has had on the country's IP office so far. Read more
USPTO Director Andrei Iancu revealed that trademark application levels have bounced back stronger than ever after a covid-19-induced fall, but litigation filings are continuing their downward spiral. Read more
We outlined the opportunity for trademark professionals to play a key role in an industry undergoing a transformative year – podcasting. Read more
We explored the value of registering configuration marks with US Customs and Border Protection after the authorities refused to release a shipment of OnePlus headphones amid claims that they infringed on Apple's marks. Read more
Thursday 17 September
We examined the impact of the Court of Justice of the European Union's decision to dismiss appeals against authorising football player Lionel Messi to register MESSI for sports equipment and clothing. Read more
We provided an A-Z of the digital services and software that in-house and private practitioners are recommending to increase efficiency and free up budget. Read more
We spoke to a private investigator about how brands can lessen the risk of internal counterfeiting after ex-employees from Louis Vuitton and Hermès were put on trial for their complicity in counterfeit handbag rings. Read more
Representatives from the Chilean National Institute of Industrial Property talked us through the various innovative tools and services that the office offers – and how it is improving its online processing platform. Read more
Friday 18 September
Thomas Cook's online relaunch, YouTubers clashing over 'rip off' Teddy Fresh designs, a countersuit filed in the Lady A musicians dispute, and much more featured in our Friday news digest. Read more
We examined the trademark portfolios that have either recently changed hands or are owned by companies that have filed for Chapter 11 bankruptcy – revealing the two key features that make intangibles attractive to buyers. Read more
WTR discussed what more firms can – and should – be doing to improve access to trademark advice for minority-owned businesses. Read more
Among this week's IP office updates, we reported that all deadlines have been extended at the Argentinian National Institute of Industrial Property, while extraordinary measures related to the covid-19 health crisis have been reintroduced at the Czech Industrial Property Office. Read more
After Kanye West's latest Twitter tirade against his label, Universal Music Group, we explored the safeguards that companies should consider when drafting contracts with celebrity endorsers. Read more
Saturday 19 September
We presented a selection of brand management takeaways from past WTR Industry Award winners 7-Eleven, Specsavers, World Wrestling Entertainment, SanDisk, Mars, Apple and Google. Read more
Book your place at WTR Connect today.