Apple most imitated phishing brand; Hugo Boss rebrands to Joe Lycett; new CITMA president – news digest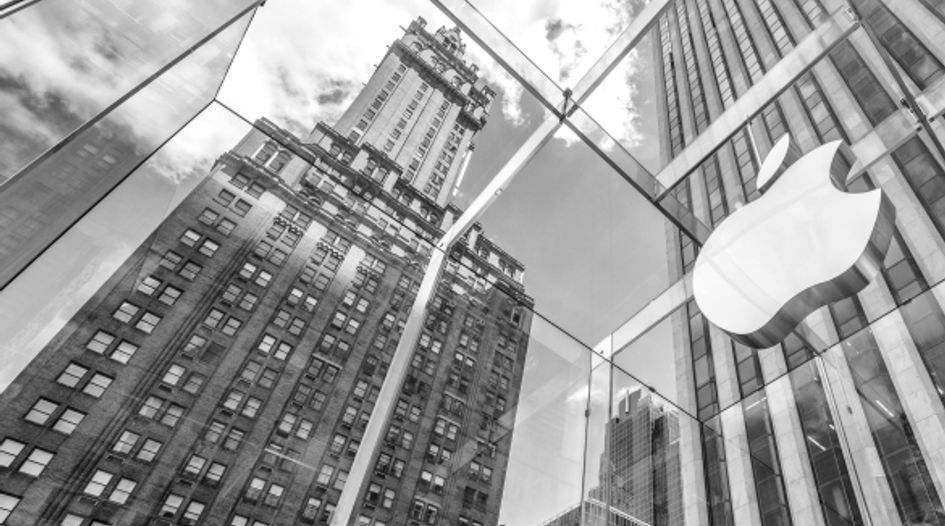 Every Tuesday and Friday, WTR presents a round-up of news, developments and insights from across the trademark sphere. In our latest edition, we look at Corsearch offering up a free POCA Search tool, Patagonia dropping a trademark suit against OC Media, infringers piling on covid-19 domains, IP issues relating to 3D printing ventilators, and much more. Coverage this time from Trevor Little (TL), Bridget Diakun (BD), Jonathan Walfisz (JW) and Tim Lince (TJL).
Market radar:
Richard Goddard officially commences term as CITMA president – Richard Goddard, trademark counsel at BP, officially entered his two-year term as president of the Chartered Institute of Trademark Attorneys (CITMA) on 14 April 2020. Goddard served as vice-president from 2018-2020 and was unanimously voted in by the organisation's council to succeed Tania Clark. Of his appointment, Goddard said, "It is an honour to be elected by my colleagues. The next two years will bring challenges and opportunities - I will make sure that as a profession we meet these challenges and maximise the opportunities." His term certainly overlaps a tumultuous time as the world grapples with an ongoing pandemic and questions still remaining over Brexit and its impact on the trademark community. (BD)
Corsearch offers up POCA Search tool for free – Corsearch has waived the fees for new users who want to access its Phonetic and Orthographic Computer Analysis (POCA) Online Search tool until the end of July 2020. The company has offered new users the service for free in order to enable businesses in the pharmaceutical and life sciences industries to more effectively fight the ongoing pandemic by finding medical solutions. Chief commercial officer Steve Stolfi said of the offer: "With the production of new medicines, our hope is that free and open access to the POCA Search on corsearch.com will speed up this process whether you are searching in US (FDA), European (EMA), or world (Pharma-in-use) data." The offer is available to any new or existing Corsearch customer who wants access to POCA Search but doesn't already have it. (JW)
EUIPO extends DesignEuropa Awards deadline – The application and nomination period for the DesignEuropa Awards has been extended to 8 May 2020. The decision was made due to the ongoing covid-19 pandemic. There are still two open categories for applications and nominations: Small and Emerging Companies and Industry. The date and venue of the awards ceremony has not changed and remains in Eindhoven on 20 October and will be held in collaboration with the Dutch Ministry of Economic Affairs and Climate Policy and the Benelux Office for Intellectual Property. (JW)
Trademark filing hints at coronavirus treatment – Gilead Sciences has filed for a trademark for the bottle that could hold a covid-19 treatment. The trademark, filed at the USPTO, is for a container of remdesivir, which Gilead will release data on this month as to its effectiveness in randomised trials in China. The filing signals that Gilead may be expectant of bringing the product to mass production. A spokesperson for Gilead said the applications "is par for the course" and "entirely consistent with our stated responsibility to plan for a potential regulatory authorisation should remdesivir be proven safe and effective." (JW)
Apple most imitated brand by phishing criminals – A new report from Check Point Research has revealed the brands most imitated by online criminals during phishing campaigns in Q1 2020. Topping the list is Apple, which rose to first place from seventh in Q4 2019. According to Information Security Buzz, 10% of all brand phishing attempts related to Apple, with Netflix in second spot accounting for 9% of all phishing attempts, "in part due to the increase in people accessing the service during the coronavirus pandemic". Next up in the most targeted brand is Yahoo (6% of all phishing attempts), WhatsApp (6%), PayPal (5%), Chase (5%), Facebook (3%), Microsoft (3%), eBay (3%) and Amazon (1%). Interestingly, when looking at phishing attacks by platform, Netflix is the most imitated brand on mobile phishing attacks, and Yahoo is the most imitated in email phishing scams. (TJL)
Legal radar:
Patagonia drops trademark suit against OC Media – Patagonia filed a suit against OC Media, an oil-and-gas marketing company, two months ago for allegedly infringing its name and logo, but has since voluntarily dismissed the case, reports The Fashion Law. The outdoor clothing company called foul over OC Media's use of the term Petrogonia for a clothing range, and further argued that the associated logo was highly similar to its own design. Patagonia claimed trademark infringement, unfair competition, dilution, and copyright infringement, and also sought injunctive relief and monetary damages. The dismissal of the case indicates that the parties managed to reach a settlement outside of court. (BD)
Office radar:
(For more of the latest coronavirus-related updates from national IP offices, please read our dedicated article which is being continuously updated.)
INDECOPI releases information on its continued service despite covid-19 – Peru's IP Office, The National Institute for the Defence of Competition and Intellectual Property (INDECOPI), has announced the launch of new online services. Included is a virtual tool for online trademark applications. Processing of new applications through the service will begin on 7 May and will allow users to begin the trademark registration process to gain protection. The announcement also reassured of the continued operation of its online trademark services. This includes a platform that provides guidance on trademark registrations, a search engine for classes of goods and services, a renewal service, as well as the continued sessions of the Distinctive Signs Commission. (JW)
Domain Radar:
Speculators and infringers pile in on covid-19 related domains –  Earlier this week we reported on Verizon's recovery of infringing domains incorporating 'covid-19' terms. Verizon is not the only company facing such an issue, and analysis from MarkMonitor has tracked more than 100,000 domain registration related to the pandemic this year – with the biggest surge occurring in the week following the WHO's declaration of COVID-19 as a pandemic on 11 March 11. The majority are speculative in nature but there are many that are classed as 'active threats'. In terms of business registrations, Chris Melka, MarkMonitor program manager at Clarivate, notes that these have largely occurred in the large enterprise space, with most falling into the defensive category. His is a canny approach, given the existence of malicious activity and a patchy response by registries: "The most concerning registrations are, of course, those used as an attack vector for phishing/malware threats. Lowlights include ransomware attacks on hospitals, state-sponsors phishing campaigns and attackers impersonating university health services for credential-stealing. Registry reactions have been uneven. Nominet, the '.UK' registry, has escalated monitoring measures to allow quick action against inappropriate use of pandemic-related '.UK' domains. The step is welcomed, but absent consistent global action by registries, the ability to quickly identify threats across all top-level domains spaces will remain spotty." For the most part, though, registrations have been lodged by speculators, Malka commenting: "Over 90% of the nearly 100,000 pandemic-related domain registrations have been registered by domain speculators looking to monetise those registrations via pay-per-click revenue or re-sale. The exact match domains aligning with the 'coronavirus', 'covid19', and 'covid-19' labels have all been registered across more than 400 extensions globally. Encouragingly, an assortment of registrars and aftermarket resale platforms have taken action to review recent registrations for evidence of bad actors, or even to preemptively block registrations and/or sale listings." (TL)
Media Watch:
Hugo Boss rebrands to Joe Lycett – In early March, we reported on UK comedian Joe Lycett announcing that he was legally changing his name to Hugo Boss in protest at the German fashion company's trademark enforcement work. At that time, he posted a letter from the UK Deed Poll Office confirming that his name was legally changed, and pledged to launch "a brand new product as Hugo Boss". The move was part of Lycett's TV show Joe Lycett's Got Your Back, in which he discusses consumer rights and campaigns on behalf of viewers. The episode that featured the Hugo Boss name change aired in the UK last week, and yesterday he confirmed that he has "decided to go back to the Lycetts", ending the statement with the message: "Hugo Boss has a smelly bum bum." (TJL)
Lamar Jackson offers a lesson in due diligence – This week CBS Sports reported on a chest tattoo unveiled by Baltimore Ravens quarterback Lamar Jackson. The decoration in question is of the word 'Truzz', a play on the 'Big Truss' nickname bestowed on him by teammate Mark Ingram. Jackson also applied for the TRUZZ mark in January, shoring up his ability to monetise the nickname. But why Truzz not Truss? CBS reports that an Arizona resident owns the TRUSS mark – suggesting that Jackson's advisers were on top of their due diligence before he inked up. (TL)
IP issues raised as roadblock to 3D printing ventilators – In a blogpost on CoinDesk, Cathy Barrera writes how initiatives to bolster the 3D printing industry could have helped with the shortfall of ventilators that is felt globally throughout the coronavirus pandemic. However, she notes, while there are economic barriers that have hampered the implementation of a 3D printing network with that capability, one of the other problems would be in the IP rights of ventilator designs. If designs are shared easily over networks, then it would be nigh on impossible for the IP owners to gain value  from their rights. Previous solutions such digital rights management (DRM) schemes have relied too much on single intermediaries between buyers and sellers. This would not necessarily be the case with blockchain though. Through blockchain's decentralised ledger-based system, records could be kept of access in order to track legal purchases. (JW)
On the move:
IP partner joins Willkie's Chicago office – Willkie Farr & Gallagher has appointed Michael G Babbitt to partner within the firm's IP group. He will be working out of the Chicago office which was launched on 31 March of this year. The Midwest practice has grown significantly in this time and now has approximately 25 partners, counsel and associates. Babbitt's practice focuses on complex civil litigation involving IP and technology. (BD)
Paul Keller returns to Allen & Overy – Paul Keller has returned to Allen & Overy after a five-year hiatus as a partner within the litigation team. Prior to rejoining the firm he was the head of Norton Rose Fulbright's New York IP disputes group and co-head of the autonomous vehicle international business group. Keller has a broad practice with particular expertise in patent and trade secret matters within the automotive and fintech industries. He can be found at Allen & Overy's New York office. (BD)
And finally...
A free guide to trademark law in key jurisdictions now available – The 2020/2021 edition of the World Trademark Review Yearbook. Is now available, free-to-view, online. The publication is firmly established as an essential guide to trademark law, provides legal professionals worldwide with a simple, easy-to-use digest of the structure of trademark regulation across the globe. In this latest edition we present in-depth analysis of trademark law in 24 key jurisdictions, as well as a regional exploring how the EUIPO uses its discretionary power when deciding on trademark disputes. We also feature guidance offering eight tips to assist in managing a global trademark portfolio, as well as updates from INTA and MARQUES. The guide is available here. (TL)