Apple loses Huawei legal battle; Trump's trademark spree; Gucci counterfeits seized – news digest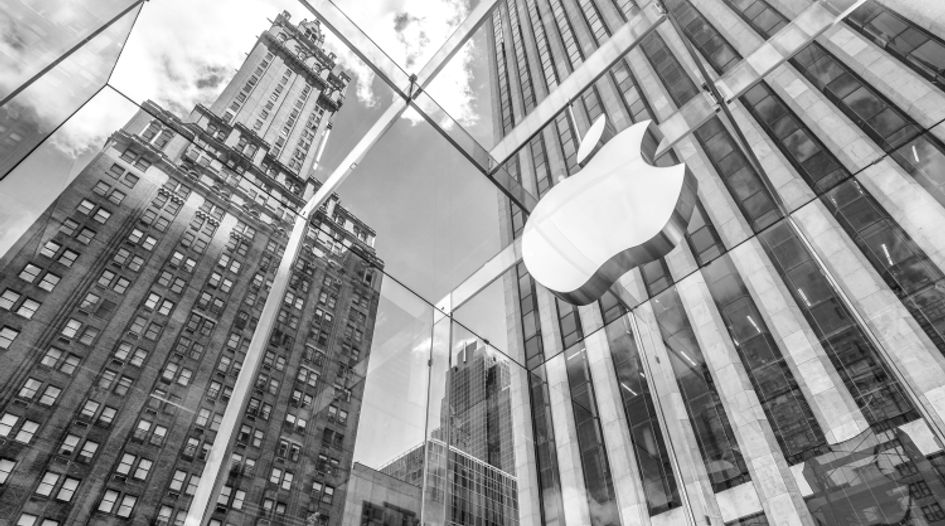 Every Tuesday and Friday, WTR presents a round-up of news, developments and insights from across the trademark sphere. In our latest round-up, we look at CPA Global announcing that it will go by Clarivate, how e-commerce is used to peddle fake goods, a survey revealing consumers want secure labelling on cannabis, and much more. Coverage this time from Bridget Diakun (BD), Tim Lince (TJL) and Trevor Little (TL).
Market radar:
CPA Global to go by Clarivate brand – One year ago, CPA Global was acquired by Clarivate, and since then the companies have worked to merge their operations. Yesterday marked a new milestone as the pair announced that CPA Global will be united under the Clarivate brand starting 25 October. The transition will take time, but the company says the CPA Global brand will be seen "less and less" and it will be replaced increasingly by the Clarivate brand. (BD)
Nepal trademark infringement on the rise – The unauthorised use of trademarks is increasing "by the day" in Nepal, according to The Kathmandu Post. The Nepal government's Department of Industry has revealed it received 54 trademark infringement complaints from mid-July to mid-September. "Trademark infringements are rising by 20% annually," claims the under-secretary of the legislation department of the Department of Industry, Dipak Ghimire. "This is outrageous. This has given rise to market malpractices and cast a doubt on the product's authenticity. Consumption and use of such low quality products can eventually impact human health. The blame is ultimately passed on to the genuine producers." (TJL)
New research uncovers how e-commerce used to peddle fake goods – A new study from the EUIPO and Organisation for Economic Co-operation and Development, titled 'Misuse of e-commerce for trade in counterfeits', has found that more than half (56%) of counterfeit goods seized at the EU borders stem from online commerce. The report analyses customs seizure data and reveals that the value of the detentions related to counterfeit goods sold online is much lower than those which do not come via e-commerce and are instead shipped in containers using various transport modes (road, rail, air and sea). Specifically, online sales seizures represent only 14% of the total value of detentions compared to 86% of detentions related to goods shipped by container. However, the report notes that some of these goods shipped by container are destined for distribution centres in the EU, from which they are in turn shipped to consumers who have purchased them online. Thus the true role of e-commerce in trade in counterfeits is considerably more important. As to the source of counterfeit online goods seized, more than three-quarters originated in China, followed by Hong Kong (5.7%), Turkey (5.6%) and Singapore (3.3%). In terms of product types, perfumery and cosmetics (75.3%) pharmaceutical products (71.9%) and sunglasses (71.3%), are the products with the highest share of detentions linked to online purchase. Reflecting on the findings, Christian Archambeau, EUIPO executive director, said: "E-commerce has enhanced consumer choice, and offered businesses new, flexible ways of market access. At the same time, there is ample evidence that the online environment has also attracted bad actors, who pollute e-commerce distribution channels with fakes. The EUIPO is working hand in hand with a number of e-commerce marketplaces, right holders and institutional partners to help tackle online infringements of intellectual property rights." (TL)
Dulles CBP officers seize than $1 million of fake goods – CBP officers at Washington Dulles International Airport recently seized counterfeit consumer goods that if authentic would have valued at more than $1 million. The 806 items, which included fake designer brand jewelry, watches, clothes, shoes, sunglasses and handbags (under the brand names Christian Dior, Dolce & Gabbana, Fendi, Gucci, Hermes, Prada, and Versace), were seized after officers encountered two women who arrived from Qatar with fake goods packed into 21 checked suitcases. Ironically, even the suitcases themselves were counterfeits. "This might be one of the most uniquely large counterfeit goods seizures that Customs and Border Protection officers have seen in regular passenger baggage," said John Jurgutis, acting area port director for the Area Port of Washington DC. "We know that the illicit trade in counterfeit consumer goods steals revenue from American businesses, threatens consumers with potentially unsafe products, and funds transnational criminal organizations, and CBP officers will continue to strike back at this illicit enterprise while protecting American consumers." (TL)
Survey reveals consumers want secure labelling on cannabis – A new survey conducted with 2,000 adults in the US has revealed "broad support" for securely labelling cannabis products to verify their legitimacy and safety. The poll found that a significant proportion of US consumers (83%) think states where cannabis is legal "should require licensed cannabis producers to use secure labels that can't be counterfeited on cannabis products to ensure potency and consumer safety". A similar amount (80%) also voiced support "for a program that would make it easier to detect legal vs illegal cannabis products". The survey was conducted by regulatory compliance provider SICPA North America,  with a representative saying: "Unsecured products leave consumers at risk of using unsafe, tainted or recalled cannabis products and create opportunities for counterfeiting of legitimate brands and illicit sales of unregulated products." (TJL)
Brand radar:
A.k.a.Brands boosts its portfolio with purchase of streetwear brand – Fashion holding company A.k.a. Brands has been M&A heavy, and its latest purchase is Los Angeles-based DTC men's streetwear brand Mnml, which it picked up for $48.6 million. The company has been looking to grow out its portfolio of digital brands that already includes Princess Polly, Petal + Pup, Culture Kings, and Rebdolls. Matthew Fields, founder and CEO of Mnml, commented on the agreement, saying: "We are confident that our customers and our brand will benefit from A.k.a. Brands' highly skilled leadership team and their extensive experience scaling successful e-commerce businesses while preserving brand authenticity. We are excited to join the other great brands in the A.k.a. Portfolio and work closely with Culture Kings to create value and opportunities for both of our businesses." A.k.a. Brands is continuing to explore strategic acquisitions, with the aim of completing one or two select purchases a year. Jill Ramsey, CEO of A.k.a. Brands, described the company's approach to buyouts, saying that it is focused on those with a "social-media lead" and are "next generation brands that are just really good at content and building loyal followings on social media". "But sometimes these younger brands can struggle to scale, which is really where A.k.a. comes in and helps them," said Ramsey. "We support them with the business of fashion, so they can stay focused on the art of fashion. We provide extra corporate oversight with things like finance, tech and supply chain, so the brands can double down on front-end customer-facing things, like merchandising and marketing and social media." (BD)
Legal radar:
Apple loses Huawei legal battle – Technology giants Apple and Huawei have locked horns over the term MATEPOD in China, with recent reports that the US-based company has lost the legal fight against its Chinese rival. According to Brand Equity, Apple opposed Huawei's use of the 'MatePod' brand on earphones, claiming it is similar to its trademarks for the terms Pod, iPod, EarPods and AirPods. In its decision, the China National Intellectual Property Administration (CNIPA) claimed there was "insufficient evidence" that provided Huawei was copying Apple in its brand name – and the MATEPOD trademark was therefore granted. It is understood that Apple can file for an appeal. (TJL)
Office radar:
(For the latest coronavirus-related updates from national IP offices, please read our dedicated article, which is being continuously updated.)
INPI unveils awards shortlist –The French National Institute of Industrial Property (INPI) has announced the finalists for this year's INPI Awards. Launched in 1991, the scheme recognizes and rewards companies that embody French innovation at its best and put IP at the heart of their development. For this 30th anniversary edition, SMEs and start-ups will be competing for awards in the following categories: 'Export', 'Industry', 'Responsible Innovation', 'Research Partnership' and 'Start-Up'. Crossject, Proludic and VAONIS are the finalists in the export category, while Bioret Agri, Exotec and Isorg compete for the industry award. Turning to 'responsible innovation', Exoes, Hoffmann Green and Olmix make up the final three. Demeta, Lactips and Synthesis of Nanohybrids are in the running for the responsible innovation accolade, while the start-up category will be contended by Archeon, Energysquare and Extralab. The judges will now consider the shortlist, with Hélène Szulc, CEO of Tech Sub and chair of the 2021 awards, stating: ""As a previous winner, I understand how important these innovation awards are for the companies involved. Just like in the natural environment, innovation is a vital process in business. It's what enables us to continuously evolve and adapt to the world we live in. And intellectual property is one of the legal tools companies can use. Even for small companies, it's important to explore the various options available with the help of experts. Small and very small businesses often overlook this need due to a lack of understanding or because they believe their size would prevent them from being able to defend their rights. But intellectual property is part of a company's intangible capital and contributes to its asset value. Through the INPI Awards, my aim is to showcase success stories that will inspire French entrepreneurs in a wide variety of business sectors." This year's winners will be announced on 25 November 2021. (TL)
Domain Radar:
ICANN announces award winner – ICANN has announced that the recipient of the 2021 Dr Tarek Kamel Award for Capacity Building is Satish Babu. The award recognizes Babu for his efforts in promoting the multi-stakeholder model of internet governance and capacity building on a local and regional scale. In particular, his leadership for local and regional schools of internet governance are praised by the ICANN Board. In addition to chairing the Asian, Australasian, and Pacific Islands Regional At-Large Organisation, Babu is regarded as making significant contributions to universal acceptance and internationalized domain names by steering relevant working groups in the At-Large Advisory Committee. The Dr Tarek Kamel Award for Capacity Building was established in honor of the late Dr Kamel, an Internet pioneer known for his contributions to global Internet governance. (TL)
Media Watch:
Trump's truth trademark spree – Former US president Donald Trump hit the headlines last week after announcing that he is launching a social network platform called 'Truth Social'. Now, trademark applications have come to light that appear to be linked to Trump's internet plans. A trademark for TMTG (standing for 'Trump Media and Technology Group') and TMTG+ were recently filed by the same IP attorney who lodged the application for Truth Social two weeks ago. Furthermore, applications have also been filed by the same attorney for the terms TRUTHING, POST A TRUTH, RETRUTH, and FOLLOW THE TRUTH – suggesting, according to one media report, that "Trump appears to be trying to corner the market on 'truth' words and phrases". As WTR exclusively revealed in 2019, the 'America first' former president has a "truly global trademark portfolio", with the Trump family owning at least 1,179 trademarks around the world. With this technology venture, it appears the Trump IP portfolio is set to grow even more. (TJL)
Law firm radar:
Rothwell Figg and COLLEN IP merge – Rothwell, Figg, Ernst & Manbeck and COLLEN IP have joined operations. COLLEN IP is located in New York while Rothwell Figg is based out of Washington, DC. Together, the pair have a presence in New York, Washington DC, and Boston. The firm will operate under the name Rothwell Figg, and will offer clients services for patent and trademark prosecution and litigation, unfair competition, anti-counterfeiting, copyrights, trade secrets, licensing and transactions, and privacy, data protection, and cybersecurity. (BD)
And finally...
WTR's latest Special Report explores how to manage the brand balance sheet – The ability to measure and record brand value is crucial for a host of business reasons: to gain a 360-degree insight into an enterprise's worth; to measure a company's health or product offerings; to calculate licensing royalties; to determine potential reputational hits and damages in dispute scenarios; to underpin M&A decision making. The list goes on. WTR's latest Special Report takes a deep dive into brand valuation, the reporting of intangibles and strategic best practice for brand leaders. As well as tracking recent developments in the industry and presenting a guide to the fundamentals of valuation practice, we focus in on key trends, the companies that own the most valuable brands and their financial performance. In addition, we present a rundown of the most valuable brand acquisitions since 2000. WTR subscribers can access "Managing the brand balance sheet" here.